Last May, both my daughters made their First Holy Communion. For a treat, guests received candy lollipops as a remembrance of the special day. The lollipops were easy to make using Wilton Candy Molds and Candy Melts® candy!
Since one of my daughters likes the color pink and the other loves purple, those were going to be the colors for the lollipops. Now, I also love working with Colorburst Candy Melts® candy, which are available in Pastels and Brights. So, I decided to experiment!
Using a Wilton disposable decorating bag, I added a few pink Candy Melts® candy and then a few Colorburst Brights Candy Melts® candy. I continued to alternate the two candies until the decorating bag was a little more than half full.
Next, I put the bag in the microwave for 30-second intervals at a time. This way I could squeeze the bag and check on the melting process. Microwave times vary, and it's important to check on your melted candy. My microwave isn't the best, and in total, takes about 1 minute and 30 seconds to melt candy to the desired consistency.
Once this is completed, cut the tip of your disposable bag for molding your lollipops. Remember not to cut a lot off of your bag, because it will make it messy when squeezing into the mold. If it's too small, cut a little more off the tip to make a larger opening.
When you squeeze the bag with the two types of melted candy, the colors run together into the lollipop mold for a cool marble effect. And, because Colorburst Candy Melts® candy is predominantly white, it lightens the melted pink and lavender candy, making it a softened pastel shade.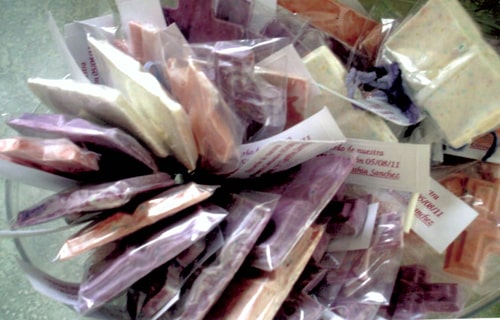 After filling the Cross and Bible Lollipop Mold according to the packaging directions, insert the sticks and refrigerate. Wait about 15 minutes or so, and pop the treats out. You can then customize them however you like!
I placed them inside bags from the Wilton Lollipop Wrapping Kit. Next, I printed thank-you notes from my daughters with their names and date of their First Holy Communion. Using different shades of ribbon for extra flair, I attached the notes and favor tags from our Wilton wedding line to the lollipops. They were the hit of the party!
Wilton candy molds and Candy Melts® candy make fantastic favors for any holiday or celebration. Have fun creating your own sweet candy treats! Don't forget to check our website for more First Communion treat ideas or to learn more candy-making techniques.