There is nothing more satisfying in the world of cake decorating than getting a perfect, smooth finish on a buttercream iced cake…and sometimes, there is nothing more frustrating than trying to achieve that perfection!
If you've ever iced a cake in buttercream, you know that getting it super smooth with perfect 90° angles is a challenge that all decorators, from beginner to expert experience. Using your spatula to go around and around the sides of the cake, smoothing out a few air bubbles only to create several others in a different spot…going around and around again, shaving off too much icing so that the side of the cake shows through…and around and around, until the side of the cake is slanted on one side…
UGH! When I was working in bakeries, we referred to this process as "the death spiral." Around and around the cake you go, fixing one blemish while causing another, never happy enough with how the cake looked. Has this happened to you?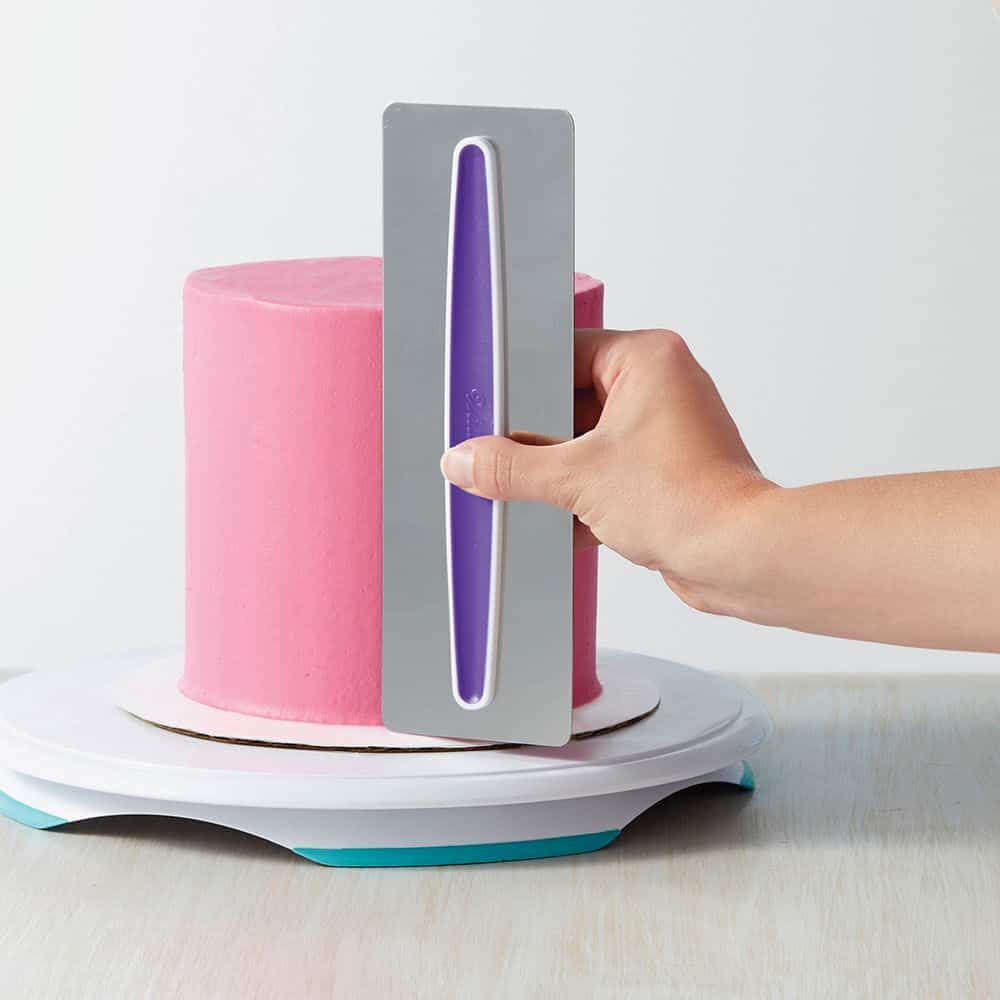 The death spiral is why I love the new Wilton Icing Smoother. It will change the way you ice buttercream cakes. It's a sleek, double–sided piece of stainless steel that will help you smooth the top and sides of your cake much more easily than a traditional spatula. Since it has a flat base, when it is rested on the cake board, it automatically creates sides that are at a 90° angle to the base of the cake. Also, the hand grip is designed for secure and easy grasp of the smoother.
The blade knocks out air bubbles and smooths icing to an even finish with just a couple rotations of the turntable. The Icing Smoother is 9 inches long, so bring on your double and triple layered cakes. Even the tallest cakes can be iced perfect smooth with this great new tool! The Icing Smoother is also great when crumb coating cakes to be covered in rolled fondant, because it helps you achieve those perfect angles.
As with many cake decorating tools and techniques, the more you use the Icing Smoother, the easier and more comfortable it becomes. You'll be turning out perfectly iced buttercream cakes in no time!
See our latest video as Beth shows you how easy it is to get that perfect finish on a buttercream cake.