As summer ends and fall approaches, the sound of wedding bells fills the weekend air. It's wedding season! My best friend just got married this past August and asked me to make cupcakes for her rehearsal dinner. So being the person I am, I couldn't just make plain cupcakes, I wanted to make Bride and Groom Cupcakes!
I began by baking yellow and chocolate cupcakes. Since the wedding colors were aqua for the bridesmaids and black tuxedos for the groomsmen, I chose to use Blue Dots Baking Cups for the Bride cupcakes and Black Dots Baking Cups for the Groom cupcakes. For the Groom cupcakes, I placed a teaspoon of peanut butter in with the batter before baking them.
Once everything had baked and cooled down, I used the Bismark tip to fill the yellow cupcakes with strawberry filling. I had yellow cupcakes with strawberry filling and peanut butter chocolate cupcakes. The cupcakes were iced using the 1M swirl decorating tip and an icing bag filled with ready-to-use decorator icing.
Directly after applying the icing for the Bride cupcakes, I sprayed each cupcake with our new Pearl Color Mist™ (available in December) and White Pearl Dust™. Then, I put one red Jumbo Hearts Sprinkle and White Sugar Pearls around the border of each cupcake.
As for the Groom cupcakes, I used Royal Icing Mix with Black Icing Color. I placed it into an icing bag and cut a small hole at the bottom and used it without a tip. I was able to create the bow ties whatever size I wanted them to be as I laid the royal icing onto Parchment Paper. I actually did this while the cupcakes were baking because it takes a long time for the royal icing to dry/harden.
After the bow ties were made, I used jumbo marshmallows and dipped them in Black Candy Melts®. I also allowed these to dry on Parchment Paper. I then used a Black Sugar Sheet to create the bottom of the hat. To form the circle using the Circle Cutting Insert, I took the circle shaped sugar sheet pieces and dabbed a small amount of icing to attach the circle to the marshmallow.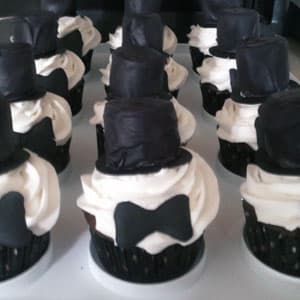 When finished with everything, I needed to transport these to the restaurant so I used Wilton's Ultimate 3-IN-1 Cake Caddy to get them there safely. Most importantly the Bride was happy and everyone loved them!