Weddings are one of life's sweetest celebrations, full of laughter, loved ones, and loose dance moves. Impress guest with these delicious wedding desserts from mini cakes to petit fours. Whether you're headed down the aisle soon or assisting someone who is, these wedding dessert table ideas are one less thing to plan.  
1. Pink and Coral Macarons
These lovely tinted macarons are an elegant addition to any wedding-related event, from bridal showers to the Big Day! The Color Right Performance Color System can help you create shade combinations in the right hue.
2. Strawberry Heart Mini Cakes
Eat your heart out, other mini cakes! Light pink buttercream icing holds together stacks of soft strawberry cake. White chocolate-flavored fondant is the crowning touch on these mini delicious delights.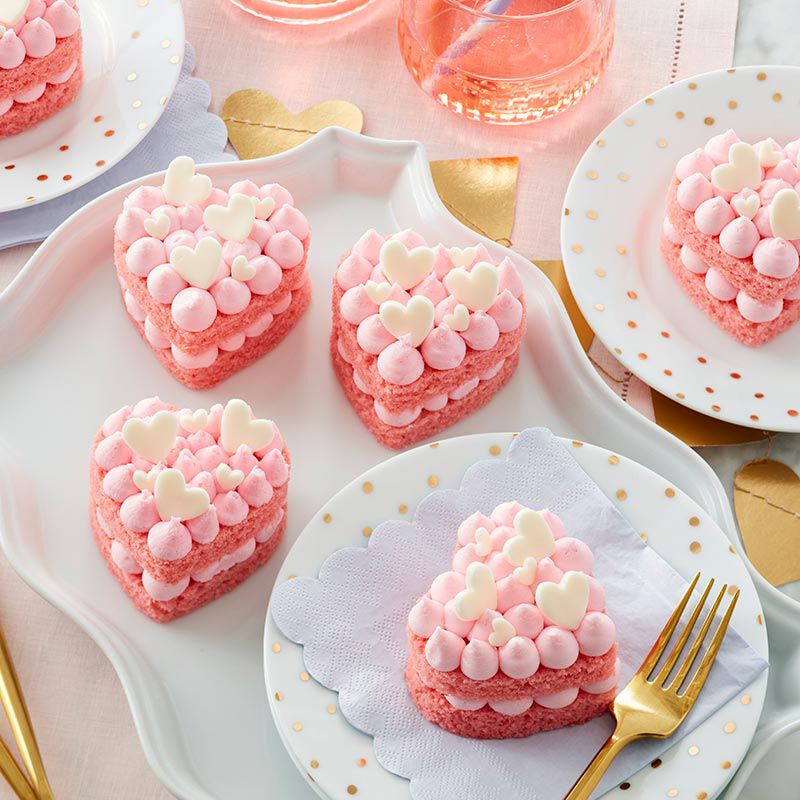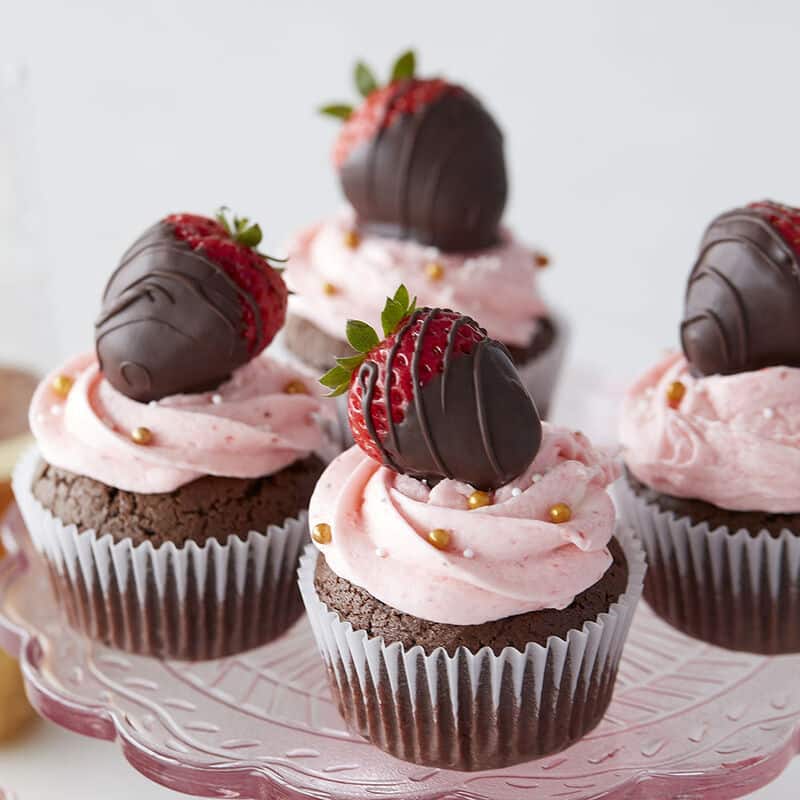 3. Chocolate-Covered Strawberry Cupcakes
Chocolate and strawberry: a match made in heaven! Chocolate-covered strawberries are the ideal tasty topper for these chocolate-strawberry cupcakes. These sweets are a welcomed addition to any dessert table.
4. White Chocolate Raspberry Éclairs
These elegant éclairs are pretty in pink — perfect for any bridal shower! Fresh raspberries and white chocolate pastry cream blend for a delectable, memorable flavor. For variety, add a chocolate version of these enticing éclairs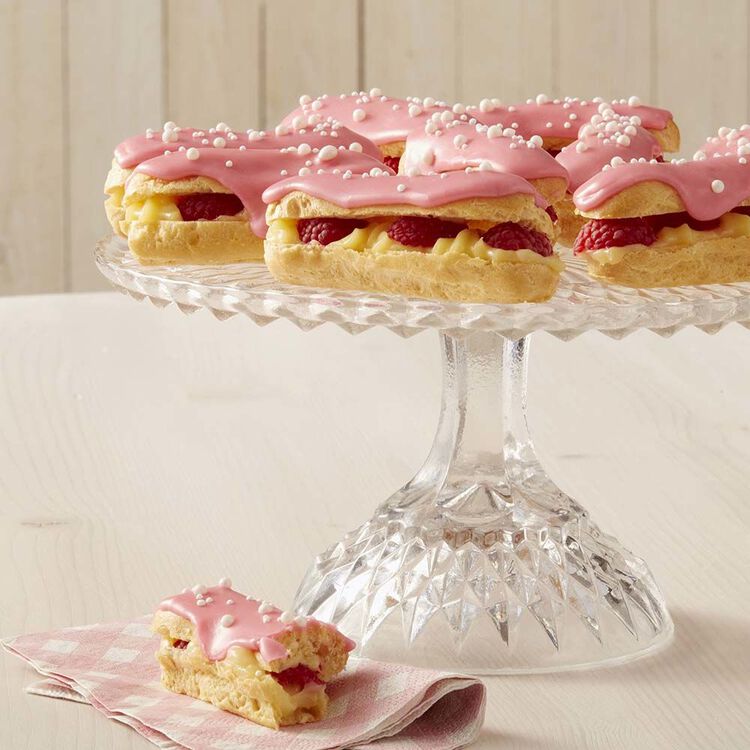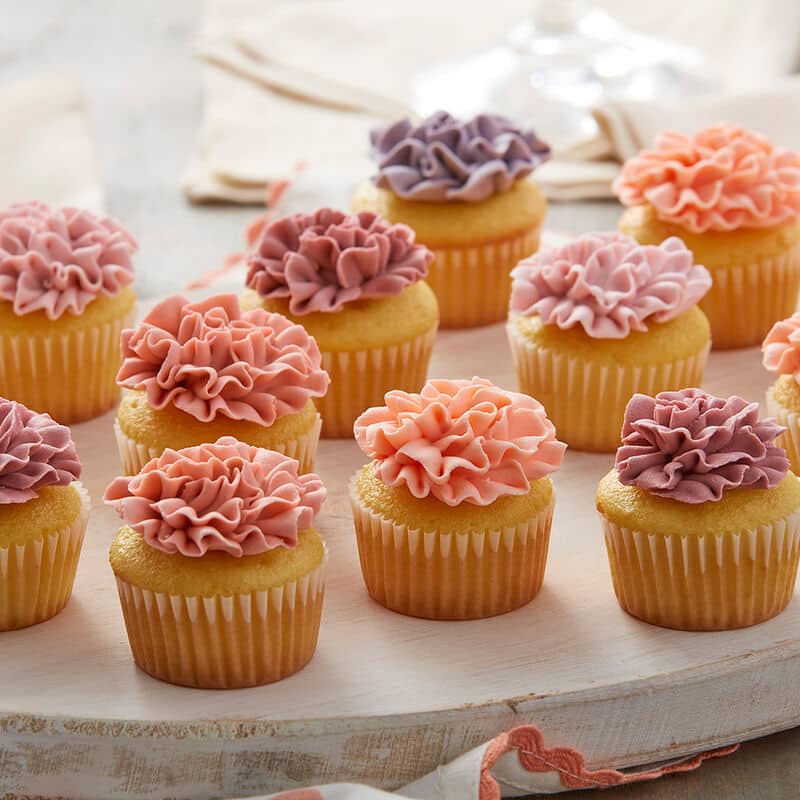 5. Crazy for Coral Cupcakes
Add these beautifully delicate cupcakes to any bridal shower or bridal tea for a pop of color and flavor. Make your treats blossom with the How to Pipe Simple Icing Flowers kit.
6. Stunning Succulent Cakes
Carefully textured toppings make these small cakes almost too good to eat. Almost! Lean into the art of edible decor by placing these at the center of guest tables for an afternoon bridal shower or spring wedding.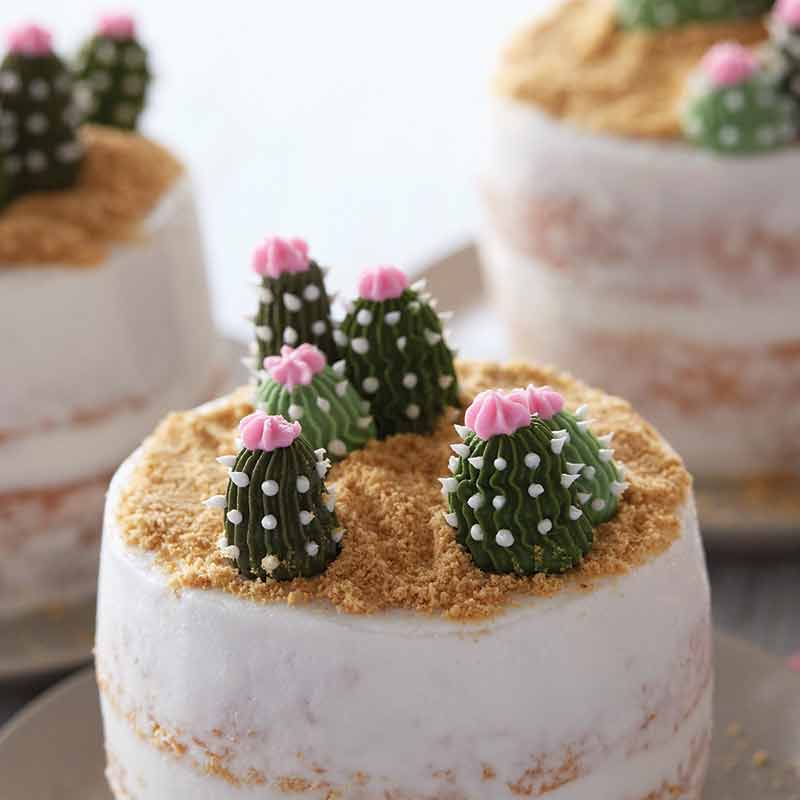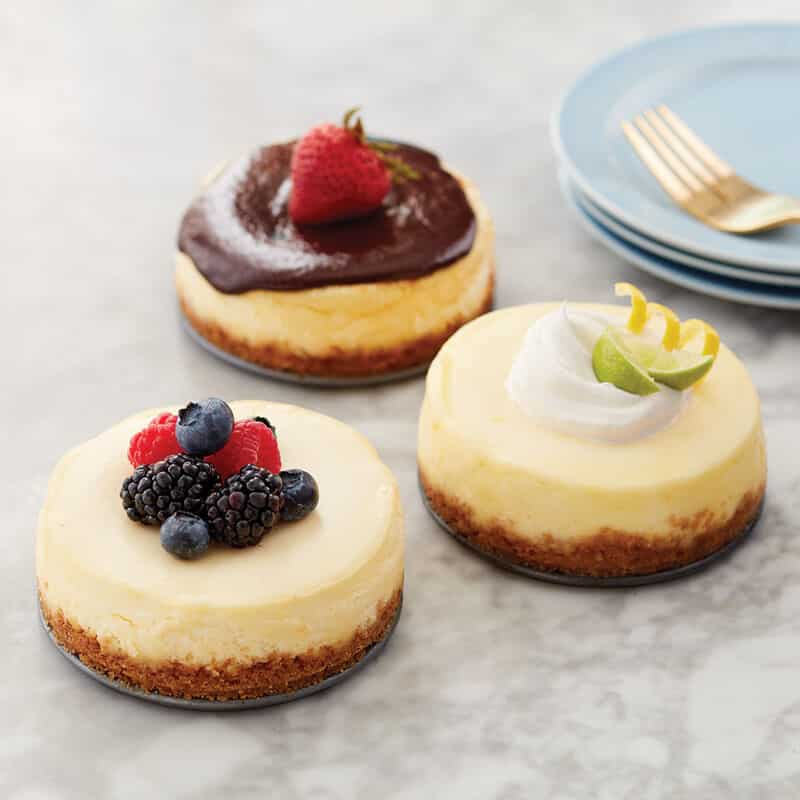 7. Mini Classic Cheesecakes
Guests will love this mini take on a treasured classic. A soft, velvety center and buttery graham cracker crust make each bite a delight. Vary the toppings for a new experience.
8. Mini Confetti Angel Food Cakes
These light, airy mini cakes are the best fuel for an afternoon bridal shower. For an extra special touch, use colored sprinkles that match the occasion's color scheme. Top the cakes with whipped cream and fruit for variety.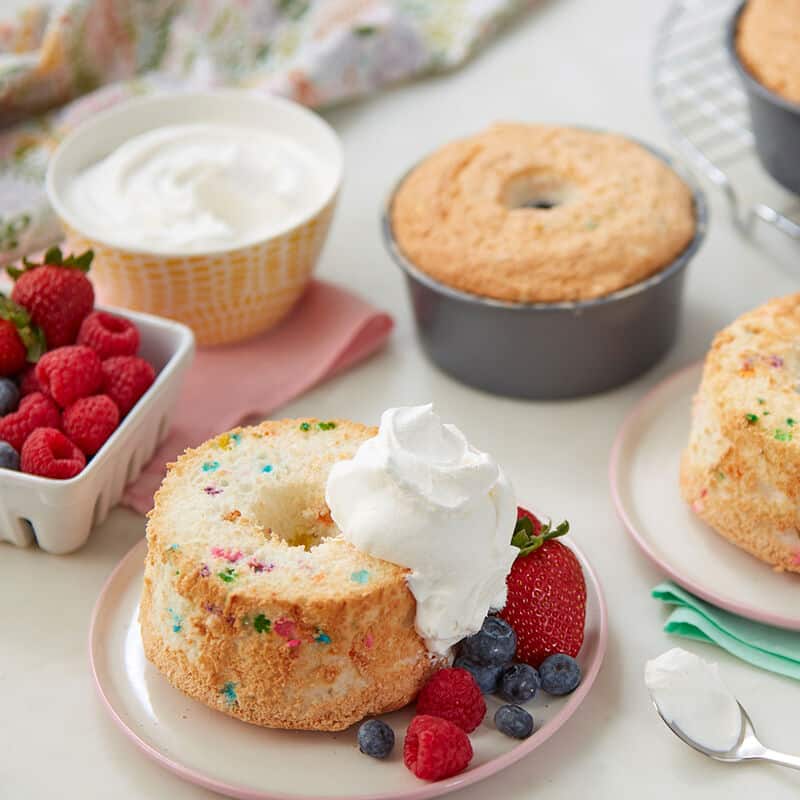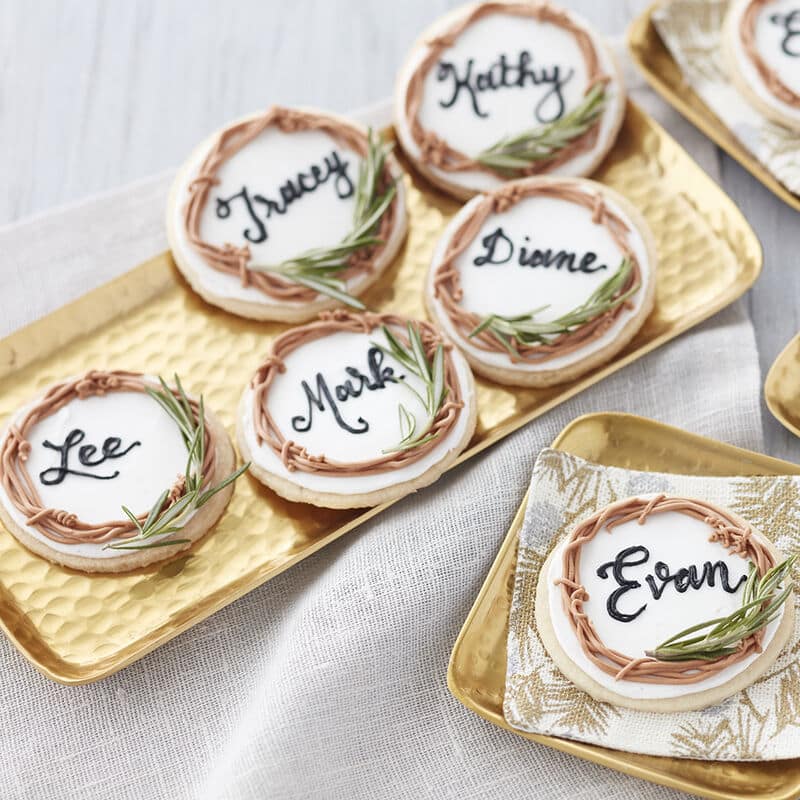 9. Rosemary and Lemon Holiday Place Card Cookies
Guests will flock to their seats with these customizable cookie place cards awaiting their arrival! They will love the personal touch almost as much as the fusion of rosemary and lemon in perfectly baked shortbread.
10. Coconut Orange Tartlets
Mandarin orange is a complementary companion to coconut in these dainty little tartlets. Surprise and amuse guests by serving these as the finishing touch on a beautiful bridal brunch.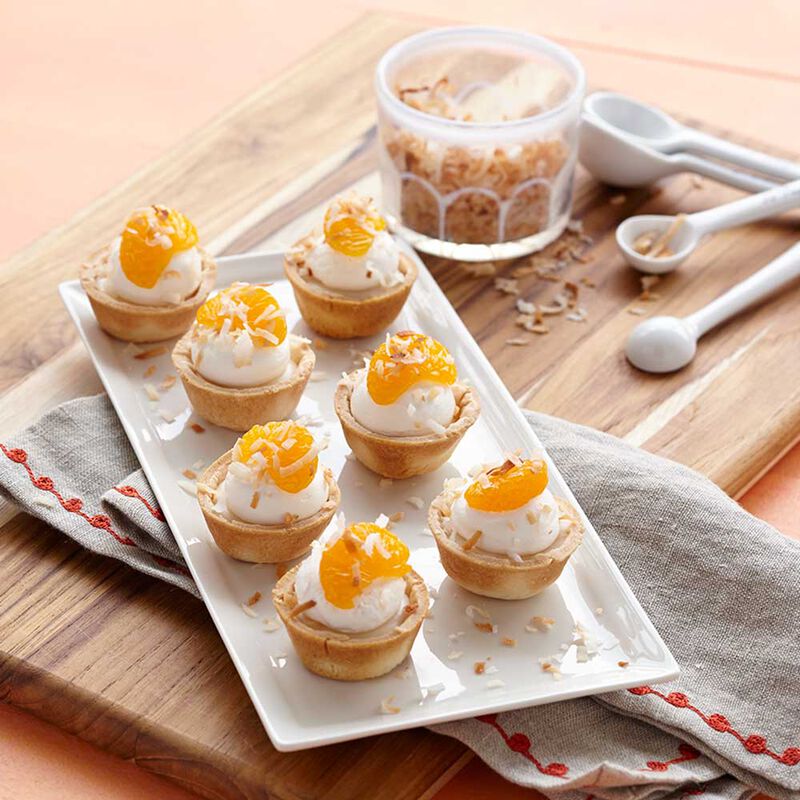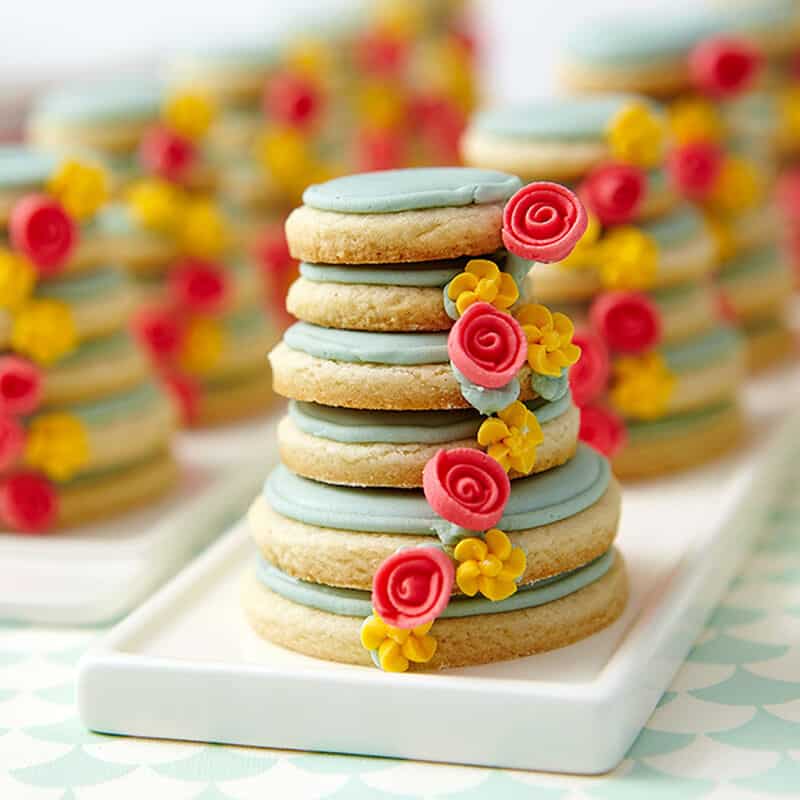 11. Wedding Cake Cookies
The magic is in the details! Royal icing roses and flowers cascade down the side of these stacked cookies. Wrap these treats in cellophane as individual parting gifts for guests.
12. Something Blue Wedding Shower Cake
This chic cake is a lovely option for the no-muss, no-fuss bride seeking an elegantly pared-down wedding reception. Replace the greenery with a custom topping to upgrade this cake.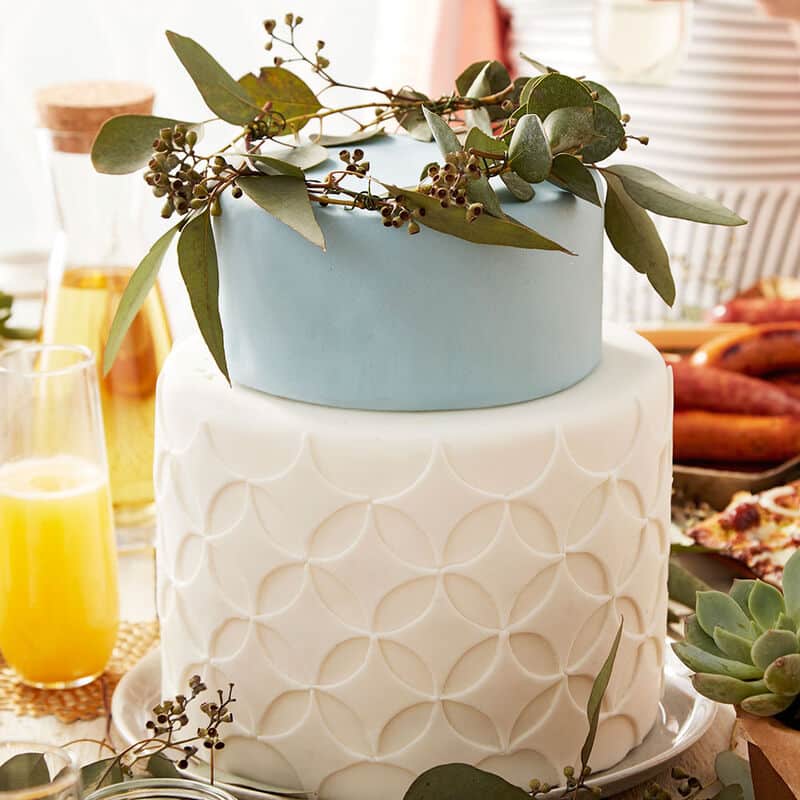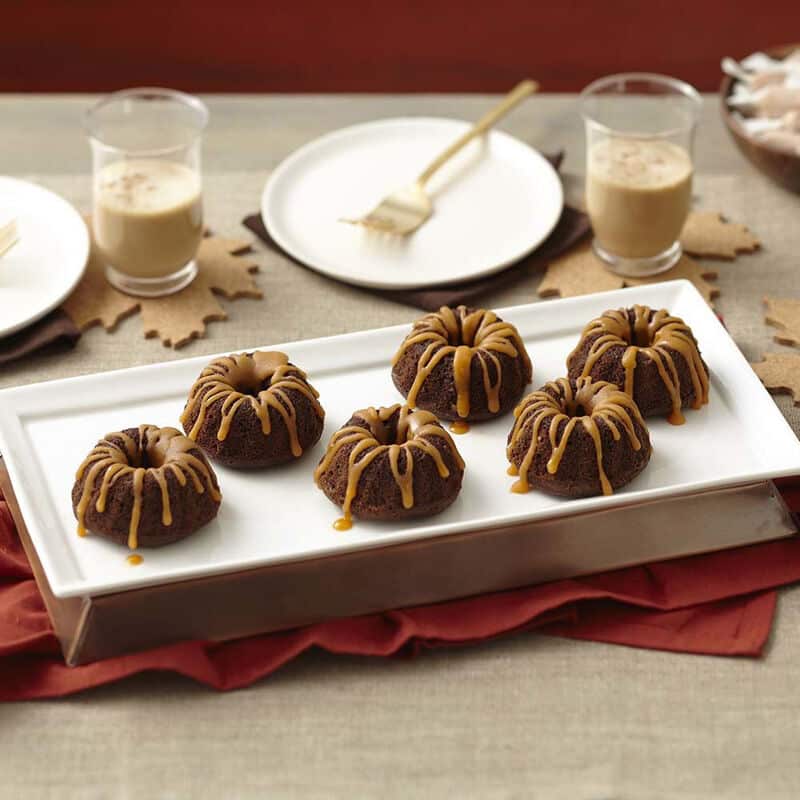 13. Mini Almond Cakes with Chocolate Glaze
These mini cakes fit on any bridal brunch or bridal shower menu. You could even incorporate them into a rehearsal dinner menu! Notes of almond, vanilla, and chocolate meld for a delightful flavor.
14. Summer Berry Mini Trifles
Tart berries, creamy Wilton Whipped Icing, and sweet angel food cake create an exquisite ensemble for your next bridal brunch. These sweet treats are easy to make and simply delicious!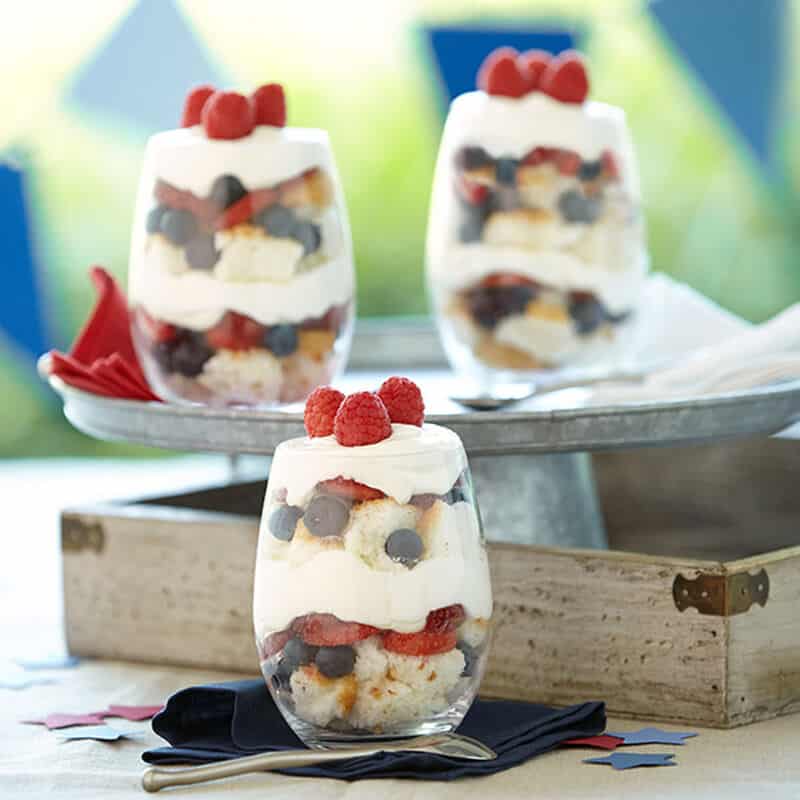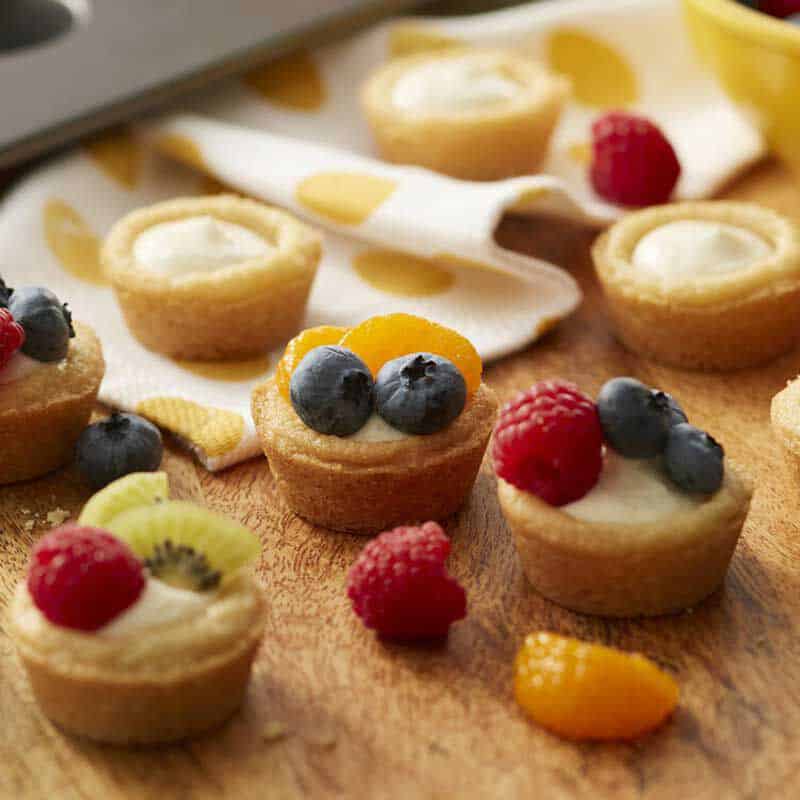 15. Delicious Mini Fruit Tarts Recipe
These mini tarts will be the other star of any bridal brunch. A crisp sugar cookie crust is the perfect foundation for a creamy filling topped with fresh berries. These treats are easy to make and transport.
16. Easy Blooms Mini Cupcakes
Watch colorful buttercream icing bloom into gorgeous arrangements of roses and mums. Use the Easy Blooms Tip Set to give your culinary green thumb a boost for this project.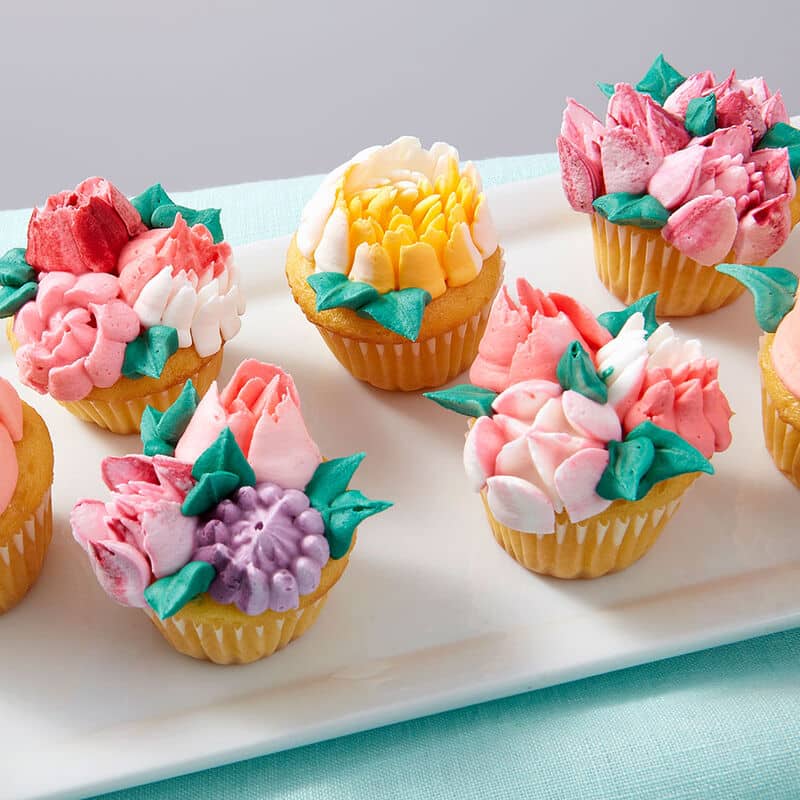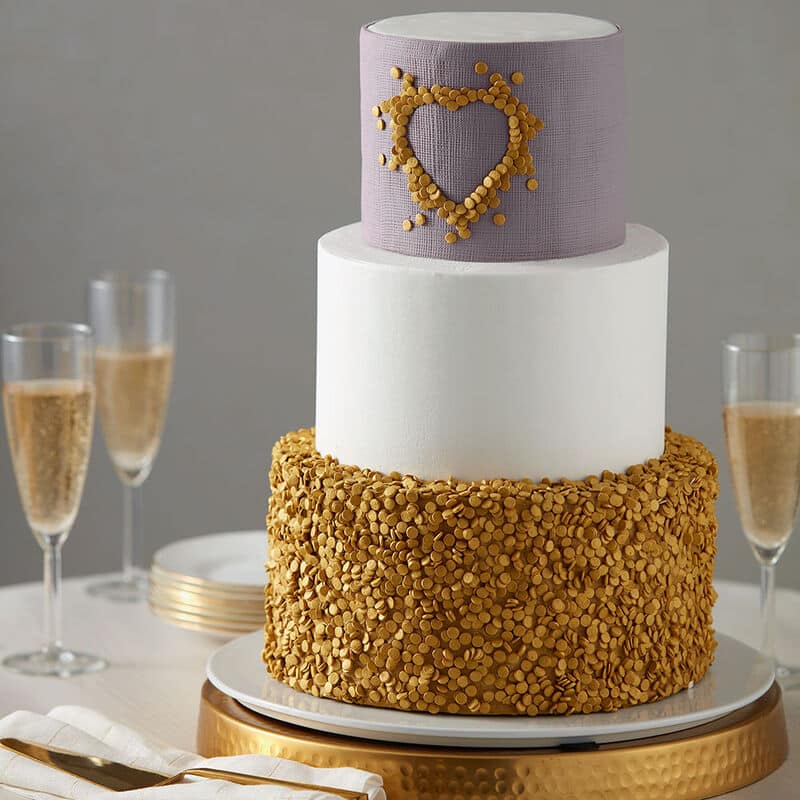 17. Glittery Gold Wedding Cake
This shimmering three-tiered cake is sure to catch eyes from across the room. Gold accents make this cake an elegant option as The Cake at a smaller wedding. Embellish the bottom and top tiers with Gold Cake Sequins Edible Decorations. The more, the merrier.
18. Mini Red Velvet Whoopie Pies
These two-bite delights are sure to please guests of all ages. Silky buttercream icing sandwiched between two soft, chocolatey cookies is pure bliss — and the perfect addition to any groom's table.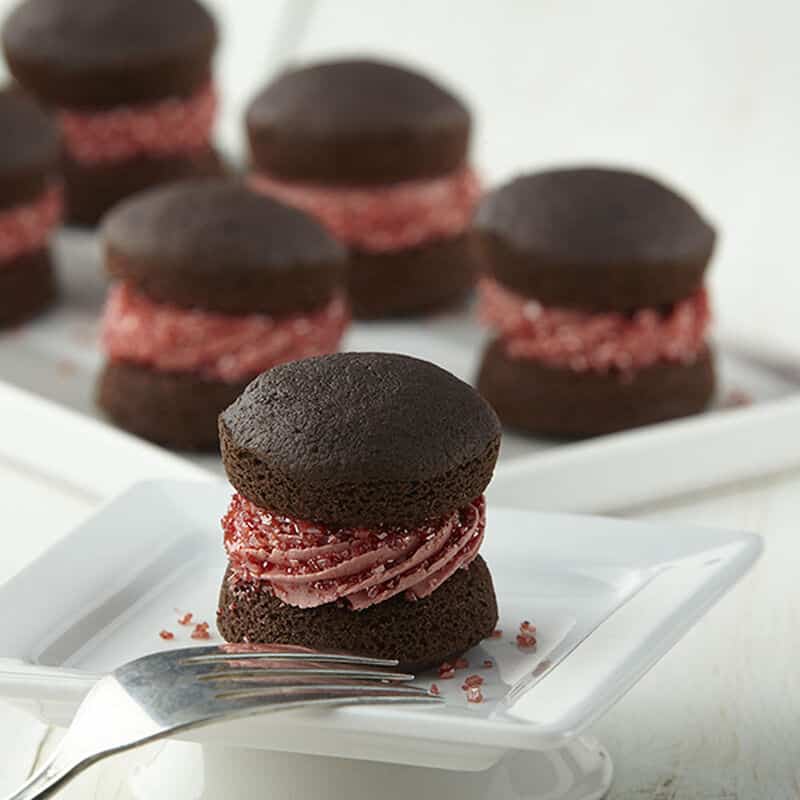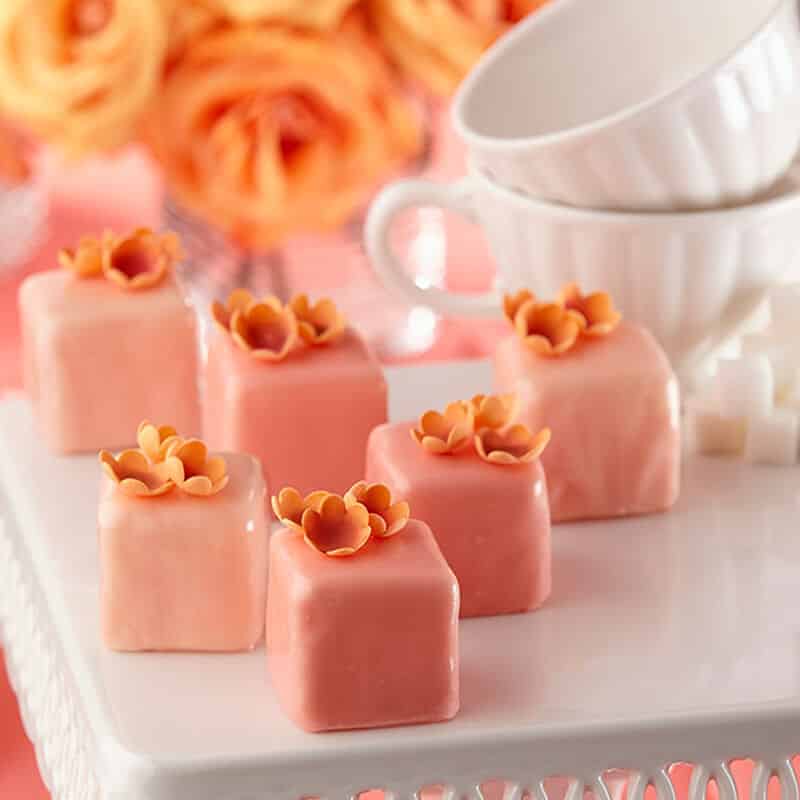 19. Blossom Blush Petit Fours
Blushing brides will love these cute, colorful, Instagrammable treats topped with tiny gum paste blossoms. Luscious Candy Melts give these tiny treats their smooth texture and delicious taste. Make them part of any spring or summer bridal shower.
20. Carnation Mini Cupcakes
A tray of these bright blossoms will elevate any bridal shower dessert table. Share something sweet with the bride-to-be through these classically hued, floral-inspired cupcakes.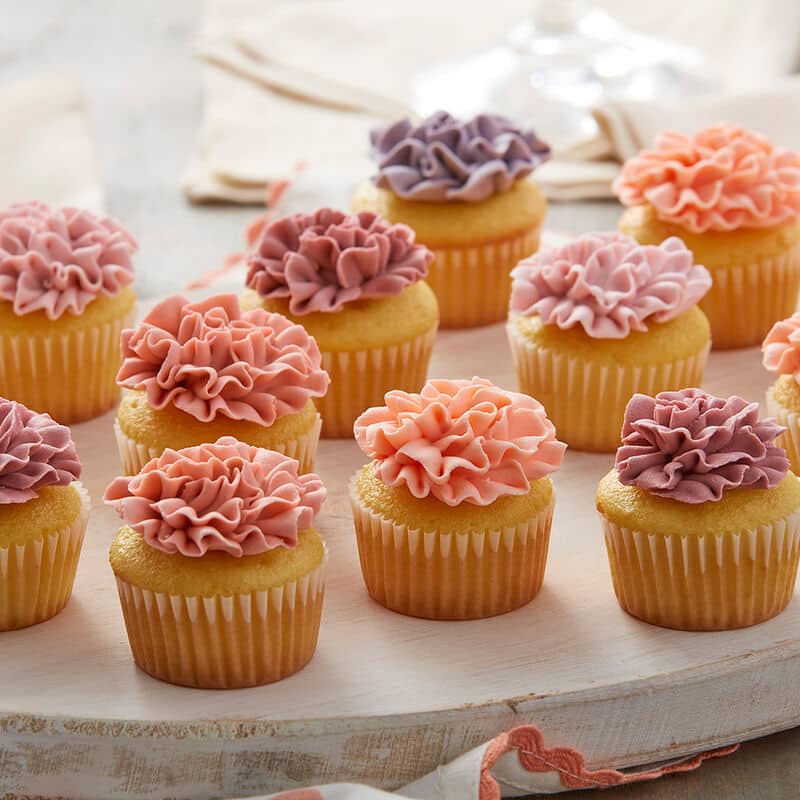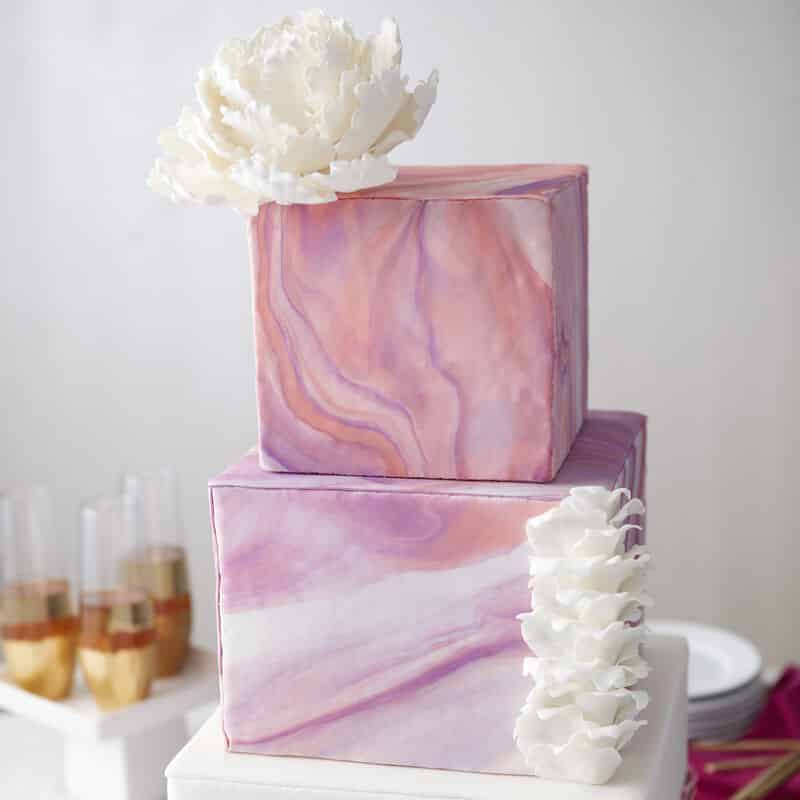 21. Fondant Wedding Cake
Pink, purple, and orange merge to form a captivating marbled look on this fondant-covered cake. With multiple tiers, this sweet wonder is ideal for a budget-friendly bride and groom looking for wedding dessert ideas.
22. Spring Floral Cones
With these eye-catching floral cones, everyone has a chance to catch a bouquet! These flowers, made with delicious icing and Candy Melts candy, will be the focal point of any bridal shower spread.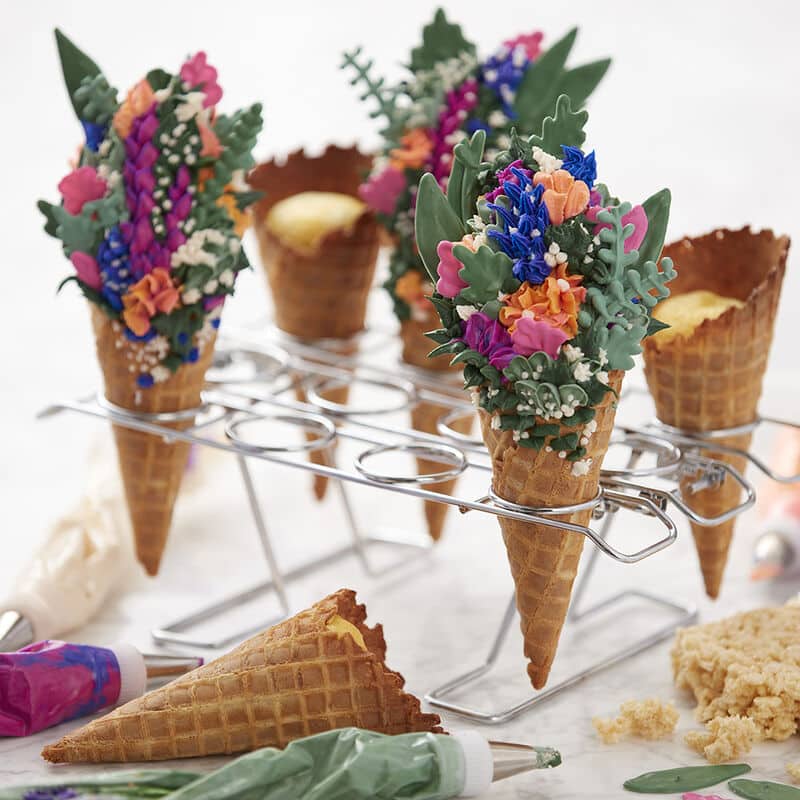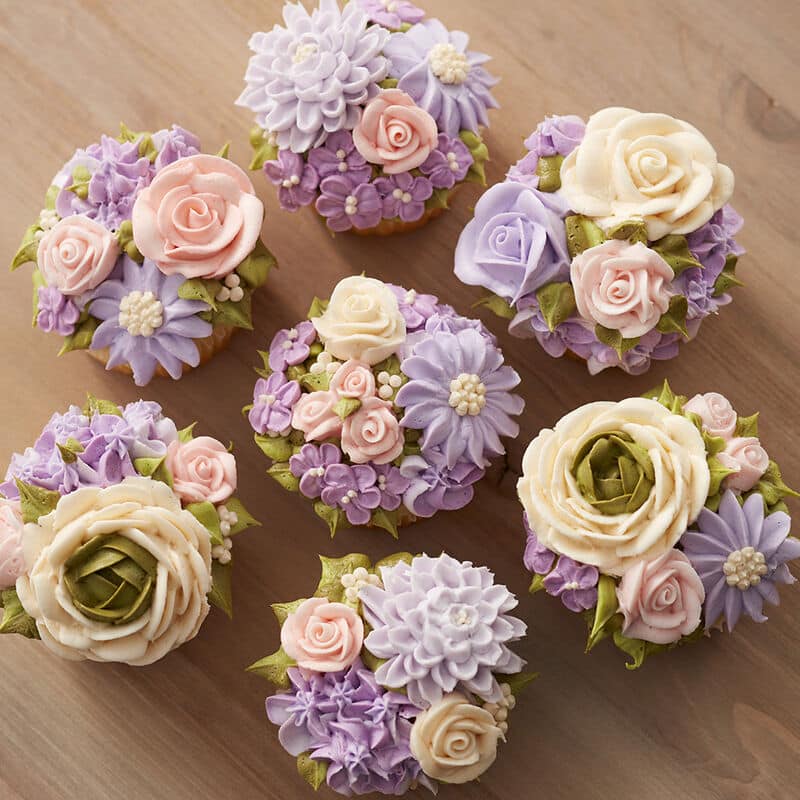 23. Floral Fantasy Cupcakes
This stunning floral arrangement tastes as good as it looks! Use the Master Tip Set to create an assortment of blooming buttercream roses, daisies, mums, and more — pretty pastel florals for a bridal shower.
24. Raspberry Cheesecake Brownies
This exquisite confection is a strong contender when searching for wedding dessert ideas. Guests will experience a new sensation with each bite as creamy raspberry cheesecake batter merges with chocolatey, chewy brownies.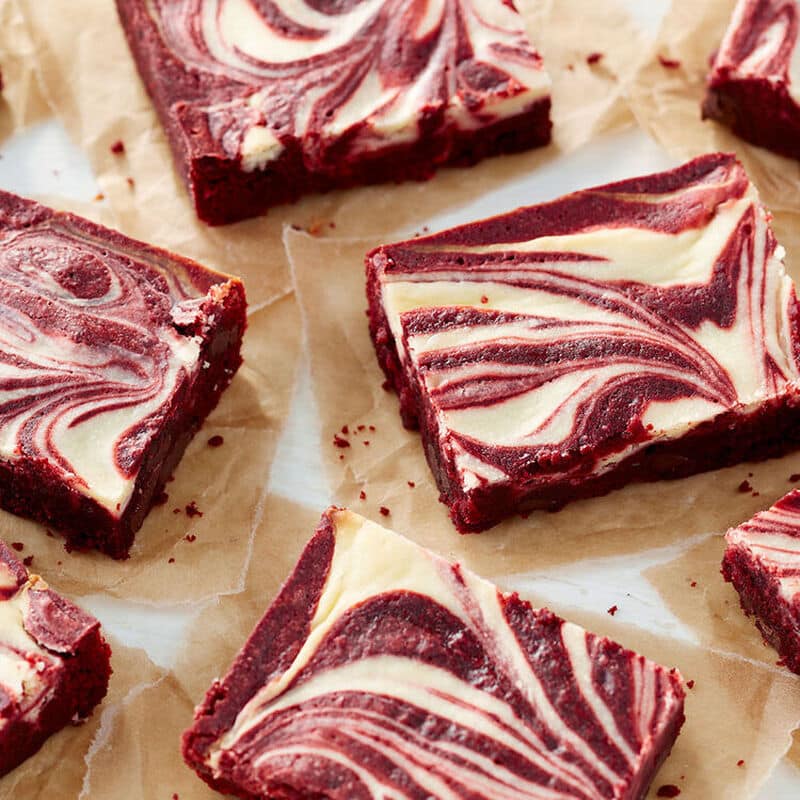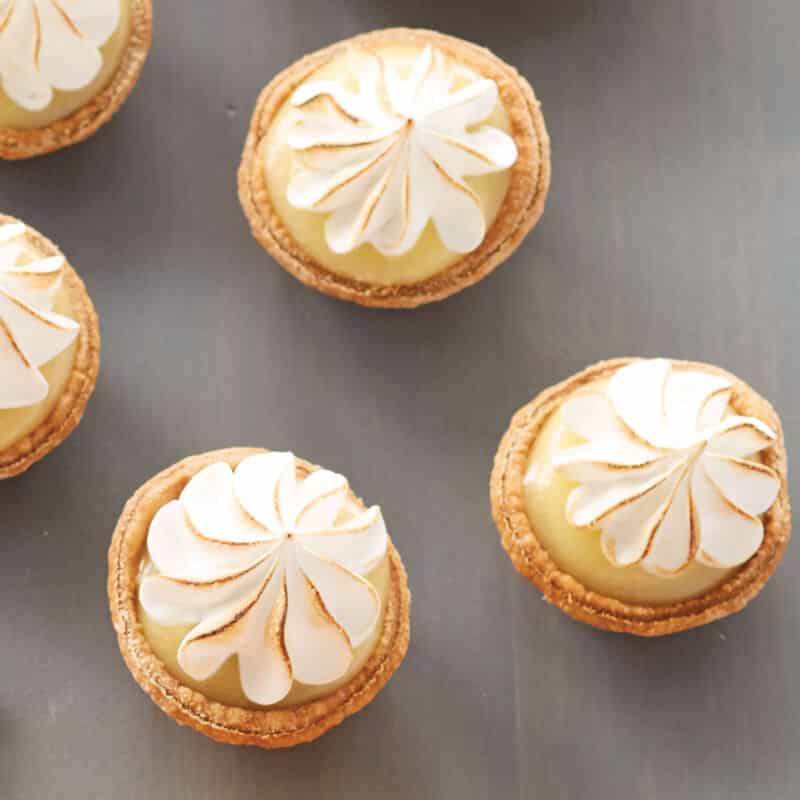 25. Mini Lemon Tarts
These tiny tarts are cute, delicious, and easy to assemble — a quick win for any wedding dessert table! What's not to love? Take these tasty tarts to the next level with the How to Pipe Simple Icing Flowers kit.
26. Mini Pineapple Coconut Cakes
Serve these small, craveable cakes at spring or summer bridal showers. Incorporate them into the dessert table or make them part of the place settings. Guests will eat up the personal touch these cute confections offer!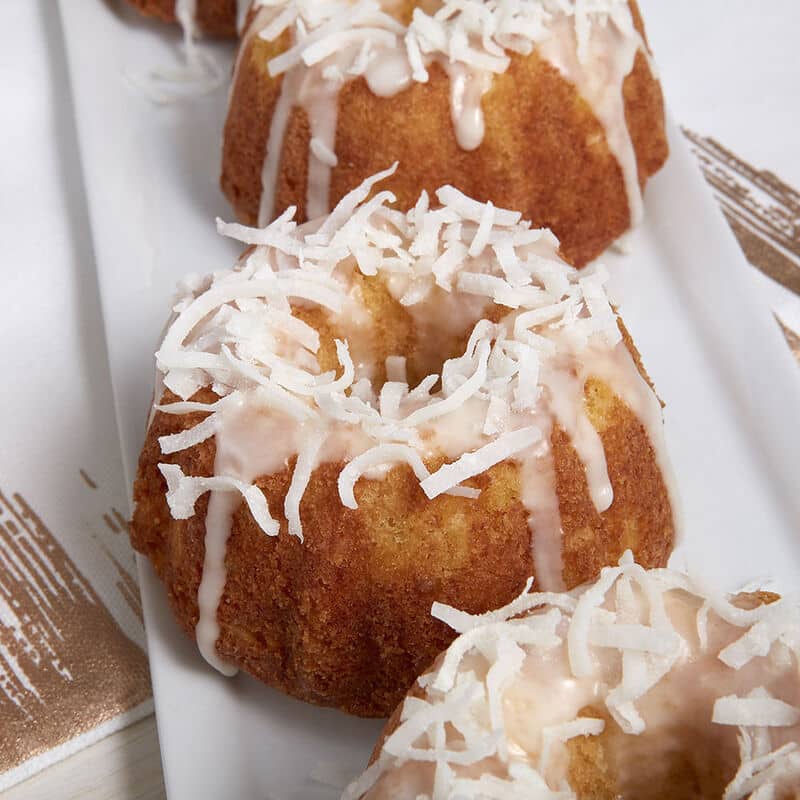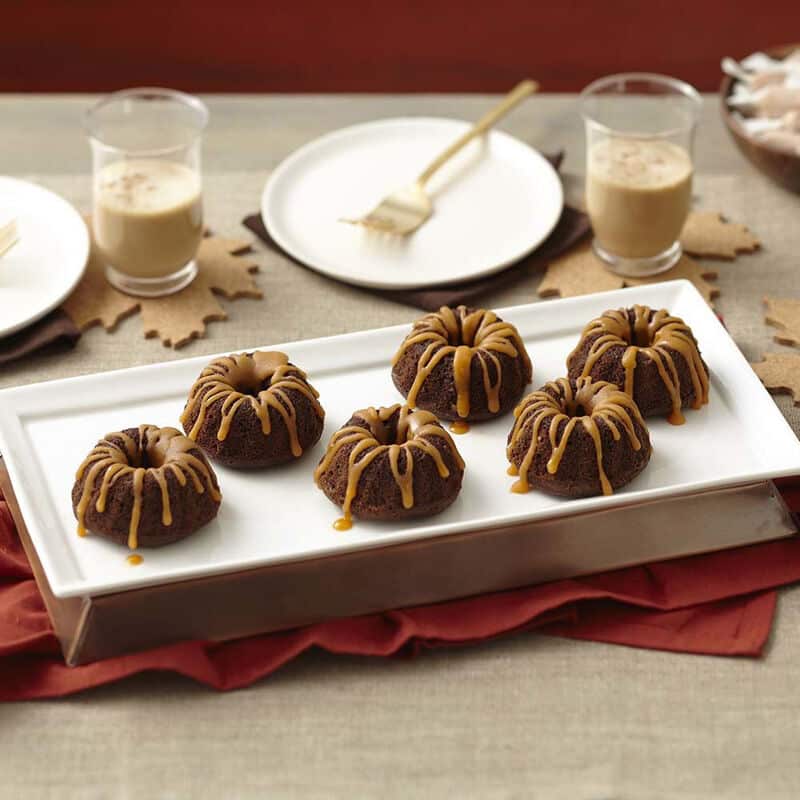 27. Mini Chocolate Fluted Tube Cakes with Salted Caramel Glaze
These decadent dark chocolate cakes top any list of wedding dessert ideas — ideal for fall nuptials. A sweet, buttery glaze complements the dense, rich consistency of the cake. Bake a few extra because these will go fast! 
28. Naked Cake with Fall Flowers
This basic, beautiful tiered cake is delicious and versatile. Serve it as a wedding cake, changing the flowers' color palette to match the occasion. Morph it into a fun groom's cake with a few fun, creative decorations.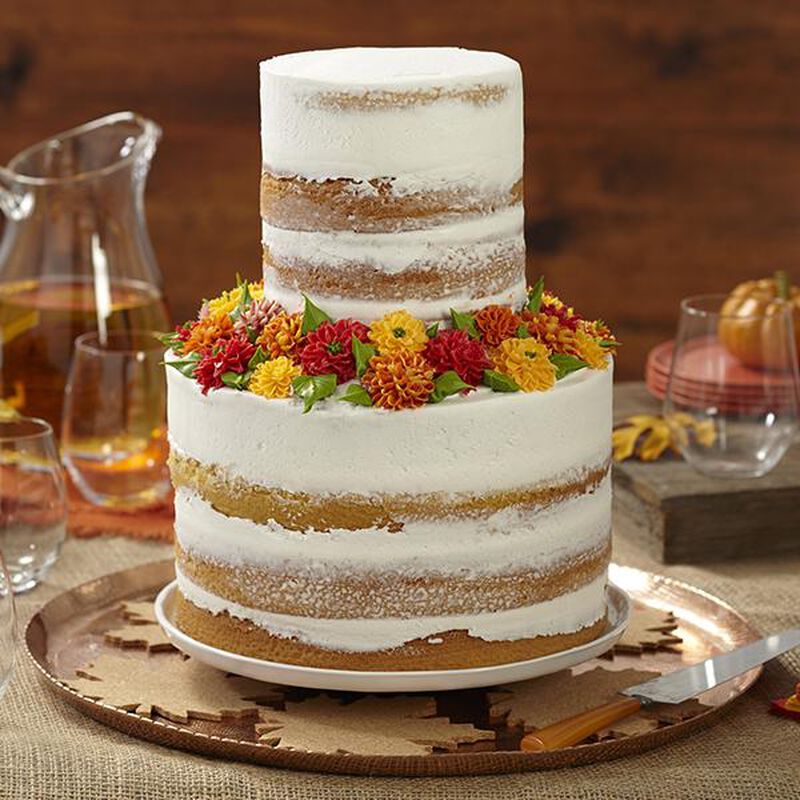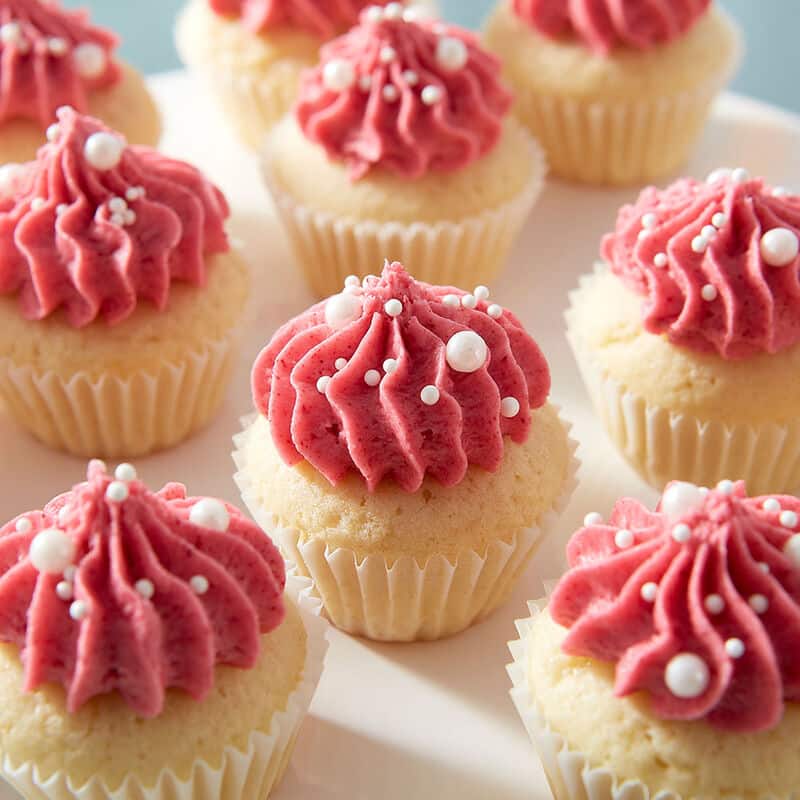 29. Mini Raspberry Cupcakes
These cute cupcakes will add a sweet touch to the dessert table at any wedding or bridal shower. Sugar Pearls and Nonpareils Sprinkles quickly elevate the look of these mini masterpieces.
30. Rosy Special Celebration Cake
Spread the love with this elegant and beautiful tiered cake. The simple, yet eye-catching, rouching design enhances the cake's overall look. Change the flower colors to match the occasion.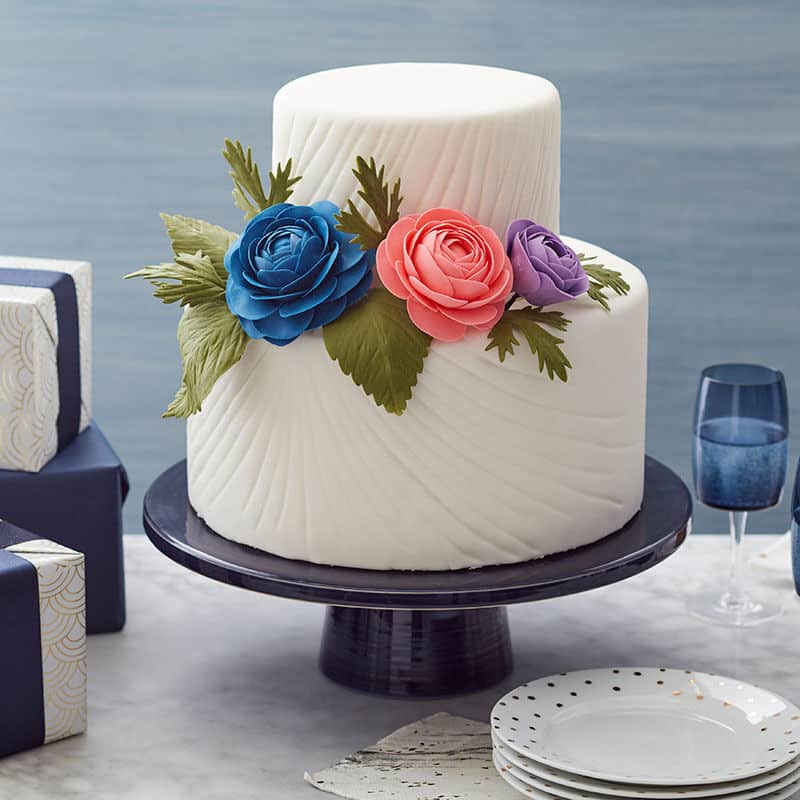 Which of these wedding dessert recipes is your favorite? Let us know in the comments below!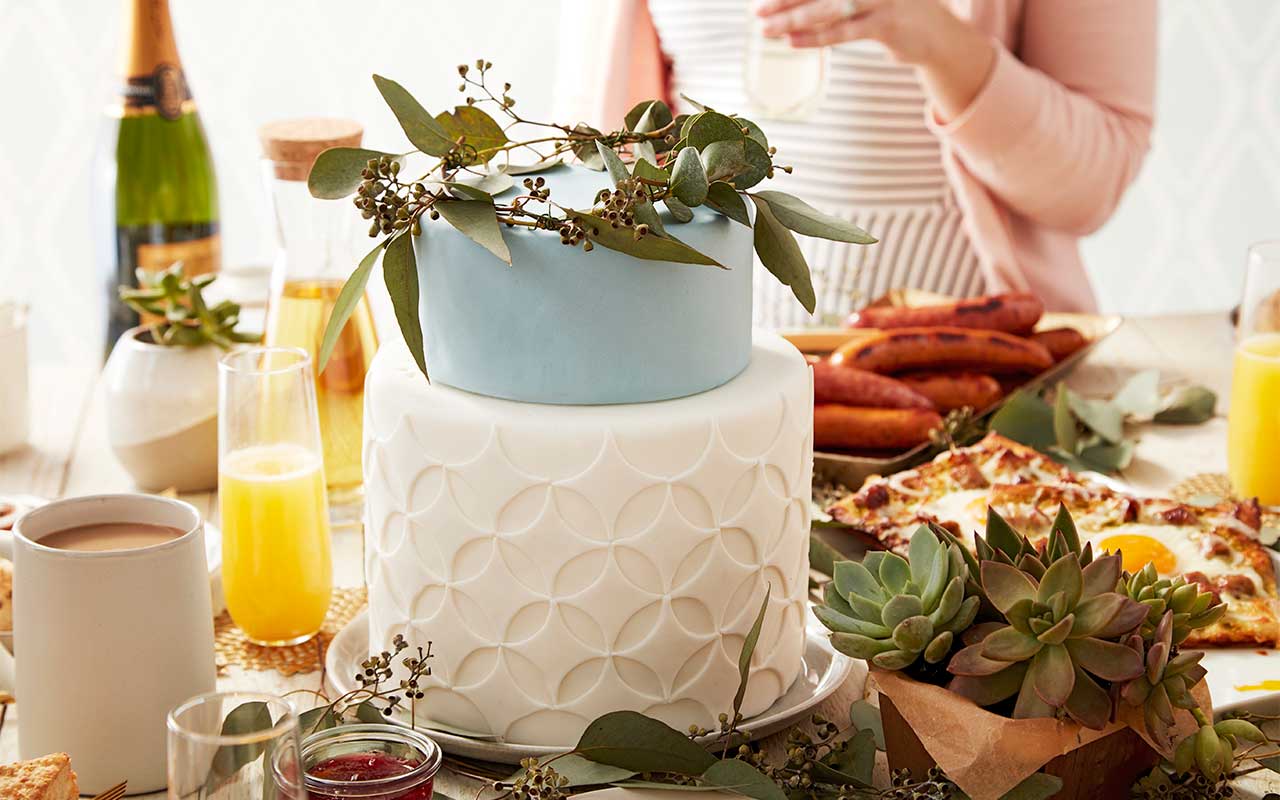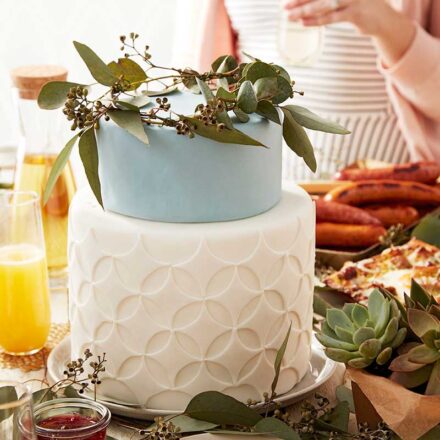 30 Delicious Wedding Dessert Ideas
These wedding dessert table ideas are one less thing to plan. From mini cakes to petit fours these delicious wedding desserts are sure to impress guest.
Tried this recipe?
Take a picture and tag us @WiltonCakes on Instagram