My nephews' birthdays invade at the end of April and the beginning of May. This year, they had one birthday theme assignment for me: Camouflage.
My mission was clear: I needed to take my usual cupcakes and make them First Class. Not only was I going to use Wilton Camouflage Baking Cups, I was going to make the actual cupcakes camouflage as well!
After mixing yellow cake batter, I divided it into 3 bowls. I used Wilton Icing Color in Leaf Green to color one bowl of batter, then Brown to color the other bowl of batter. When filling the baking cups, I alternated spoonfuls of different colors until the baking cups were 2/3 full. It was definitely hazardous duty: my niece, Jayda, decided to join the mission and help me fill the cups.
Note to self: squeeze bottles are a great idea for cake batter! (You never realize how much you need them until you fill batter in baking cups with a kid.)
When it came to the icing, I used my new-found skills from Wilton Method Course 1: Decorating Basics. I used the green and brown gel coloring with Wilton's Creamy Decorator Icing to mix two different shades of olive green.
On top of the cupcake, I used a Wilton Leaf Decorating Tip to make an assortment of leaves. Then I topped them with a fun plant-like shape using Wilton Multi-Opening Decorating Tip #233. The finishing touch? Wilton's Candy Eyeballs. Just adding a couple hints at a concealed figure underneath.
The cupcakes were right on target… They looked great on both the outside AND the inside! Who knew I had such hidden talents?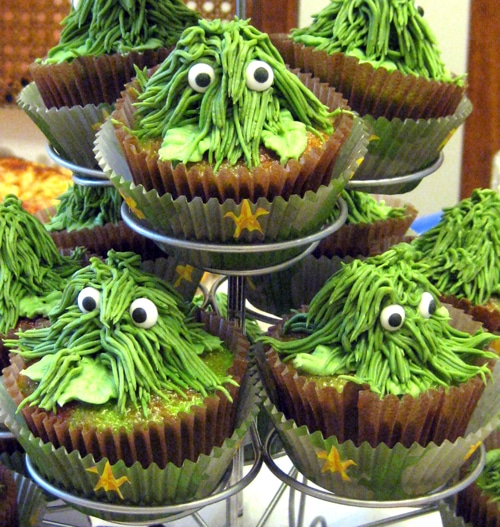 Another fun party idea? My sister set up stations where the kids could complete mini-missions for rewards. Wilton's fruit-flavored Lollipops and Candy Sticks were a must-grab for each kid. And since they come in a variety of colors, the green and brown ones were a perfect, color-coordinated addition to their favor bags.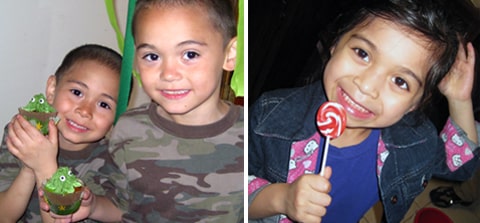 Consider this birthday a mission accomplished!