This sweet and tangy cream cheese frosting recipe is the perfect topper for carrot cake, red velvet cake, chocolate cake and more! Using only 4 ingredients, this cream cheese frosting is super easy to spread and pipe on your favorite treats.
Are you ready to take your desserts to the next level? While vanilla buttercream certainly has its place in our hearts (and tummies!), you can add another layer of delicious flavor to your favorite layer cakes, cupcakes, brownies and more with this sweet and tangy cream cheese frosting.
Cream cheese frosting behaves much like traditional buttercream, in that you can use it to fill cake layers or pipe decorations. However, it's often less sweet and much creamer than its butter-based cousin, giving your cakes and cupcakes an indulgent layer of flavor! So what are you waiting for? Give this easy recipe a try today!
Can you pipe with cream cheese frosting?
Absolutely! Cream cheese frosting is great for piping soft decorations, such as shells, swirls, stars and more. However, it's not quite stable enough to handle stand-up decorations, like flowers or textured borders.
It's also important to note that cream cheese frosting is prone to melting, so make sure you store your treats in the fridge until you're ready to serve them, particularly if they have piped decorations.
How to prevent runny cream cheese frosting
The easiest way to prevent runny cream cheese frosting is by using full-fat block cream cheese. Avoid any low-fat or spreadable varieties, as they can ruin the texture of your frosting.
Additionally, make sure your cream cheese and butter are soft, but not melted. If either one is too soft, your frosting may appear runny. If your cream cheese/butter mixture looks too soft, place it in the fridge for a few minutes, then continue with the recipe once it has stiffened up a bit.
How to thicken cream cheese frosting
Like most buttercreams, you can thicken cream cheese frosting by adding more powdered sugar. Start with about 1 tablespoon at a time, then continue to add powdered sugar until you reach your desired consistency.
If the frosting becomes too thick, you can thin it out by adding milk, about 1 teaspoon at a time, until it softens a bit.
Can cream cheese frosting be flavored?
Yes! This simple recipe can be altered with a variety of fun flavor add-ons! Here are a few of our favorite ideas:
½ teaspoon cinnamon or pumpkin pie spice
1 teaspoon lemon, almond or coconut extract
1 teaspoon chai spice mix
½ cup cocoa powder for a chocolate version (this may thicken your frosting a bit, so have some milk on hand to thin it out, if needed)
Play around with the amounts for a stronger or more subtle flavor.
Cakes to pair with cream cheese frosting
There really isn't a cake that can't be made better with cream cheese frosting! However, here are a few of our favorite recipes that pair perfectly with this frosting:
Cream cheese frosting would also be delicious on rich chocolate brownies, red velvet sandwich cookies, or on these carrot cake donuts!
Tips for making cream cheese frosting
When it comes to ingredients, quality matters! Make sure you're using full-fat brick cream cheese. Avoid using low-fat or spreadable varieties, as these can result in a runny frosting.
Make sure you allow your cream cheese and butter to soften before combining. This ensures your frosting will be smooth and lump free! Check out our post on How to Soften Butter for tips on how to tell when your butter is ready.
For best results, sift your powdered sugar before mixing it into the cream cheese mixture. This is especially important if you plan on piping with your frosting. Sifting your sugar helps remove little clumps that can clog up your piping tip and – BONUS! – gives you super smooth results.
For better piping results, try refrigerating your frosting before piping. Simply prepare your bag with a tip and fill with frosting, then place the bag(s) in the fridge for about 20 to 30 minutes to allow the frosting to set a bit more.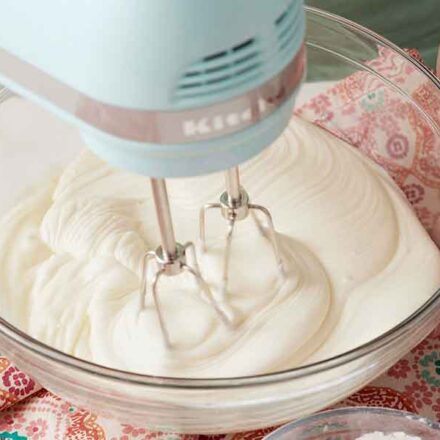 Sweet & Tangy Cream Cheese Frosting
This sweet and tangy cream cheese frosting recipe is delicious, easy to spread and great for piping on your favorite treats.
Equipment
Large Bowl

Stand Mixer

Measuring Cup
Ingredients
1

Cup

Unsalted butter, softened

(2 sticks)

2

Packages

Cream cheese, softened

8 ounces each

8

Cups

Powdered sugar 

(confectioners' sugar)

1

Tablespoon

Milk

1

Teaspoon

Vanilla extract

Optional
Instructions
In a large bowl, beat butter and cream cheese with a stand mixer until light and fluffy.

Gradually add powdered sugar, vanilla (optional), and milk. Beat on high until smooth (30 - 60 seconds). If frosting seems too thin, add powdered sugar 1 tablespoon at a time. If it seems too thick, add more milk 1 teaspoon at a time until frosting reaches desired consistency.
Tried this recipe?
Take a picture and tag us @WiltonCakes on Instagram