This Conversation Heart Valentine's Day Buttercream Cake is filled with sweet words for you! Decorated with colorful buttercream swirls, heart-shaped sprinkles and edible conversation heart decorations, this Valentine's Day cake is exploding with color and fun!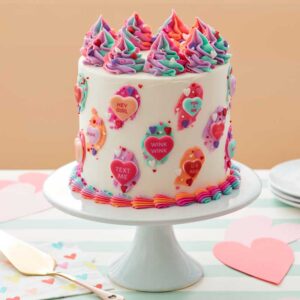 Conversation Heart Valentine's Day Buttercream Cake
Surprise your sweetheart with this amazing Conversation Heart Valentine's Day Buttercream Cake. Featuring bright buttercream swirls, cute conversation heart candies and plenty of sprinkles, this Valentine's Day cake is a sweet way to show someone how much you care!
Equipment
6 x 3 Inch Round Cake Pan

Other helpful tools: Ruler, mixing bowls, toothpicks, tweezers
Instructions
Step 1: Bake Your Cake Layers
Bake and cool two 6 x 3 in. cake layers. Level each layer to 2 1/2 in. high.

Using white buttercream, fill and stack your cake layers. Your cake should be about 5 in. high once assembled.

Ice your cake smooth using white buttercream frosting.
Step 2: Color the Buttercream Frosting
Use these color combinations to tint your buttercream frosting.

1 cup buttercream pink (combine Rose and Sky Blue colors)
1 cup coral (combine Rose and Lemon Yellow colors)
1 cup purple (combine Pink and Violet colors)
1 cup teal (combine Teal and Lemon Yellow colors)
1 cup orange (combine Orange and a touch of Pink colors)
Step 3: Make Buttercream Swipes
Using the tip of the 9 in. spatula, swipe colored frosting around the sides of your cake, alternating colors as desired. We suggest doing one swipe at a time, then adding the conversation heart decoration and the sprinkles as you go. It's much easier to add the sprinkles before the buttercream crusts.

For easer application, you can use a pair of food-safe tweezers to apply the sprinkles to your cake.
Step 4: Add Top and Bottom Borders
Prepare one decorating bag with tip 1M and another with tip 32. Using the angled spatula, stripe each bag with pink, coral, purple, teal and orange buttercream.

Using the bag with tip 32, pipe a shell border around the bottom of the cake.

Using the bag with tip 1M, pipe swirls around the top edge of the cake. Top the swirls with the remaining sprinkles.
Notes
Helpful Tips for Making this Conversation Heart Cake
You can save the leveled crowns of your cake for cake pops! Simply wrap them in plastic wrap, then aluminum foil, and freeze until ready to use. You can also just snack on them!
Toothpicks are great for adding gel food coloring to your buttercream. Be sure to use a fresh toothpick each time you add more color to avoid contaminating your gel colors.
Tried this how-to?
Take a picture and tag us @WiltonCakes on Instagram!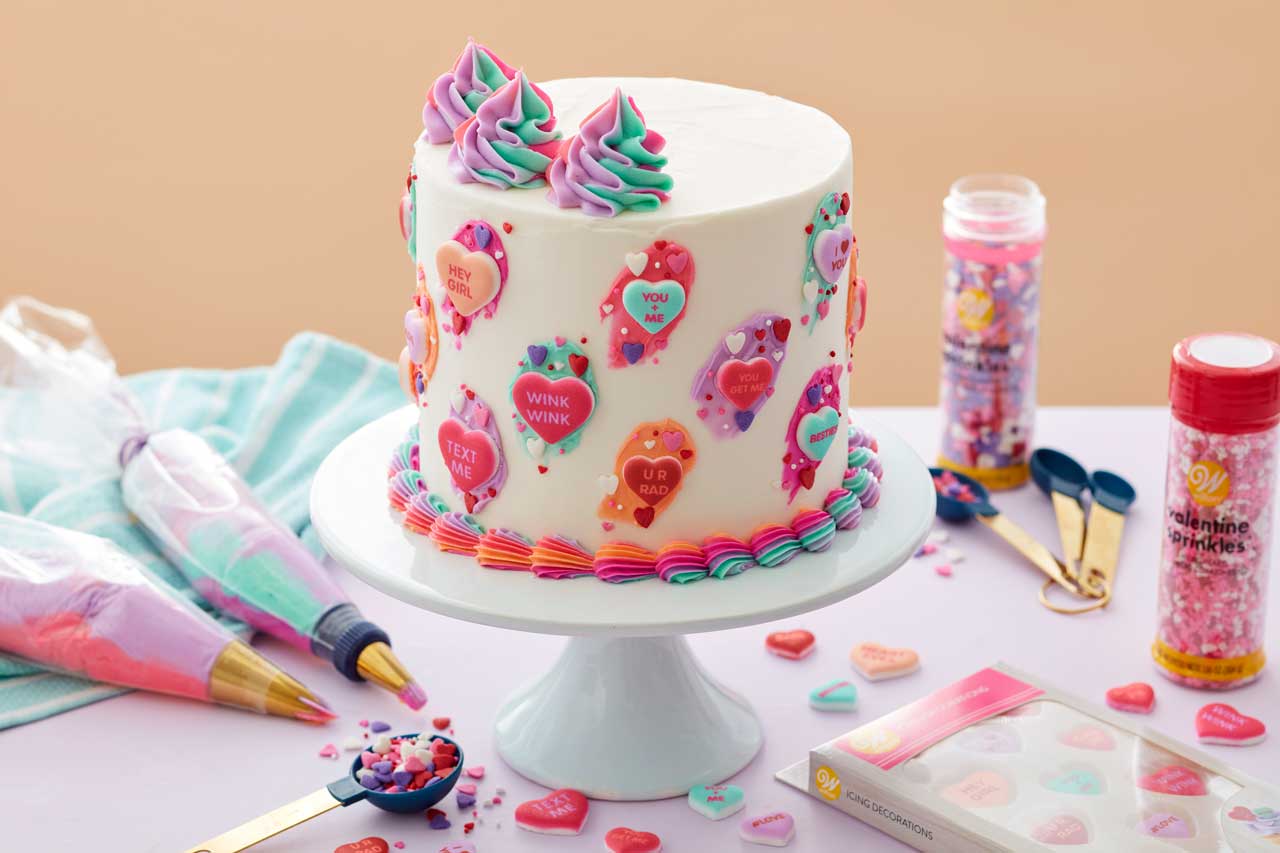 Check out more tips & tricks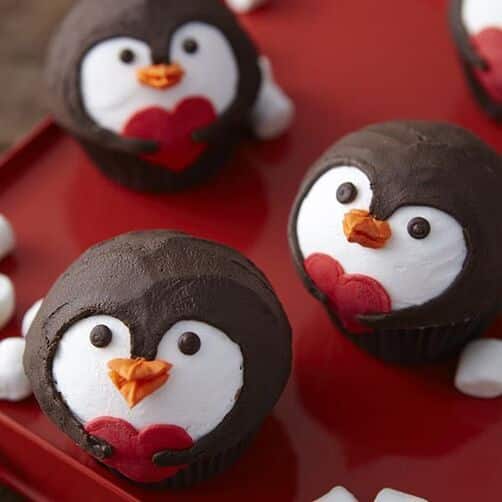 Penguin Cupcakes for Valentine's Day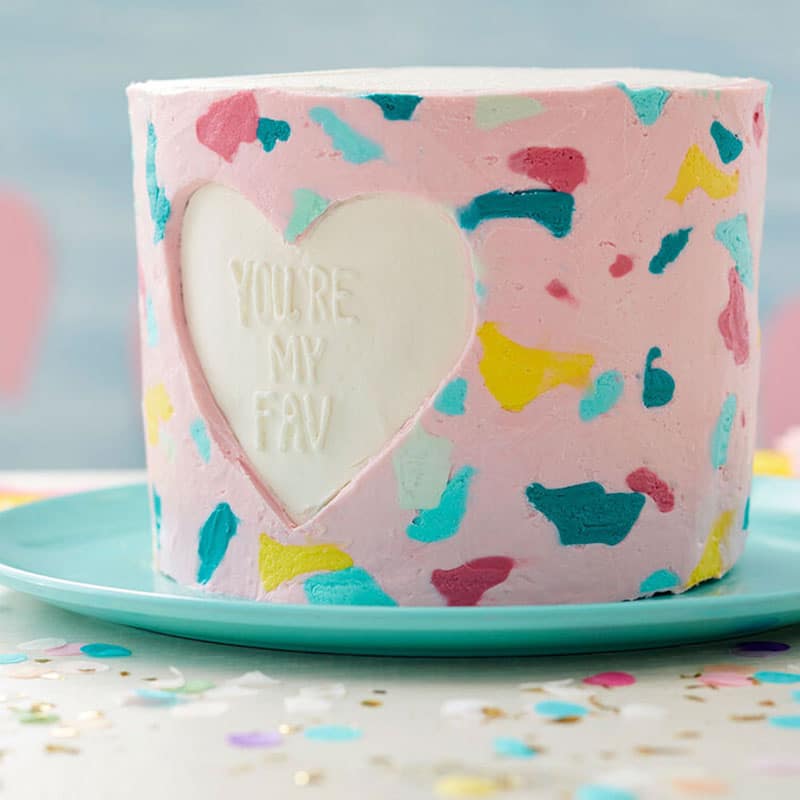 Best Valentine's Day Desserts