1. Classic Buttery Spritz Cookies
Get ready to spritz up your holiday baking with this classic, buttery cookie! Made using a cookie press, these cookies can be piped using shaped discs, so you can create a variety of styles with just one recipe. Serve them as is or add some sprinkles for a cute finishing touch.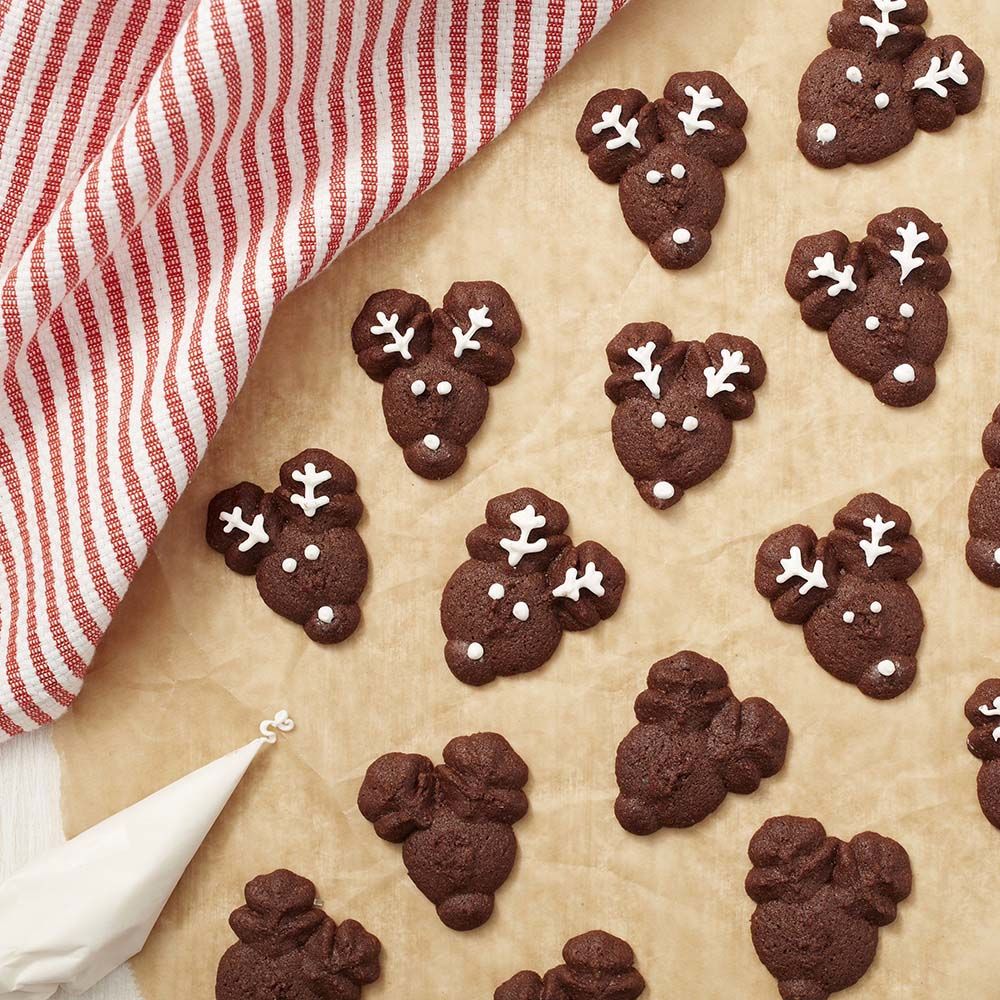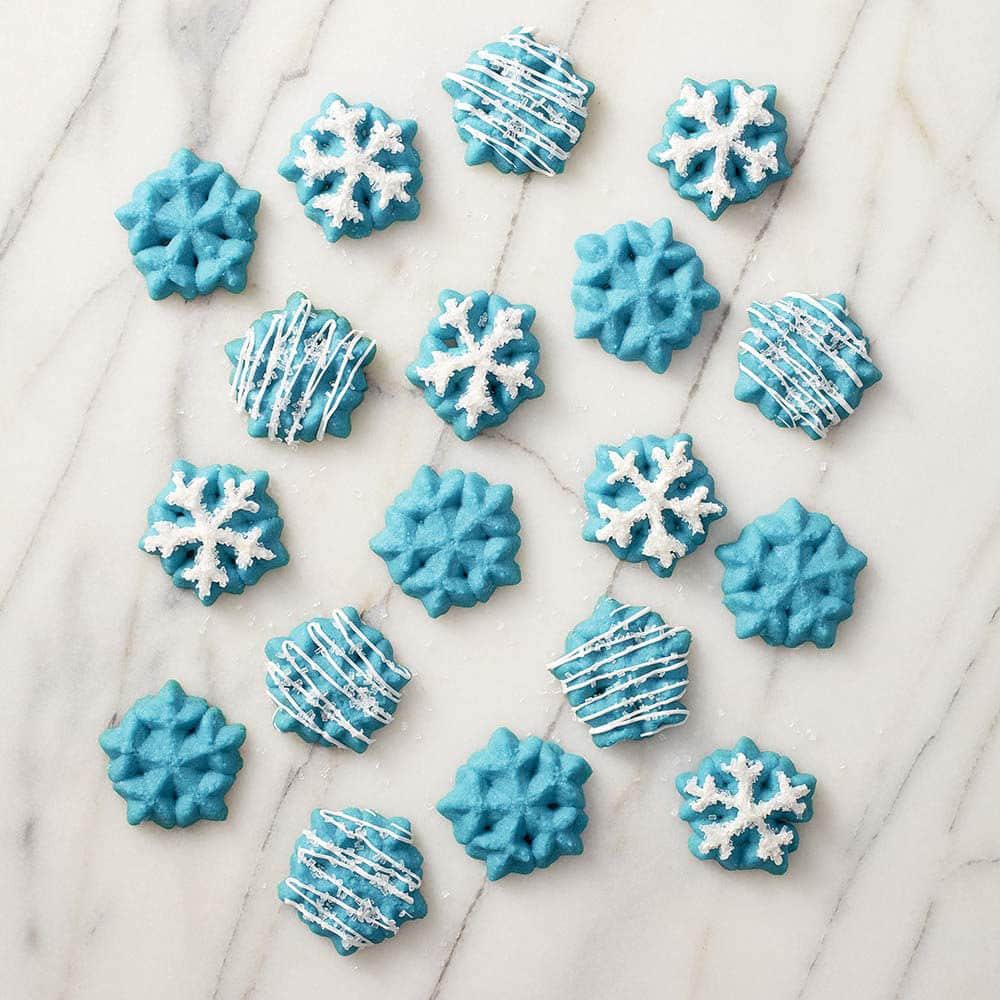 3. Sparkling Snowflake Spritz Cookies
Tint your Spritz cookie dough blue to create these lovely snowflake cookies. Topped with Candy Melts candy and sparkling sugar, these simple winter cookies are perfect for baking up a blizzard on a cold winter weekend.
4. Chocolate Spritz Cookies
Celebrate the holiday season with this rich and buttery chocolate cookie. Great for serving as is or topping with Candy Melts candy and sprinkles, these chocolate Spritz cookies are perfect for when you need a big batch of cookies.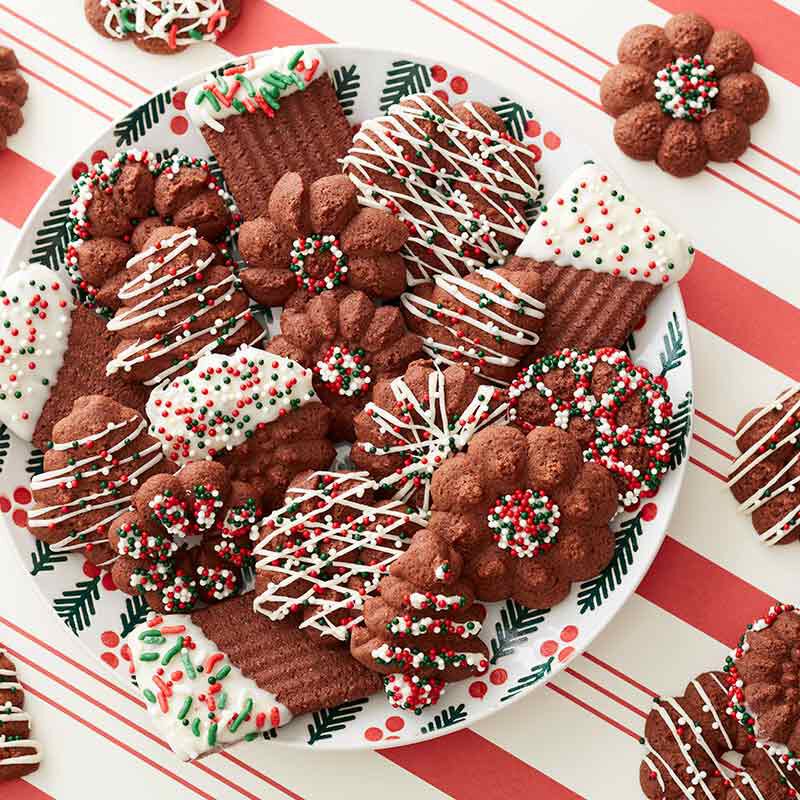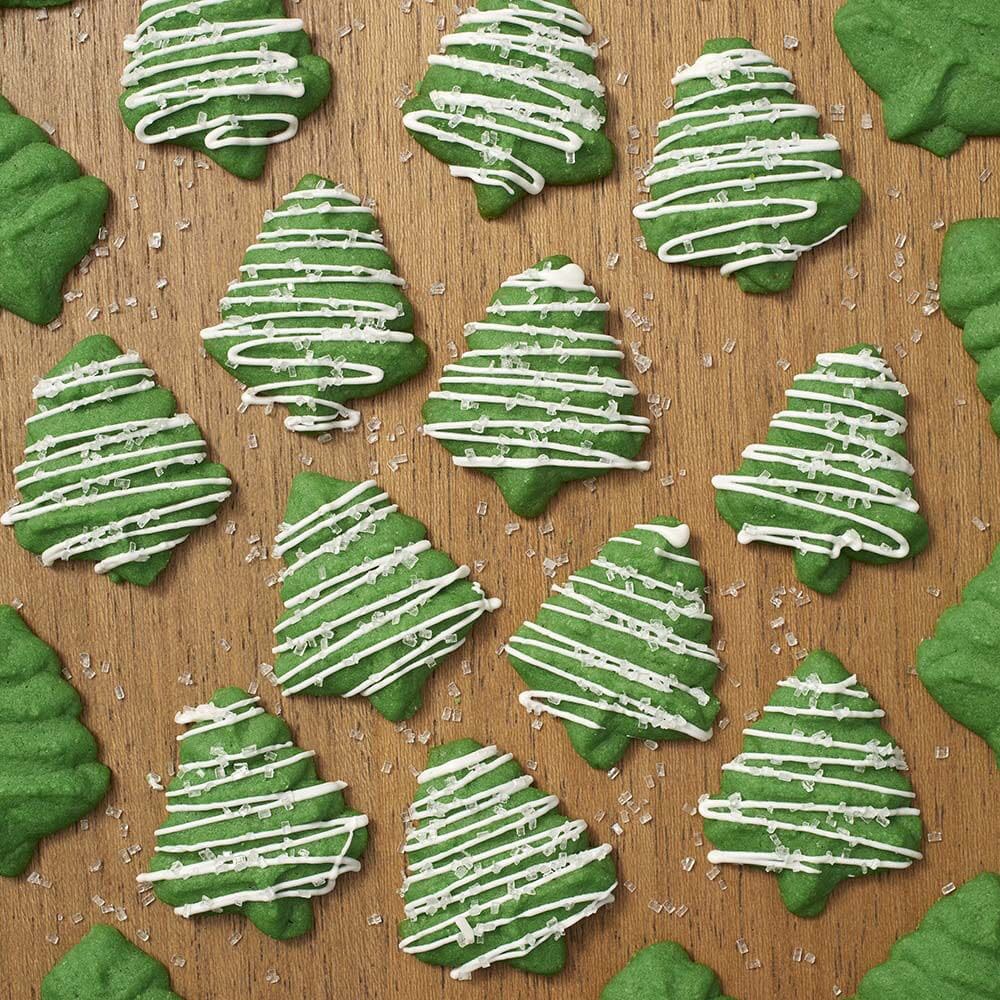 5. Christmas Tree Spritz Cookies
Decorated using Candy Melts candy and sparkling sugar, these Christmas Tree Spritz Cookies are a must for your cookie platter this year. For an extra pop of color, use nonpareils or sugar pearl sprinkles to add candy ornaments!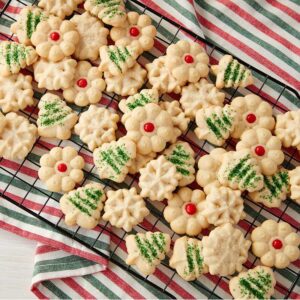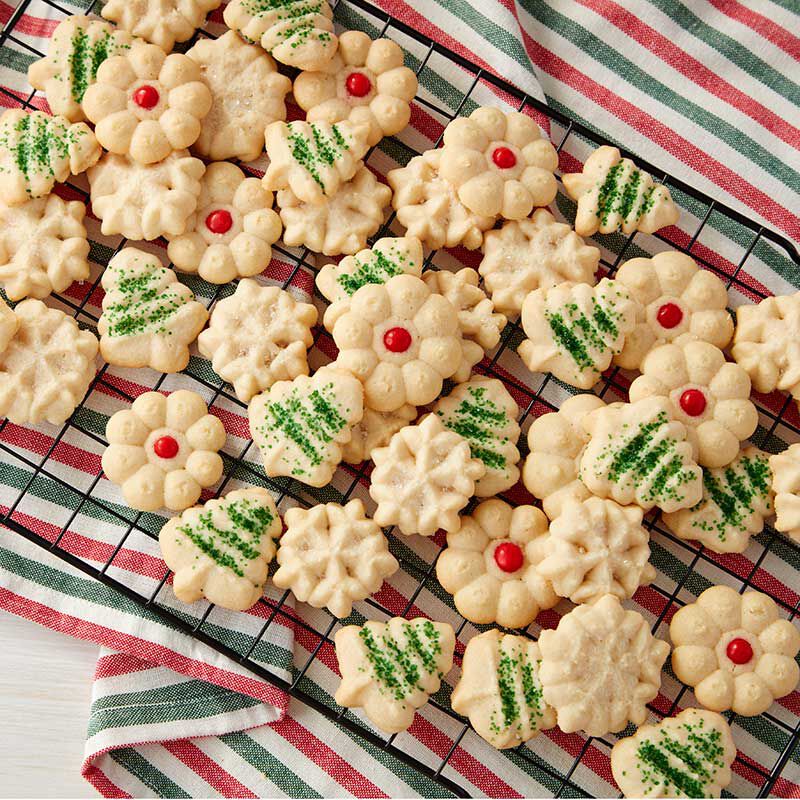 Classic Buttery Spritz Cookies
These buttery spritz cookies are made using a cookie press, so you can make a variety of shapes and sizes just by changing the discs on the press. Serve your spritz cookies plain or sprinkle them with jimmies, sugars or nonpareils for some added color. You can even ice them or dip them in melted chocolate or Candy Melts Candy for even more decorating options. Christmas spritz cookies also make for fun and delicious holiday gifts!
Ingredients
3 ½

cups

All-Purpose Flour

1

teaspoon

Baking Powder

1 ½

cups

Unsalted Butter

3 sticks, softened

1

cup

Granulated Sugar

1

Egg

2

tablespoons

Milk

½

teaspoon

Almond Extract

1

teaspoon

Vanilla Extract
Instructions
In a medium sized bowl, combine flour and baking powder.

In a separate large bowl, beat butter and sugar with an electric mixer until light and fluffy. Add egg, milk, vanilla extract and almond extract; mix well.

Gradually add the flour mixture to butter mixture; beat until combined. Do not chill.

Fill cookie press with dough and with desired disks, press cookies onto an ungreased cookie sheet.

Bake 10-12 minutes or until the edges are light golden brown. Cool for 2 minutes on the cookie sheet placed on the cooling rack. Remove from the baking sheet and place on the wire rack to cool completely.
Video
Notes
Use an ungreased cookie sheet. Greasing your pan will cause your cookies to spread, so make sure to use an ungreased baking sheet. Also avoid using parchment paper on your cookie sheet.
Avoid preparing dough ahead of time. This dough is best used the day it's prepared, although it can still be used in the future if frozen and brought back to room temperature.
Do not chill the dough before using. The dough should be at room temperature so it can be piped through the press. If the dough was frozen prior, allow it to come back to room temperature before piping it through the press.
If your cookies start to spread or your kitchen is warm, try chilling the pans in the refrigerator for a few minutes before piping the cookies on the pan.
Reuse dough. If any of your cookies come out misshapen while using the cookie press, just put the dough back in the bowl and reuse it.
Add your favorite flavors. Use your favorite extracts like orange, anise, or peppermint extract to personalize your cookie flavor. Add your flavoring in addition to or in place of the almond flavoring in the instructions.
Make buttercream spritz cookie sandwiches. Spritz cookies can be sandwiched together with buttercream or other fillings like these cinnamon spritz cookie sandwiches
Decorating spritz cookies jimmies, sugars or nonpareils. When using sprinkles, jimmies, sugars and nonpareils roll cookie dough in sprinkles prior to baking to ensure they stick and bake into your cookies. If you add sprinkles after baking the cookie dough your sprinkles will not stick to your cookies without using melted candy or icing. Oftentimes, shaped sprinkles will melt in the oven so sticking with jimmies, sugar and nonpareils are best.
To color. Use Color Right concentrated food coloring to color your dough.
To freeze cookie dough. To freeze unused cookie dough, wrap in plastic and place in a resealable bag. Dough can be kept for about 2 months. Make sure to bring your dough back to room temperature before using.
To freeze baked cookies. Bring baked cookies to room temperature then place in an airtight container and freeze for up to 3-4 months.
Tried this recipe?
Take a picture and tag us @WiltonCakes on Instagram