Made with chocolate and vanilla dough, these pinwheel cookies are buttery, sweet and have a fun old fashioned look that is easy to make. Our recipe makes a full batch of nearly 5-dozen delicious pinwheel cookies from scratch, using simple steps that are easier to follow than most recipes, although it does require a bit of patience. Trust us though, these pinwheel cookies are absolutely worth the wait! They're perfect for handing out to friends and family during the holidays, a great treat to take to a party, and easy to pack up for a little one to take to school.
Basic Chocolate & Vanilla Pinwheel Cookies
Equipment
Measuring Cup

Large Mixing Bowl
Ingredients
3

cups

all-purpose flour

½

teaspoon

baking powder

½

teaspoon

salt

1

cup

unsalted butter, softened

1 ⅓

cups

granulated sugar

2

eggs

2

teaspoons

vanilla extract

2

ounces

unsweetened chocolate
Instructions
In one large mixing bowl, stir together dry ingredients; flour, baking powder and salt.

In another large mixing bowl, add softened butter and sugar, then mix with an electric mixer until light and fluffy, about 2 minutes. Next add eggs, one at a time, beating after each addition; then add vanilla. Finally, add flour mixture from the other large bowl and beat on low with mixer until just combined.

Divide combined dough in half. Form 1 one half into a 4 in. by 4 in. square; wrap it in plastic wrap and set the vanilla dough aside. Return the other half to the mixer; add melted chocolate to the dough in the mixer and beat it just until combined. Next form this chocolate dough into a 4 in. by 4 in. square and wrap it in plastic wrap. Take both squares of dough and refrigerate them for at least 30 minutes.

Once 30-minutes have passed, on parchment paper, roll vanilla dough into a 16 in. x 12 in. rectangle about 1/8 in. thick. On another sheet of parchment paper, roll chocolate dough into a 16 in. x 12 in. rectangle about 1/8 in. thick.

Carefully place chocolate dough on top of vanilla dough and peel away parchment. Cut the combined dough in half horizontally.

Roll each cut half into a tight log. and roll in colored sugar to coat dough log.

Wrap dough logs in plastic wrap and then refrigerate for at least 3-hours. Dough logs can be left in the refrigerator as long as overnight.

When ready, preheat the oven to 350°F. Line cookie sheets with parchment paper.

Slice dough logs into 1/4 in. pieces. Space them 1 in. apart on as many cookie sheets as needed. Bake for 8-10 minutes, or until vanilla portions of the pinwheel cookie dough is lightly golden.

Remove pinwheel cookies from the oven, then cool.
Notes
Total cook time includes refrigeration
Tried this recipe?
Take a picture and tag us @WiltonCakes on Instagram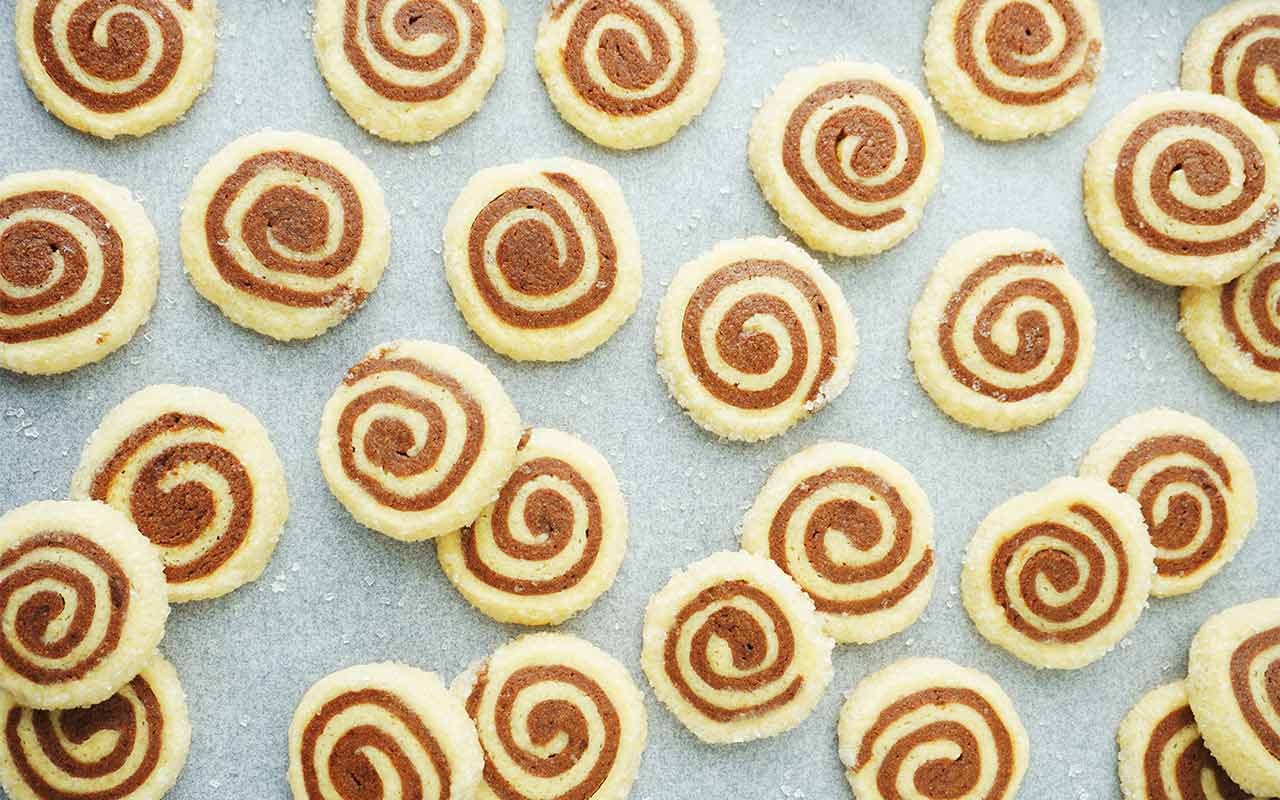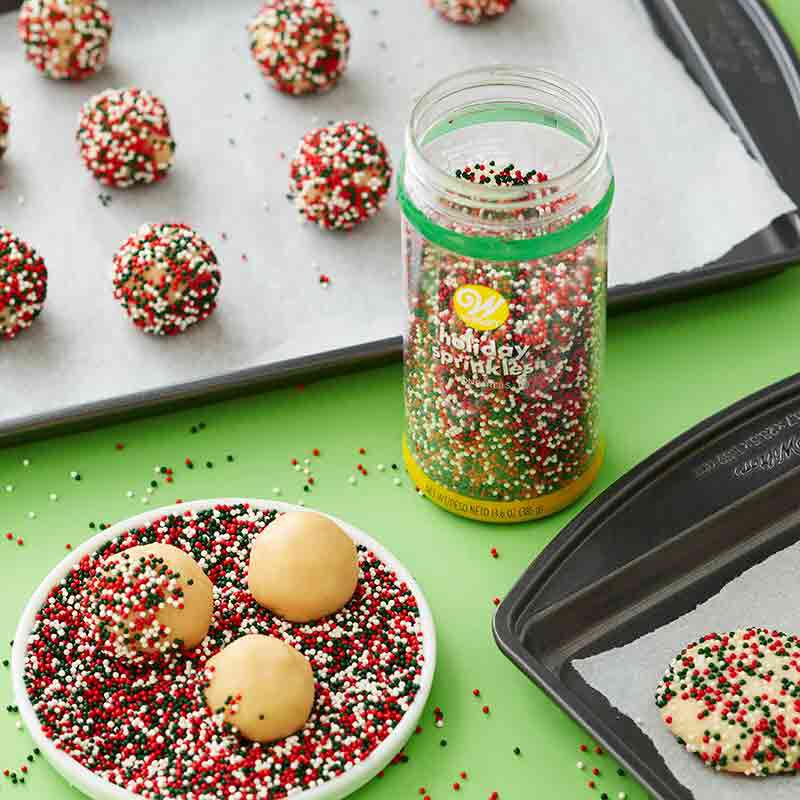 Decorating your cookies doesn't get any easier than this! Top your cut shapes with sparkling sugar, nonpareils or jimmies for a quick color makeover, then bake. You can also roll dough or mix sparkling sugar or sprinkles right into your cookie dough for a little sparkle.
Rolling Out Dough On Parchment Paper
Parchment is a happy medium for preparing and baking cookies. It's oven-safe, so you can use one sheet for rolling out, cutting and baking; you won't have to lift individual cookies onto your cookie sheet. With parchment, bottoms won't burn and clean-up is quick and easy; parchment is non-stick, so there's no need to use non-stick pan spray.