No matter how you slice it, you're sure to love this delicious twist on a traditional favorite! This creamy Red Velvet Cheesecake Recipe starts with a rich cookie crust, then is topped with delicious layers of red chocolate and cream cheese. The real secret though is in the swirl bringing together colors in a unique pattern that's sure to wow your guests. Serve this cheesecake at Christmas dinner or share a slice with your sweetheart for Valentine's Day.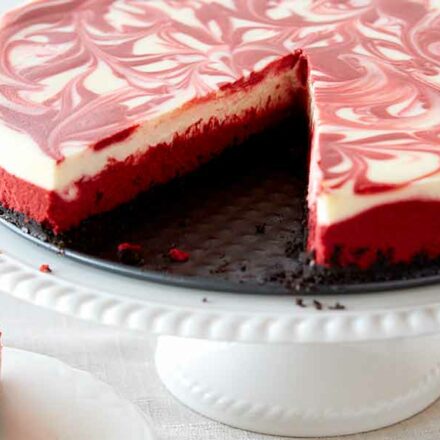 Red Velvet Cheesecake
This creamy Red Velvet Cheesecake Recipe starts with a rich cookie crust, then is topped with a delicious layer of red chocolate and a decadent layer of cream cheese. 
Equipment
Spring Form Pan

Large shallow pan

Food Processor

Large Bowl

Electric Mixer

Offset spatula or knife
Ingredients
Crust
20

creme-filled chocolate sandwich cookies 

(2 cups ground)

2

tablespoons

melted butter

2

tablespoons

granulated sugar
Filling
4

packages

(8 oz. each) cream cheese

1-1/4

cups

granulated sugar

4

eggs

¾

cup

heavy whipping cream

1

teaspoon

vanilla extract

1

tablespoon

cornstarch

3

ounces

 semi-sweet baking chocolate, melted

1

tablespoon

red icing color
Instructions
Make The Crust. Preheat the oven to 325°F. Place a large shallow pan filled with water on the bottom rack of the oven. Spray the 9 inch springform pan with vegetable pan spray.

Use a food processor to process cookies until they're finely ground (crumbs should measure 2 cups). Stir together the crumbs, sugar and melted butter and press the mixture into the bottom of the pan.

Bake for 8 minutes then remove from the oven and let cool completely on the cooling wire rack.

Once the crust is baked and removed from the oven, reduce the oven temperature to 250°F to prepare for baking the cheesecake.

Make the Cheesecake Filling. In a large bowl, beat cream cheese and sugar with the electric mixer on medium speed until the mixture is light and fluffy. Beat in the eggs one at a time, scraping the bottom and sides of the bowl often.

Beat in cream, vanilla and cornstarch until the mixture is smooth. Set aside 4 cups of the batter.

Next, add the melted chocolate and red food coloring to the remaining batter, mixing until it's well blended. Measure out 1/4 cup red velvet batter and set aside.

Add filling to the crust. Pour the remaining red velvet batter over the crust, spreading it out evenly. Carefully spoon the reserved plain batter over the red velvet batter. Drop spoonfuls of reserved red velvet batter on top and swirl carefully with an offset spatula or knife.

Bake on the center rack of the oven, above the pan of water for a total baking time of an hour to 1 hour and 15 minutes or until the filling is set but still jiggles slightly in the center when the pan is gently shaken.

Once this happens, turn the oven off and with the door closed, allow the cheesecake to remain in the oven for 1 hour.

Finally, transfer the cheesecake to the cooling grid and let it cool completely. Once it has cooled to room temperature, refrigerate it for at least 3 to 4 hours, until the cheesecake's layers are firm and a knife around the edge of the pan comes out relatively clean.
Notes
Make sure your cheesecake is fully chilled and firm before removing it from the pan and cutting into it.
Storing. Wrapped tightly with plastic wrap and stored in the refrigerator, this cheesecake should last about 4 to 5 days. 
Tried this recipe?
Take a picture and tag us @WiltonCakes on Instagram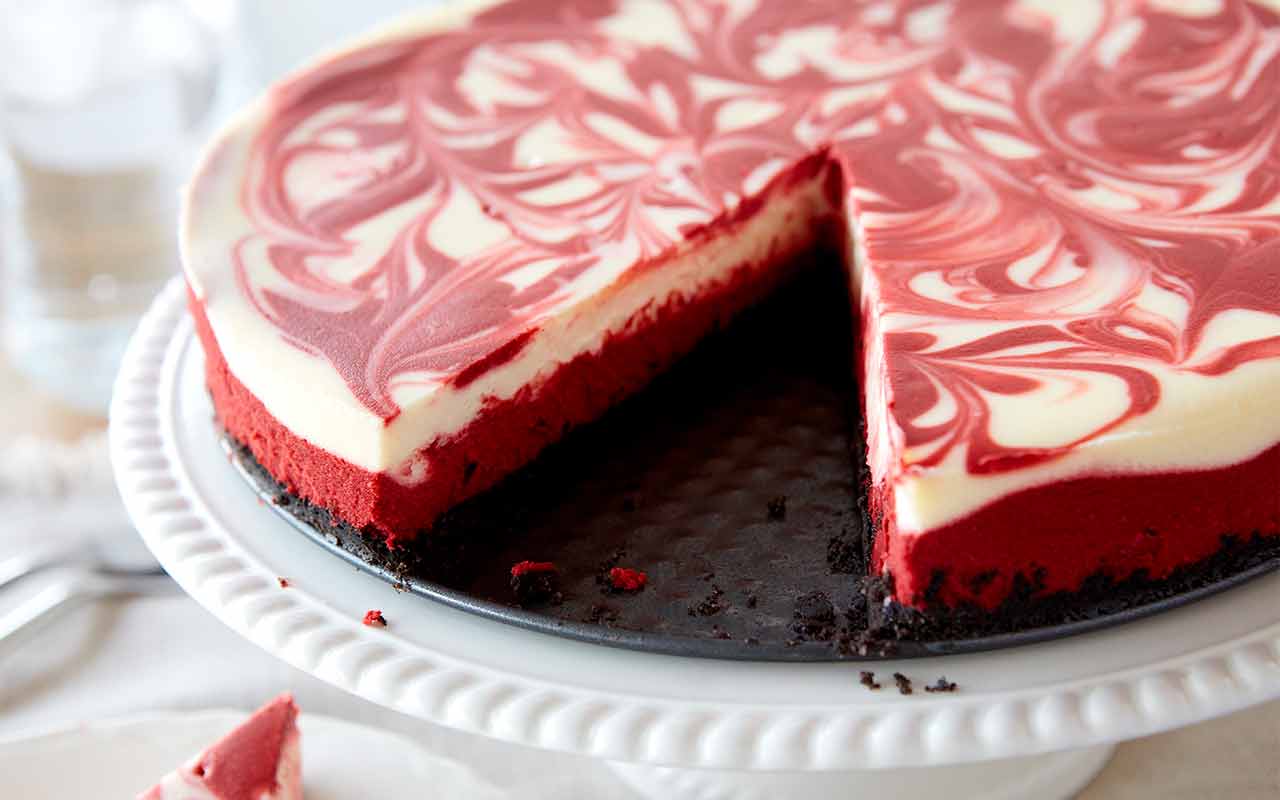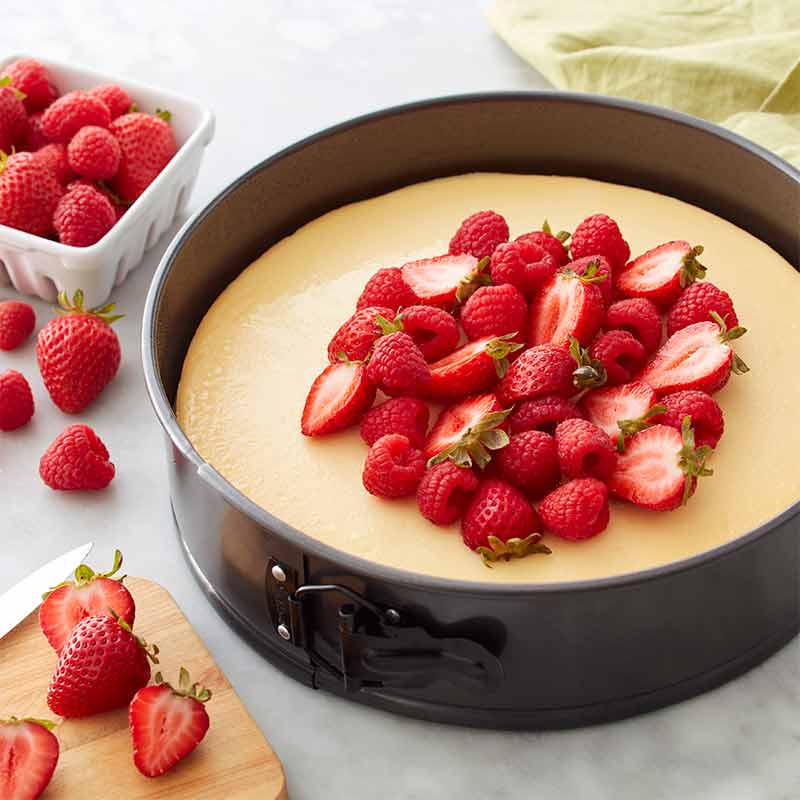 What is a Springform Pan and How to Use It
Springform pans are great for making cheesecakes and other delicious desserts. This guide will teach you how to prepare and use a springform pan.
24 of the Best Indulgent Holiday Cheesecake Recipes
If you love rich, creamy cheesecake look no further. We've rounded up our best cheesecake recipes!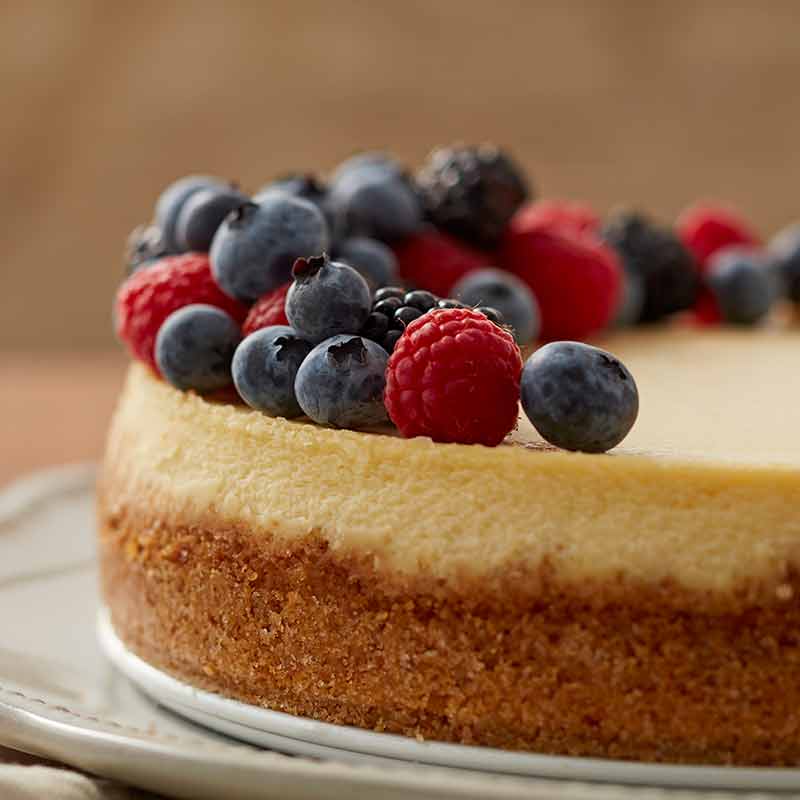 Check out more delicious Red Velvet recipes below:
From cupcakes topped with cream cheese frosting to red velvet cake and cheesecake you will love these recipes