Add extra flavor to your cakes, cupcakes and cookies with Wilton Flavored Fondant. Available in three decadent flavors – caramel, milk chocolate and white chocolate – this flavored fondant is perfect for creating decorations that look and taste amazing.
Make decorations that taste just as good as they look with Wilton Flavored Fondant. Available in three delicious flavors, this fondant adds an extra layer of flavor to your everyday desserts.
Like traditional fondant, Flavored Fondant can be used to cover cakes and make cute cut-out decorations. However, these Flavored Fondants are made using real ingredients and contain no artificial colors. Because of this, Flavored Fondant works and behaves a little differently than the fondant you know and love.
Let's take a deeper look at Flavored Fondant and explore fun ways to use it, as well as some helpful tips and tricks for guaranteed success every time!
Flavored Fondant vs. Regular Fondant
Available in three yummy flavors – caramel, milk chocolate and white chocolate – Flavored Fondant is similar to regular Decorator Preferred Fondant. Both are great for covering cakes and making cut-out decorations; however, they vary slightly in their ingredients and texture.
Quality Ingredients, Quality Taste
Wilton Flavored Fondants contain no artificial colors and are made using real ingredients. This means the caramel fondant is made with real caramel and the chocolate fondants are made with real milk and white chocolate.
Unlike Wilton Decorator Preferred Fondant, which is most oven vanilla-flavored, this Flavored Fondant adds rich, decadent flavor to your cakes and other treats.
Differences in Texture
Since Flavored Fondant is made using real ingredients, it will behave differently than Decorator Preferred Fondant. Be sure to take care while rolling and covering your cakes with Flavored Fondant, as it may tear if pulled or handled too much.
The soft texture of Flavored Fondant also makes it great for small cut-outs, braided borders and other simple decorations. The texture isn't quite as strong as Decorator Preferred Fondant, so avoid using Flavored Fondant for molded figurines or larger 3-D fondant decorations.
Can I Add Color to Flavored Fondant?
Due to its soft texture, Flavored Fondant is not ideal for coloring. Too much color could soften the fondant and make it impossible to work with.
Because Flavored Fondant contains no artificial colors, it gets its color from the ingredients used to make it. The caramel fondant is light brown, the milk chocolate fondant is medium brown, and the white chocolate fondant is white.
For best results, we suggest leaving the fondant color as is and using other methods of decorating to add color to your dessert. Top your fondant-covered cake with icing decorations, swirls of buttercream frosting or colorful fondant cut-outs!
Fun with Flavor!
The best thing about Flavored Fondant is that it enhances the flavors of your favorite cake, brownie and cookie recipes! Try the milk chocolate fondant on a rich chocolate cake or add some white chocolate fondant cut-outs to a beautiful strawberry mini cake. The caramel fondant tastes amazing on chocolate brownies or carrot cake cupcakes.
You can also use it to add dimensional decorations to cookies and cakes. Add a braided milk chocolate fondant border to a batch of roll-out cookies or top a red velvet cake with little balls of white chocolate fondant. Great for anyone who loves to have fun with flavor, this Flavored Fondant will dress up your everyday treats in no time!
Where Can I Buy Flavored Fondant?
You can shop Flavored Fondant online at wilton.com or in-person at your favorite craft retailer.
Flavored Fondant is currently available in three flavors: caramel, milk chocolate and white chocolate.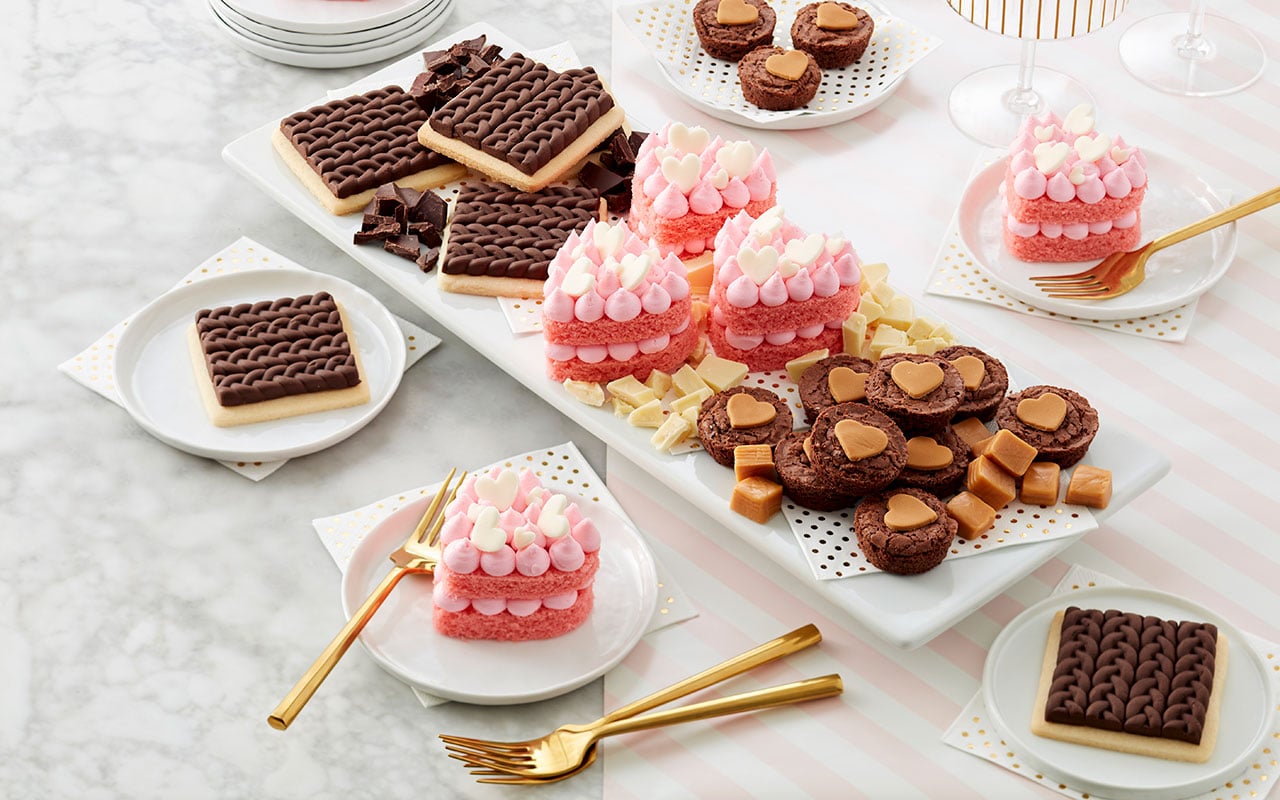 Recipes for Using Flavored Fondant
Top your cake or cookies with cute fondant roses and decorations made with Flavored Fondant. This I Spot a Rose Cake would look just as cute with pretty white chocolate roses. Or add a milk chocolate braid to these Braided Chocolate Fondant Cookies.
Give your brownies another layer of flavor with these fondant-topped Brownie Bites. Try combining milk and white chocolate fondant for a fun twist! Or better yet, use caramel fondant cut outs with these Chocolate Caramel Mini Brownies.
It's hip to be square with this White Tile Teal Cake. Decorate your cake with squares of white chocolate or caramel-flavored fondant for a treat that looks and tastes amazing. These Strawberry Heart Mini Cakes use a touch of flavor with white chocoalte fondant.
You can also use white chocolate fondant to add cute flowers to a simple birthday or bridal shower cake. This Sweet White Floral Cake is perfect for any occasion and easy to make with Flavored Fondant.
Try combining different flavors by using the fondant inlay technique. These Flower Inlay Cookies are great for mixing and matching your favorite flavor combinations. Try chocolate and caramel, or combine all three for a truly decadent treat!
How to Store Flavored Fondant
Fondant dries out quickly, so be sure to keep it covered or wrapped in plastic wrap when not being used. After decorating, roll unused fondant into a ball and coat with a thin layer of solid vegetable shortening. Wrap tightly in plastic wrap and store at room temperature in an airtight container. Stored this way, your fondant should last about a month.
Other Tips and Tricks for Working with Flavored Fondant
Prevent fondant from sticking to your counter by lightly dust your work surface and fondant roller with confectioners' sugar or cornstarch
To keep fondant clean, coat your hands with a thin layer of solid vegetable shortening or wear food-safe gloves
Never flip fondant over after you start to roll, just turn it about a quarter of the way to prevent sticking and help ensure the thickness of your fondant is even
Fondant picks up dirt and lint easily so be sure to avoid wearing fuzzy sweaters or clothing when working with fondant
Check out our Fondant Coverage Chart to find out how much fondant you'll need to cover your cake
Use guide rings on your fondant rollers to help get an even thickness when rolling out your fondant
For more tips on how to work with fondant, check out our post on Fondant Tips and Tricks
One box of Flavored Fondant is enough to cover one 6-inch or 8-inch round cake
Have you tried Flavored Fondant? Let us know what you think in the comments below! We'd also love to see how you're using Flavored Fondant in your decorating! Share a picture of your treats on Facebook, Instagram or Twitter and tag us @wiltoncakes.