From classic combinations, like red velvet cake and cream cheese frosting, to new and unique flavor pairings, like carrot cake with marshmallow buttercream, this collection of cake flavors and frosting combinations will have you looking at your favorite cake recipes in a whole new way!
Whether you're celebrating a birthday or a holiday, these fun and creative buttercream and cake flavor ideas are sure to get your taste buds excited! From the traditional to the extreme, these cake flavors and filling combinations are perfect if you're looking to try something new the next time you bake a cake.
Cake Flavor Ideas
From classic yellow cake to decadent chocolate cake, here are a few simple cake recipes, as well as some delicious frosting combos and decorating ideas.
Classic White Cake
Made using egg whites and clear vanilla extract, this Classic White Cake is a great option for weddings, baby showers or birthdays. It's light and delicate, making it easy to pair with almost any frosting.
Add a Frosting: For a simple look, fill and top your cake with this creamy Snow White Buttercream. Easy to color and great for piping, this buttercream can also be used to add decorative borders and detailing.
For a bolder flavor combination, try this homemade Strawberry Buttercream Frosting. Perfect for spring and summer celebrations, this sweet buttercream adds a bright pink hue to this simple white cake.
And kids are sure to love this delicious Cookies and Cream Buttercream. Great for pairing with almost any cake recipe, this tasty buttercream looks especially bold on this simple white cake.
To Decorate: You can add anything from sprinkles to crushed up cookies to decorate this cake. Since this cake flavor is pretty delicate, try decorations that compliment your icing flavor. For example, use chocolate-covered strawberries to top your strawberry buttercream cake, or use White Chocolate-Flavored Fondant to make bright white fondant roses that taste delicious on a white buttercream cake.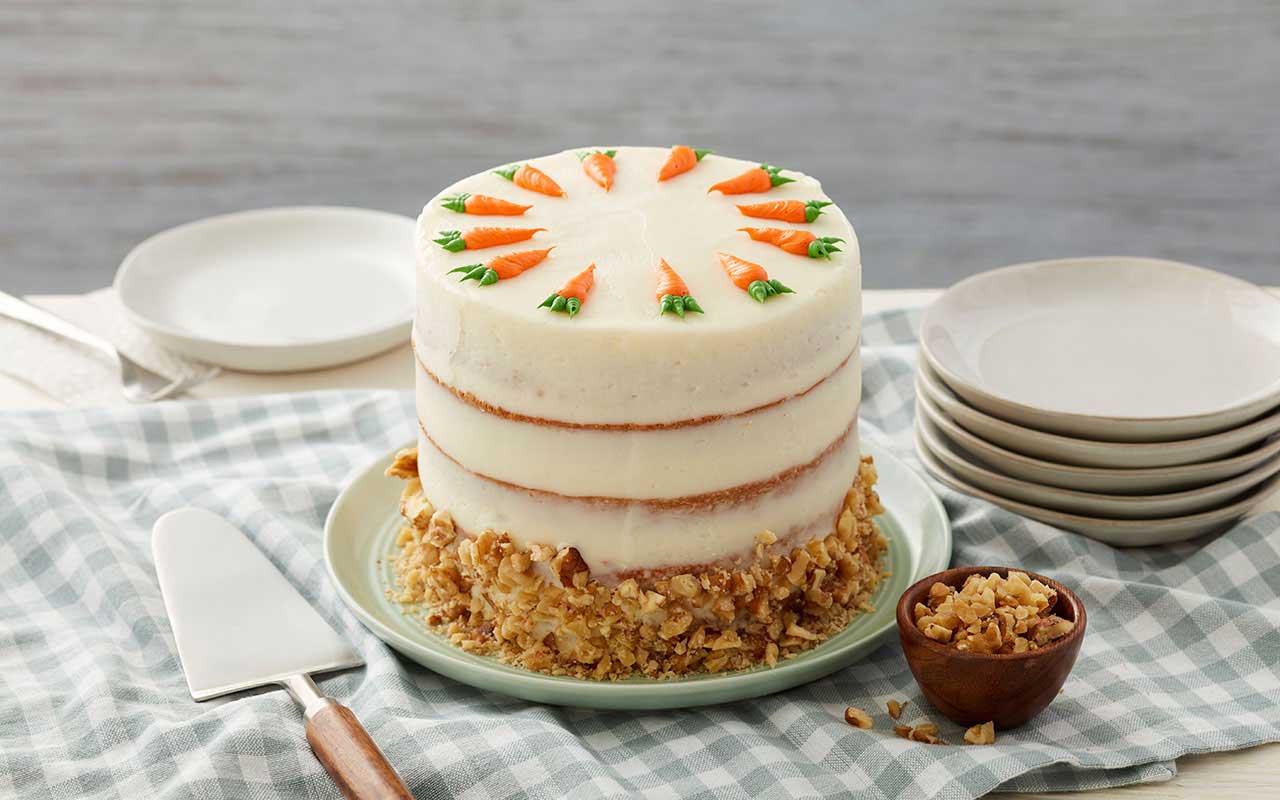 Carrot Cake
You can't go wrong with the sweet flavors of cinnamon, carrots and raisins. A delicious dessert you can serve for any spring or fall celebration, this Homemade Carrot Cake is a great one to have in your back pocket!
Add a Frosting: Keep it traditional with a creamy homemade cream cheese frosting, or add a little sweetness to your cake with a fluffy marshmallow buttercream.
To Decorate: Sprinkle your cake with some extra cinnamon or use buttercream frosting to top your cake with cute little carrots. For a flavorful decoration, try topping your carrot cake with cut-outs made using Caramel-Flavored Fondant. Made using real caramel and containing no artificial ingredients, this fondant looks and tastes amazing!/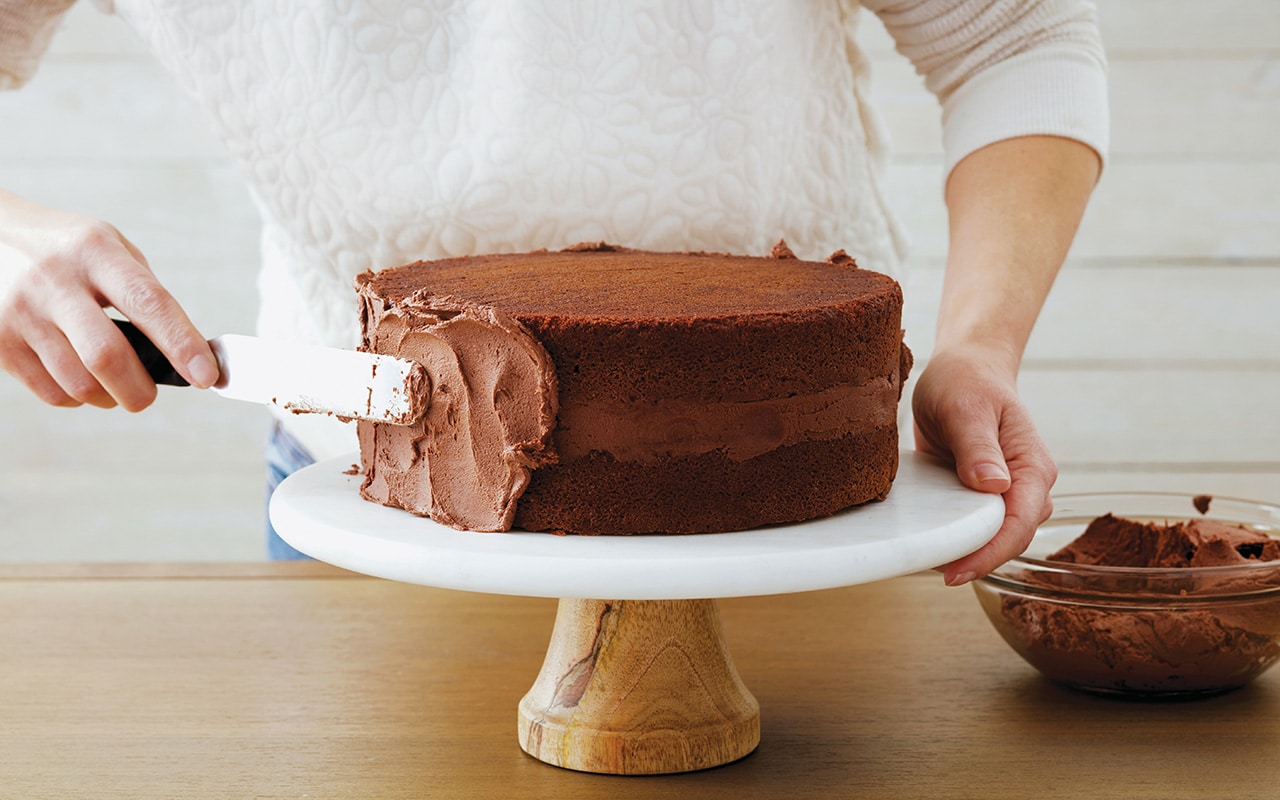 Classic Chocolate Cake
You can't go wrong with this Classic Chocolate Cake. Great for birthday cakes, anniversary cakes or a simple weeknight dessert, this easy and delicious recipe is bound to become a family favorite.
Add a Frosting: Peanut butter lovers are sure to love this creamy Peanut Butter Frosting, which pairs perfectly with this rich chocolate cake. For a grown-up taste, try icing your cake with this Mocha Buttercream. Serve a slice with a hot cup of coffee for a rich and satisfying dessert.
To Decorate: For a sophisticated look, cover your chocolate layer cake with Milk Chocolate-Flavored Fondant. Made using real milk chocolate, this tasty fondant can be used to add another layer of chocolatey goodness to your dessert.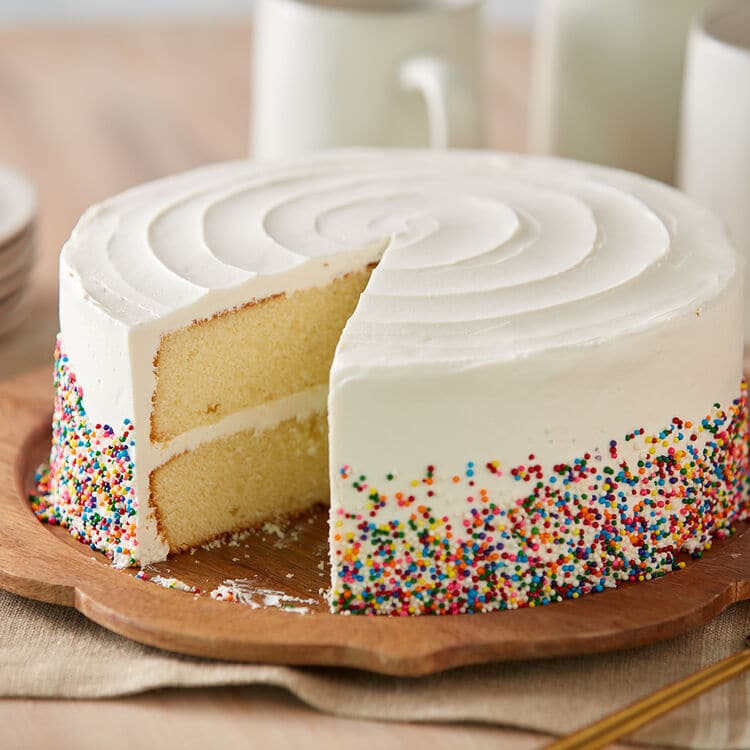 Basic Yellow Cake
This Basic Yellow Cake is a birthday party staple! Simple, soft and oh so delicious, this yellow cake has a rich, buttery flavor that pairs perfectly with a number of frosting options.
Add a Frosting: One of the best pairings with yellow cake is a simple Easy Chocolate Buttercream frosting. The richness of the cake balances perfectly with the sweetness of the icing, resulting in one delicious dessert!
To Decorate: Since yellow cake and chocolate buttercream is a birthday party favorite, there's no better way to decorate your cake than with sprinkles! Use colorful rainbow jimmies to top your cake, or create your own birthday cut-outs using Decorator Preferred fondant.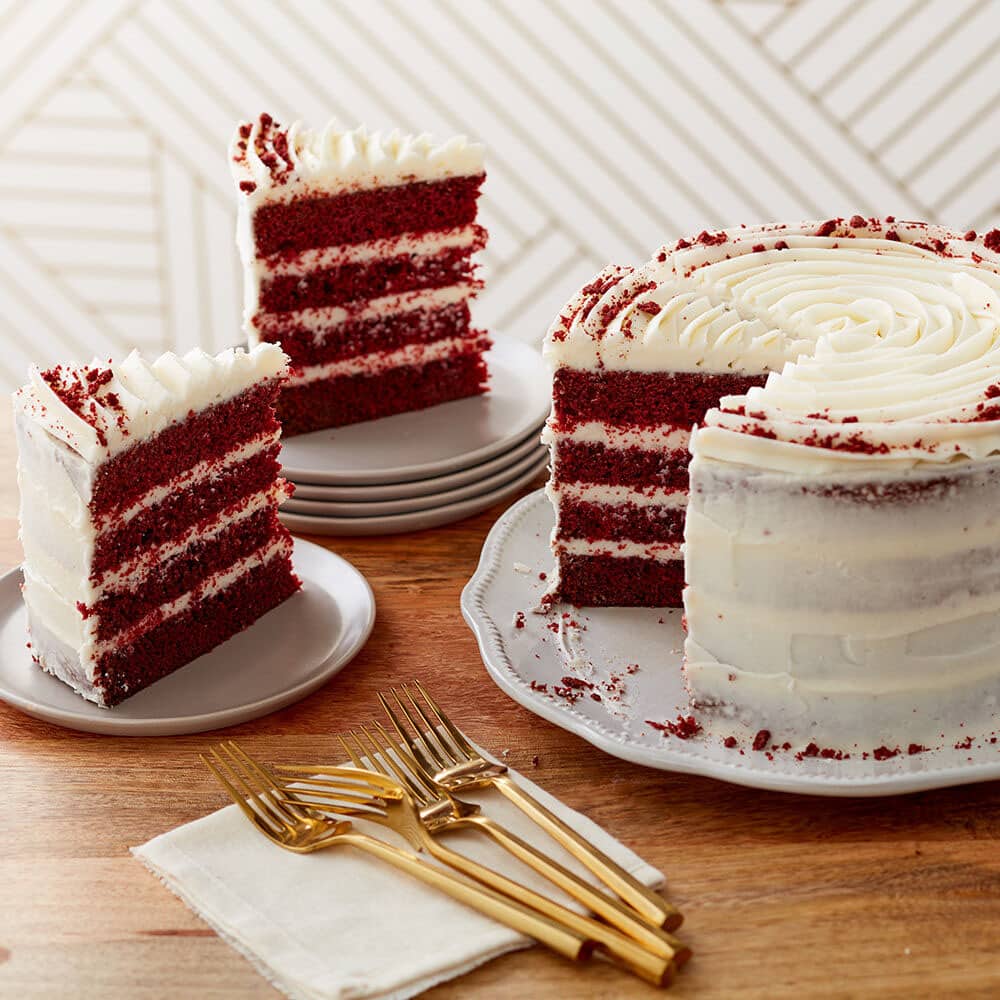 Red Velvet Cake
For a dessert with serious star power, look no further than this Red Velvet Cake. Great for birthday cakes, holiday celebrations or monumental occasions, this delicious layer cake is a sweet way to celebrate everything from a new marriage to a new job!
Add a Frosting: Keep it classic by icing your cake with a homemade cream cheese frosting. If you're not a fan of cream cheese, you can try Ermine Frosting, which has a similar taste but doesn't contain cream cheese.
You can also ice and decorate your red velvet cake with a classic buttercream frosting. You won't get the tang from the cream cheese, but the sweetness of the frosting will match just as well with the rich cake.
To Decorate: For a tasty decoration, try adding cute fondant cut-outs using White Chocolate-Flavored Fondant. Top your cake with little fondant hearts for Valentine's Day or an anniversary, or use small letter cut-outs to top your cake with a personalized message.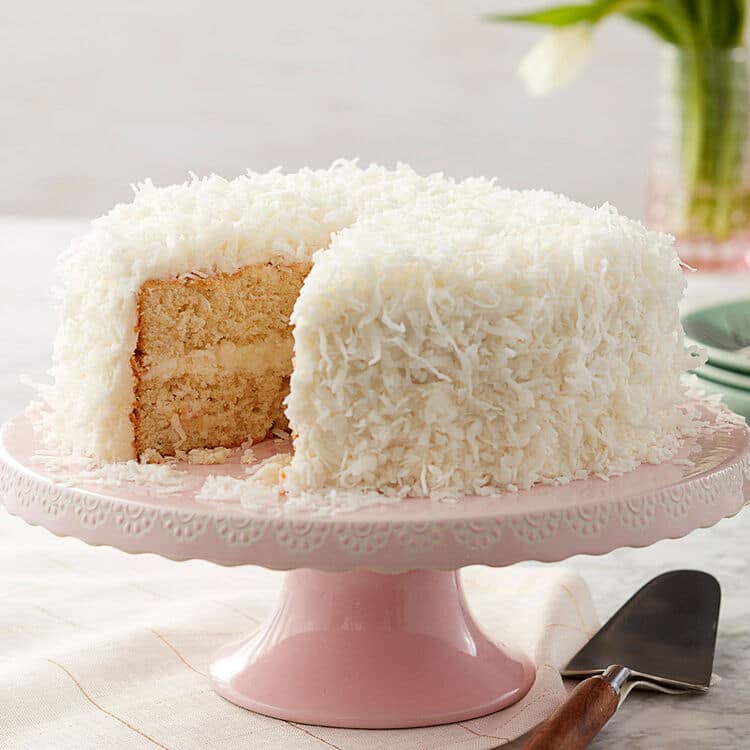 Coconut Cake
For a little taste of island living any time of year, this sweet and moist Coconut Cake is sure to give you serious vacation vibes. Perfect for summer BBQs or pool parties, this coconut cake will have everyone going nuts for coconut!
Add a Frosting: To up the coconut flavor, layer and ice your cake with this rich Coconut Buttercream Frosting, or give your guests a blast of citrus with this tangy Key Lime Buttercream.
To Decorate: Coconut cake has a sweet, delicate flavor, so one of the best ways to decorate a coconut cake is with more coconut! Use large, flaked coconut for a sophisticated dessert, or top your cake with sweetened coconut flakes.
To punch up the flavor, try adding a layer of mango or pineapple curd between your coconut cake layers.
Other Classic Cake Flavor Combinations
Hungry for more? Here are some other great buttercream and cake flavor combinations to try!
What's your favorite cake and buttercream flavor combination? Let us know in the comments below, or post a picture of your cake on social media and tag us @wiltoncakes!