Sweeten your summer celebrations with these delicious blueberry desserts. From cobblers to pies, donuts to pancakes, these easy blueberry desserts are sure to have taste buds popping!
Blueberries are one of the best summer berries. They're packed with flavor, they're good for you and they're even great for adding color to cakes, cheesecakes and more.
Whether you're looking for a great blueberry muffin recipe or a quick way to use up a fresh batch of berries, these recipes are perfect for highlighting this tasty summer fruit.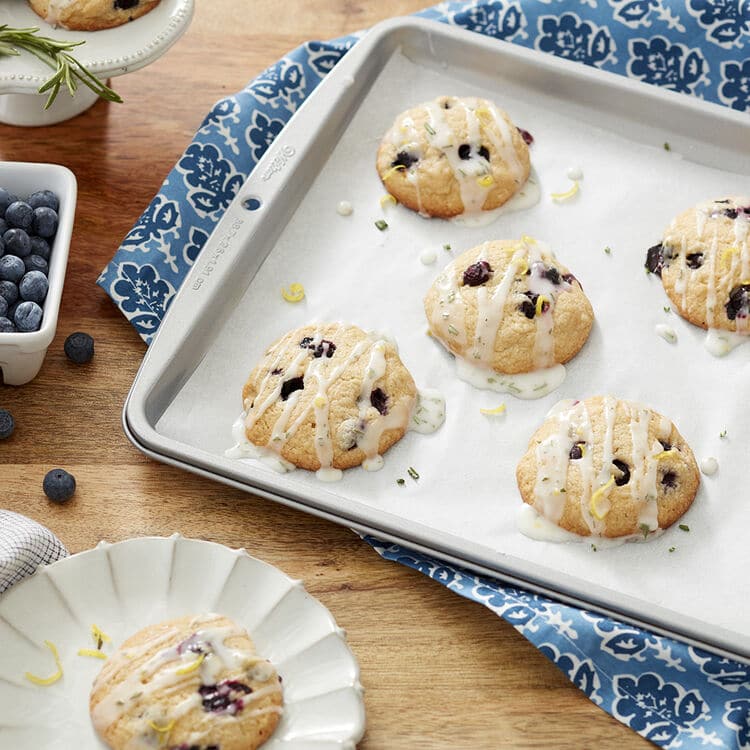 1. Blueberry Cookies with Lemon-Raspberry Glaze
Light and zesty with the seasonal flavors of blueberries and lemon, these Blueberry Cookies with Lemon-Rosemary Glaze make a lovely addition to a summer brunch or wedding shower. You can even package them in little treat bags for a sweet favor or gift idea.
2. Healthier Lemon Blueberry Muffins
Packed full of wheat germ, agave nectar, low-fat buttermilk and tasty blueberries, these Healthier Lemon Blueberry Muffins offer a better-for-you option for a quick breakfast on the go.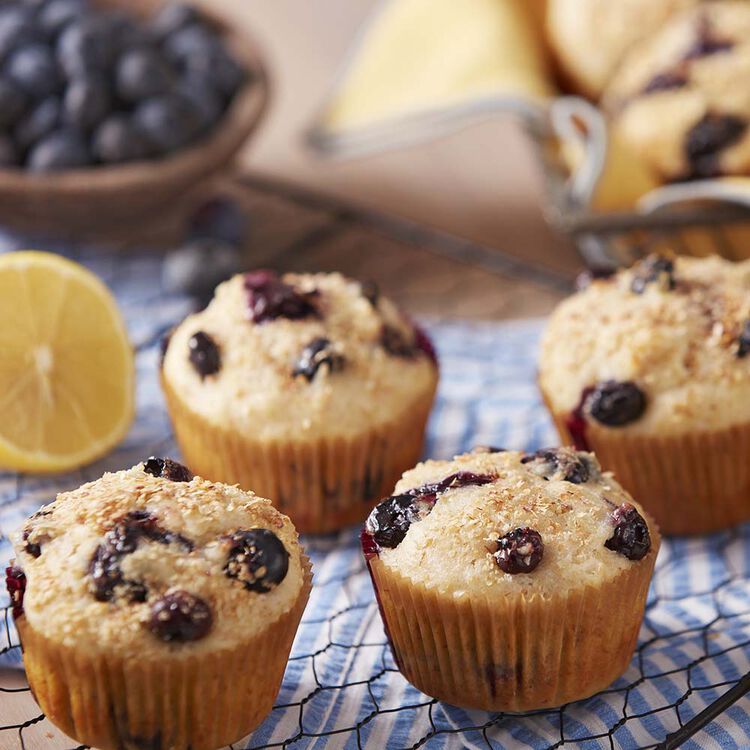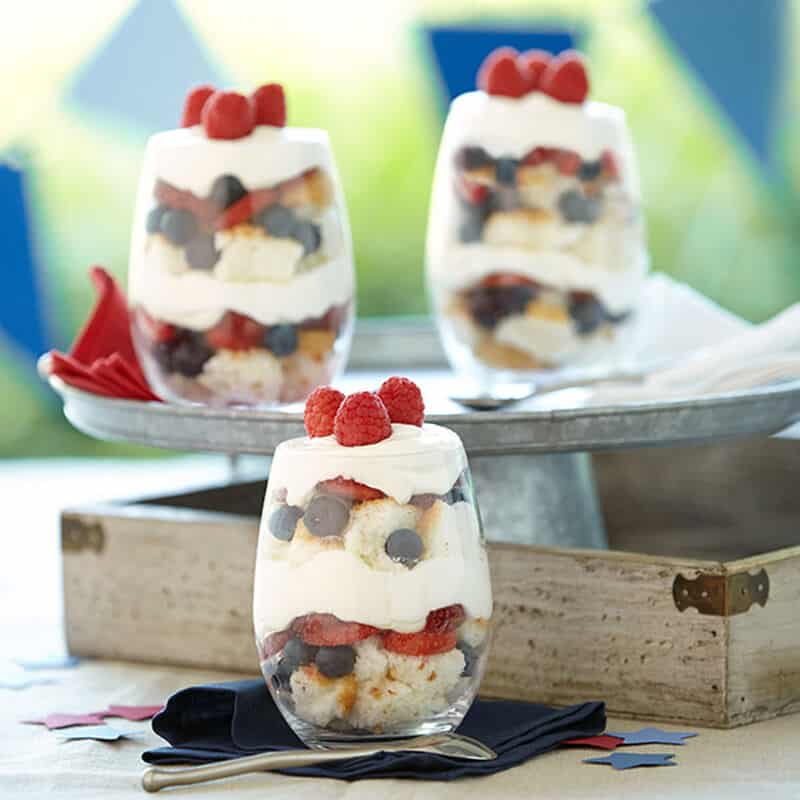 3. Summer Berry Mini Trifles
Strawberries and blueberries and raspberries…oh my! Easy to prepare and great for serving at summer picnics and BBQs, these Summer Berry Mini Trifles combine layers of angel food cake, whipped cream and fresh berries for a light and refreshing dessert everyone will love.
4. Lemon Blueberry Nut Bread
This moist and delicious Lemon Blueberry Nut Bread is a delicious treat to make for breakfast or dessert. Serve it with a cup of hot tea for a tasty dessert that won't weigh you down.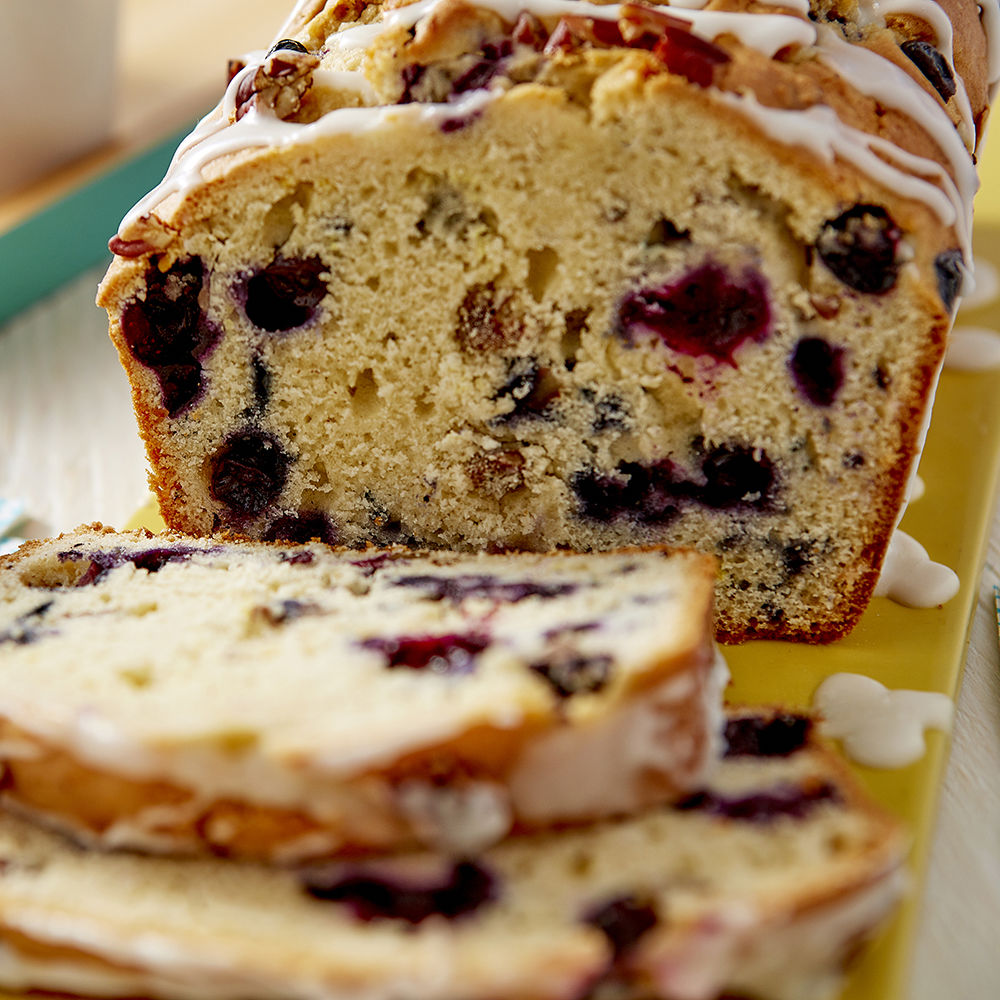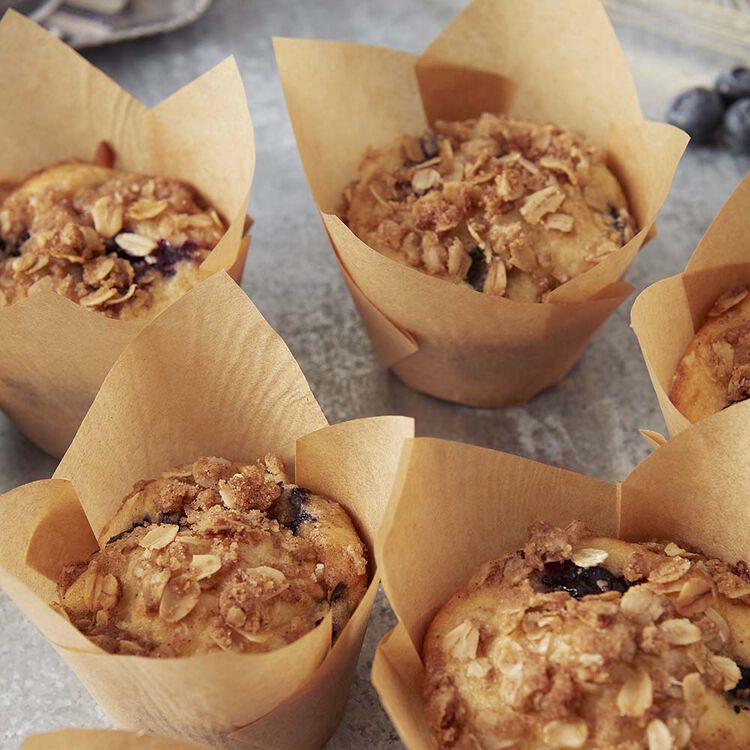 5. Better-For-You Blueberry Oatmeal Muffins
Start the morning off right with these Better-For-You Blueberry Oatmeal Muffins. These muffins have added crunch and texture from the oat streusel topping, made using old-fashioned rolled oats, cinnamon, brown sugar and butter.
6. Blueberry Orange Loaf
Nothing may rhyme with orange, but blueberry is its perfect match! Great for brunches, breakfast or a light dessert, this Blueberry Orange Loaf is packed with fruity flavor. Top your loaf with an orange-flavored glaze for the perfect finishing touch.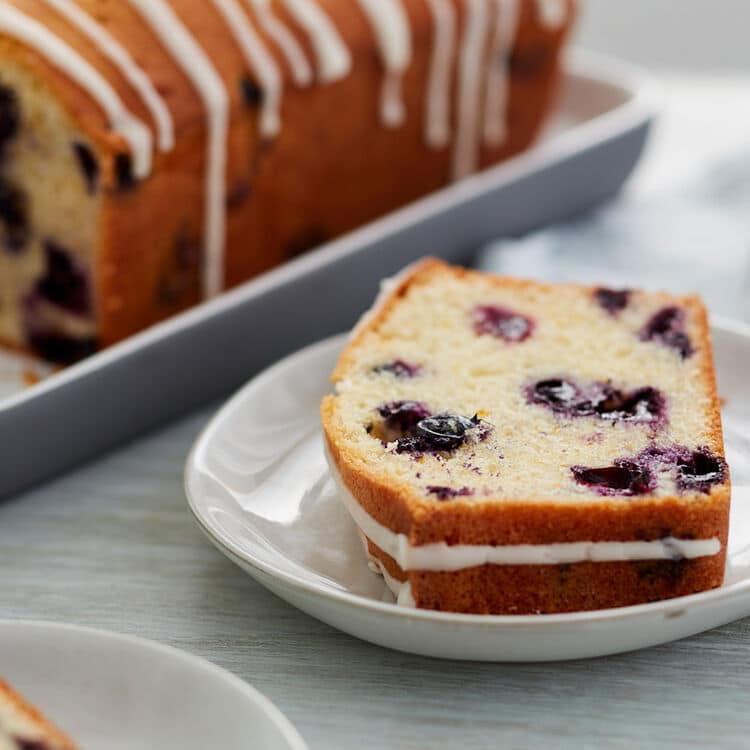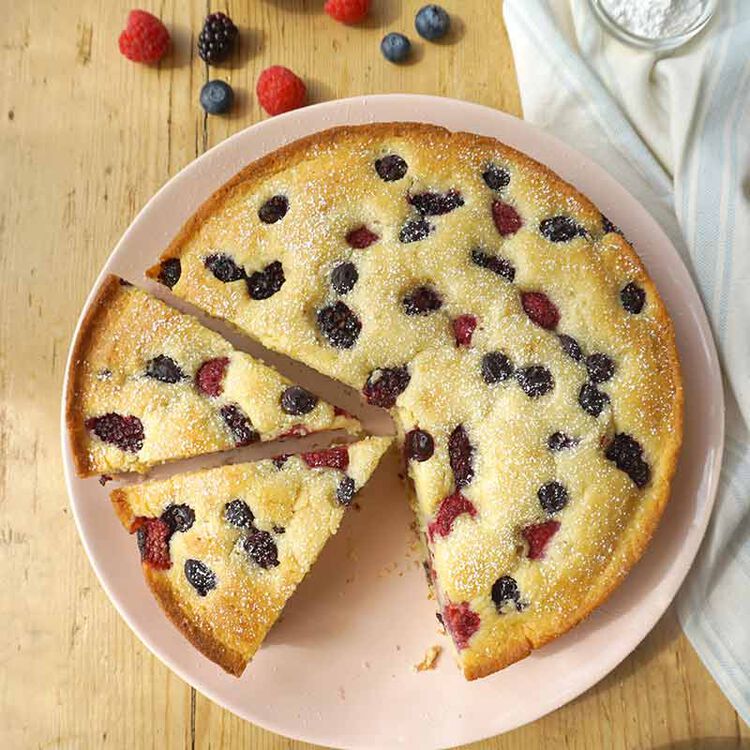 7. One Bowl Berry Cake
The great thing about this One Bowl Berry Cake is that you can use whatever fruit you have on hand to make it. Blueberries, strawberries and blackberries are always a good combination, but you can also use frozen peaches and blueberries for a different flavor. Best of all, everything comes together in one bowl for easier cleanup!
8. Blueberry Cornmeal Muffins
These crunchy Blueberry Cornmeal Muffins are the perfect way to start your day. Packed with great texture and flavor, these muffins turn a classic morning favorite – cereal topped with blueberries – into something much easier to eat on the go!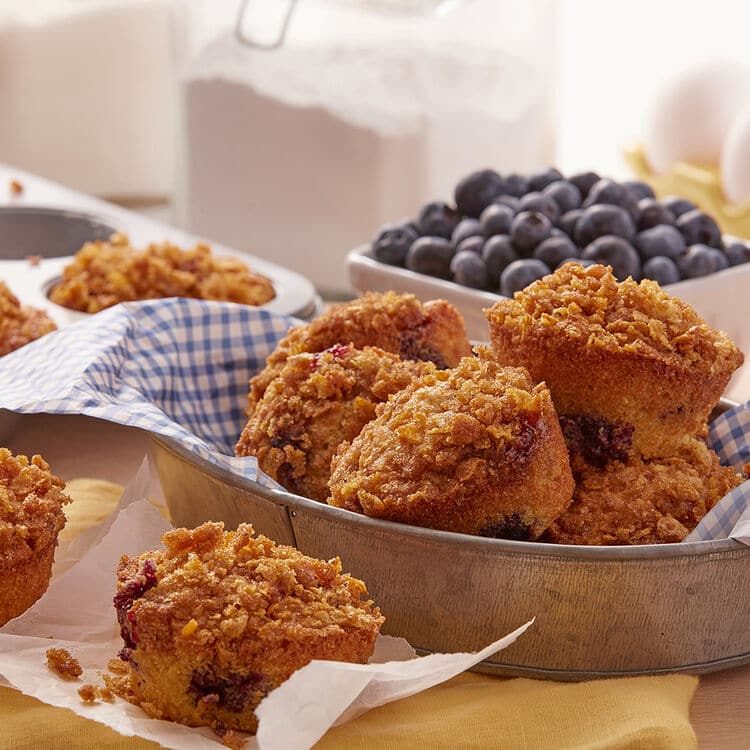 9. Baked Blueberry Cake Donuts
The bright color and flavor of these Baked Blueberry Cake Donuts comes from using real fruit. Topped with a glaze made from pureed blueberries and powdered sugar, these donuts are sure to satisfy anyone's sweet tooth.
10. Mixed Berry Crisp
With just a few simple ingredients, this Mixed Berry Crisp is easy to whip up for a refreshing summer treat or a warm and comforting dessert on a rainy weeknight. Top with vanilla ice cream or fresh whipped cream.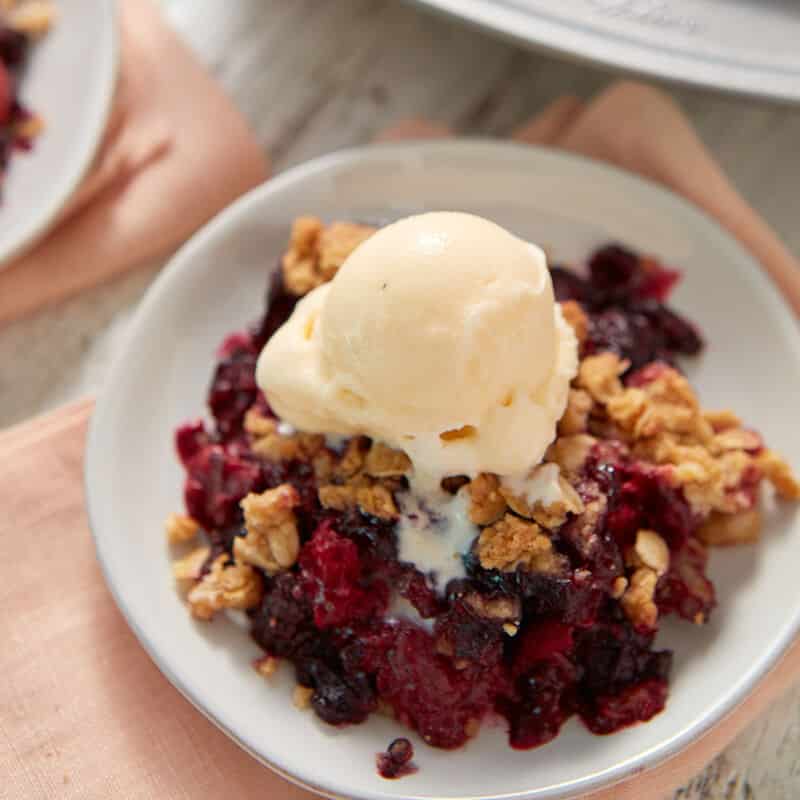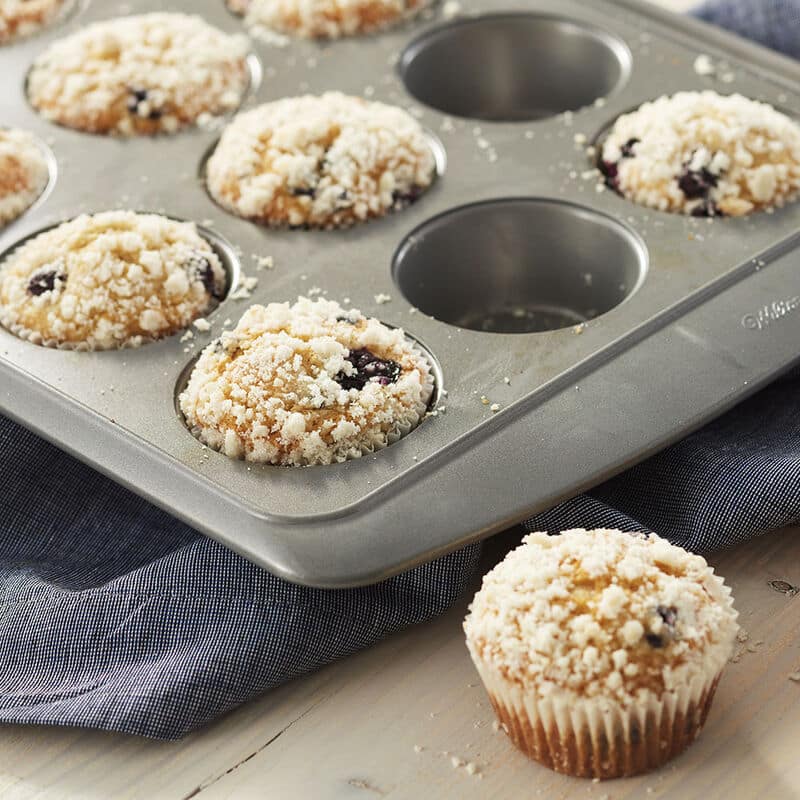 11. Blueberry Streusel Muffins
When it comes to the perfect breakfast, you can't go wrong with a classic! These Blueberry Streusel Muffins are sure to get sleepy heads out of bed in the morning. For a light dessert, top your muffins with a powdered sugar glaze for added sweetness.
12. Blueberry Violet Cake
Roasted blueberries give this Blueberry Violet Cake sophisticated sweetness, while floral notes from the violet and vanilla extracts take this cake from simple to simply chic. Whipped blueberry icing tops it off for a dessert that looks simple but tastes amazing.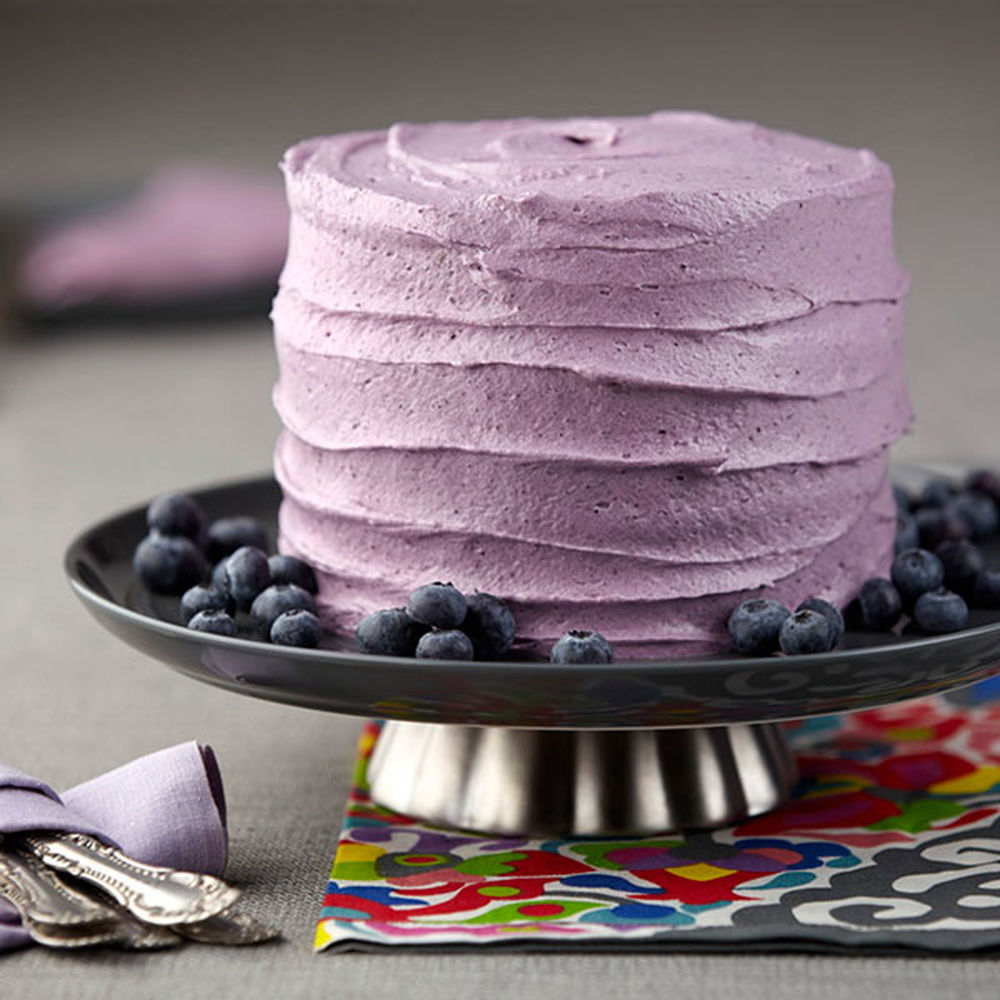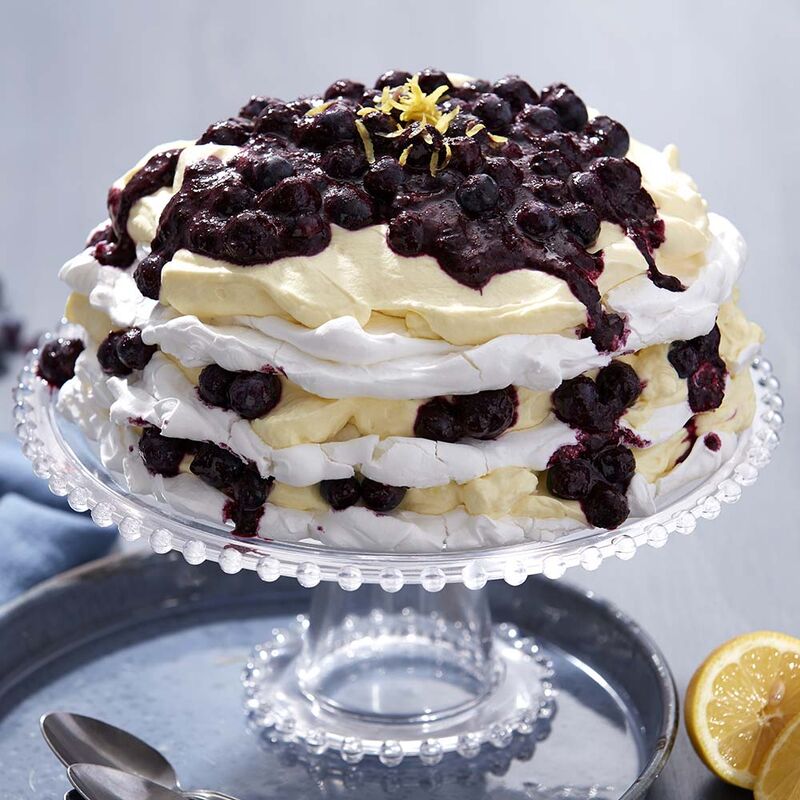 13. Layered Blueberry Lemon Pavlova
Delicate and sweet, this Layered Blueberry Lemon Pavlova is a dessert sure to please. Meringue, fresh fruit and fresh whipped cream combine for a dessert that screams summer sweetness!
14. Lemon Blueberry Mini Fluted Cakes
These mini single-serve Lemon Blueberry Mini Fluted Cakes are a tasty treat packed with flavor. Great for brunches, desserts and more, these little cakes are a sweet bite of summer everyone will love.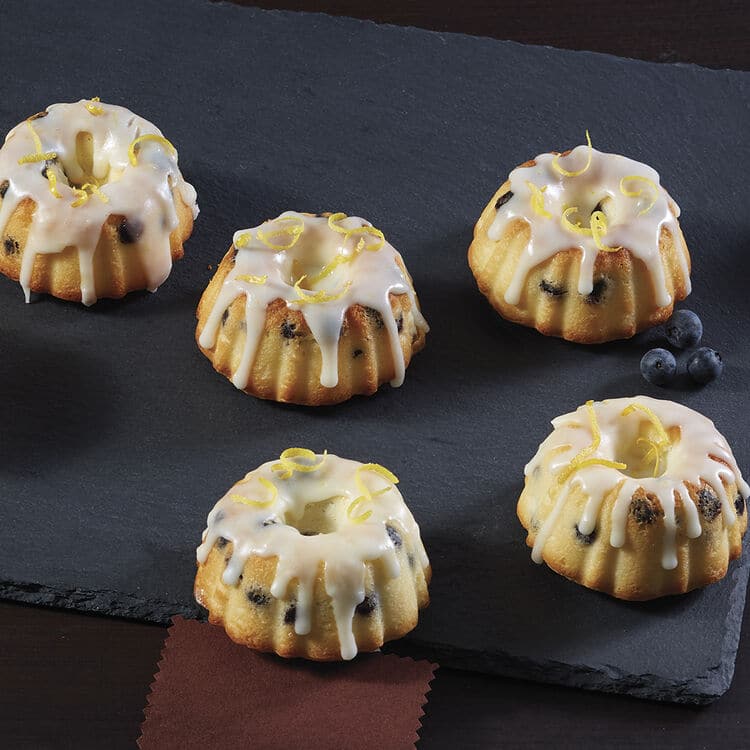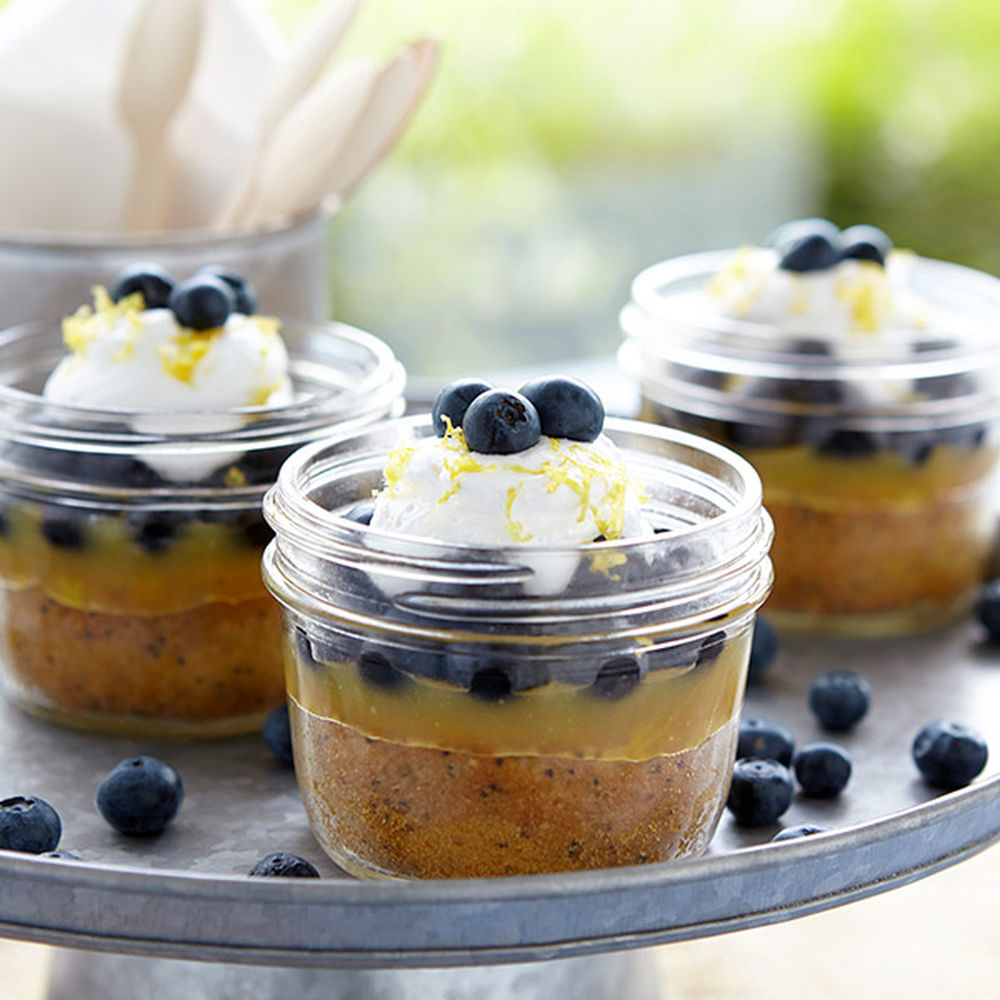 15. Lemon Blueberry Poppy Seed Jar Cake
Sunshiny lemon curd is layered with moist lemon poppy seed cake and juicy blueberries for a summery dessert perfect for backyard BBQs, picnics in the park or just enjoying on the deck.
16. Blueberry Pie
This classic fruit pie is bursting with blueberries and lemon flavor. Perfect for summer celebrations, this pie features a flaky crust, a juicy filling, and a little sparkle and crunch on top!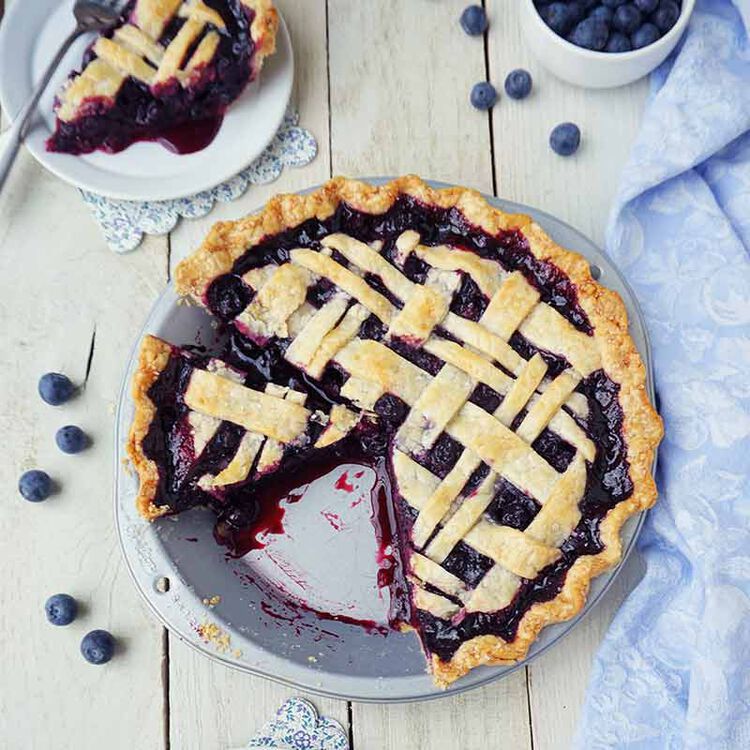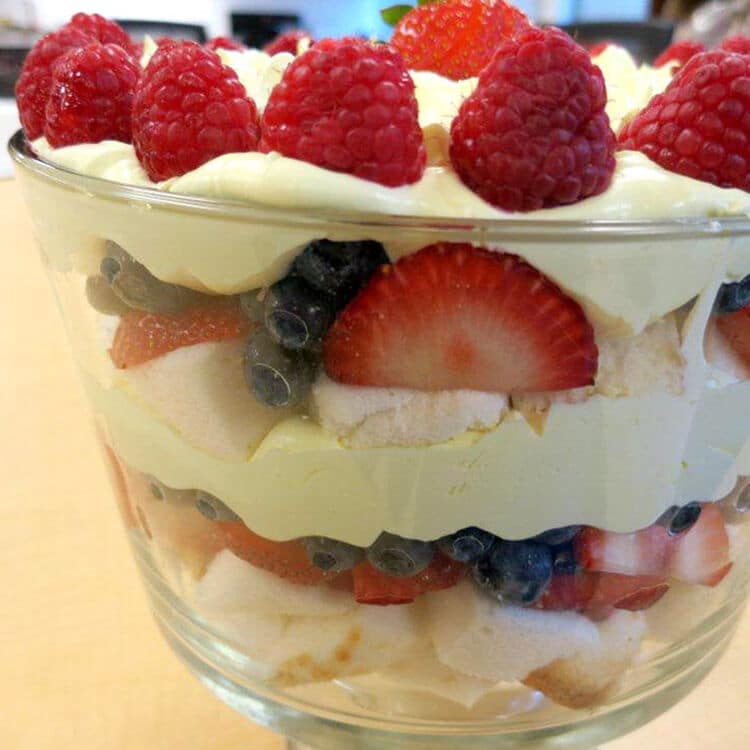 17. Berry Trifle
Sweet and refreshing, this Berry Trifle is packed with fresh berries for a quick and easy dessert perfect for weeknights, holidays, special occasions and more.
18. Lemon Blueberry Torte
For a cool cake your guests will love, look no further than this Lemon Blueberry Torte. Layered with cake, lemon curd, whipped cream and blueberries, this 4-layer cake is a sweet summer treat stacked high to the sky!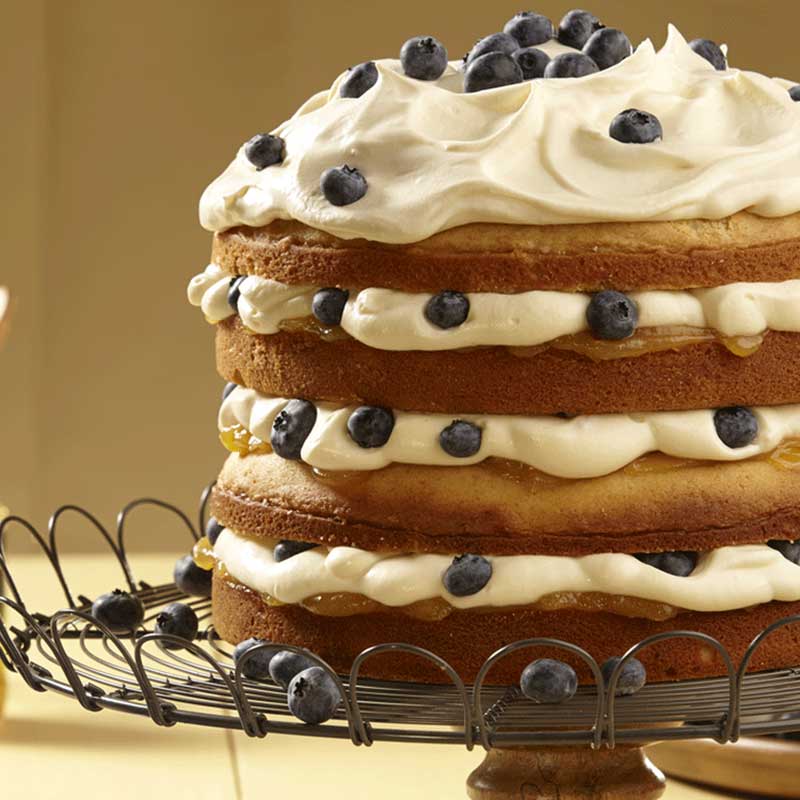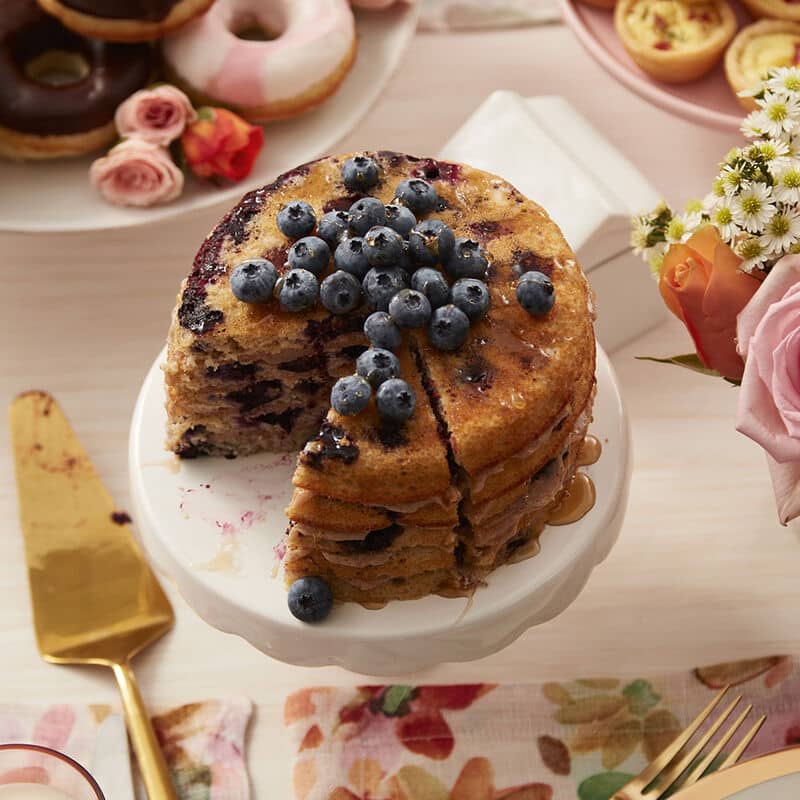 19. Blueberry Pancake Cake
Who says you can't have cake for breakfast? Made using the Easy Layers! Pan Set, this blueberry cake makes an impressive breakfast or brunch surprise for Mother's Day, Easter or Sunday brunch with the family.
20. Blueberry Scones
This simple Blueberry Scone recipe is great for beginning bakers. Designed to be customized, this simple scone recipe can be filled with blueberries, cranberries, cherries, chocolate chips and more! Try different flavor combinations to see what you like (blueberry scones with a lemon glaze is one of our favorites!).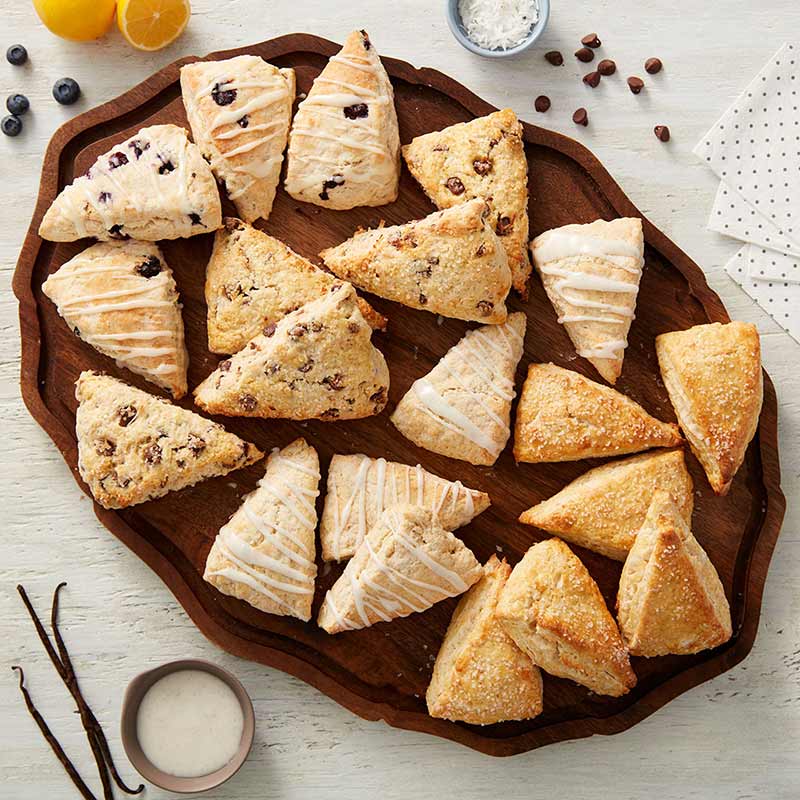 Use Blueberries to Decorate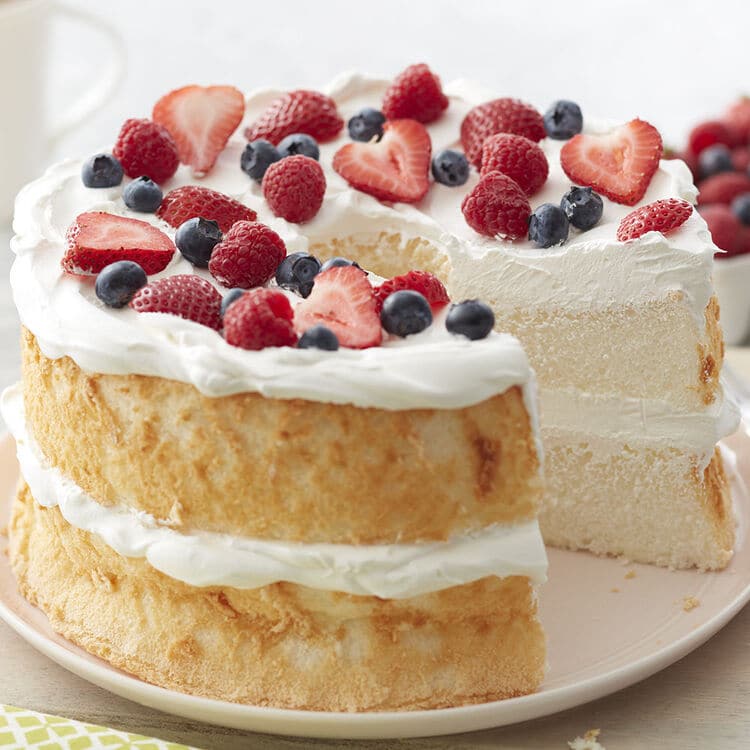 21. Angel Food Cake with Berries and Whipped Cream
This light and airy Angel Food Cake with Berries and Whipped Cream is a simple summer dessert everyone will love. Use blueberries and strawberries to add great color and flavor to this traditional summer treat.
22. Golden Lemon Blueberry Cheesecake
Blueberries and lemon are a great match, and this Golden Lemon Cheesecake is no exception. Garnish this cheesecake with fresh blueberries or top it with blueberry pie topping. For a fun decoration, swirl blueberry pie filling into the cheesecake batter to make a marbled design! Served on a graham cracker crust, this cheesecake is sure to become a seasonal favorite!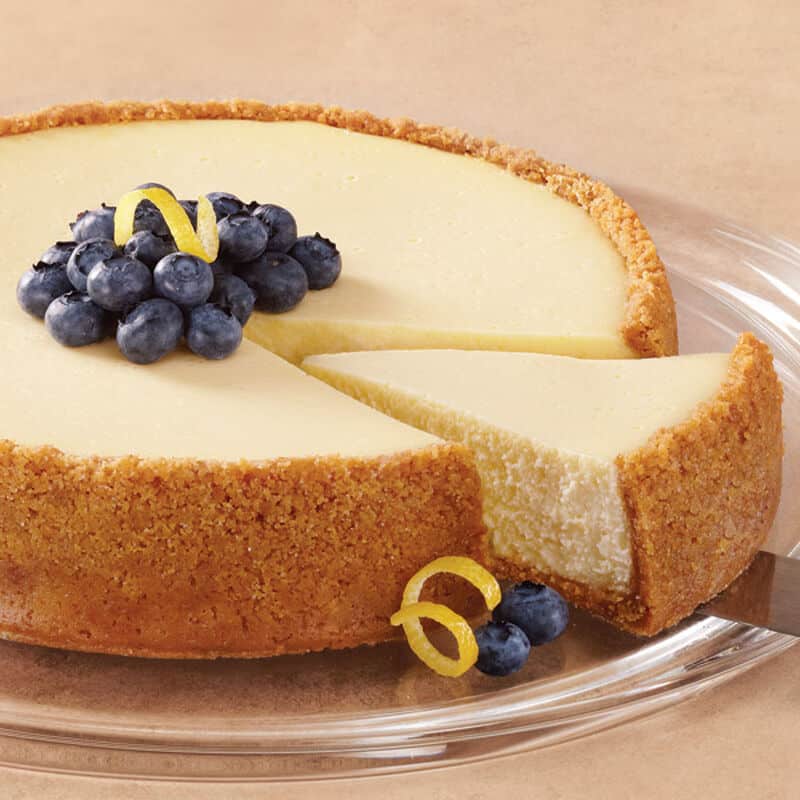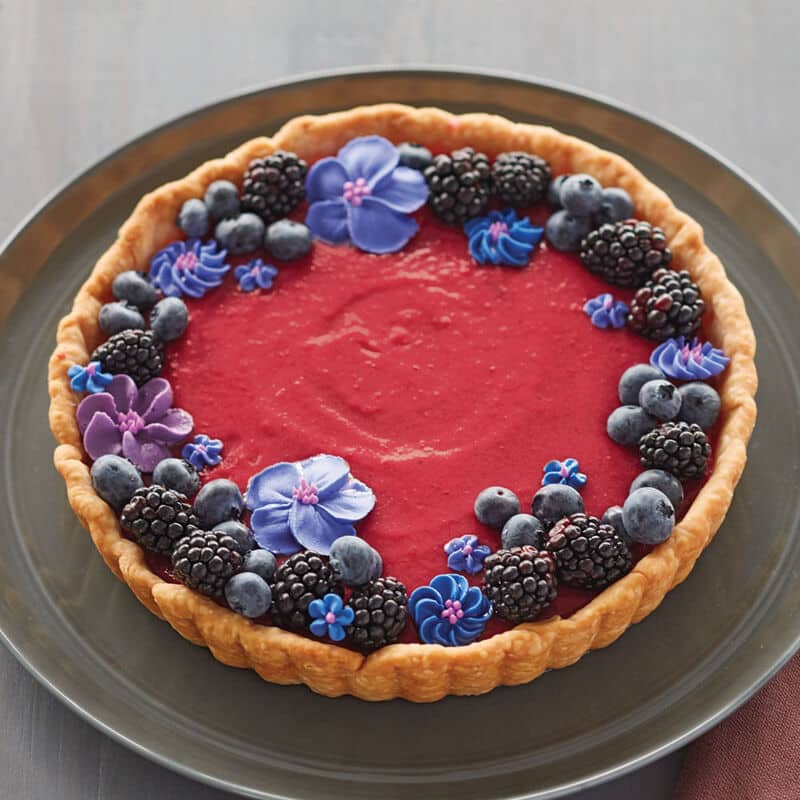 23. Purple and Blue Cranberry Tart
Brighten up a cranberry tart with a handful of fresh blueberries and blackberries. An elegant dessert you can serve at a bridal shower or family dinner, this Purple and Blue Cranberry Tart also features cute royal icing flowers for added color and sweetness.
24. Strawberry White Cake
Replace the strawberries in this recipe for blueberries for a tasty summer dessert that's cool and refreshing. For even more flavor, create a mix of seasonal berries.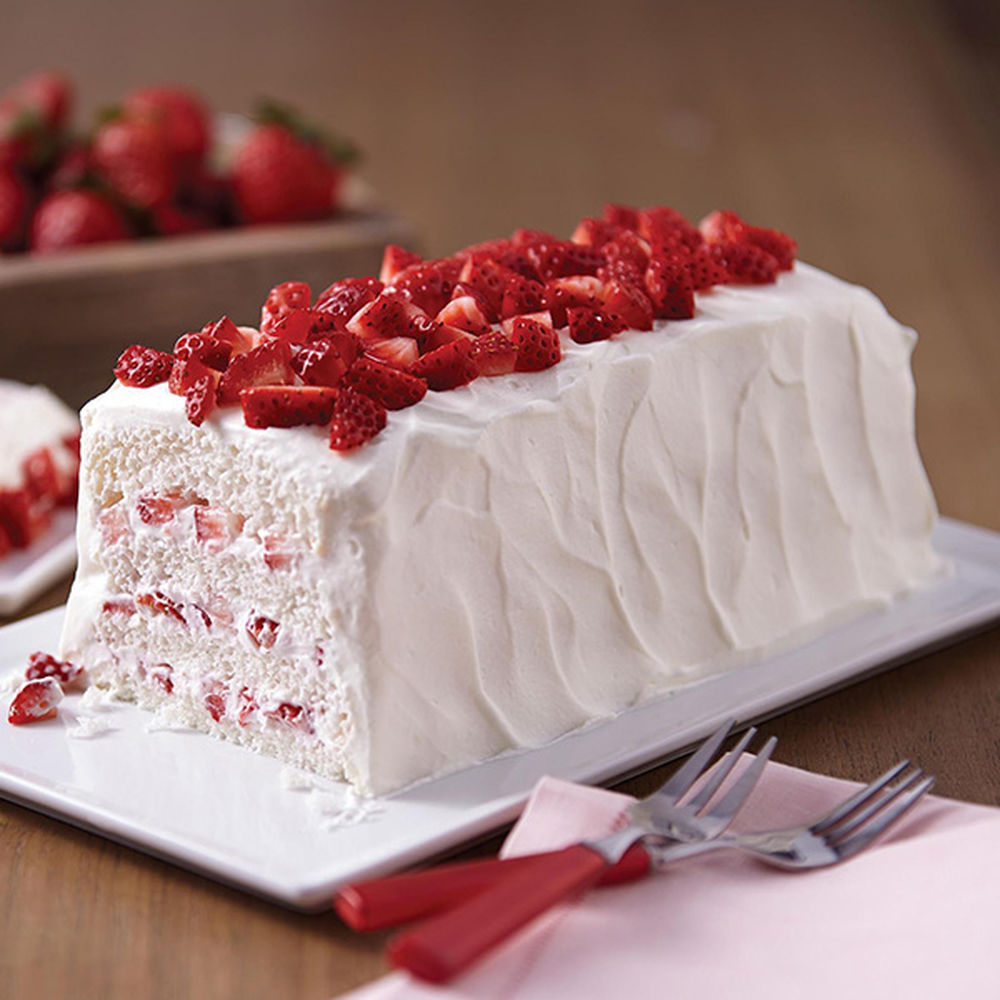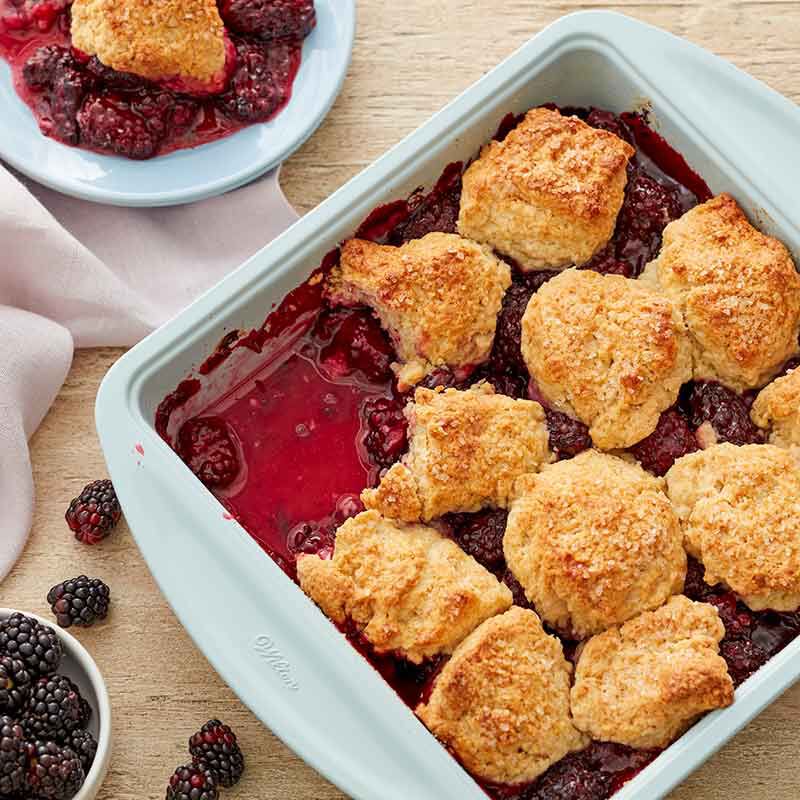 25. Easy Blackberry Cobbler
Cobblers make great weeknight desserts, and this Easy Blackberry Cobbler would taste delicious with fresh blueberries. Top it off with some lemon zest or lemon-infused whipped cream for the perfect finishing touch.
26. Easy Puff Pastry Fruit Pockets
Use your favorite jarred blueberry preserves to make these Easy Puff Pastry Fruit Pockets. A delicious dessert kids and adults are sure to love, these little hand pies are even better topped with icing and sprinkles!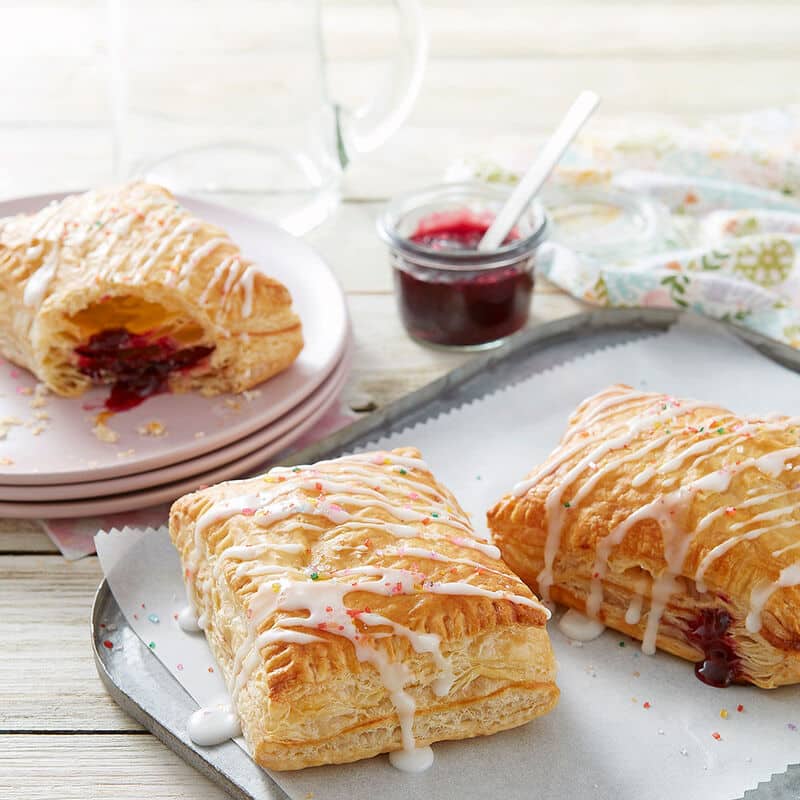 Which of these blueberry desserts are you planning to try next? Let us know in the comments below! And if you make any blueberry treats this summer, we'd love to see them! Post a picture of your dessert on social media and tag us @wiltoncakes.