Easy for even the most novice of decorators, these Halloween cakes are a simple way to impress your friends and family. Made using shaped cake pans and simple decorating techniques, these cakes are so easy, it's scary!
1. Jack-o-Lantern Cake
If you're looking for a simple and easy Halloween decorating project, this is the cake for you. Made using our Jack-o-Lantern Shaped Cake Pan and decorated with round orange and black candies, this pumpkin-shaped cake is great for decorators with ghoulishy good taste!
2. Halloween Monster Cake
The best scary Halloween cakes also have a serious cute factor! This Halloween Monster Cake is made using the grass piping tip and some chocolate sandwich cookies. Fun for kids of all ages, this easy Halloween cake is one everyone will scream for!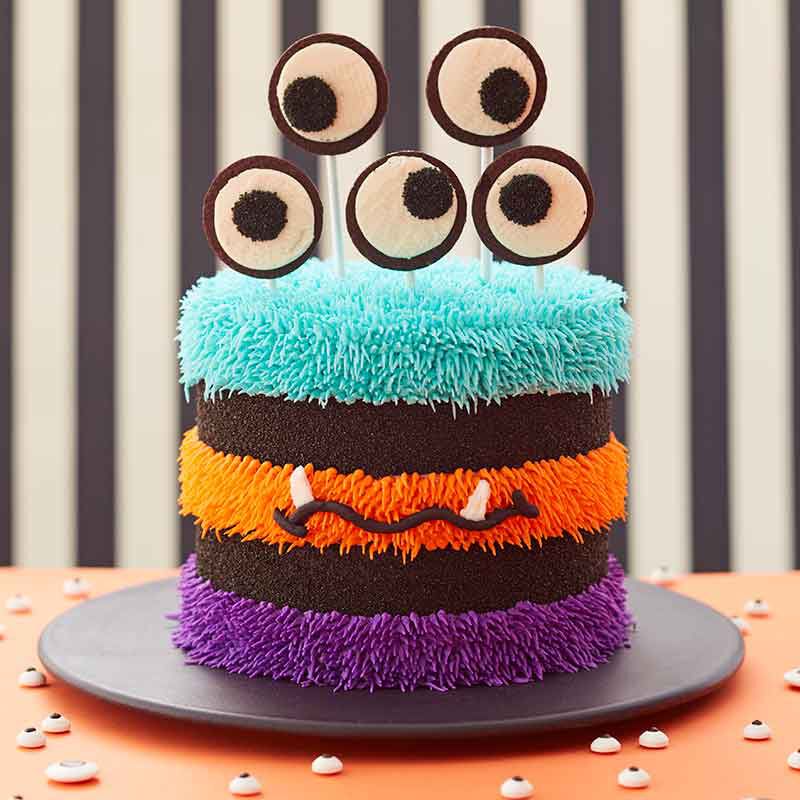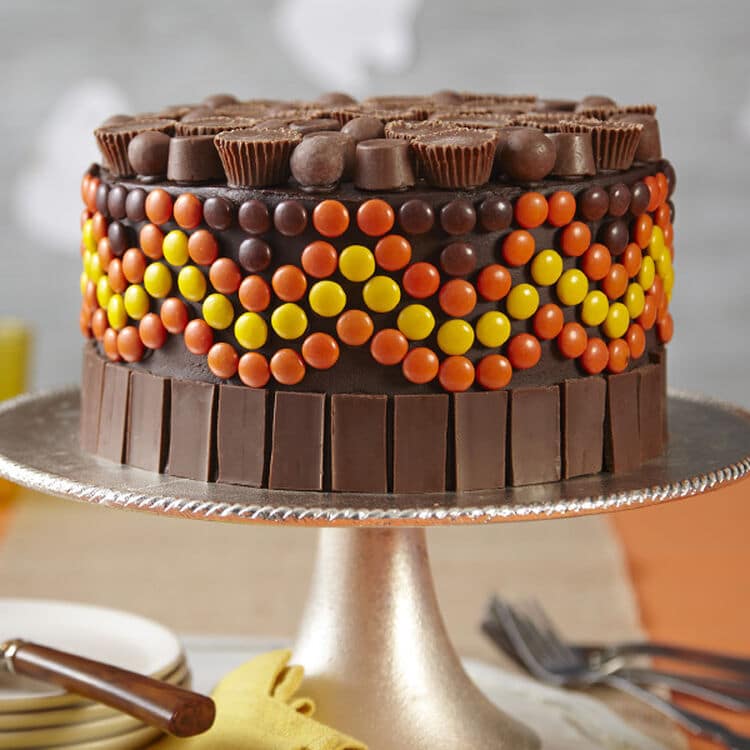 3. Easy Candy Halloween Birthday Cake
Let the candy do the work with this Easy Candy Halloween Birthday Cake. Decorated with your favorite chocolate candies and bars, including malted milk balls and mini peanut butter cups, this sweet treat is perfect for chocoholics of all ages.
4. Black Cat Cake
A few sprinkles go a long way in this cute black cat cake. This sparkling kitty is made by placing a cookie cutter on top of the cake, then filling it with a thin layer of black sanding sugar. Add a border of Halloween sprinkles around the bottom of the cake and you've got the purr-fect Halloween dessert!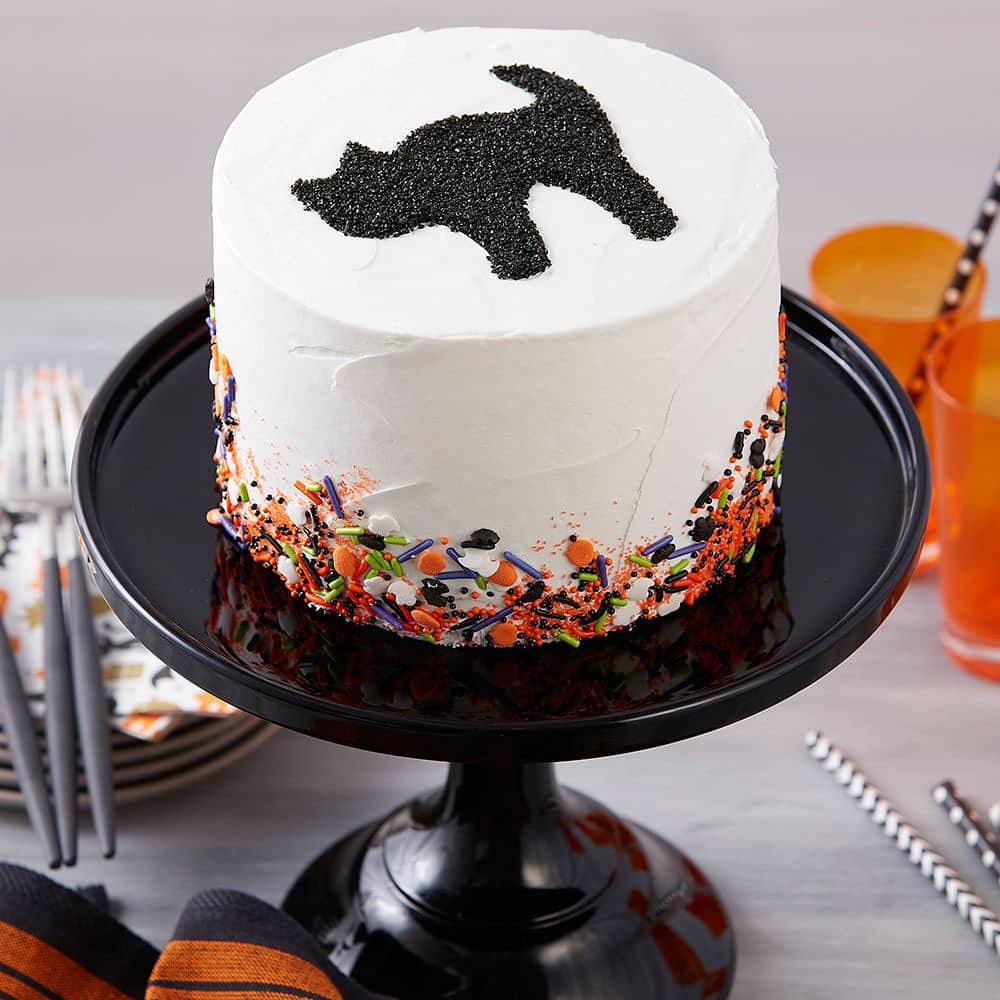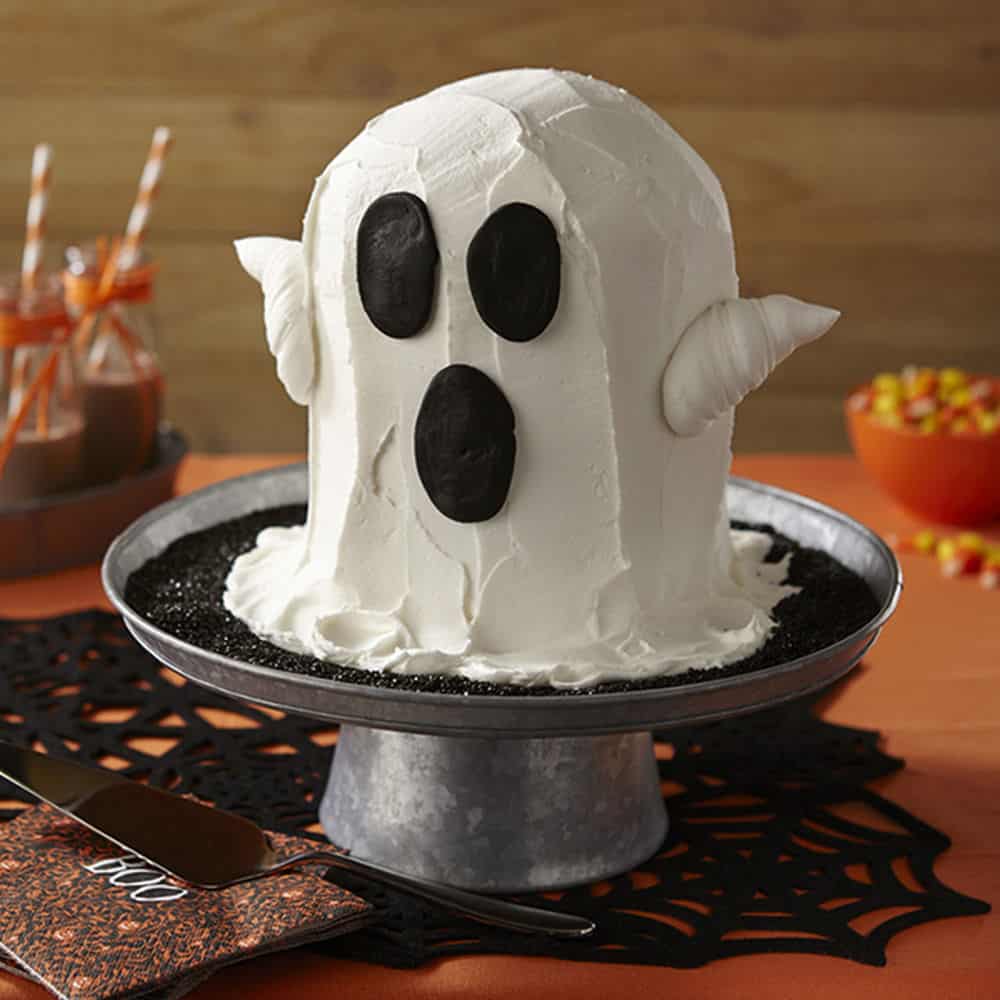 5. Ghost Cake
This cute cake is the only ghost I want at my Halloween party! With a small round cake pan and some buttercream frosting, you can make this adorable ghost cake in no time. If you're running short on time, you could even leave the arms off and your cake would be just as sweet. Boo appetit!
6. Skull Halloween Cake
No bones about it, this creepy skull cake is a great treat for your Halloween party. Simple enough for decorators of all skill levels, this cake uses the Skull Shaped Pan and a spatula to create a spooktacular sweet that tastes much better than it looks!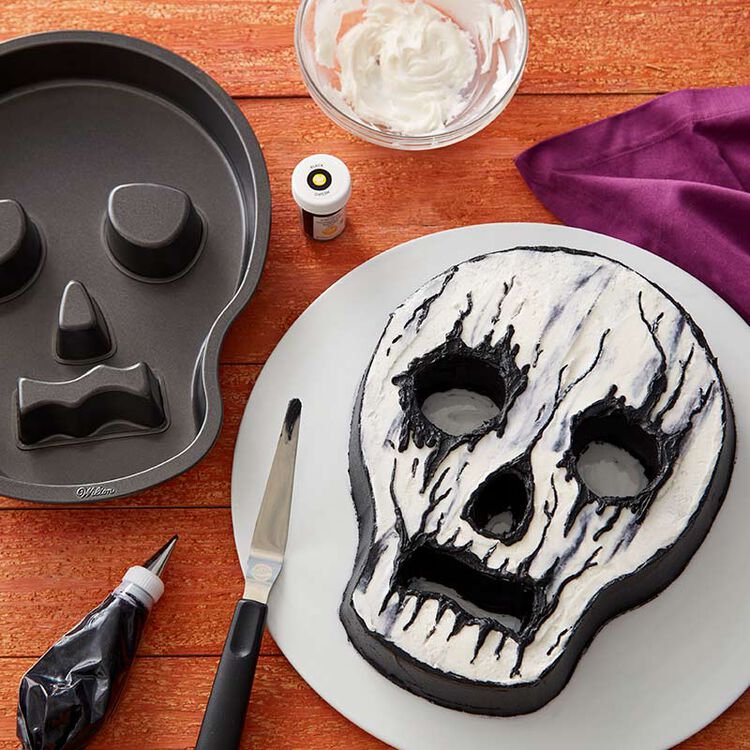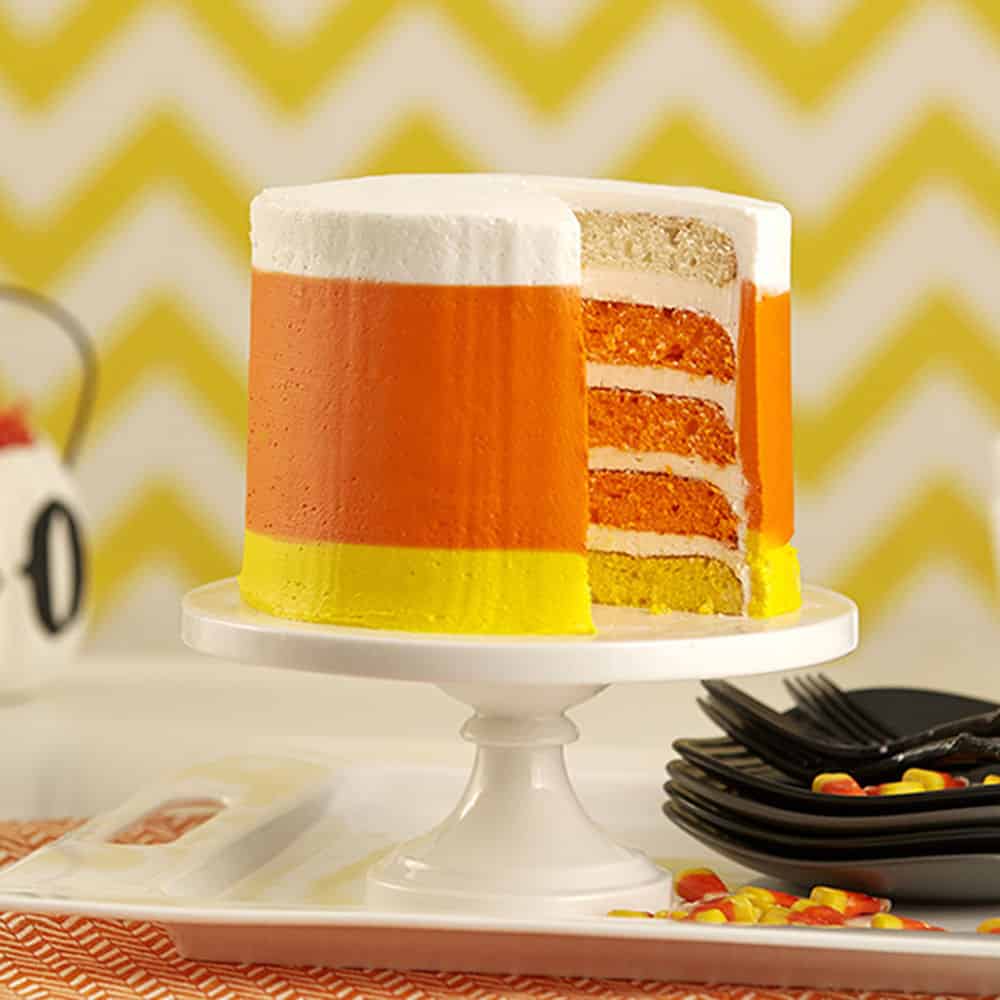 7. Candy Corn Cake
Fall's signature treat gets the spotlight treatment with this simple Candy Corn Cake. With layers of yellow, orange and white cakes, this dessert is sure to please even those who don't like candy corn!
8. Evil Eyes Halloween Cake
I spy, I spy with my little eye – a fault line Halloween cake! Create an amazing optical illusion for your Halloween party with this fun dessert. Decorated with black jimmies and candy eyeballs, this striking cake is sure to grab everyone's eye.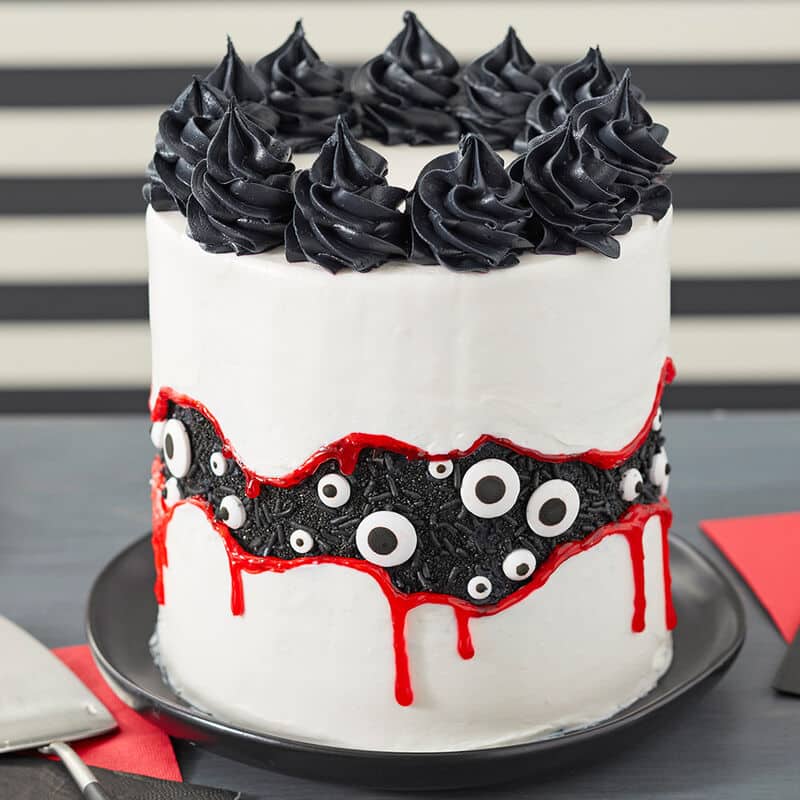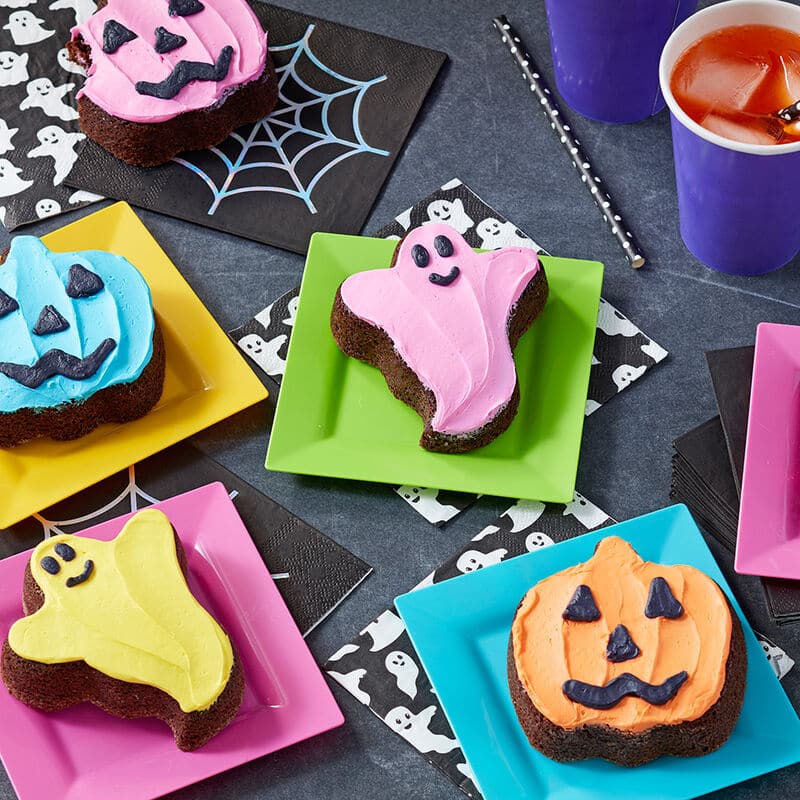 9. Pumpkin and Ghost Halloween Mini Cakes
If you don't want to make a large cake, these Pumpkin and Ghost Mini Cakes are the perfect solution. Topped with bright neon buttercream, these single-serve cakes are a fun dessert alternative. Best of all, no cutting required!
10. Trick-or-Treat Candy Bucket Cake
Filled with fondant candies (or you can use real candies!), this Jack-o-Lantern cake is no trick, all treat! Fun for Halloween parties or October showers, this simple Halloween cake is exploding with sweetness!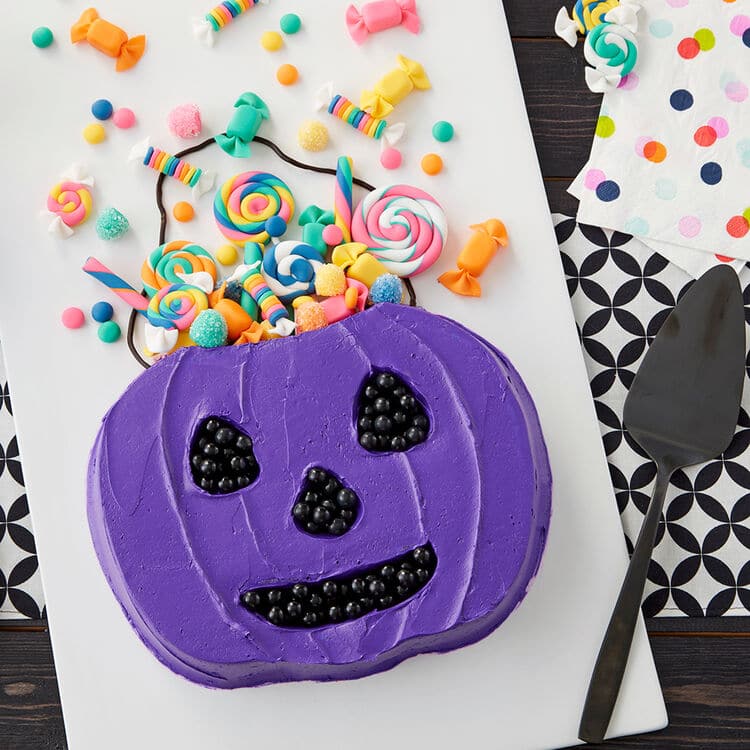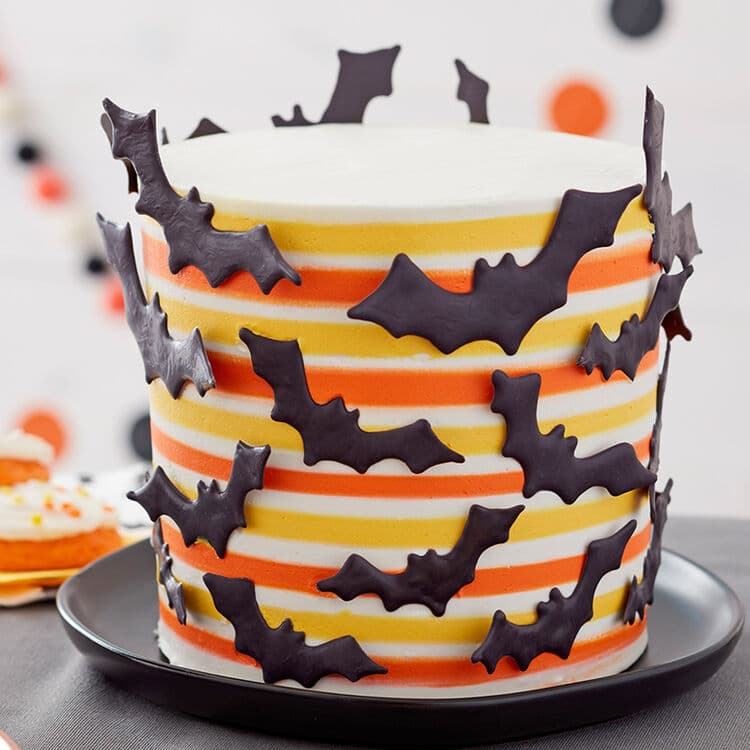 11. Striped Halloween Bat Cake
Shock and surprise your guests with this bat-tastic Striped Halloween Cake. Simply stripe your cake with orange and yellow buttercream, then use Candy Melts candy to make your own candy bats. With plenty of room for candles, this Halloween cake would also be great for October birthdays.
12. Easy Halloween Frankenstein Cake
How can you not love this cute monster cake? Fun for Halloween parties or birthday celebrations, this cute Frankenstein cake is great for decorators of all skill levels.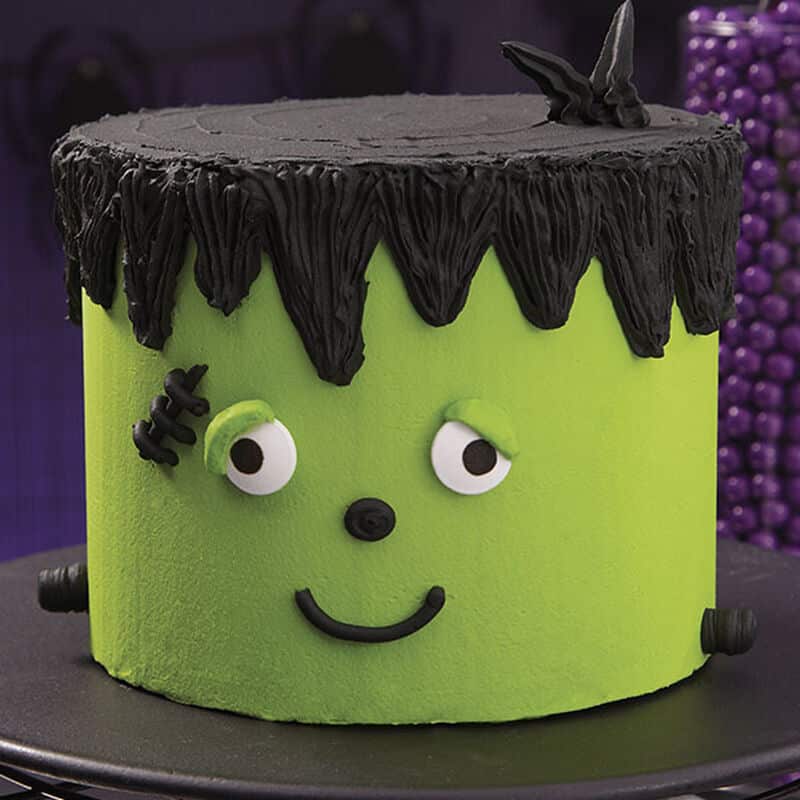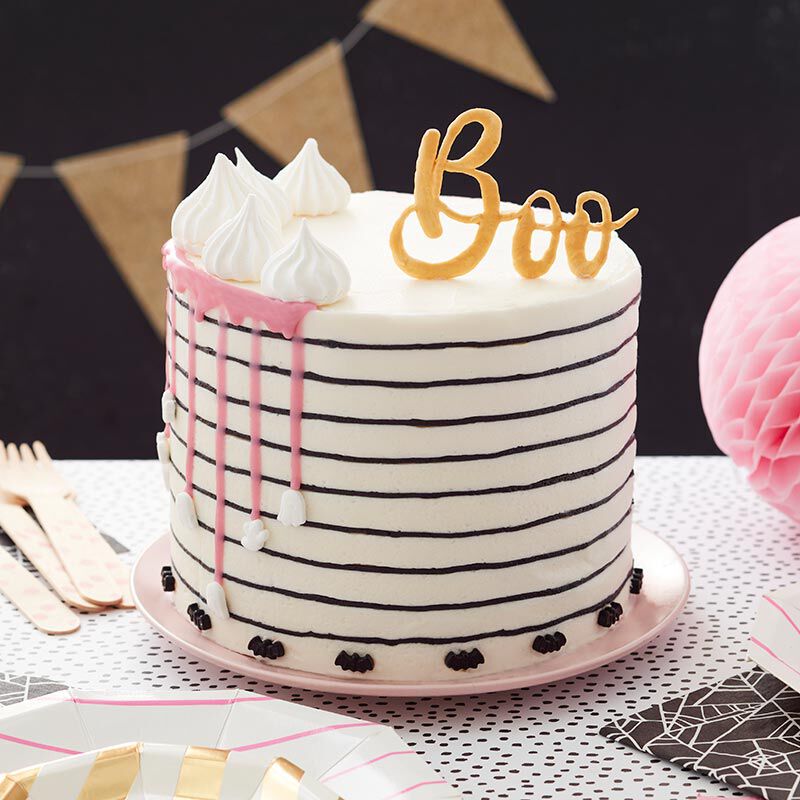 13. Boo-tiful Striped Halloween Birthday Cake
Add a little elegance to your celebration with this black and white striped Halloween cake. Topped with white meringues and a drizzle of pink ganache, this boo-tiful cake is great for a spooky soiree or an October birthday or shower.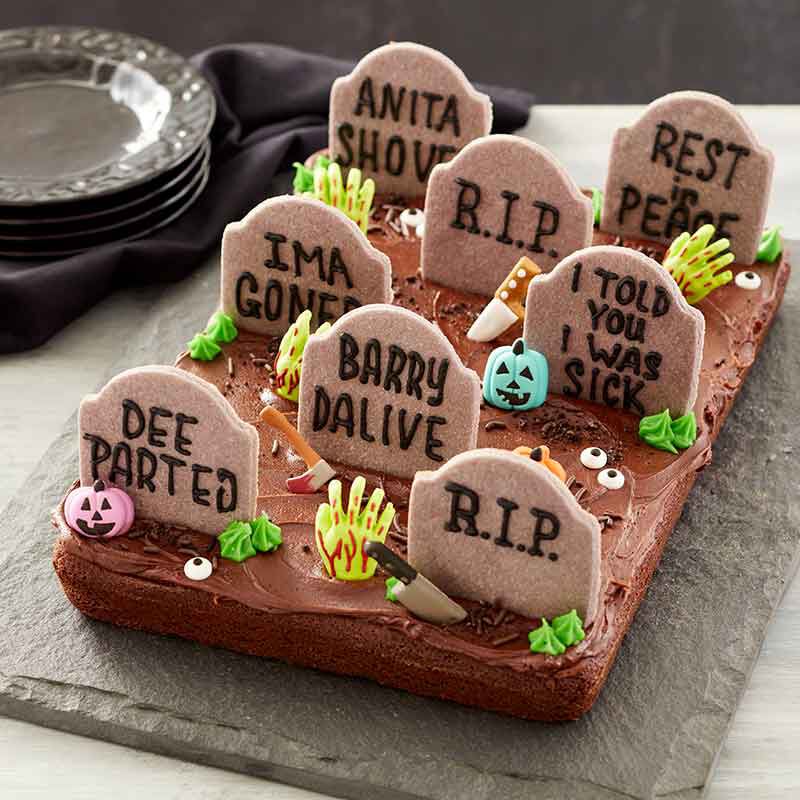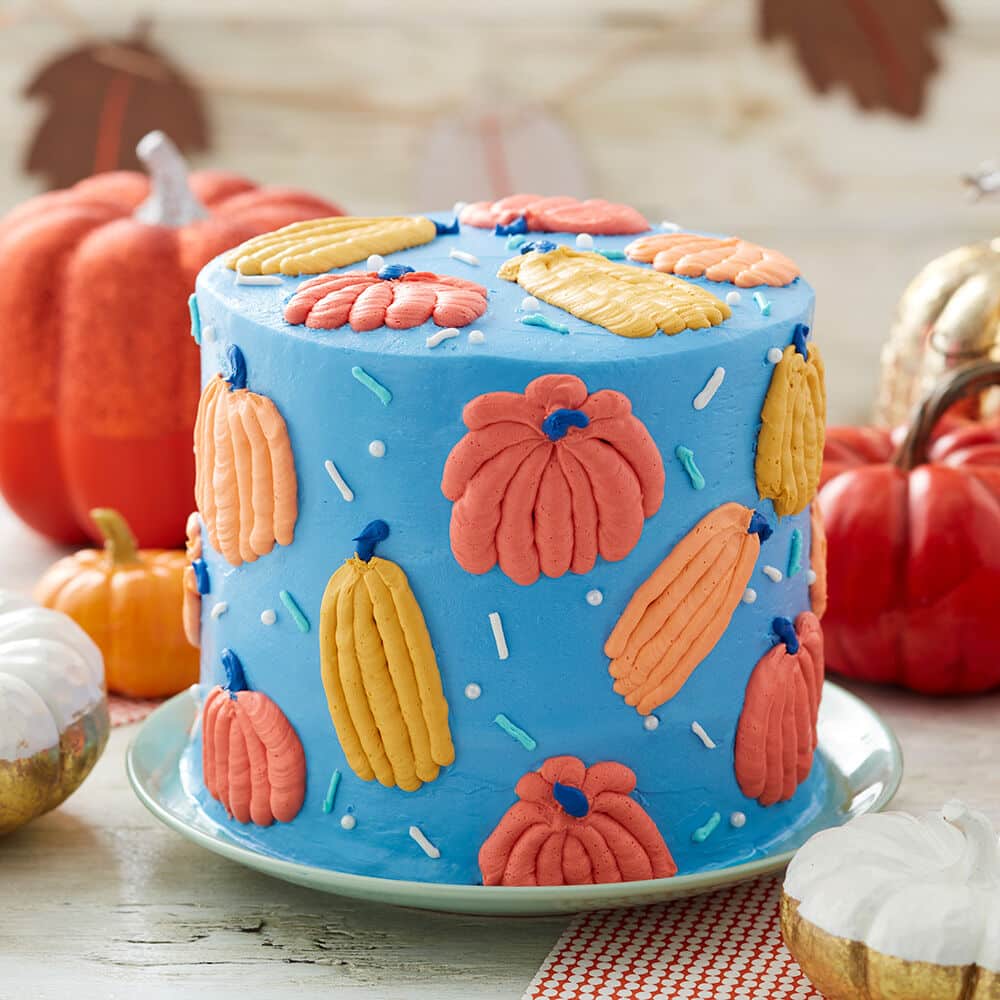 15. Fall Pumpkin Cake
Great for Halloween or Thanksgiving, this pumpkin-covered cake is a fun project for beginning decorators. Start off by icing your cake with a cool blue buttercream, then use a round piping tip to pipe your pumpkins. Use different shades of orange and yellow for a fun look.
Have you ever made a cake for Halloween? Share a picture of it on Instagram and tag us
​@wiltoncakes
so we can see it! ​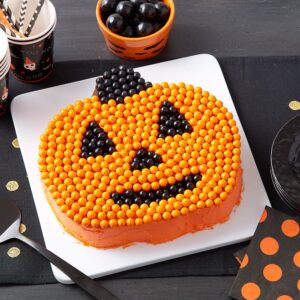 15 Halloween Cakes That are So Easy, It's Scary!
These Halloween cakes are a simple way to impress your friends and family. Made using shaped cake pans and simple decorating techniques, these cakes are so easy, it's scary!
Tried this recipe?
Take a picture and tag us @WiltonCakes on Instagram