Enjoy all the warm and delicious flavors of your favorite winter drink with these Hot Cocoa Cookies. Rich, chewy and oh so chocolatey, these bite-sized treats are sure to become a new holiday favorite!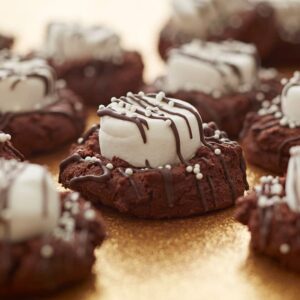 Hot Cocoa Cookies
Enjoy all the warm and delicious flavors of your favorite winter drink with these Hot Cocoa Cookies. Rich, chewy and oh so chocolatey, these bite-sized treats are sure to become anew holiday favorite!
Ingredients
½

cup

Butter

1 Stick Cut Into 1/2 Inch Pieces

1 ¼

cups

Dark Cocoa Candy Melts Candy

divided

2

cups

All-Purpose Flour

¾

cup

Unsweetened Cocoa Powder

1

teaspoon

Baking Soda

½

teaspoon

Salt

1

cup

Granulated Sugar

2

Eggs

1

teaspoon

Vanilla Extract

15

Standard-Size Marshmallows

Cut in Half

White Nonpareil Sprinkles
Instructions
Step 1: Prep Your Pans
Begin by preheating the oven to 350°F. Prepare your cookie pans with parchment paper.
Step 2: Combine Your Ingredients
In a large bowl, stir together the flour, cocoa powder, baking soda and salt.

In a medium microwave-safe container, combine the butter and 3/4 cup dark cocoa Candy Melts candy. Microwave at half (50%) power 1 minute, then stir to combine.

Continue to microwave on 50% power in 30-second intervals, stirring between each, until the candy and butter are melted. Stir thoroughly until the mixture is smooth.

Let the mixture cool at room temperature for 5 minutes.

In a large bowl, beat the chocolate candy mixture, sugar, eggs and vanilla extract with an electric mixer on medium speed until well combined, about 1 minute.

Gradually add the flour mixture, scraping down bottom and sides of bowl as necessary, beating until flour is just combined. Be careful not to overmix.
Step 3: Scoop Your Cookies
Using a cookie scoop, scoop and drop cookies onto your prepared cookie pans, spacing them about 2 in. apart.  

Bake your cookies for 9 to 11 minutes, or until the cookies crack on top. Remove them from the oven and let them cool on the pan for about 5 minutes.

While the cookies are still hot, carefully place one half marshmallow in the center of the cookie, cut side down, and gently press into place.

Remove cookies to a cooling grid and let them cool completely.
Step 4: Decorate Your Cookies
In a microwave-safe bowl, melt the remaining Dark Cocoa Candy Melts candy following the instructions on the package.

Using a decorating bag or a fork, drizzle the cooled cookies with the melted candy. Immediately sprinkle with white nonpareils.

Let your cookies stand at room temperature until the candy is set. This should take anywhere from 10to 20 minutes. To speed up the process, you can also place your cookies in the refrigerator just until the candy hardens, about 5 minutes.
Notes
Helpful Hints for Making Hot Cocoa Cookies:
Marshmallows are easier to cut using kitchen scissors.
The parchment paper you used for baking can be re-used for drizzling cookies. If the paper is greasy, just turn it over to the other side.
For a fun holiday twist, use red and green nonpareils to top your cookies, or add some flavor and texture with peppermint crunch candies!
Tried this recipe?
Take a picture and tag us @WiltonCakes on Instagram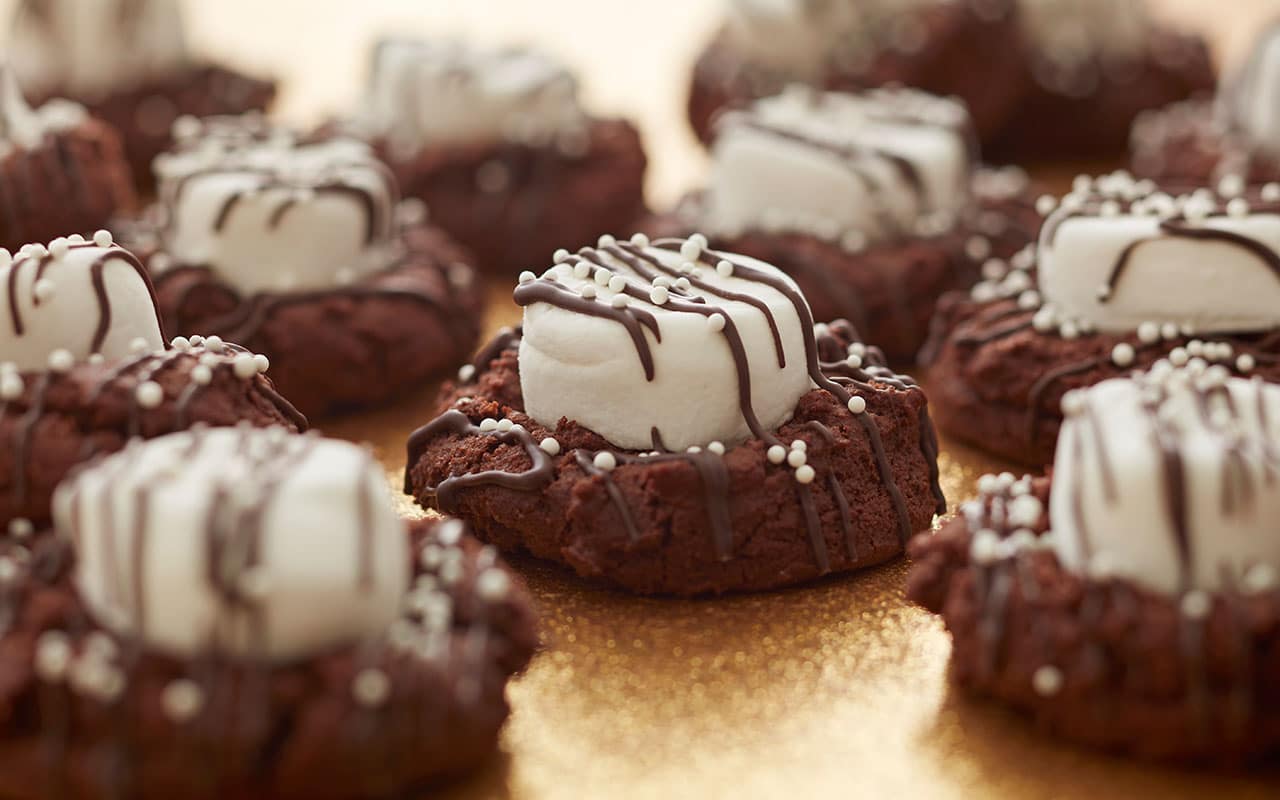 Check Out More Cookie Recipes & How-Tos
Write RIP and more on a tombstone with these custom graveyard cupcakes piled high with bloody bones on top. These spooky treats are sure to be a hit at a Halloween party and make all the ghouls and ghosts in attendance feel special. 
Sink your teeth into the spooktacular world of Halloween desserts with our Blood Ooze Cupcakes. These delectable treats feature a molten, crimson center that oozes out like a creepy surprise. Don't be fooled by their gruesome appearance – underneath the ghastly...
Elevate your Halloween festivities with our spooktacular Marshmallow Spiderweb Vanilla Cupcakes! These sinfully delicious treats feature decadent chocolate cupcakes topped with an intricate marshmallow spiderweb decoration. Sink your fangs into these creepy-cute...