Nothing quite says Christmas like a gingerbread house — and with the right tool making one can be a snap. Often decorated with candy canes, spice drops and sprinkles galore, these cookie creations are a long-cherished tradition enjoyed by families the world over.
And every house must start with a sturdy foundation. Whether you're using a build-it-yourself kit or baking a gingerbread house from scratch, this guide will help show you how to build a gingerbread house that will last all holiday season long.
What You'll Need
Gingerbread kit of your choosing
Cake board
Decorating bags and tips (included in most gingerbread kits)
Royal icing and edible decorations (also included in most gingerbread kits, but feel free to use additional candies!)
Choose Your Kit
Whether you want to build your gingerbread house yourself or take it out of the box already assembled, we have a kit for you!
Our Build-it-Yourself kits come with all the cookie panels you need to create your house, as well as a variety of icings and candy decorations. The Shimmer Castle Kit is great for creating a winter scene, or hop aboard for candy land the Gingerbread Train Kit. Video gamers can even get in on the fun with the adorable Super Mario Gingerbread Castle!
If you'd rather skip building and get straight to decorating, our Ready-to-Decorate Gingerbread House Kit comes with the gingerbread house pieces already assembled. Use the decorations included in the kit or let your imagination run wild and decorate it however you'd like!
Assemble the House
Assembling your gingerbread house is easy, but it does take some time (we actually suggest assembling it the day before you want to decorate it so it has plenty of time to dry). Check out our video on How to Assemble a Gingerbread House to see it in action, then keep these gingerbread house tips in mind as you build.
Make sure like panels in your kit are the same size. For example, place the two roof panels back to back. If there's any overhang, use a small paring knife to trim the panel so both are equal.
Build your house on a cake board for added stability.
Make sure to pipe icing along the bottom edges of each panel before sticking it to the cake board. This will ensure your house doesn't move around on the board and will help prevent collapsing.
After assembling the back, side and front panels, let your house dry for about an hour before adding the roof pieces. If you don't give your icing time to dry, the house could collapse from the weight of the roof.
Once you've added the roof, let your house dry

at room temperature for

an additional 2 to 3 hours before adding any decorations.
How to Decorate
Once your house is built and dry, you're ready for the best part – decorating! Each kit comes with a variety of colorful decorations, but don't feel like you're limited to those! Use your favorite sprinkles, candies, cereals and more to add dimension and texture to your house.
Check out How to Decorate a Gingerbread House for guided tutorials on how to pipe windows, trees, icicles and more, or get inspired by some of our favorite gingerbread house designs!
And you don't have to stop there. Set the scene by icing your cake board, then topping it with shredded coconut or white nonpareils. Use sugar cones dipped in Green Candy Melts candy for trees or create a path or garden using jelly beans or other small candies.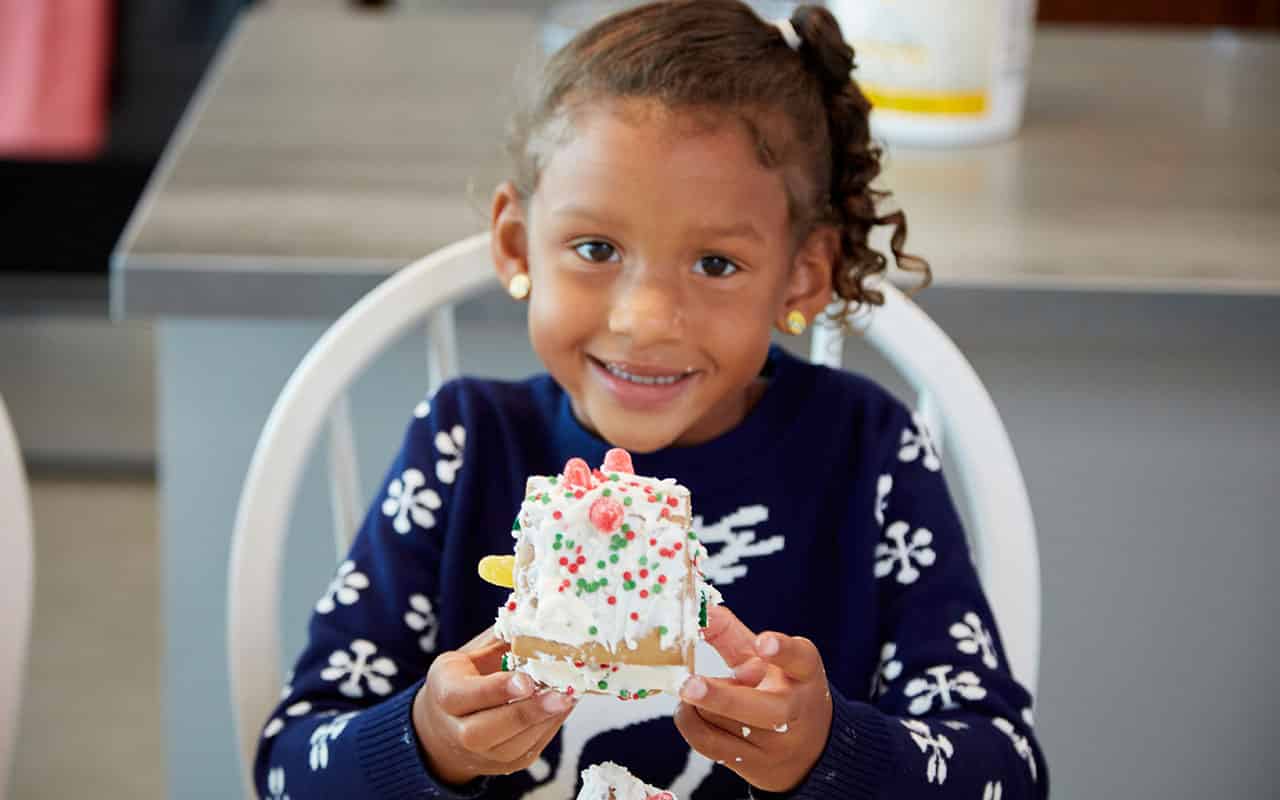 FAQ's
I'm out of icing! Can I make my own?
YES! If you run out of the icing included in your kit, you can make a batch of Gingerbread House Icing, which is great for assembling and decorating your house.
What do I do if I break a panel?
If a panel cracks or breaks, you can use icing to "glue" it back together. Just let it set for at least an hour, then continue assembling and decorating. You can also use icing or fondant decorations to cover up the crack if it shows on the outside of your house.
Is my gingerbread house edible?
All Wilton gingerbread house kits are edible; however, we suggest keeping it in a cool, dry place and keeping it covered with plastic wrap at night to prevent dust from settling on your house.
Can I preserve a gingerbread house?
Of course! Once decorated, you can spray your house with clear acrylic spray or reinforce the inside of the house with cardboard cut to fit the pieces of each panel. Hot glue the cardboard to the inside of the house as you assemble.
Keep in mind if you use these tactics to preserve your house, it will no longer be edible.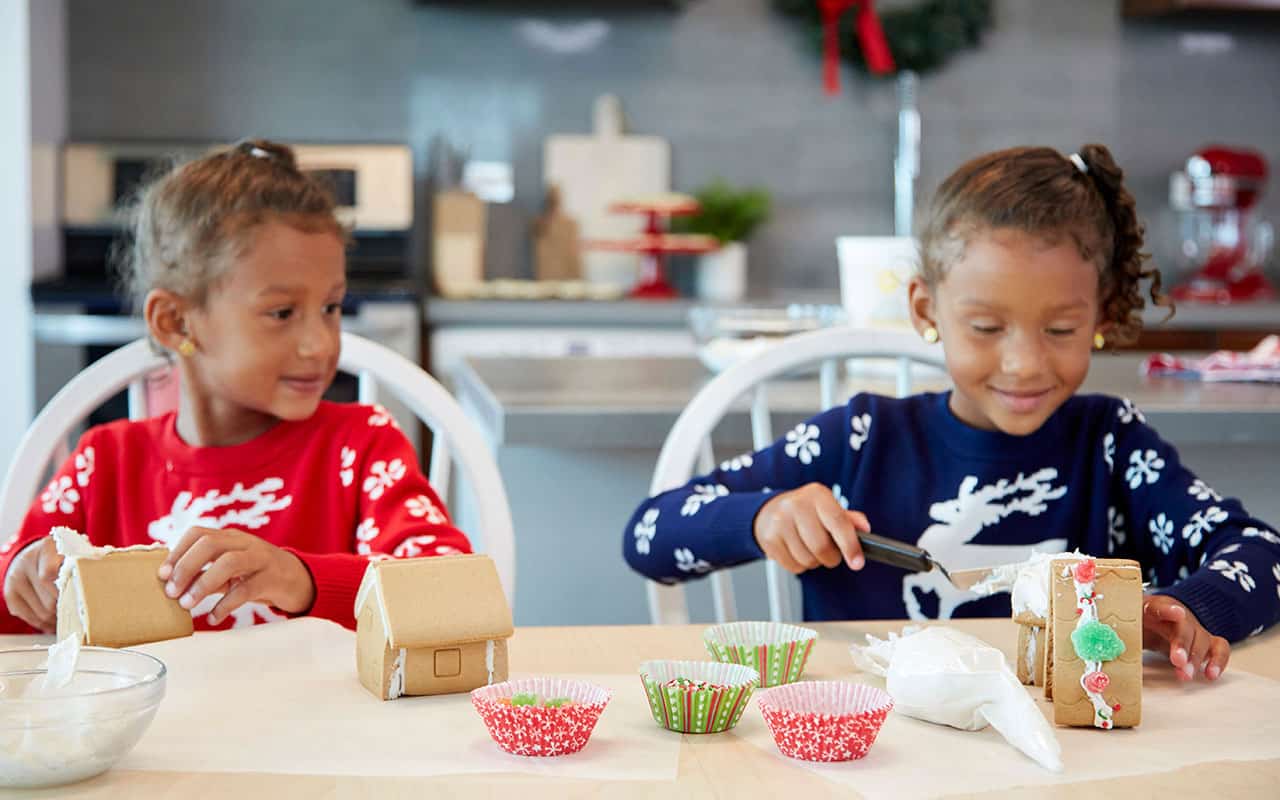 Do you love building gingerbread houses with your family? Share a picture of your house on Instagram and tag us @wiltoncakes. We'd love to see them!