​If you've ever wondered how to pipe a character or a logo on your cake, chances are you've stumbled across the buttercream transfer technique. A time-tested method for making iconic designs, buttercream transfers are a great way to make an edible image without the stress of messing it up.
The reason buttercream transfers work so well is that they're actually made by tracing an image with buttercream. These designs are made on waxed paper, frozen, then placed on your cake or treat. It's essentially as easy as coloring!
When it comes to doing a buttercream transfer, there are a few tips and tricks to keep in mind. Follow along with us as we guide you through the entire process step-by-step, from picking and printing your pattern to placing it on your cake.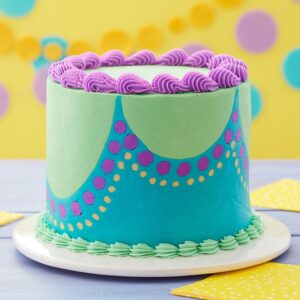 How to Make a Buttercream Transfer
Buttercream transfers are a great way to make an edible image without the stress of messing it up.
Instructions
Step 1: Print or Design Your Transfer Pattern
First thing's first, pick your pattern. Use a favorite cartoon character, a favorite team logo or put pen to paper and create your own design!

If you're printing your image from the computer, make sure to flip it or create a mirror image so when you place it on your cake, it's facing the right way. This is super important if your image has any writing or lettering on it.

If your image is already printed or you're using a design from a coloring book, simply flip the picture over (front-side down) and trace over the back of the image to create a mirror design.
Step 2: Prepare Your Work Surface​
Since your transfer will have to move in and out of the freezer, it's best to secure it to something sturdy, like a cake board or cookie sheet. Using a metal cookie sheet is especially helpful in humid or warm climates, as the pan will help keep your transfer cold between freezes.

Using masking tape, secure your pattern to the cake board or sheet (remember, make sure it's reversed so it's facing the right way when you flip it over). Tape a piece of waxed paper over your template, making sure everything lays flat. Once that's done, set it aside. It's time to make some frosting!
Step 3: Prepare Your Frosting
Since buttercream transfers need to be frozen, you'll want to use a buttercream recipe that's 1/2 shortening and 1/2 butter. An all-shortening recipe will not freeze hard enough for the transfer to work properly. The butter helps your frosting harden, so it's best to make your frosting from scratch. For best results, we suggest using our Vanilla Buttercream Frosting recipe, which is super easy to make and color!Once your frosting is prepared, it's time to add some color. You can use gel or liquid food coloring if you wish; however, we love using Color Right concentrated food coloring, since it doesn't alter the consistency of the frosting – plus with the color mixing guide, you can create just the right shades for logos, characters and more.
Step 4: Outlining Your Image
The first step in creating your transfer is to outline your design. You can do this with black frosting or whatever color you wish. For fine lines, use a small round decorating tip, like tip 2 or 3, or simply cut a tiny opening in the tip of your bag.

Following your template, outline all the areas of your design. Place your transfer in the freezer for about 10 minutes to allow the outline to harden.
Step 5: Filling in Your Transfer
Prepare as many decorating bags as you need with either tip 3 or 4 and your desired colors of frosting. Using the prepared bags, fill in all the smaller areas of your transfer. Try to get the frosting right up to the edge of the outline so there's no gap in your design. If you have an intricate design, you can use a toothpick or decorating brush to help spread the frosting into tight sections.

Use a tapered spatula or butter knife to gently smooth out your frosting as you go.

Once all the smaller areas are filled in, you can fill in the remaining larger portions of your design. If your kitchen or workspace is warm and you notice your buttercream softening, place your transfer in the freezer until it hardens again (this is where that metal cookie sheet comes in handy, as it will help keep your transfer cold).

Once your transfer is completely filled in, outline the entire design with an outer border of frosting. This helps add stability so it's easier to place on your cake. Use the same color frosting as your cake, since you'll want this border to blend in.

Then using the same color frosting as your cake, cover your entire design with a layer of buttercream. This gives your design stability and helps ensure it will rest flat once placed.

Using a spatula, gently smooth out the frosting.

Place your transfer back in the freezer to harden completely. Depending on the design, this can take anywhere from 90 minutes to 24 hours. Once it's frozen, the buttercream should be firm to the touch.
Step 6: Placing the Transfer on Your Cake
It's the moment of truth! To place your transfer, remove your design (still on the waxed paper) from the cake board or cookie sheet. Carefully place your design, paper side up, onto your iced cake, then slowly remove the waxed paper to reveal your work of art!

If needed, you can add any final details at this point, including eyes, facial features or fix any outlines that may have blended together.

To prevent condensation, it's best to keep your cake refrigerated once your transfer has been placed. Keep it chilled until you're ready to serve.
Tried this how-to?
Take a picture and tag us @WiltonCakes on Instagram!
And there you have it! Buttercream transfers are an easy and fun way to customize your treats, and we'd love to see any transfers you've done! Take a picture of your completed buttercream transfers and tag us on Instagram
@wiltoncakes
so we can admire your work!