Kids and adults of all ages are sure to love these sprinkle–covered hot cocoa bombs! Easy to make and decorate, these tasty treats are the perfect accompaniment to a night spent indoors watching romantic movies with your sweetheart!
What are hot cocoa bombs?
Similar to a bath bomb, hot cocoa bombs are filled candy or chocolate shells that you can drop into a glass of hot milk. The chocolate melts from the heat of the liquid, revealing the cocoa mix and marshmallows hidden inside!
How to use hot cocoa bombs
These fun treats are super easy to use. For best results, we suggest using a large coffee or cocoa mug, as these bombs are on the bigger side.
Simply heat your milk on the stove or in the microwave, then pour it into a large mug. Then just drop in your hot cocoa bomb and watch the drink form before your eyes!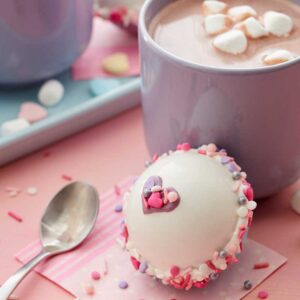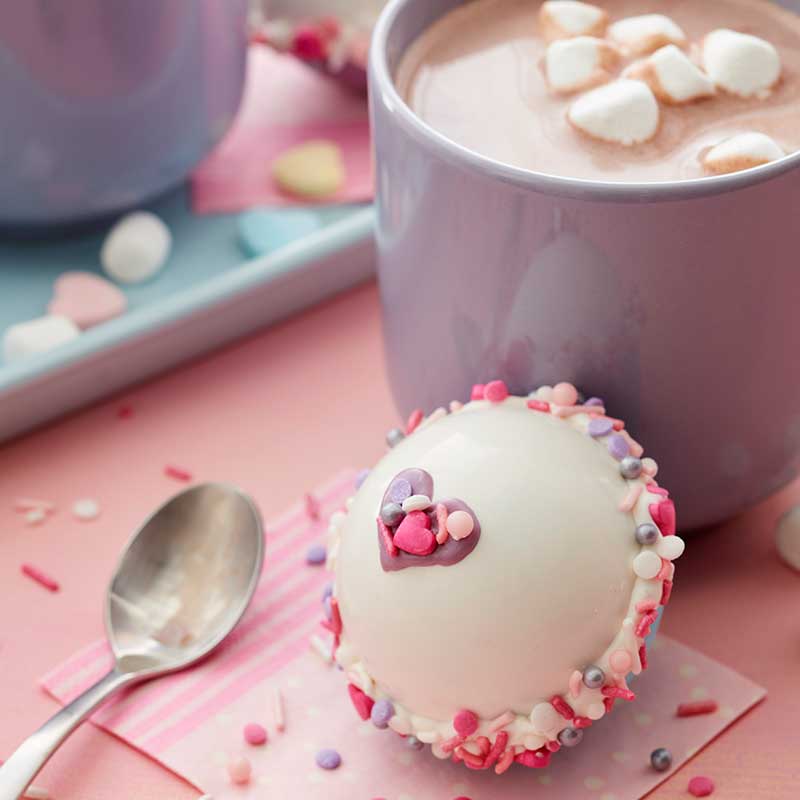 Hot Cocoa Bomb
Perfect for gifting to kids and adults alike, these adorable Valentine's Day hot cocoa bombs are ideal for cold winter nights spent inside! Great for filling with hot cocoa mix and mini marshmallows, these hot cocoa bombs are literally an explosion of fun!
Equipment
Hot Cocoa Bomb Mold

Other helpful tools: scissors, sharp knife for trimming candy, microwave-safe glass plate
Ingredients
Store-bought mini marshmallows

Valentine's Day Sprinkle Mix
Instructions
Step 1: Melt the Candy
Prepare four decorating bags, separately, with Lavender, Bright White, Pink and Light Blue candy. Follow the instructions on the Candy Melts packaging to melt your candy in the decorating bags.

Cut a small tip, about 1/2 in., in each bag.
Step 2: Make the Candy Shells
Fill the large cavities of the Hot Cocoa Bomb Mold about 1/3 full with melted Bright White candy. Using a decorating brush, push the candy up the sides of the mold cavities.

Chill the top shells until the mold appears frosty, about 15 to 20 minutes. Repeat this process, adding a second layer of melted Bright White candy over the first. Chill the second layer again, about 15 to 20 minutes.

Gently release the candy shells from the mold. If there is any excess around the edge of the shell, you can trim it off with a sharp knife.

Repeat step 2 again with the melted Lavender, Pink and Light Blue candy.

Hang on to all your prepared bags. We'll use them again to assemble the cocoa bombs.
Step 3: Make Hot Cocoa Bomb Filling
Prepare one batch of Hot Cocoa Mix, following the recipe instructions. You can also use your favorite store-bought hot cocoa if you prefer!
Step 4: Fill Your Hot Cocoa Bombs
For easy assembly, heat a microwave-safe glass plate in the microwave until it's hot to the touch.

Add 2 tablespoons hot cocoa mix into a Lavender, Pink or Light Blue candy shell. Top with 3 to 4 mini marshmallows.

Carefully melt the edge of the top Bright White shell by placing iton the hot plate and turning it a few times, then attach it to the filled bottom shell.

Using the bag of Bright White candy, pipe a line of candy around the seam of the hot cocoa bomb, then immediately roll or top with sprinkles.

Repeat until all your bombs are filled and assembled.
Step 5: Decorate and Serve!
Using the remaining bags of Lavender, Pink and Light Blue candy, pipe a heart on top of each cocoa bomb, alternating colors as desired. Immediately top your heart with sprinkles.

Let your hot cocoa bombs set at room temperature, about 20 minutes, before packaging or serving. You can also place them in the refrigerator to set if you're short on time.

When you're ready to serve, warm up a big mug of milk, then drop in your hot cocoa bomb! Once the bomb explodes, simply mix and enjoy!
Tried this how-to?
Take a picture and tag us @WiltonCakes on Instagram!