No need to go outside to make these snowman sugar cookies! Made using our simple roll-out cookie dough recipe and decorated with fun faces and buttons, these snowman Christmas cookies are a great project for the kids!
Build a snowman from the comfort of your own kitchen with this cute snowman cookie decorating project! A fun activity for kids of all ages, these cookies begin with our tasty roll-out sugar cookie recipe, then are topped with buttercream frosting and sparkling sugars for a glittering, sparkling effect!
Add faces and buttons using chocolate chips and candy-coated chocolates, then have fun building your own snowman sugar cookies no matter the weather outside.
If you're planning on packaging or gifting these cookies to family and friends, you can also use Royal Icing instead of buttercream to decorate your treats. Royal icing dries hard, so your cookies won't get damaged if you package them in treat bags or platters. Just be sure to give your cookies plenty of time to dry before packaging and storing (at least 8 to 10 hours).
For a quicker decorating option, try our tasty Cookie Icing. This quick-setting, microwavable icing is perfect for decorating sugar cookies. Plus, the cap acts as a tip, so you can pipe it right from the bottle!
Snowman Cookies Recipe
These snowman cookies start off with our roll-out sugar cookie dough. Delicious and easy to make, this dough requires no refrigeration and is enough to make about 36 round cookies (or 18 2-cookie snowmen).
Roll-Out Cookie Dough Recipe
Ingredients:
1 cup granulated sugar
1 cup (2 sticks) unsalted butter, softened to room temperature
1 egg
2 teaspoons vanilla extract
½ teaspoon almond extract
3 ¼ cups all-purpose flour
1 teaspoon baking powder
½ teaspoon salt
Preheat your oven to 350 degrees F.
In the bowl of your stand mixer (or in a large bowl with a hand mixer), cream the butter and sugar together until light and fluffy, about 2 minutes. Beat in the egg, vanilla extract and almond extract.
In a separate bowl, mix together the flour, baking powder and salt. Add the dry ingredients to the butter mixture, 1 cup at a time, mixing well after each addition.
How to Roll Out and Cut Your Sugar Cookies
Divide the dough into two equal portions and set on a floured surface. Roll out each ball into a large circle, about 12 inches in diameter and about 1/8 inch thick.
Now it's time to cut out the cookies! We used the largest round cutter in this round cookie cutter set to cut out our cookies, but any 3 in. round cutter would work here. If you don't have a round cookie cutter, you can use the lip of a drinking glass or even the lid of a Mason jar!
Be sure to dip your cutter in flour before cutting out each cookie shape. This will not only prevent the dough from sticking to the cutter, but will also help prevent your cookies from spreading in the oven.
Transfer your cookies to an ungreased non-stick baking sheet and bake for 8 to 11 minutes, or until they are lightly browned.
Let the cookies cool for about 4 to 5 minutes on the sheet, then transfer them to a cooling grid to cool completely before decorating.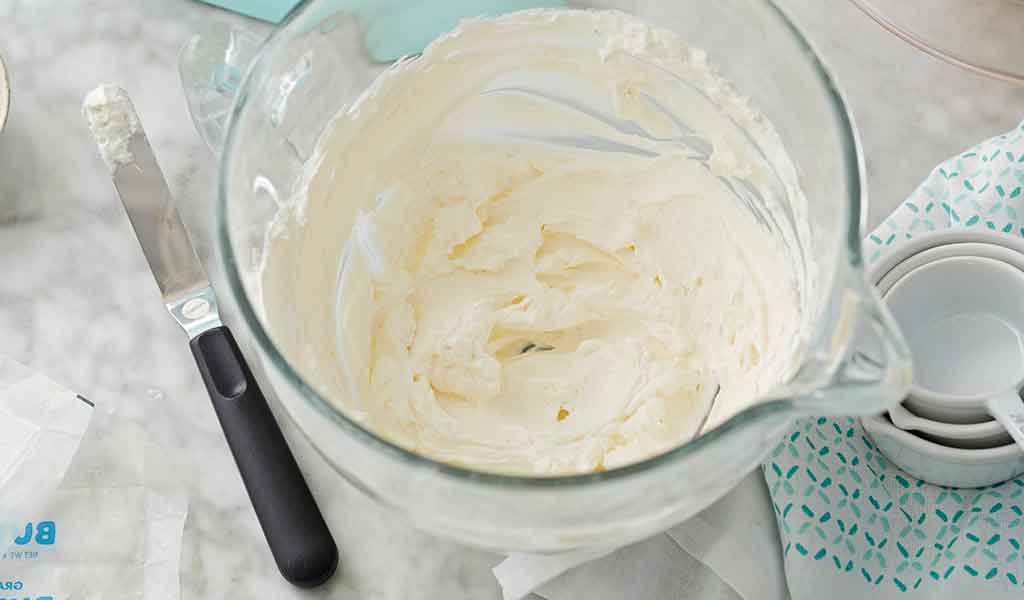 How to Make Buttercream Frosting
Ingredients:
½ cup solid vegetable shortening*
½ cup (1 stick) unsalted butter, softened to room temperature
4 cups sifted confectioners' sugar (powdered sugar)
2 tablespoons milk, heavy cream or water
1 teaspoon vanilla extract
Pinch of salt (optional)
*If you'd rather not use shortening, you can replace it with ½ cup unsalted butter. However, we suggest using shortening if you want that bright white color to your frosting!
In a large bowl, cream the butter and shortening on medium speed until light and fluffy, about 1 to 2 minutes. Beat in the vanilla.
Gradually add the confectioners' sugar, one cup at a time, beating well after each addition. Be sure to start on low speed, then increase to high speed to prevent the sugar from getting all over your kitchen!
We also suggest scraping down the sides and bottom of the bowl after each cup of sugar is added. This will help ensure everything is evenly incorporated.
When all the sugar has been mixed in, your frosting should appear stiff.
Gradually add your milk, cream or water and continue mixing until your frosting is light and fluffy. If your frosting still appears too stiff, add more liquid, 1 teaspoon at a time, until you've reached your desired consistency (it should be medium consistency for these cookies).
If your frosting is too sweet, add a pinch of salt to the buttercream, mixing it in until it's completely dissolved.
For a fun, seasonal-inspired variation, try decorating these cookies with our Peppermint Buttercream instead!
How to Make Royal Icing
If you'd rather use royal icing to decorate your cookies, you can follow our easy royal icing recipe. Prepare your icing, then follow the instructions below for using a spatula to decorate your cookies.
Once all your decorations have been placed, let your cookies sit out at room temperature for 8 to 10 hours (or overnight) so they have time to dry. Once hardened, cookies can be packaged, stored and stacked without damage.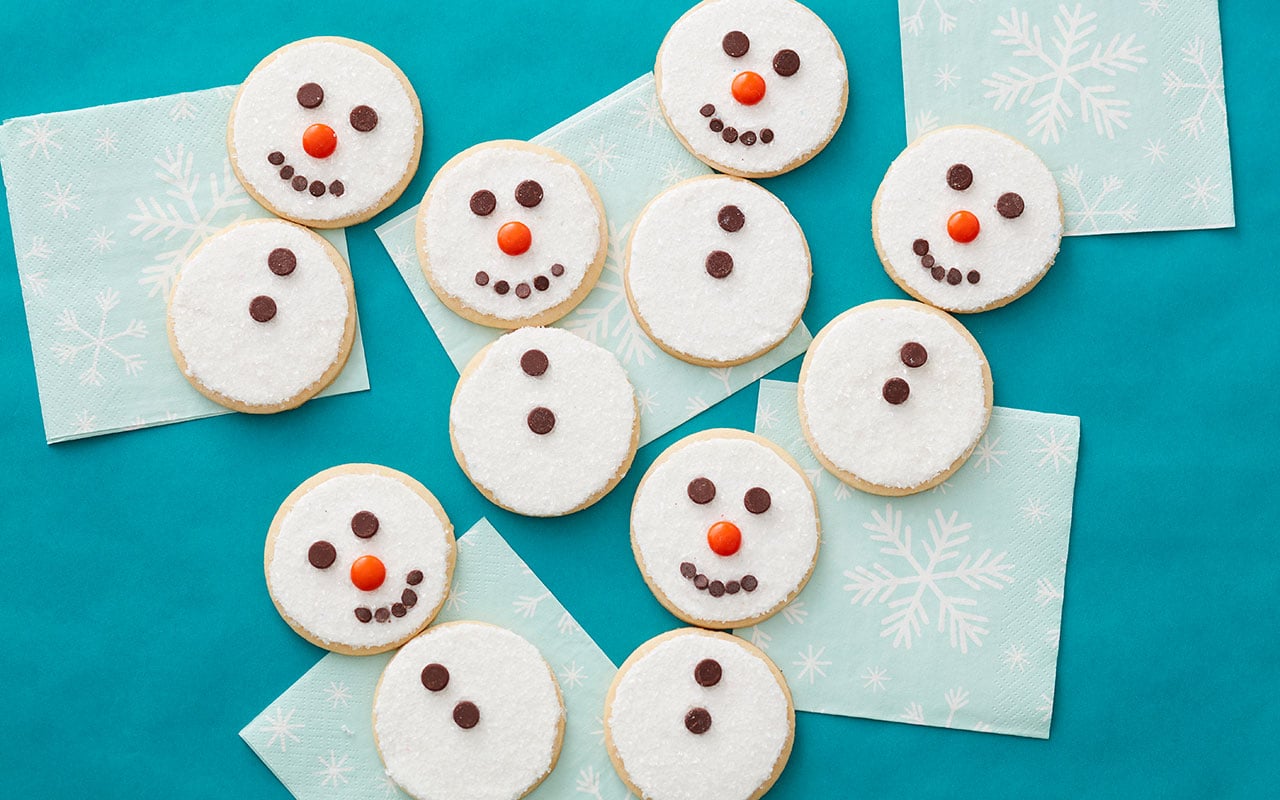 How to Decorate Snowman Sugar Cookies
Now comes the fun part, decorating! No bags and tips needed to decorate these cookies, all you need is a spatula and a few tasty add-ons!
Here's what we used to decorate our cookies:
Standard and mini-sized chocolate chips
Orange candy-coated chocolates
To decorate, use a spatula to ice your cookies with buttercream. Immediately sprinkle the frosting with sparkling sugars to create a shimmering snowy effect!
Use standard chocolate chips for the eyes and buttons (point side down) and mini chocolate chips for the mouth (point side down). Finally, add orange candy-coated chocolates for the nose.
The great thing about this project is you can build your snowmen however you'd like! Give some snowmen funny faces or use candy-coated chocolates for colorful buttons. Just remember, there's no wrong way to build a snowman!
Did you make these snowman cookies with your kids? If so, we'd love to see them! Share a picture of your cookies on social media and tag us @wiltoncakes.