While the first official day of Summer has yet to arrive, the triple-digit temperatures in Texas always tell us summer is here. And just as we look forward to the commencement of summer, my ancestors and other slaves in Texas eagerly awaited for the day they would hear, "YOU ARE FREE!" Something is liberating about knowing good news is coming; it's the hope prayed for that keeps you steadfast. In 1863 the Emancipation Proclamation freed slaves in the Confederate states. Still, it wasn't until June 19, 1865, when the General Order No.3 was announced and word finally reached Texas – Galveston, Texas to be exact – that Freedom Day indeed had come.
To celebrate the day our ancestors received word they were officially free in Texas, my family and I gather for a "good ole" all-day cookout in our East Texas homeplace. Our annual celebration includes the traditional fixings: smoked brisket, ribs, hot links, chicken, potato salad, candied sweet potatoes, greens, cabbage, baked beans, watermelon, and so much more.
No cookout is complete without a lil' something sweet. At the center of the dessert table is always a red velvet cake. Stories passed through generations have said the red of the cake symbolizes the blood of our slave ancestors-those who didn't make it over on the boat and those who died while in slavery. The other desserts that grace the table include apple and strawberry pies, teacakes, peach cobbler, and a southern classic, pound cake.
In Texas, Juneteenth is a true celebration in every sense of the word. Throughout our communities, we gather from sunup to sundown, enjoying parades, fireworks, and speeches. With family scattered across the country for many Black Americans, Juneteenth is an annual celebration in which we gather with jubilee, full of expectations about the people we'll see, the stories we'll hear, and the familiar, appetizing foods we are guaranteed to enjoy. All in remembrance of just how far we've come as a people.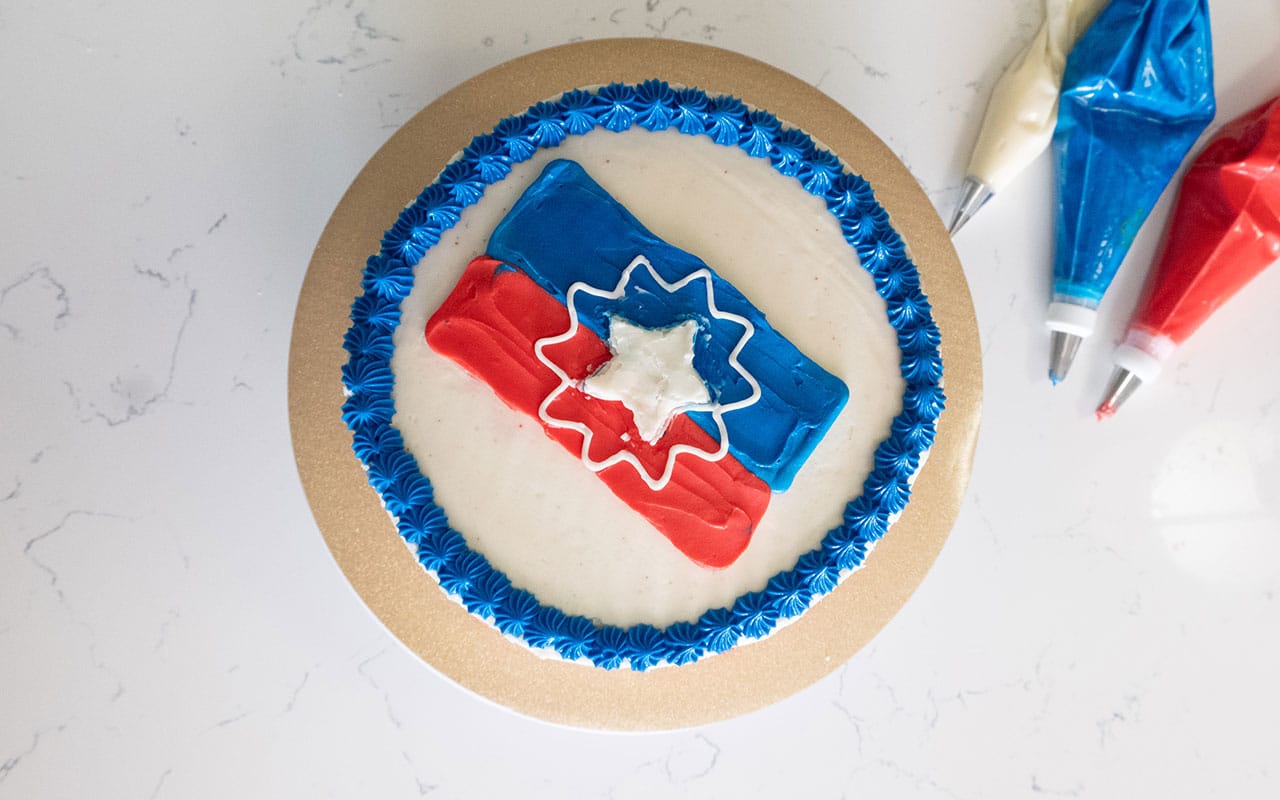 The Red Velvet Cake is topped with the official Juneteenth flag, with the blue and red colors carried throughout. The center star represents the freedom of all African Americans. The outer bursting star symbolizes the new start. The colors red, white, and blue signify the American flag and act as a reminder that slaves and their descendants were also Americans.
Photos by Dreylin Hervey of D. Hervey Photography