There's nothing more classic than a homemade yellow cake. This recipe creates a yellow cake from scratch with excellent structure and texture, making it perfect for gorgeous layer cakes. Eggs give this vanilla cake its golden hue, and the butter and vanilla make for a divine flavor. Whether you're baking it for a birthday party or just for fun, this basic cake recipe is bound to be an instant favorite.
Pair it with a delicious homemade chocolate buttercream frosting for a treat that will certainly stand the test of time. Light, moist, and oh so sweet, this easy yellow cake recipe is the perfect canvas for decorating.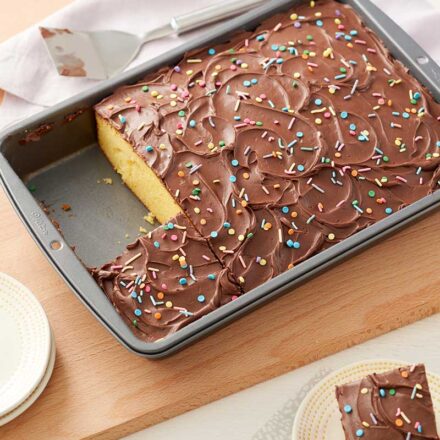 Basic Yellow Cake Recipe
There's nothing more classic than a homemade yellow cake. This yellow cake recipe creates a moist and fluffy cake from scratch with excellent structure and texture, making it perfect for gorgeous layer cakes
Ingredients
3

cups

sifted cake flour

2 ½

teaspoons

baking powder

½

teaspoons

salt

1 ¾

cups

granulated sugar

⅔

cup

butter

softened

2

eggs

2

teaspoons

vanilla

1 ¼

cups

milk
Instructions
Preheat the oven to 350ºF. Prepare two 8 inch round pans with vegetable pan spray.

In a medium bowl, sift together the cake flour, baking powder and salt.

In a large bowl, beat the softened butter and sugar with an electric mixer fitted with a paddle attachment (or a hand mixer with beaters) until light and fluffy, for about 3-5minutes.

 Add the eggs, one at a time, and vanilla. Mix well.

Add the flour mixture alternately with milk, beating well after each addition. Continue beating for one minute. Divide the batter evenly into the prepared pans.

Bake for 35-40minutes on the center rack or until a toothpick inserted into the center comes out clean. Cool in pans on a cooling rack for 10 minutes. Remove from the pans and cool completely on the grid.
Video
Notes
Notes:
Recipe makes about 7 cups of batter.
Tips:
Make sure your ingredients are measured correctly. It's important that your ratios are correct because that will affect the outcome of your cake. For more information, check out or video on how to measure ingredients correctly.
Use room temperature ingredients. Using room temperature milk, butter and eggs will cause the texture of your cake to be lighter and more tender.
To test if your butter is soft enough. You can take the butter out of the refrigerator about 30 to 60 minutes before baking so it'll be softened but not melted by the time you're ready to use it. A good test to see if it's soft enough is to make an indent in the butter with your finger. If you can easily make the impression, you're good to go. Learn more with our 3 effective ways to soften butter.
Grease your pans and line them with parchment paper. Nonstick spray will help release the sides of the cake from the pan, and it helps the parchment paper stick to the bottom of the pan. parchment paper is ideal for getting the cake to perfectly release from the pan, and it peels right off the bottom of the cake.
Trace the bottom of your pan onto parchment paper using a pencil, and carefully cut out the circle. The parchment paper will go into the pan lead-side down, however, try to cut within the traced lines to avoid getting any pencil lead on your cake.
Use Bake-Even Strips. Bake-Even Strips cool the sides of your pan to lessen the dome, giving you a more even bake. To use these, first pre-fit the strips to the sides of your pan. Next, soak them for about 5 minutes in ice cold water. After they're done soaking, remove any excess water without ringing them out so there's still some cold water in them.
Sift your dry ingredients. Sifting your dry ingredients is important because it aerates the mixture, removes large clumps, and evenly distributes your leavener (baking powder in this recipe) to ensure a more even bake with no large pockets of air.
To test if you've creamed your butter and sugar for long enough. Creaming your butter and sugar creates nice pockets of air and sugar throughout your mixture, allowing for a fluffier cake. To test this, take a small amount of the creamed mixture and rub it between your fingers. You should barely feel any sugar granules.
Add your eggs one at a time. Add your eggs one at a time to avoid introducing too much liquid at once, which could break down your perfectly fluffy creamed mixture.
Avoid overmixing your batter. Overmixing your batter overdevelops your gluten, which leads to a very tough cake. It can also deflate your batter, which will give you a short, dense cake.
Get the batter into the pans and into the oven as soon as it's ready. The leavener in the batter (baking powder in this recipe) starts working as soon as it's added to the wet ingredients, so you want to get it into the oven as soon as possible.
Don't let the cakes completely cool in the pans. After removing the cakes from the oven, let them sit on a cooling rack in their pans for 10 minutes. Don't let them sit for longer than 10-15 minutes, or they'll stick to the pans.
Substitutes
Cake flour. Cake flour has a lower protein content, which yields a more tender cake. If you can't find cake flour, you can substitute it with all-purpose flour and cornstarch. Remove two tablespoons of flour per cup called for in your recipe, and replace it with two tablespoons of cornstarch.
All-purpose flour can also be used, however, your cake might be a little bit chewier.
Tried this recipe?
Take a picture and tag us @WiltonCakes on Instagram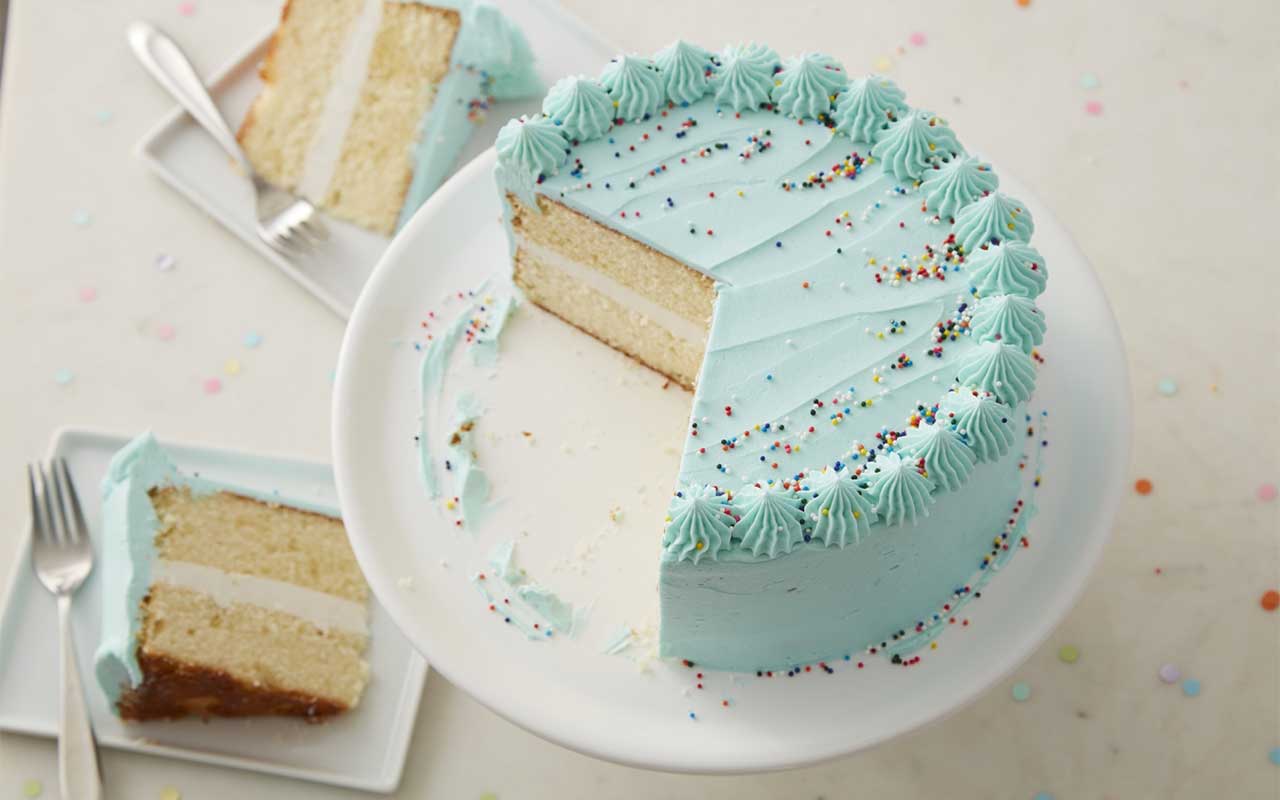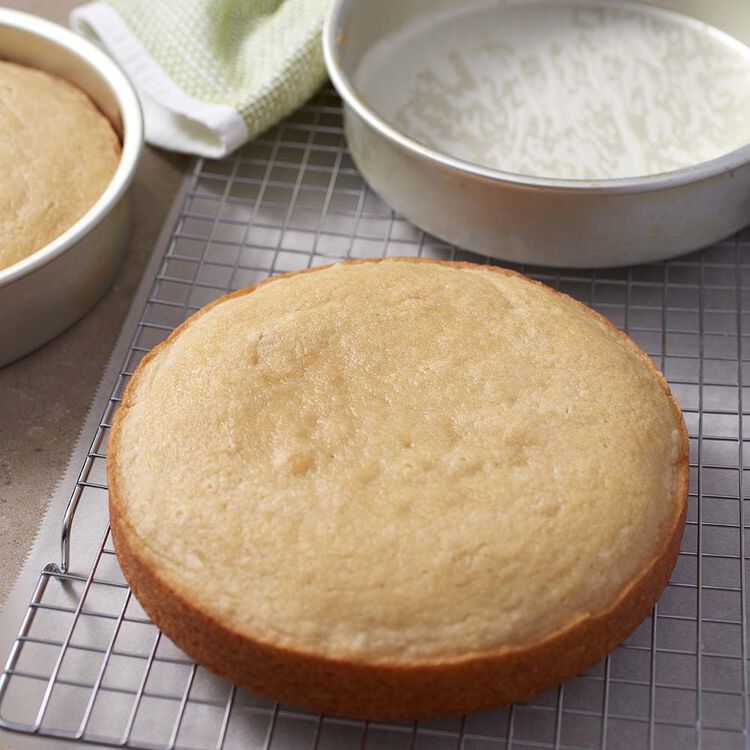 How to Avoid Common Baking Mistakes
Whether you're new to baking or you're just looking to fine-tune your skills, these tips and tricks for baking a perfect cake will help you get great results every time.
Baking 101: How to Bake a Cake
Baking the perfect cake comes down to a few simple rules. From picking the right pan to learning how to properly measure your ingredients, this video guide will outline how to bake a cake you'll be proud to show off.