Celebrate birthdays, showers, anniversaries and more with this easy layer cake. Made using a rectangle cake pan, this 4-layer cake is colorful and fun!
Whether you need a rectangle birthday cake or a colorful treat for an upcoming dinner party, this 4-layer cake is the perfect solution. Made using the Easy Layers Loaf Cake Pan Set, this cake is just as easy to decorate as it is to assemble.
The Loaf Cake Pan Set includes 4 separate pans, all of which can be baked in the oven at the same time. No need to wash and reuse pans!
This simple rectangle cake design begins with layers of chocolate cake, which are decorated with buttercream stars, rosettes and zig-zags. You can use your favorite chocolate cake recipe or a boxed cake mix here (one mix is enough to fill all 4 pans).
Using easy piping techniques, this rectangle cake is great for decorators of all skill levels. So get ready to layer on the fun with this easy chocolate layer cake!
How to Make an Easy Layer Cake
Step 1: Bake Chocolate Cake Layers
Prepare your cake batter as instructed. If you're using a cake mix, one boxed mix is enough to fill all 4 pans. If you find yourself with leftover batter, you can always make another cake layer or bake a few cupcakes to serve on the side!
Follow the instructions on your recipe for baking your cake layers. Be sure to check your cakes after about 15 to 20 minutes, as your layers may bake faster than instructed. They're done when a toothpick inserted in the center comes out clean.
Step 2: Tint Your Buttercream
Using Royal Blue, Violet, Pink, Teal, Rose and Lemon Yellow icing colors, tint your creamy white buttercream as follows:
Combine Royal Blue and Violet icing colors to tint 1 ½ cups buttercream dark purple
Use Pink icing color to tint 2 cups buttercream pink
Use Teal icing color to tint 1 ½ cups buttercream teal
Use Rose icing color to tint 2 cups buttercream rose
Use Lemon Yellow icing color to tint 1 cup buttercream yellow
Want to customize your cake? Use gel icing colors or Color Right food coloring to create your own frosting colors. Try shades of red and pink for Valentine's Day or match your buttercream colors to your wedding palette.
Step 3: Prepare Your Decorating Bags
Prepare 5 disposable decorating bags, separately, with your piping tips (we used star tips 2D, 21, 1M, 4B and petal tip 104). Fill them with buttercream as follows:
Tip 4B with dark purple buttercream
Tip 2D with pink buttercream
Tip 21 with teal buttercream
Tip 1M with rose buttercream
Tip 104 with yellow buttercream
Now you're ready to assemble and decorate!
Step 4: Assembling and Decorating Your Cake
Place one cooled cake layer on your serving tray or platter. Using your prepared decorating bags, cover the top of the first layer with stars, rosettes and zig-zags. Top with another cake layer and repeat until all the layers are placed.
Helpful Hint: This is a great way to practice your piping! Since the first three layers are covered, you have plenty of chances to perfect your piping skills for the top layer!
Once your last cake layer has been placed, you're ready to decorate the top. Start with the big rosettes first, then fill in the gaps with stars and zig-zags. When you're done, top your cake with some colorful sprinkles and get ready to celebrate!
Need a piping refresher? Check out our how-to's on these easy piping techniques:
And there you have it! Bright, colorful and easy to decorate, this rectangle cake is a great way to celebrate any occasion!
More Recipes for Your Rectangle Cake Pan
You can use the Easy Layers loaf cake pan set to make these other delicious recipes!
Filled with the flavors of banana, pecans and pineapple, this Hummingbird Cake is a great taste of tropical living. Top your cake with a sweet cream cheese icing and some dried pineapple slices for the perfect finishing touch.
For something dark and decadent, this Dark Chocolate Orange Cake is sure to please. Layers of chocolate cake, chocolate ganache and buttercream combine for a dessert that looks (and smells) amazing!
Celebrate the flavors of summer with this Strawberry Shortcake recipe. Angel food cake, whipped cream and fresh strawberries are layered together for a light and refreshing treat you can serve at your next BBQ or family gathering.
This elegant Summer Fruit Loaf Cake would be great for any occasion. Topped with fresh raspberries, blueberries, lemons and red currants, this loaf cake is a summer celebration! It also features layers of buttercream and a sweet powdered sugar glaze for a decorative and delicious touch.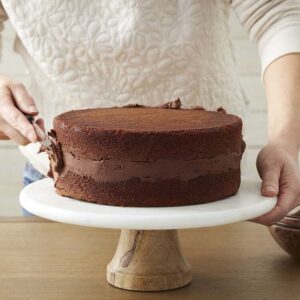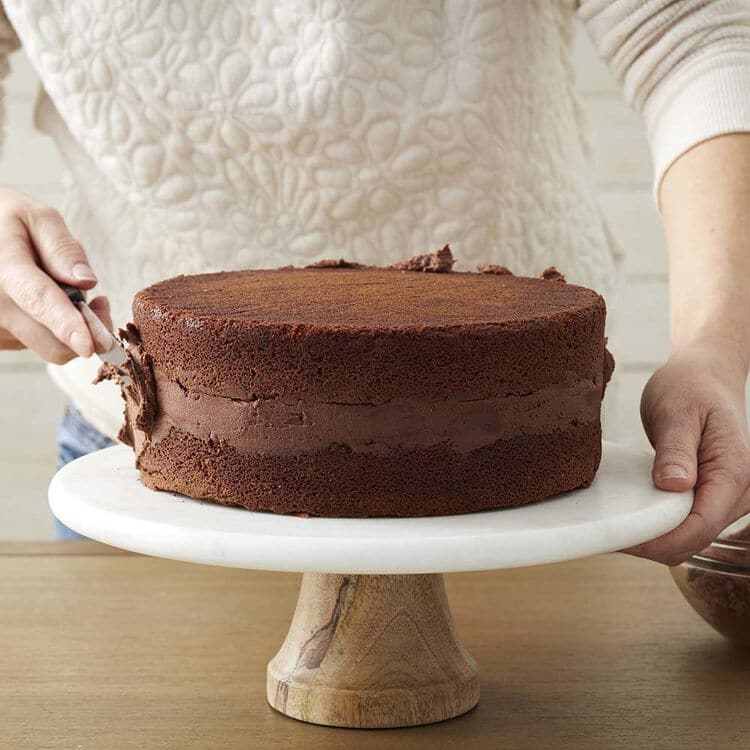 Decadent Chocolate Layer Cake
This decadent chocolate layer cake recipe is fluffy, moist and perfect for beginning bakers. Learn how to make this ultimate treat with step-by-step instructions.
Equipment
Medium Bowl

Large Microwavable Bowl

Electric Hand Mixer or Stand Mixer
Ingredients
2 ½

cups

All-Purpose Flour

1

teaspoon

Baking Soda

½

teaspoon

Salt

6

squares

Semi Sweet Chocolate

(6 oz.)

¾

cup

Butter

1 1/2 Sticks, Softened

1 ½

cups

Milk

1 ½

cups

 Granulated (Not Powdered) Sugar

3

Eggs

2

teaspoons

Vanilla Extract
Instructions
Preheat oven to 350℉. Spray cake pans with nonstick vegetable spray. Set it aside.

In a medium bowl, combine flour, baking soda and salt. Set it aside.

In a large microwavable bowl, melt chocolate and butter for 2 minutes, or until butter is melted. The mixture can also be melted in a saucepan over low heat. Stir until smooth. Transfer to a large bowl; add sugar and beat with an electric mixer until combined.

Add eggs to chocolate mixture, one at a time, mixing well after each addition. Add vanilla; mix well.

Alternate adding flour mixture and milk to chocolate mixture, beating well until everything is incorporated. Pour into prepared pans.

Bake 32 to 36 minutes at 350℉, or until toothpick inserted in center comes out clean.

Cool cakes in pans on a cooling grid for 15 minutes. Remove from pans. Transfer to a cooling grid to cool completely before decorating.
Video
Tried this recipe?
Take a picture and tag us @WiltonCakes on Instagram