The only thing better than a good party is a decadent dessert table. We have a few ideas for easy party desserts to try out at your next get-together. No matter the occasion, you'll be the life of the party when you arrive with any of these goodies in hand.
1. Giant Chocolate Chip Cookie Recipe
Cookie cake is a certified crowd-pleaser. Everyone loves it, and it's a great boost to any party! With the right decorations and inspiration, this cookie cake is ready for any celebration — birthdays, anniversaries, or just because!
2. Ice Cream Cone Cake Pops
These cute cake pops are a welcomed addition to a kid's birthday party. Colorful Candy Melts and Jimmies create the sweet illusion of an ice cream-capped cone. These clever handhelds will go fast!
3. Decadent Triple Layer Brookie
This tasty triple threat combines three beloved favorites into a single bite, making it one of our favorite party desserts. Why choose between chocolate chip cookies, cookies and cream, and cheesecake when you can have it all in a single exquisite dessert?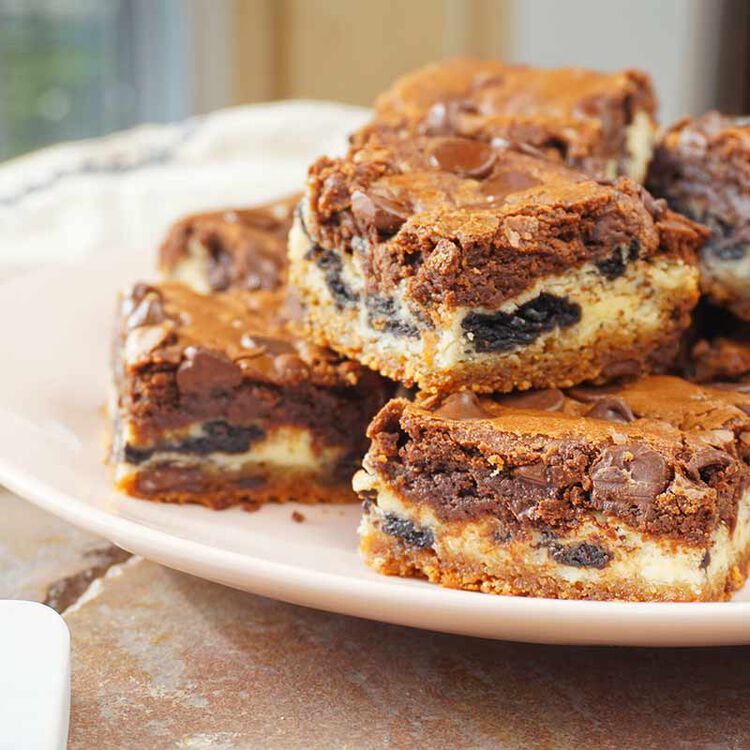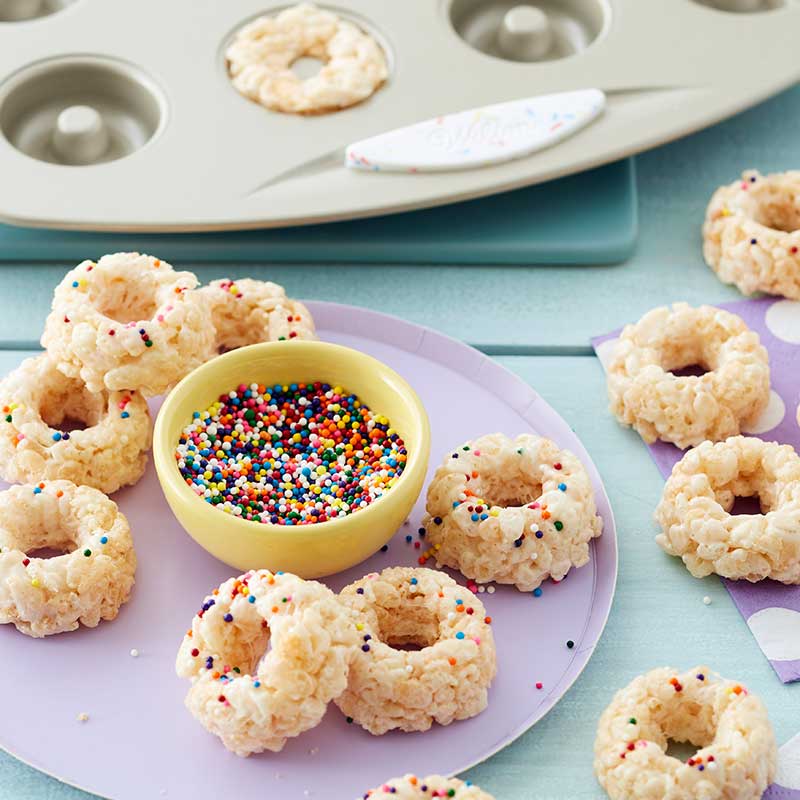 4. Mini Rice Cereal Donuts
These chewy, sticky rice cereal treats are in prime form! These "donuts" are a great option for easy party desserts when little hands are involved. Add colorful sprinkles or drizzle chocolate on top for variety.
5. Whimsical Oblong Floral Cake
This cake is simple, easy, and elegant, making it an excellent choice for birthdays, bridal and baby showers, and anniversary parties. Leave the top surrounded by colorful flowers or customize it with a greeting that fits the occasion.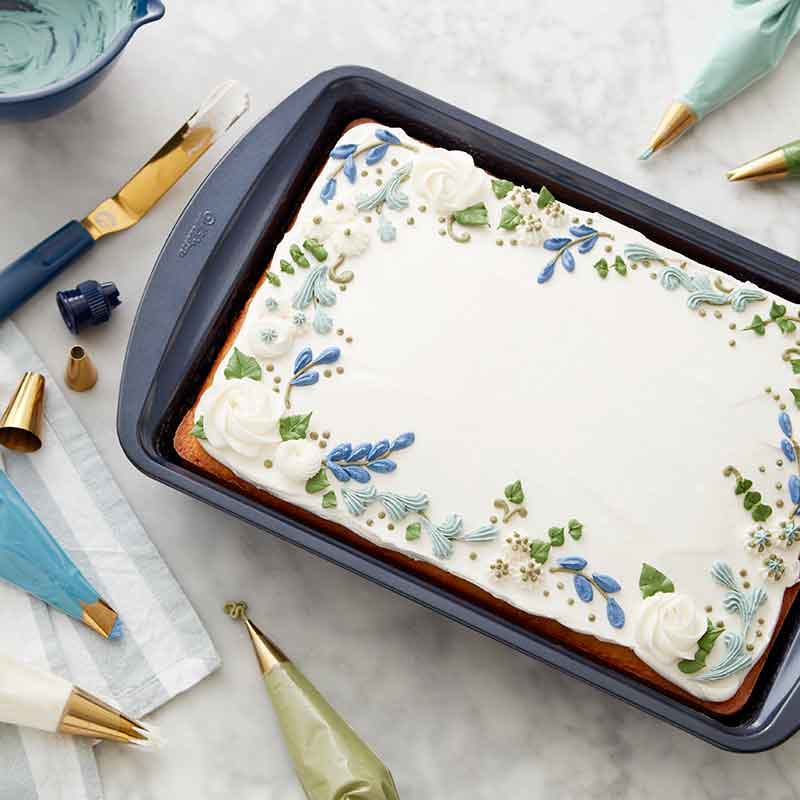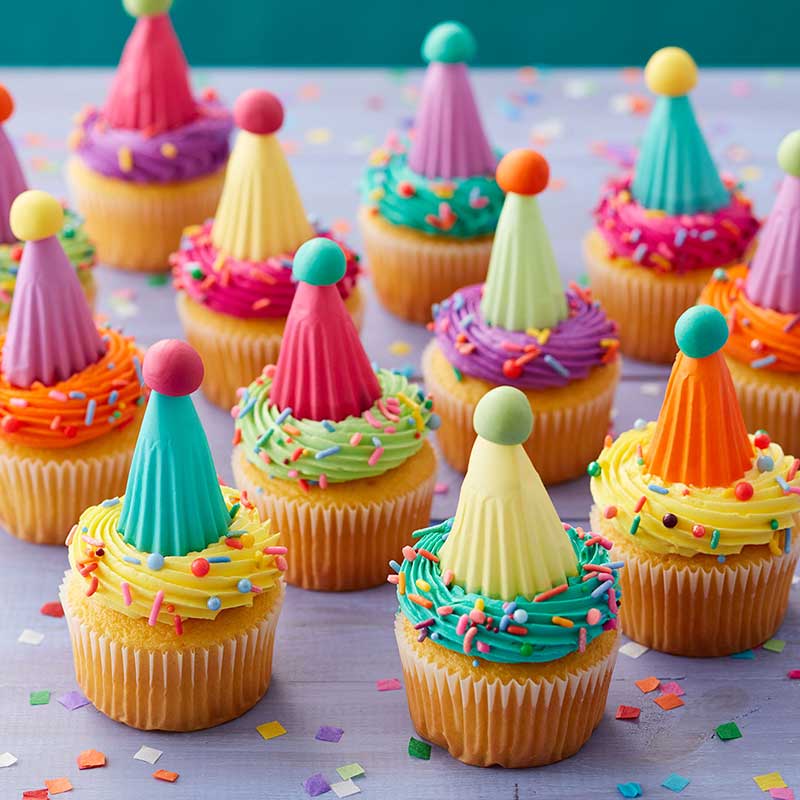 6. Bright Neon Party Hat Cupcakes
These vibrant cupcakes are all dressed up with somewhere to go! Bake and take these along to the next birthday party on your social calendar. With some direction, this can be a fun baking recipe for kids, too.
7. Chocolate Chip Cookie Bowls
Why lick the bowl when you can eat it? These cookie bowls are amusing, delicious, and easy to make. Partygoers of all ages will love filling these curved confections with their favorite ice cream and toppings.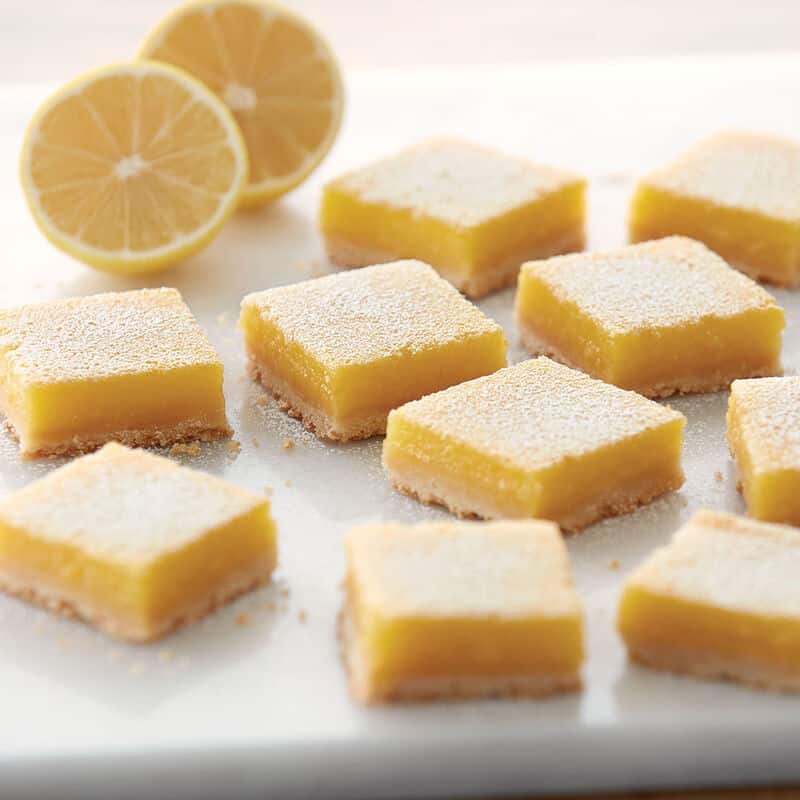 8. Easy Homemade Lemon Bars
Don't overlook this staple when making a list of desserts for parties. A sweet, tart, gooey filling and buttery crust give these bars a texture and flavor profile party guests will be reaching for all night. In fact, you might want to double the batch!
9. Candy Melts Frozen Banana Bites
Even the party's pickiest eaters will grab one — or three! — of these. Candy Melts and an assortment of toppings give the average banana a tasty upgrade. These frozen refreshments are especially appreciated during an outdoor summer gathering.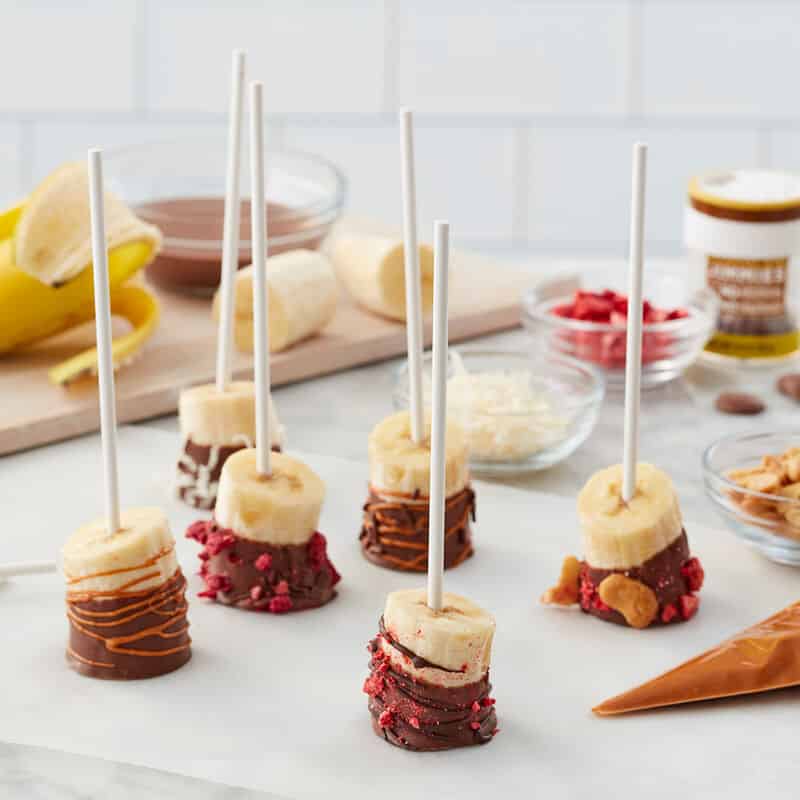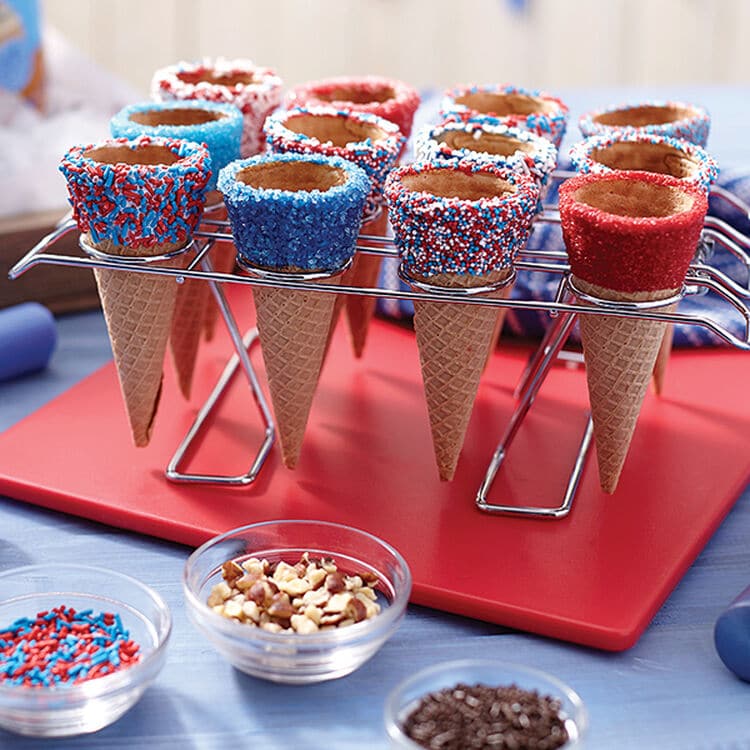 10. Dipped Ice Cream Cones
Embellish a pack of your favorite store-bought ice cream cones for quick, easy party desserts. These fun themed cones are ideas for a Fourth of July barbecue. But you can change the Jimmies' color to match the party theme any time of year.
11. Fit to a "T" Letter Cake
This cake could have your name all over it. Use the Letters and Numbers Adjustable Nonstick Cake Pan Set to customize your desserts for parties of all kinds — graduation celebrations, anniversaries, and wedding showers! Pile your favorite sweet treats on top for a fun take on cake that's full of surprises.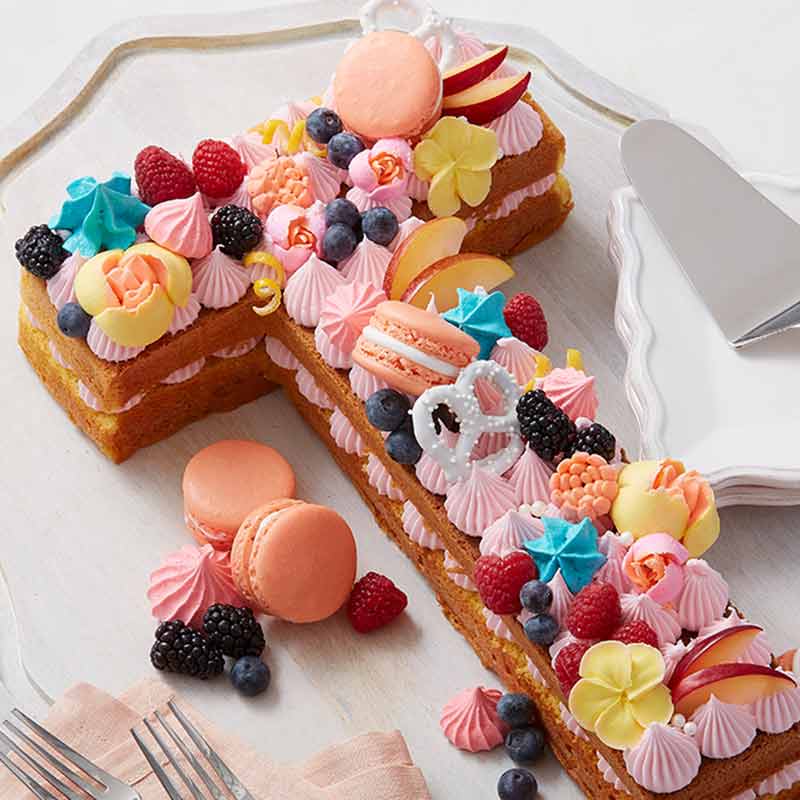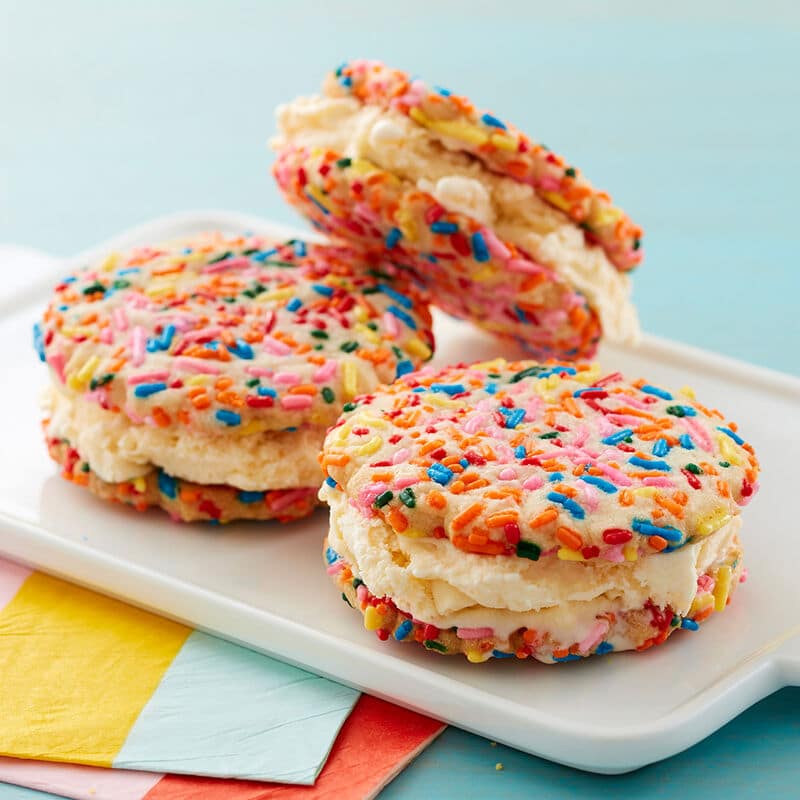 12. Jumbo Ice Cream Sandwich Cookies
Ditch the expected cone for freshly baked cookies at your next ice cream social. Slather your favorite ice cream between two cookies and roll the sides of the sandwich in colorful sprinkles for added pizzazz!
13. Brownie Dessert Pizza
Dessert ideas for a party should always include this delicious, easy-to-make brownie. Spread Wilton Naturally Flavored Warm Vanilla icing across the chewy, chocolatey base and add your favorite fresh fruit on top. We recommend strawberries and blueberries.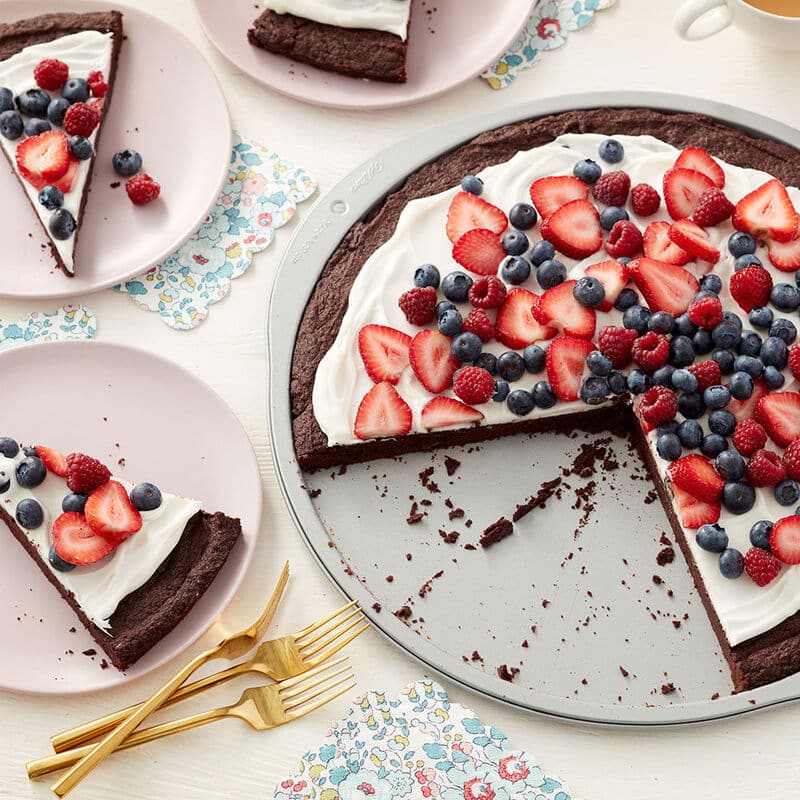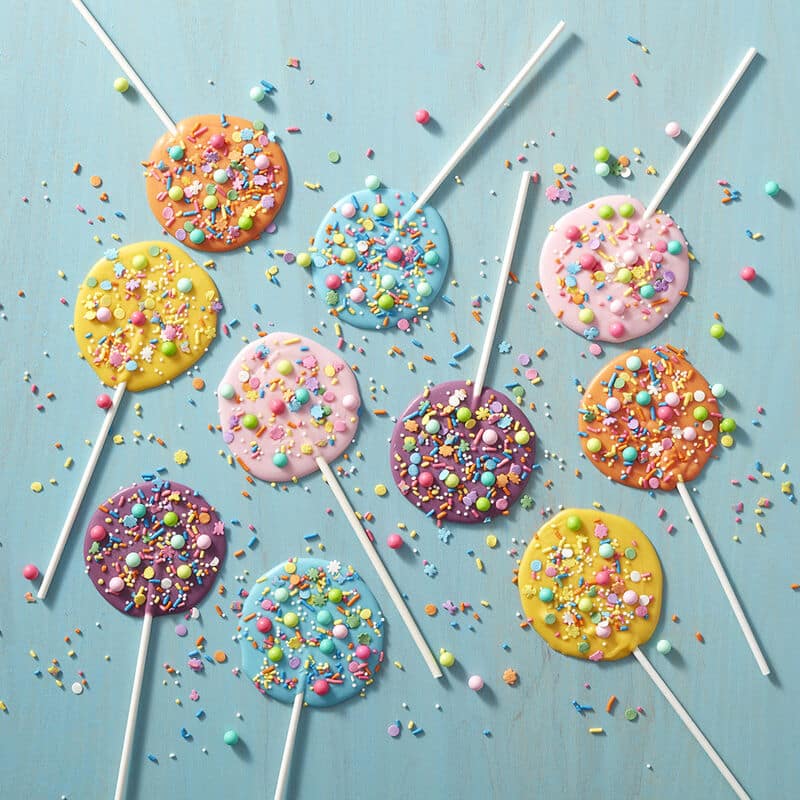 14. Celebrate Something Sweet Pops
Make the party desserts table pop with these brilliantly hued Candy Melts pops. Aside from the taste, the best thing about these beauties is that you can't mess them up. The more Jimmies and sprinkles, the better! These pops make great party souvenirs, too.
15. All That Glitters Donut Cake
Give a familiar favorite a golden makeover with a quick, fun, easy twist. Make this donut cake glitter and glisten with gold sprinkles. Slide these delicious donuts onto the menu for golden anniversaries and milestone birthdays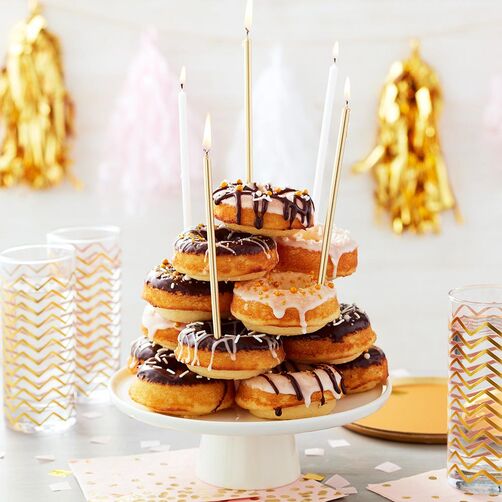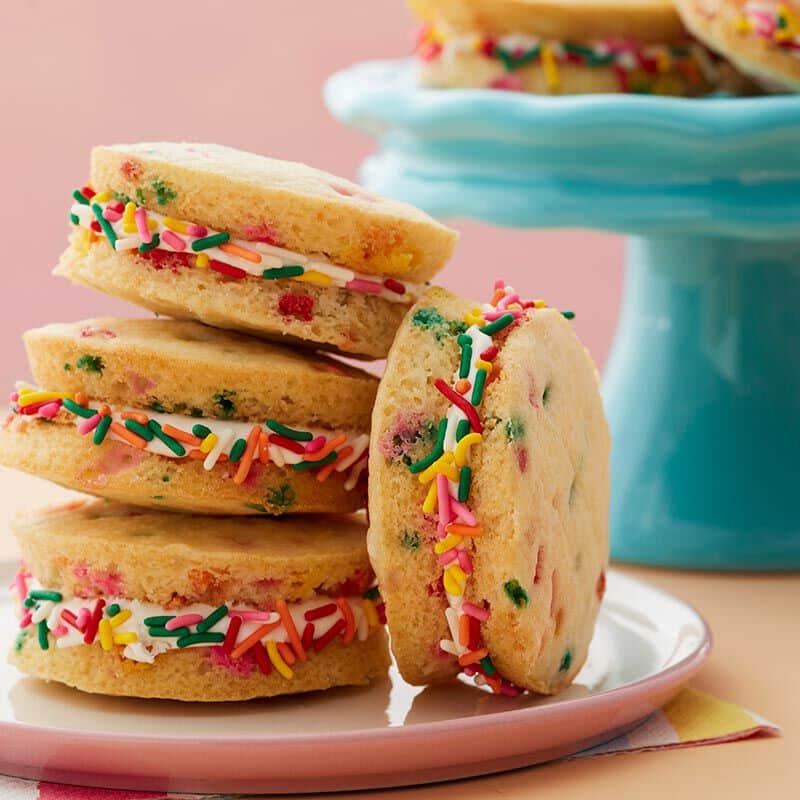 16. Birthday Cake Whoopie Pies
Step aside, cupcakes and cookies! Each bite is as sweet as the first with marshmallow crème filling wedged between pillowy cake rounds. Customize the pies by changing up the Jimmies to match the season or occasion.
17. Candy Number Cupcake Topper
A little personalization can be sweet! Whip up these colorful candy toppers to enhance your next batch of cupcakes for a kid's party or anniversary. They're a great way to dress up store-bought goodies, too.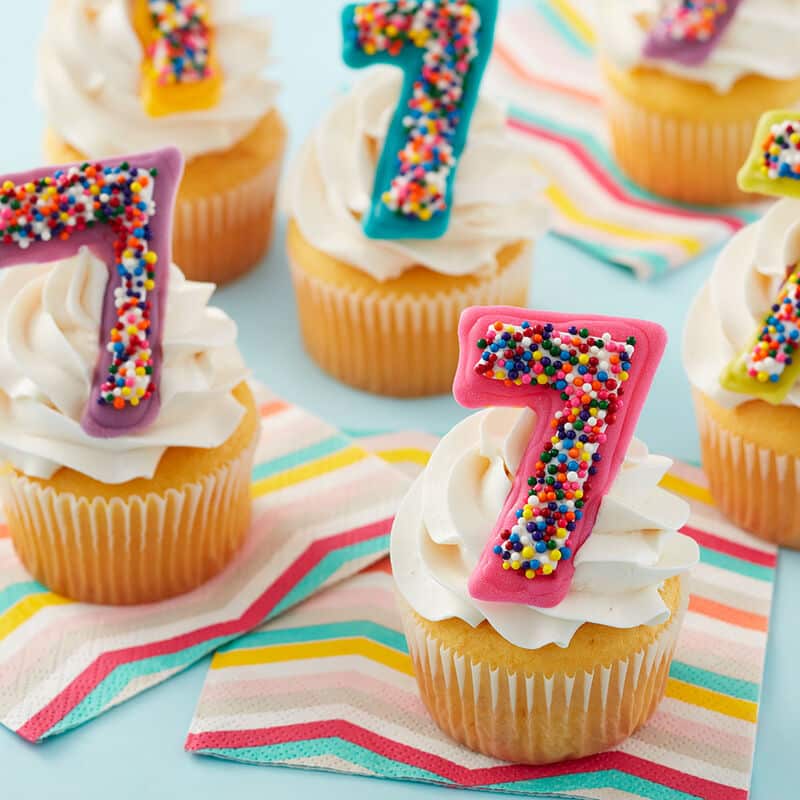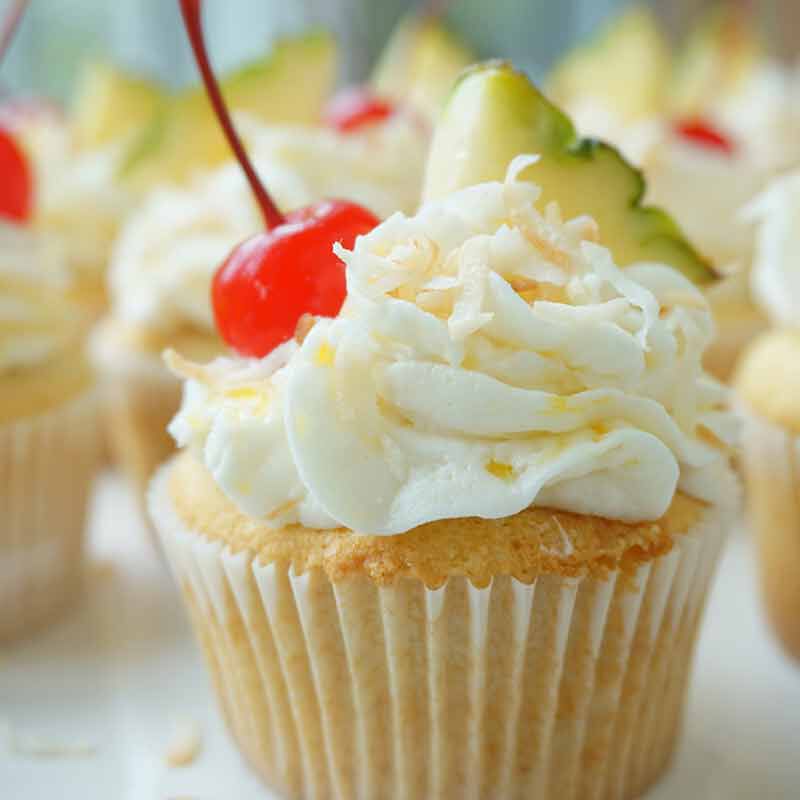 18. Pina Colada Cupcakes
Hey, it's 5 o'clock somewhere! Exploding with flavors of pineapple, coconut, and a touch of rum, these treats taste like an afternoon on the beach. These cupcakes are great dessert ideas for parties in the summer.
19. Sugar Cookies 3 Ways
Cookies make everything better. Keep this classic recipe on hand for moments when you're short on dessert ideas for party favors. Whether it's a holiday gathering, family reunion, or baby shower, this versatile recipe will come in handy.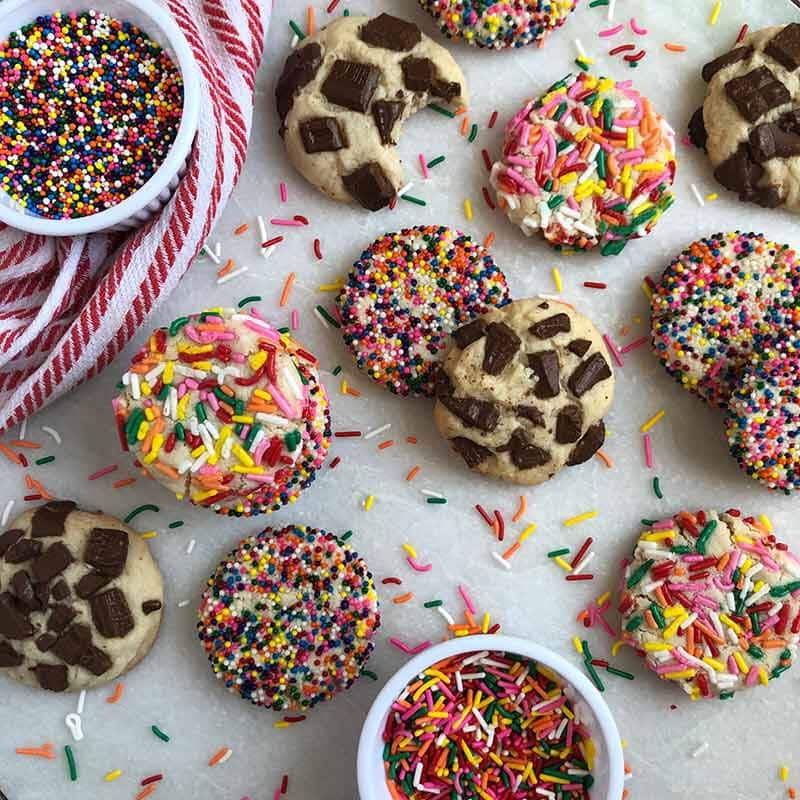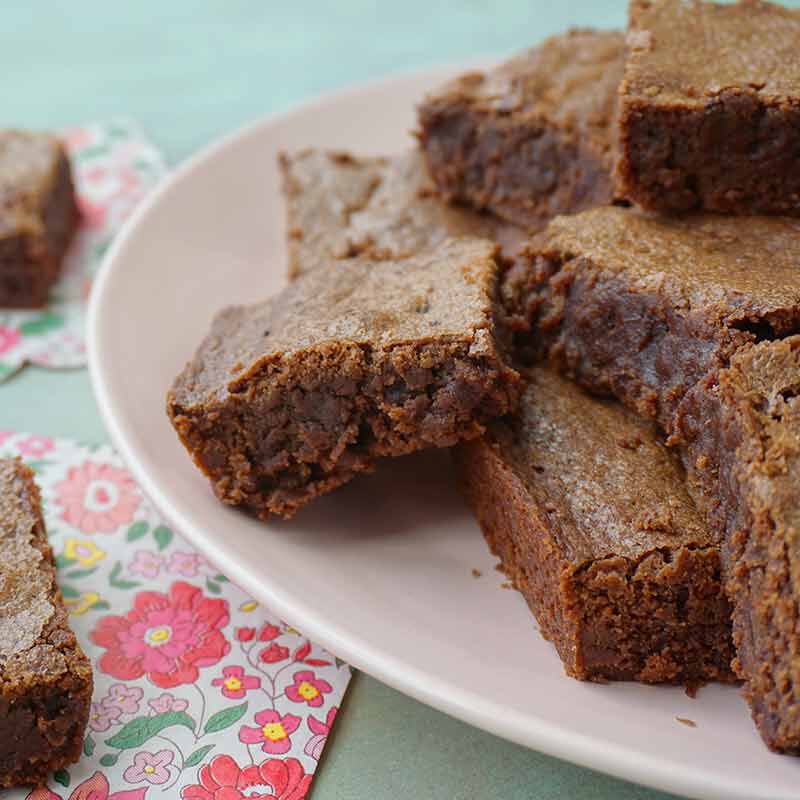 20. Fudgy Brownies
Rich, decadent brownies with a soft, velvety center are a hit at any party, whether it's a long-awaited family reunion or casual Friday night get-together. You can't go wrong when offering up a platter of these delectable treats.
21. Blue and Green Candy Dipped Pretzels
Present these candy-coated pretzel rods for a quick, easy snack. Get creative and change up the Candy Melts colors for a football watch party or baby shower. These are a fun last-minute option when searching for dessert ideas for a party.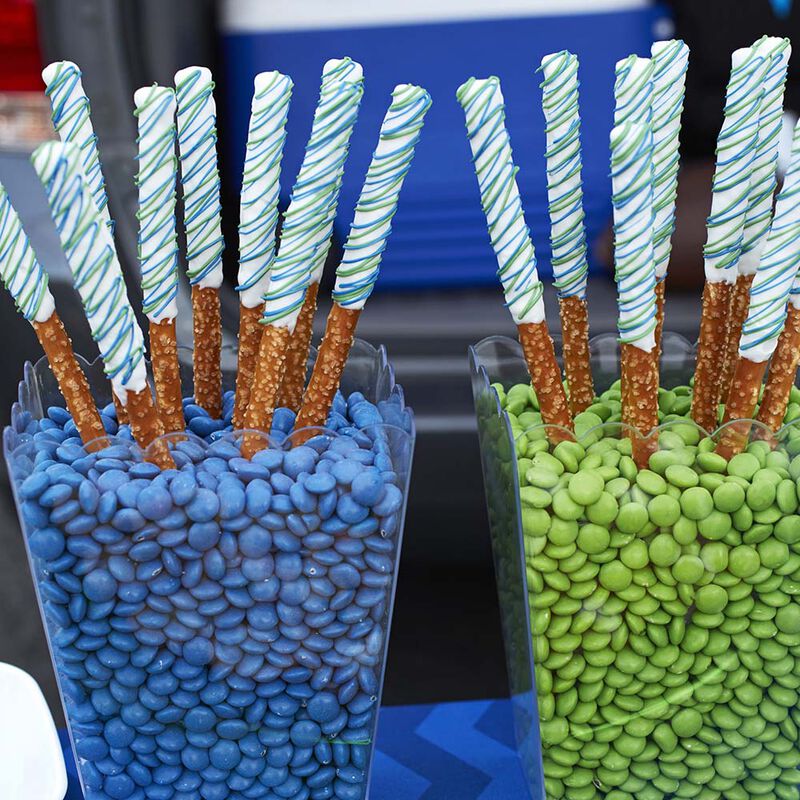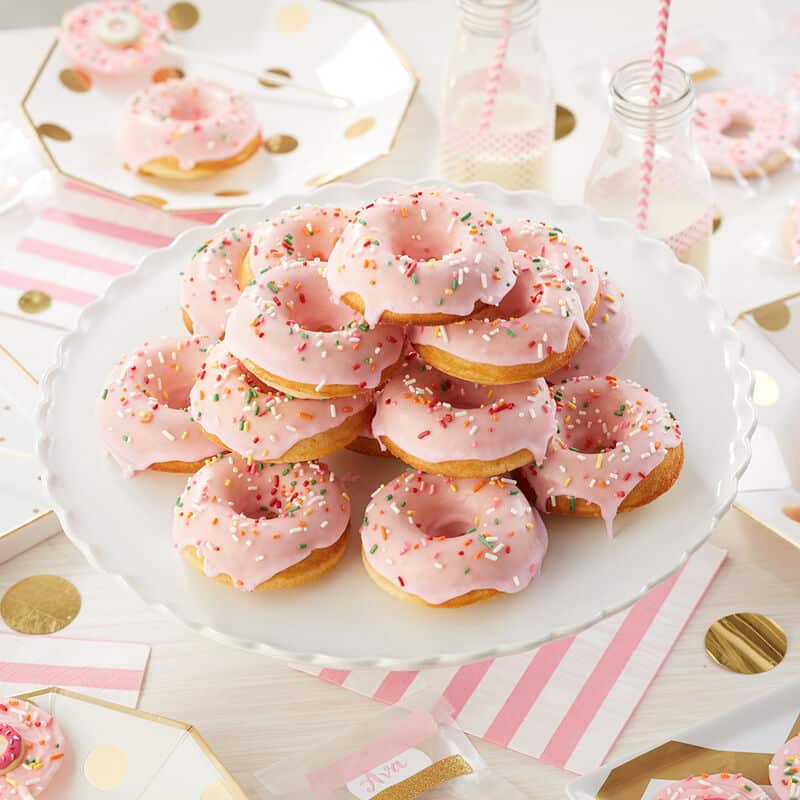 22. Party in Pink Donut Cake
This donut cake is a premium party dessert. Guests love it, and it allows for quick customization by changing icing and sprinkle colors. This recipe is perfect for all parties, including Mother's Day gatherings, birthdays, and wedding receptions.
23. Neon Animal Print Sheet Cake
Just another boring sheet cake? Not here! With animal print displayed on top of seven shades of bright buttercream, this cake is just as perfect for a fun Friday night as it is for a birthday party. Plus, it's irresistibly Instagrammable!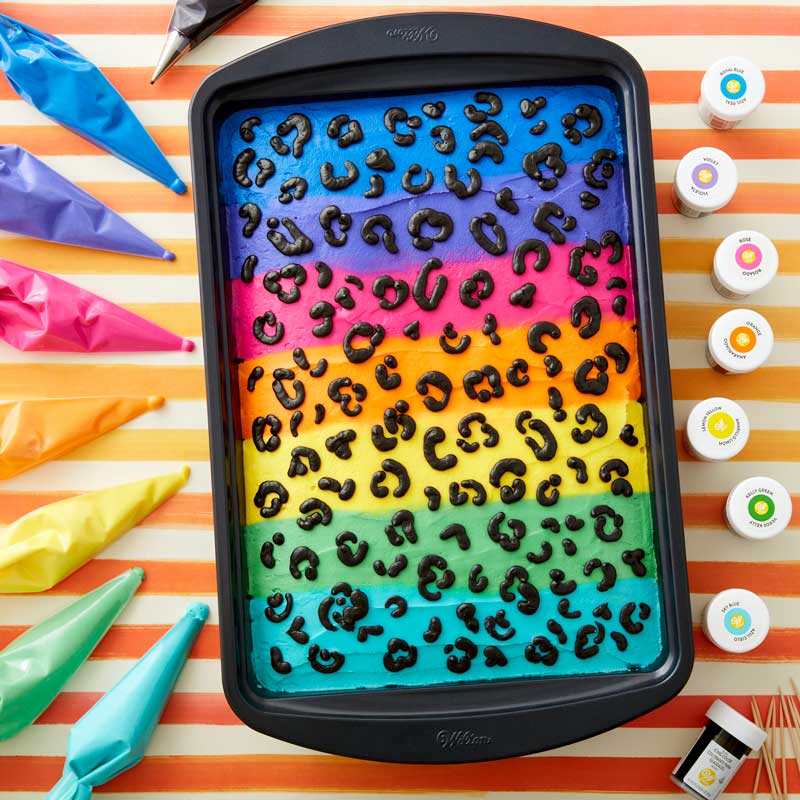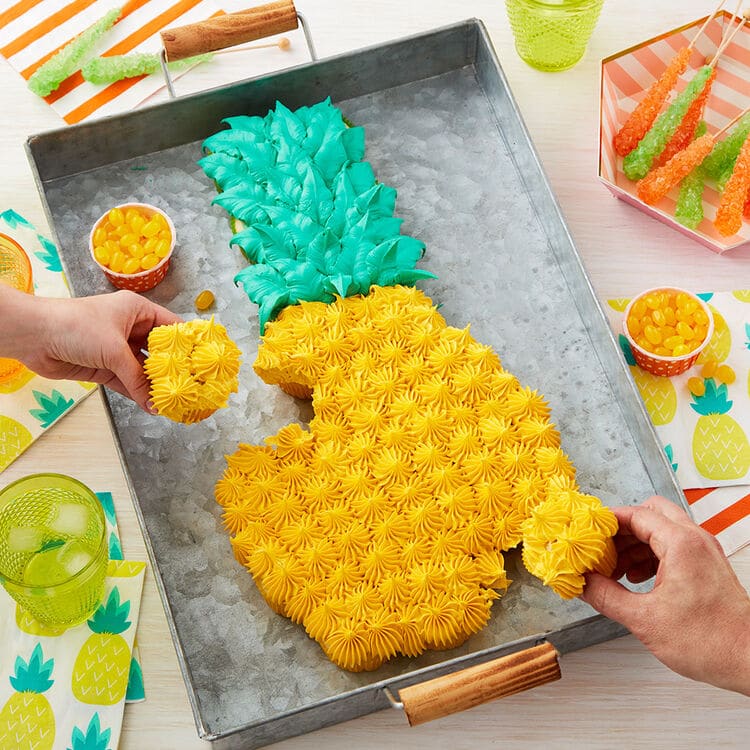 24. Pineapple Pull-Apart Cake
Arrange your cupcakes in a pineapple shape and let the icing do the talking. There's no need to cut this grab-and-go cake. Guests can take what they want throughout the party. Make sure to get a photo of this adorable cake beforehand. These will go fast!
25. Rainbow Rice Cereal Treat Pops
Colorful, cute, and compact, these rainbow-hued pops are a dazzling boost to any goodie table. Plus, these brightly colored pops won't melt in the heat, making them an excellent choice for dessert ideas for parties in the summer.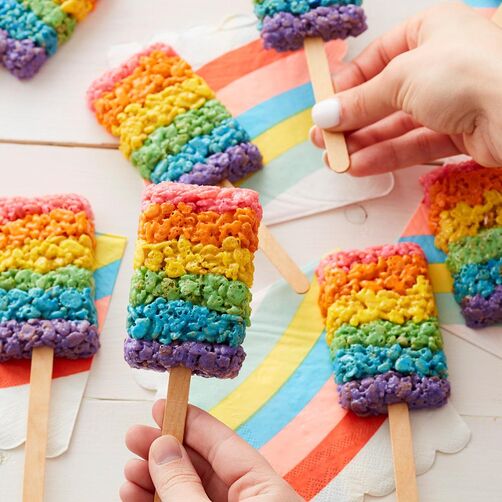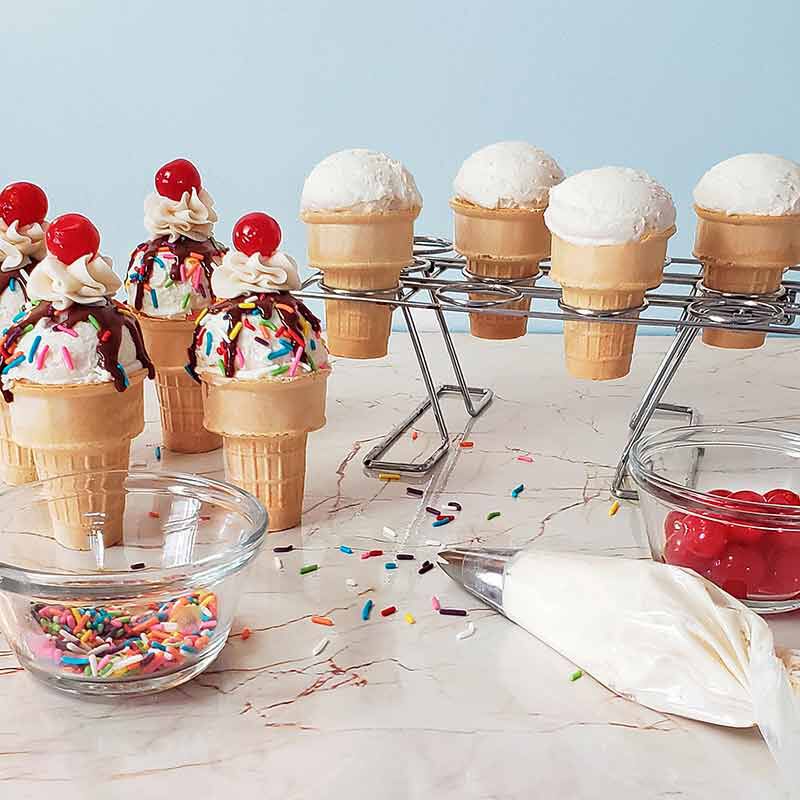 26. Ice Cream Cone Cupcakes
These charming cupcakes call for a scoop of buttercream frosting on top of moist yellow cake. A scoop! It doesn't get much better than this, but you can try by drizzling chocolate fudge and adding a dash of sprinkles on top.
27. Tropical Coconut Cupcakes
Add a splash of flavor to these cupcakes with a Shot Topper filled with whatever liquid you'd like. Find a flavor that will complement the coconut. We suggest orange juice, rum, or champagne!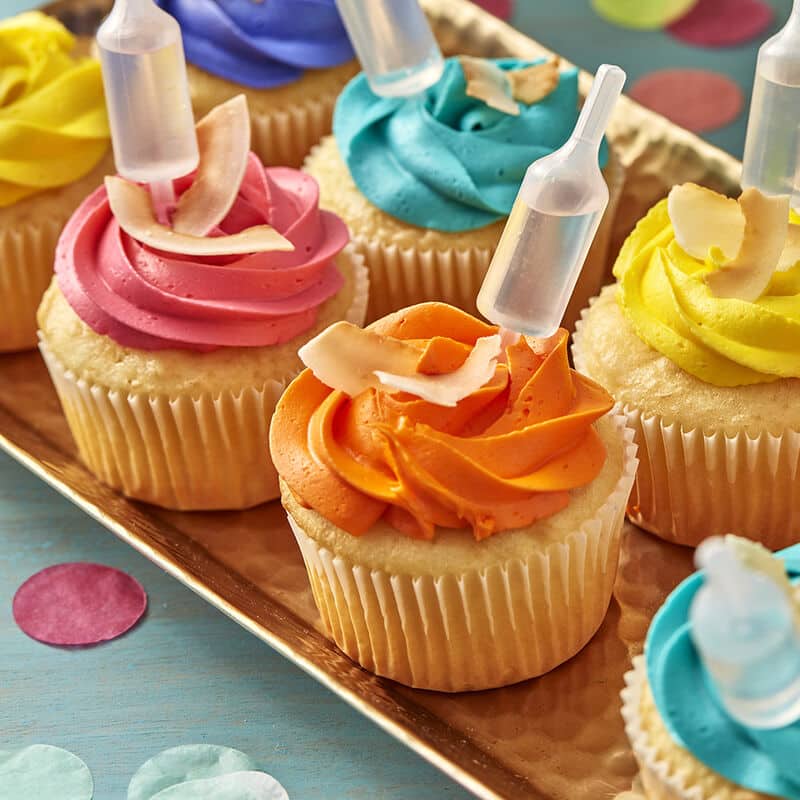 Don't forget to check out our other Dessert Ideas for a party! 
Which of these party desserts are your favorite? Let us know in the comments below! And if you're making any of these recipes for your next party, don't forget to share a picture on Instagram and tag us ​@wiltoncakes.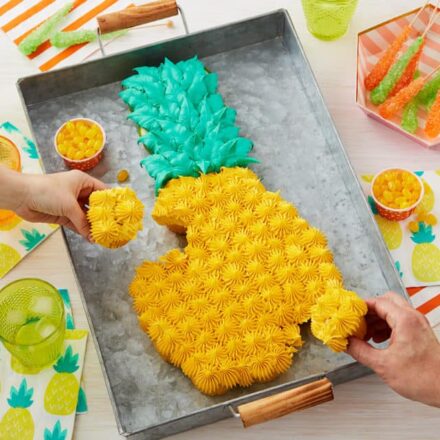 27 Dessert Ideas for a Party
The only thing better than a good party is a decadent dessert table. We have a few ideas for easy party desserts to try out at your next get-together. No matter the occasion, you'll be the life of the party when you arrive with any of these goodies in hand.
Tried this recipe?
Take a picture and tag us @WiltonCakes on Instagram