We've compiled some of our favorite, tried-and-true easy baking recipes for kids to make. From buttery sweet sugar cookies to savory crackers, there's a treat for every palate.
 Our kitchens are the heart of our homes. Some of life's most cherished memories happen there, whether it's prepping for a family meal or baking with little ones. Welcoming kids into the kitchen is a fun, unique experience for them, and it allows you to subtly teach them a few things about kitchen essentials.
 Whip up something delightful with these easy baking recipes for kids!
1. Birthday Cake Whoopie Pies
Cupcakes and cookies, step aside! These whoopie pies are the perfect handheld treat for kids' parties or weekend sleepovers. With one bite, you'll discover the sweet, smooth marshmallow crème filling. Don't reserve these treats for birthdays only. Switch up the Jimmies to match the occasion or season!
2. Sugar Cookies 3 Ways
Look at these simple, kid-friendly sugar cookies as a blank canvas. Decorate them, top with chocolate candy pieces, or add colorful Jimmies to the batter. Unleash your imagination!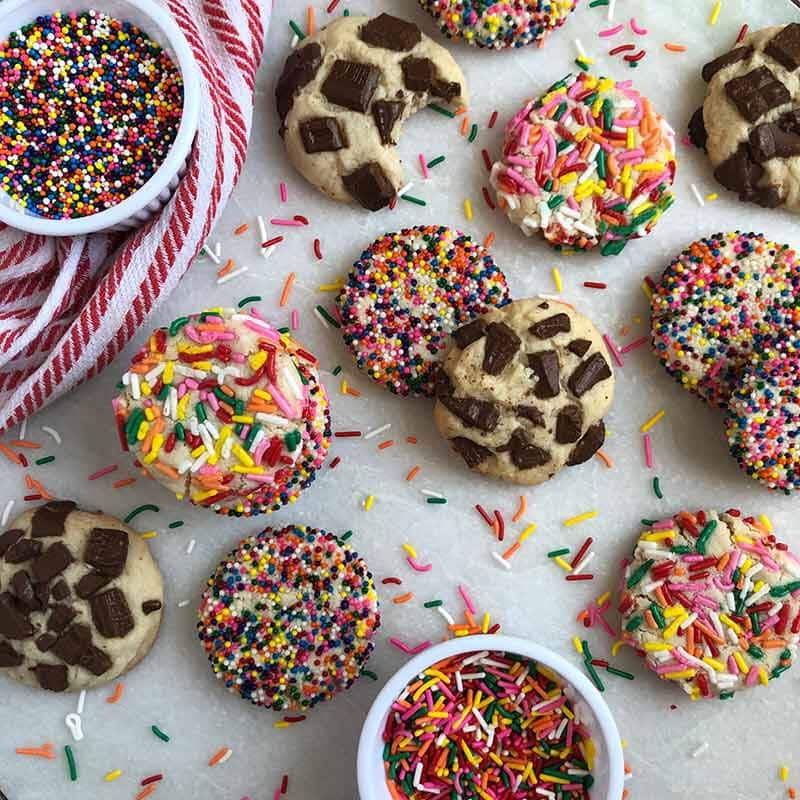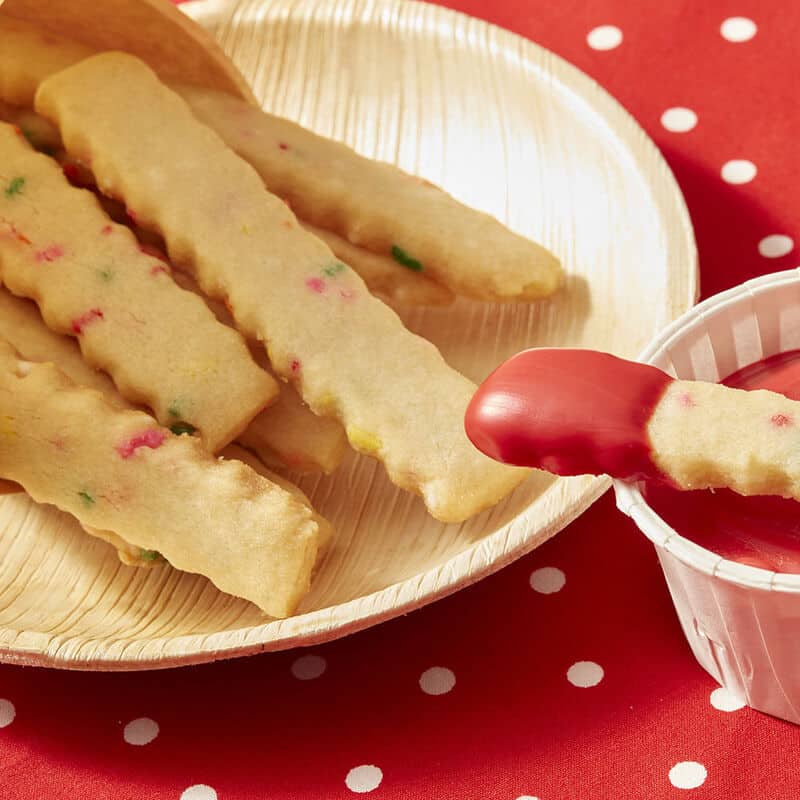 3. Crinkle Cut Cookie Fries
These imaginative cookie fries are made with a roll-out dough. Kids will love cutting out the fry shape and watching them bake. For an added decorative touch, dip an end in melted red Candy Melts Candy or drizzle the melted concoction across the top. You can also serve the "fries" with the Candy Melts Candy as a dip.
4. Gummy Worm Dirt Cake
Other easy baking recipes for kids don't stand a chance against this creepy-crawly, chocolatey cake. Layers of chocolate cream filling and crushed chocolate cookies serve as the "dirt." Let your kids unearth their creativity by topping the cake with colorful gummy worms!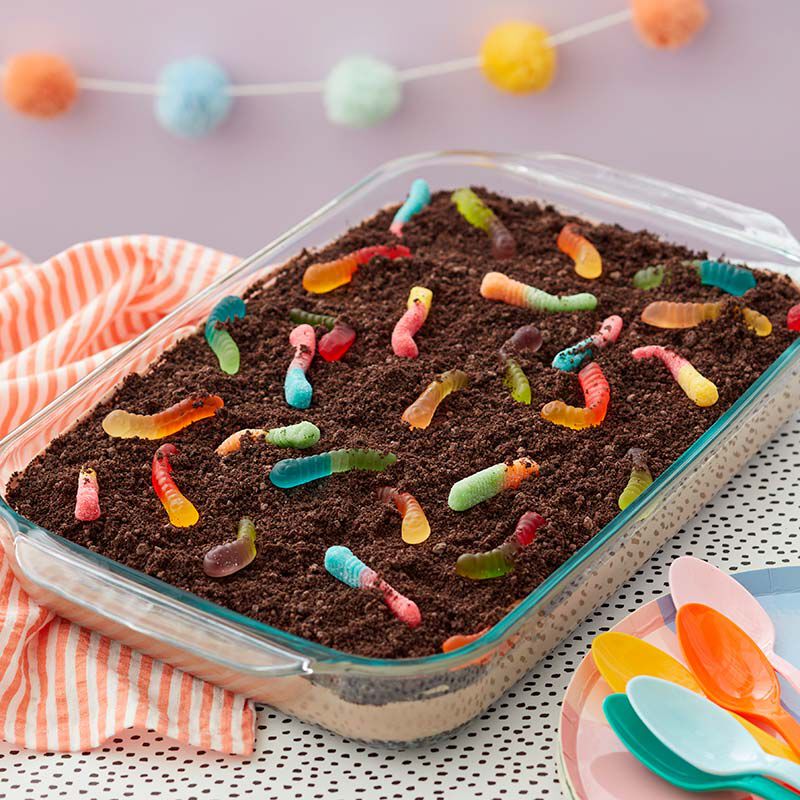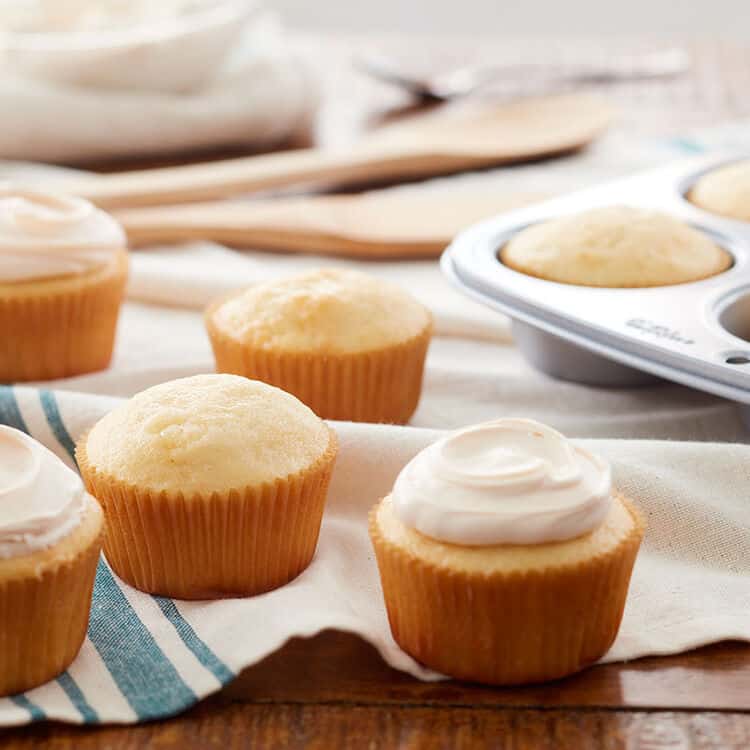 5. Vanilla Cupcakes Recipe
Vanilla is a classic for a reason, and it shines in these fluffy, sweet cupcakes. Worried that your kid added too much vanilla extract while your head was turned? There's no such thing with this recipe! For older kids, this recipe provides the perfect teaching moment for working with icing
6. Glazed Dark Chocolate Cake
Take the classic sheet cake to the next level with this rich, velvety sweet confection! Mystify your kids by letting them add a touch of instant coffee to the batter. They will think it's fun to mix in something outside of the routine eggs, flour, and butter needed when baking a cake.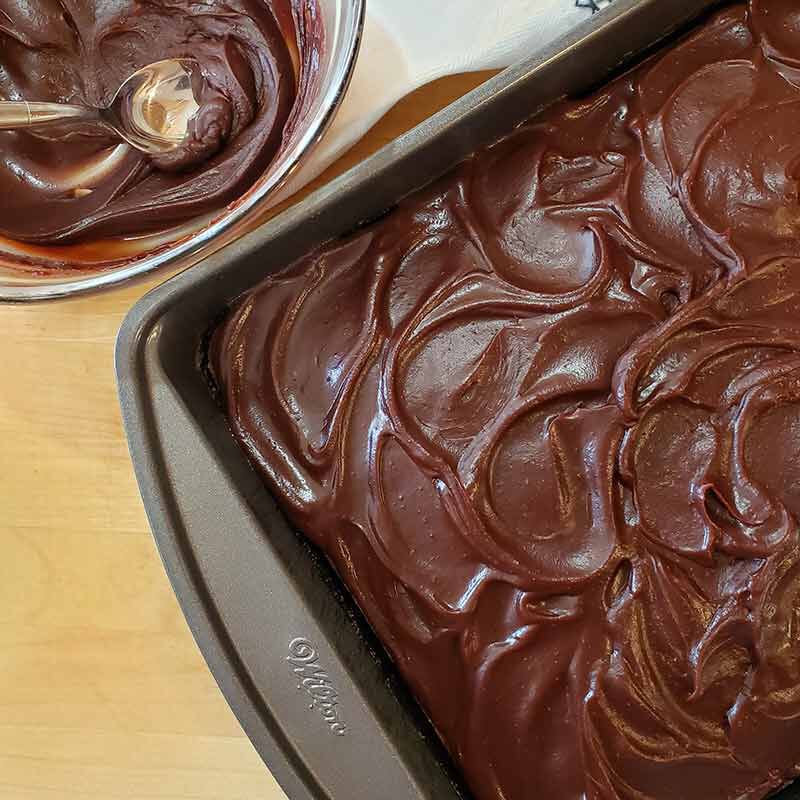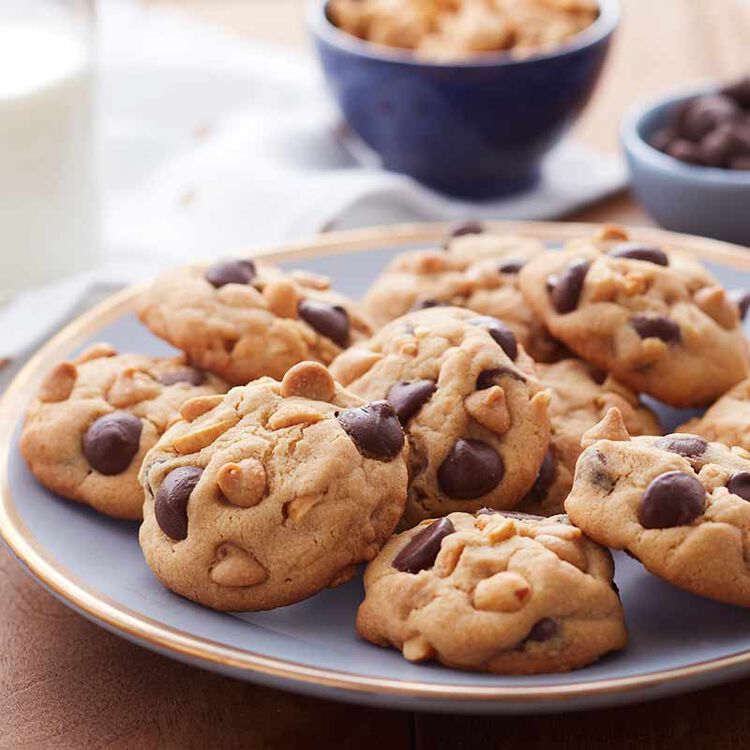 7. Peanut Butter Chocolate Chip Cookies
Ah, peanut butter and chocolate — a culinary match made in heaven! One of many fun baking recipes for kids, your little baking apprentices will love stirring in dark chocolate chips, peanuts, and peanut butter chips.
8. Brownie Dessert Pizza
A decadent brownie base is a delicious start to this sweet take on pizza. Slather on Wilton Naturally Flavored Warm Vanilla icing. Then, give your kids free rein topping the dessert pizza with fresh fruit.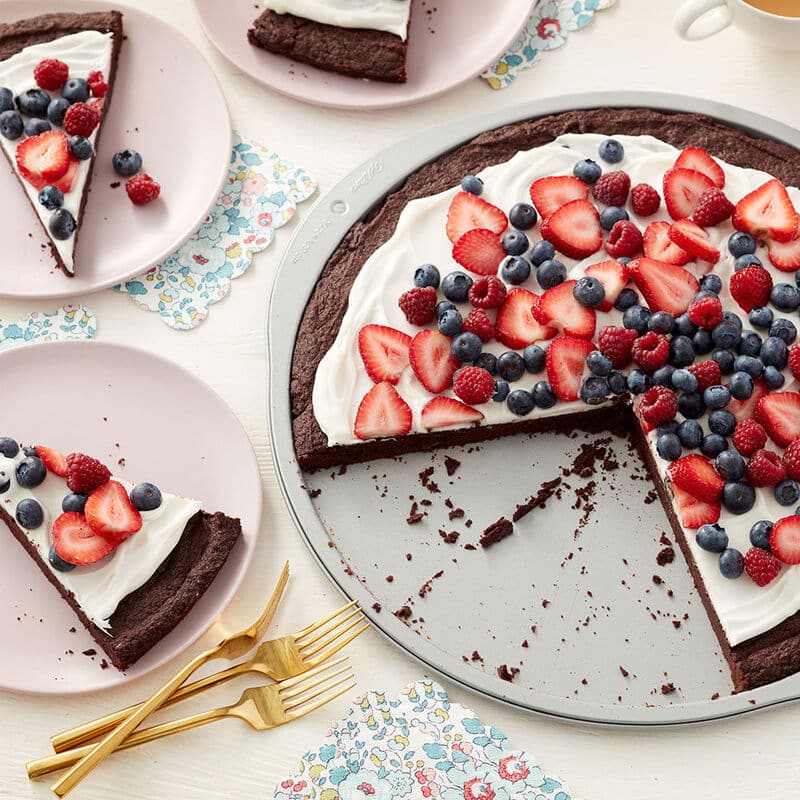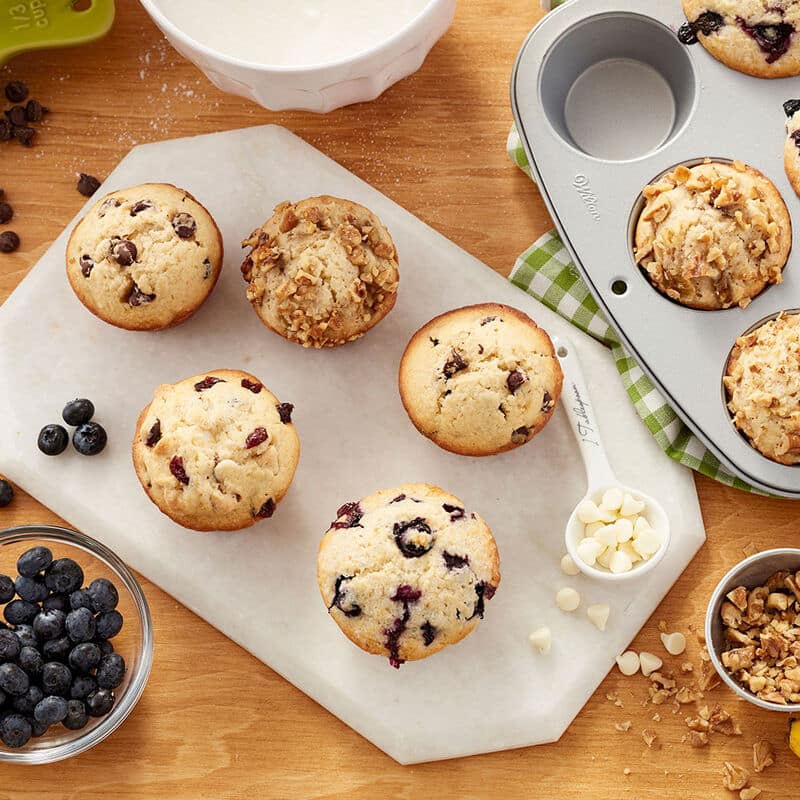 9. Basic Muffins
Basic is anything but boring with these muffins. In fact, they're the perfect base to make your own! You and your kids can decide what to add to the batter: blueberries, chocolate chips, or nuts — the possibilities are endless!
10. Celebration Angel Food Cake
If you're looking for healthier baking recipes for kids, this light, airy angel food cake is it. Clear Imitation Vanilla Extract and confectioners' sugar lend this treat its pleasant, sweet taste. Kids can level up this cake by adding in Rainbow Jimmies Sprinkle Decorations. With fun pops of color baked in, they'll see their contribution in every bite!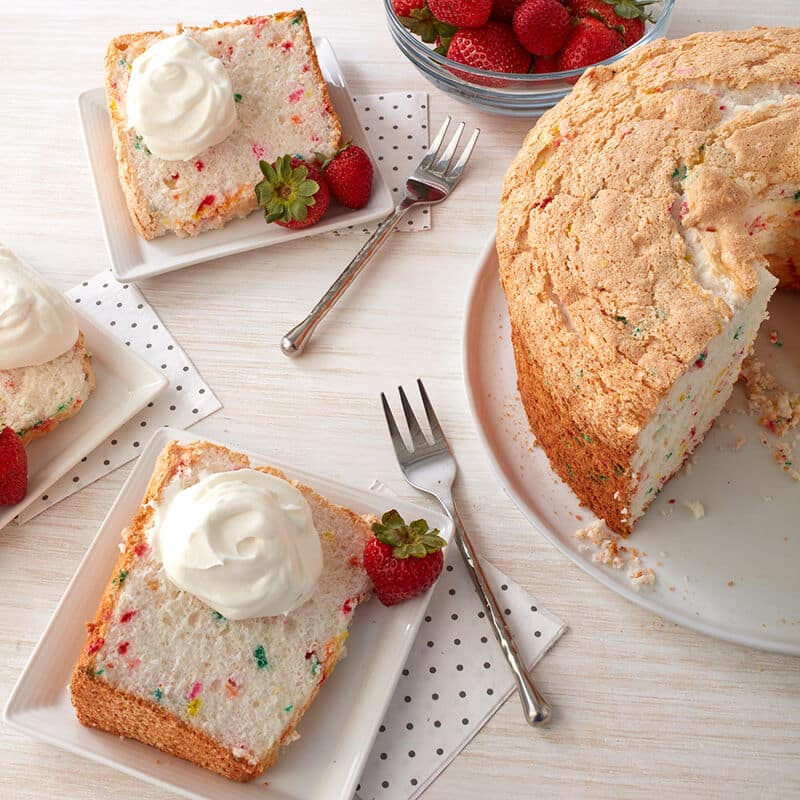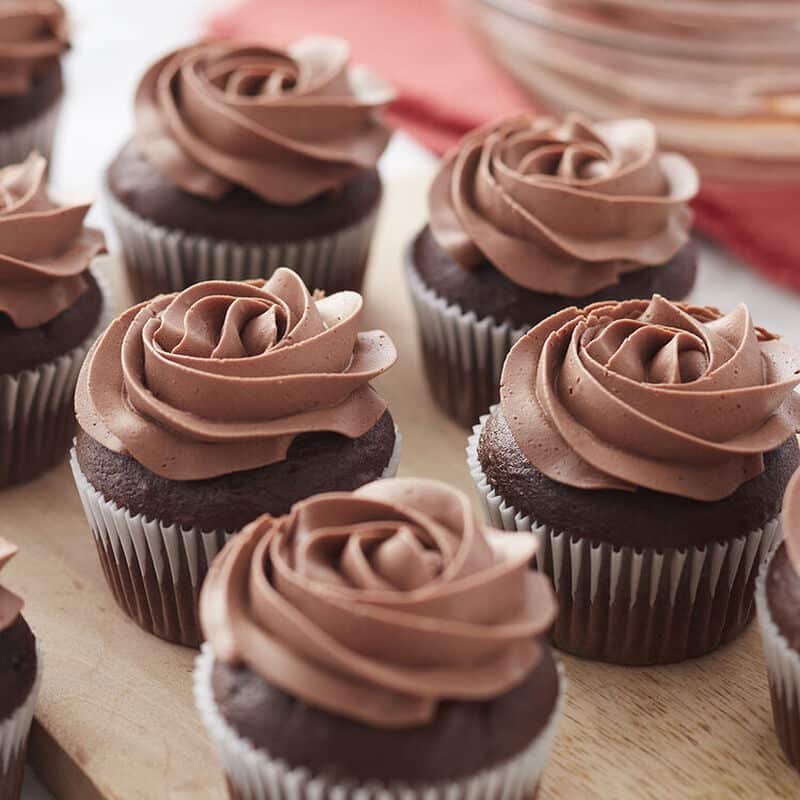 11. The Best Chocolate Cupcakes
Double the chocolate, double the fun! Chocolate lovers will rejoice with each bite into these moist chocolate cupcakes topped with a rich chocolate buttercream frosting. Give your kids a chance to ice the cupcakes. Hey, if they add too much icing, I promise you won't hear any complaints!
12. Soft Sugar Cookies
These aren't your regular, routine sugar cookies! Made with a cake-like batter, these soft, pillowy cookies melt in your mouth after baking. Little mouths will love the texture, and little hands will appreciate the freedom they have in decorating these baked delicacies.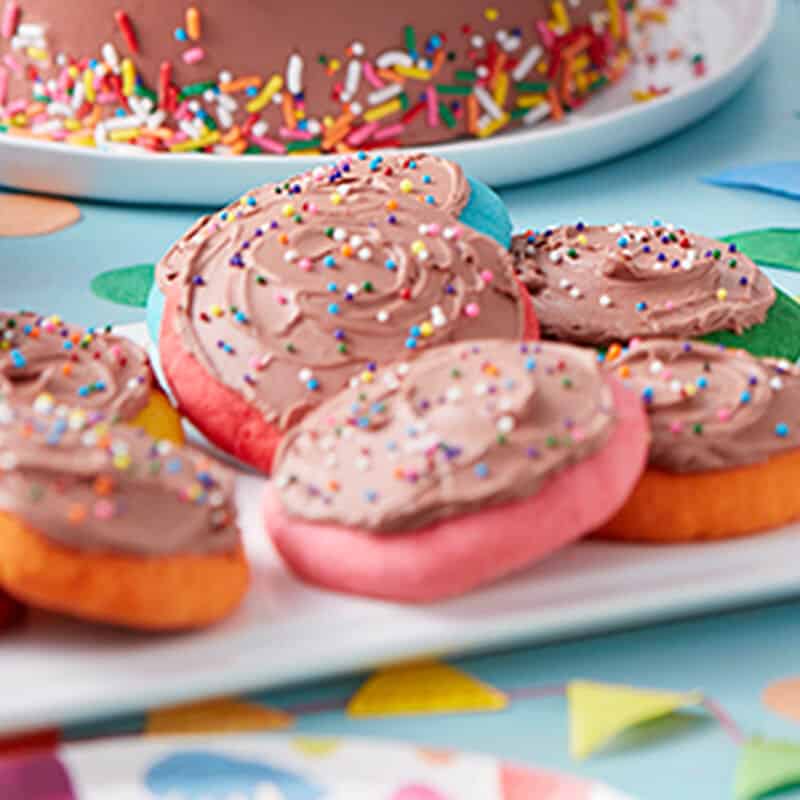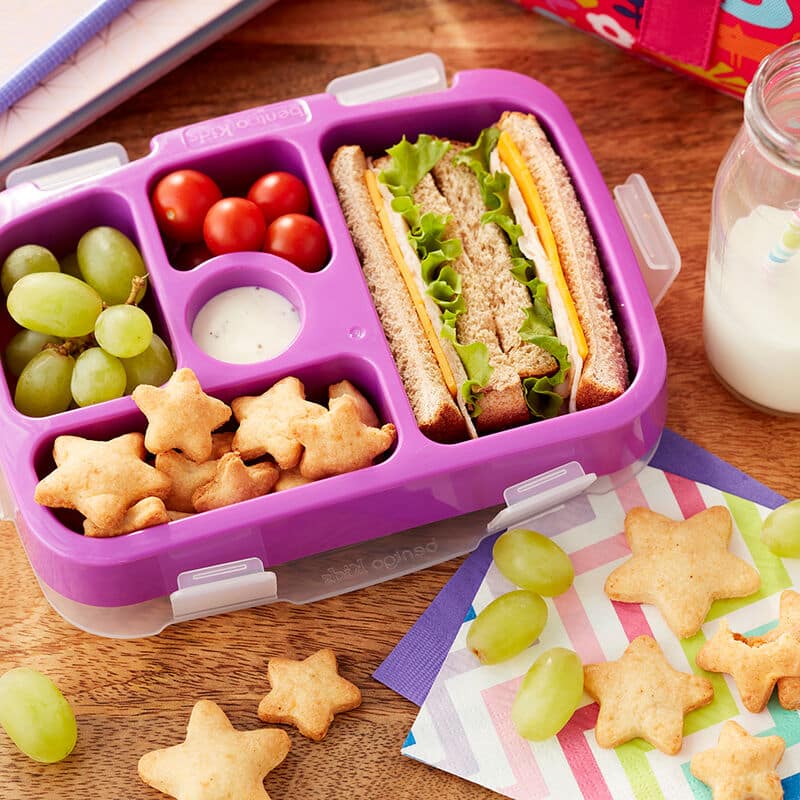 13. Monterey Jack Cheese Crackers
Snack time just took a savory turn for the better. Kids and adults! of all ages will love these deliciously cheesy crackers. Use your kids' favorite 1 in. cutter for a fun shape. Also, adjust the taste to your personal preference — Colby Jack or Cheddar or any firm cheese works well with this recipe.
14. Giant Chocolate Chip Cookie
Two words: Cookie cake. What's not to love about this beloved classic? Put a personal touch on this thick, chewy cookie with a few simple vanilla buttercream decorations. This is a go-to treat when searching for quick, easy baking recipes for kids to make.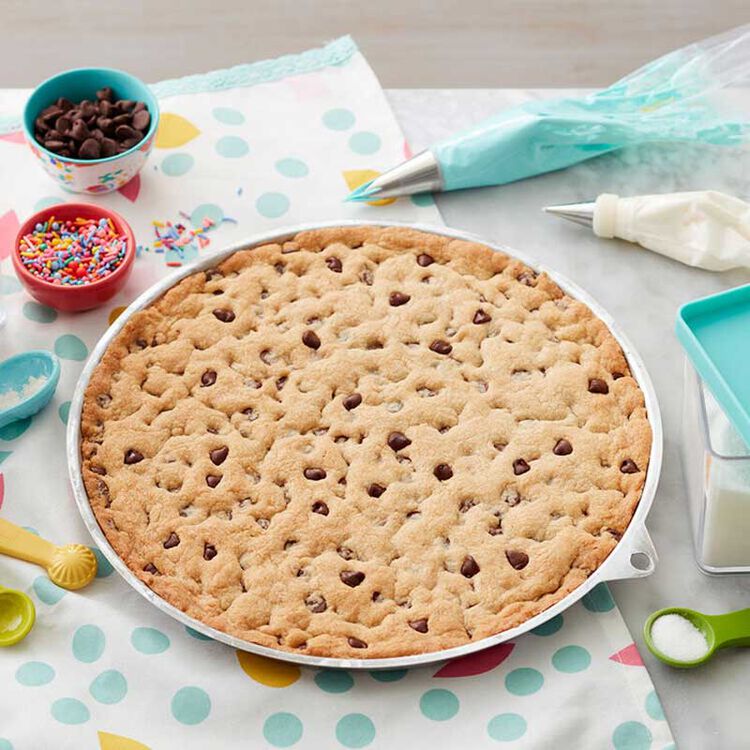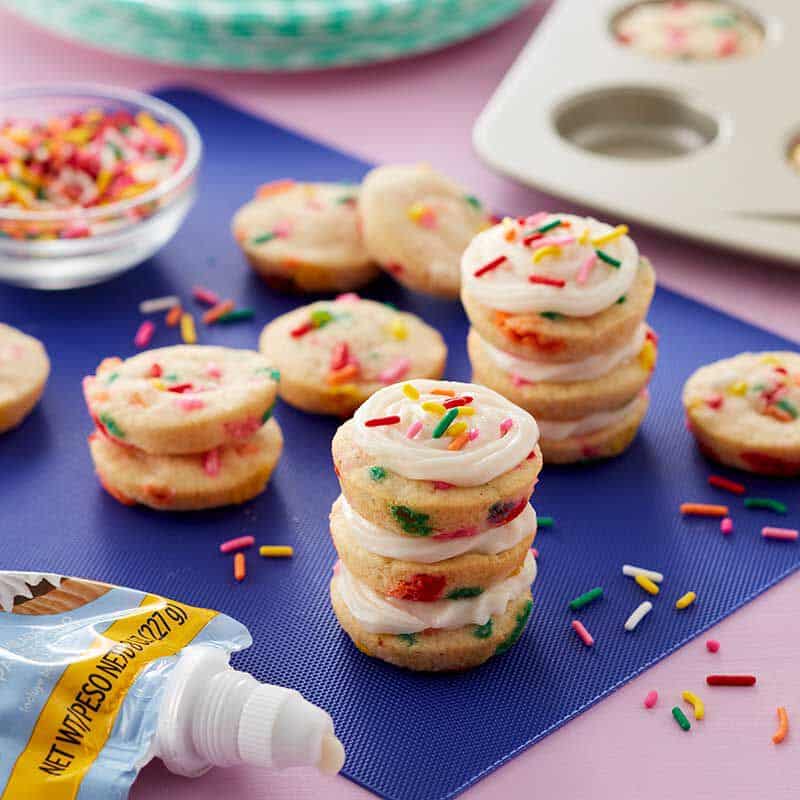 15. Tiny Vanilla Layer Cakes
Your young sous-chefs will enjoy helping with these "kid-sized" cakes. Grab two Daily Delights mini round pans and let the baking shenanigans begin. These three-layer mini cakes are a fun project to customize. A little icing and Rainbow Jimmies go a long way!
16. Fudgy Brownies
In just 10 minutes, you and your kids can have a pan of delicious, rich brownies baking in the oven. This recipe can serve as a fun lesson in using measuring cups. The secret behind this decadent dessert's "wow" factor is a full cup of cocoa powder!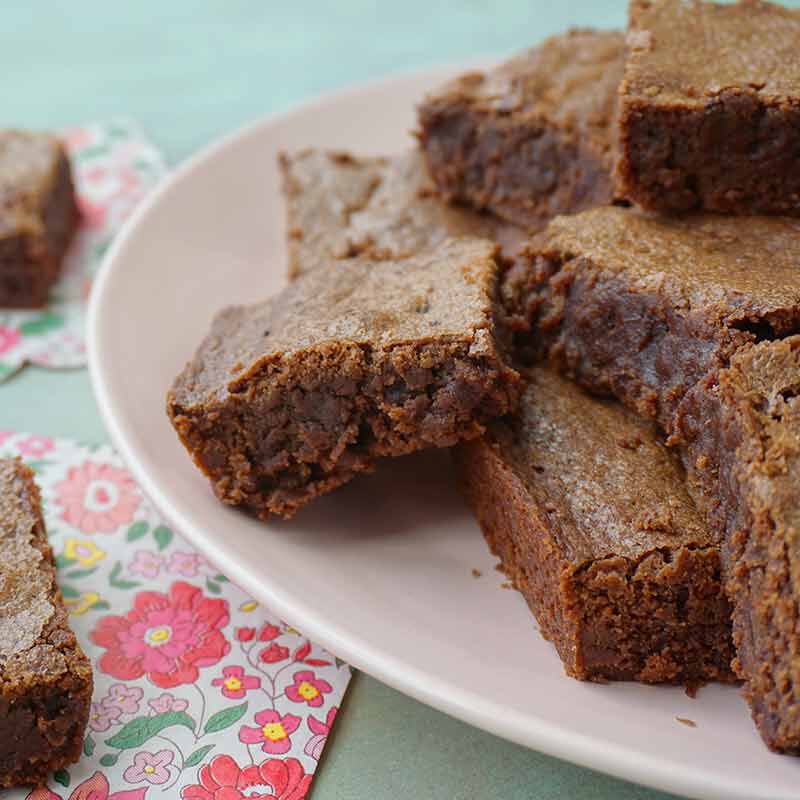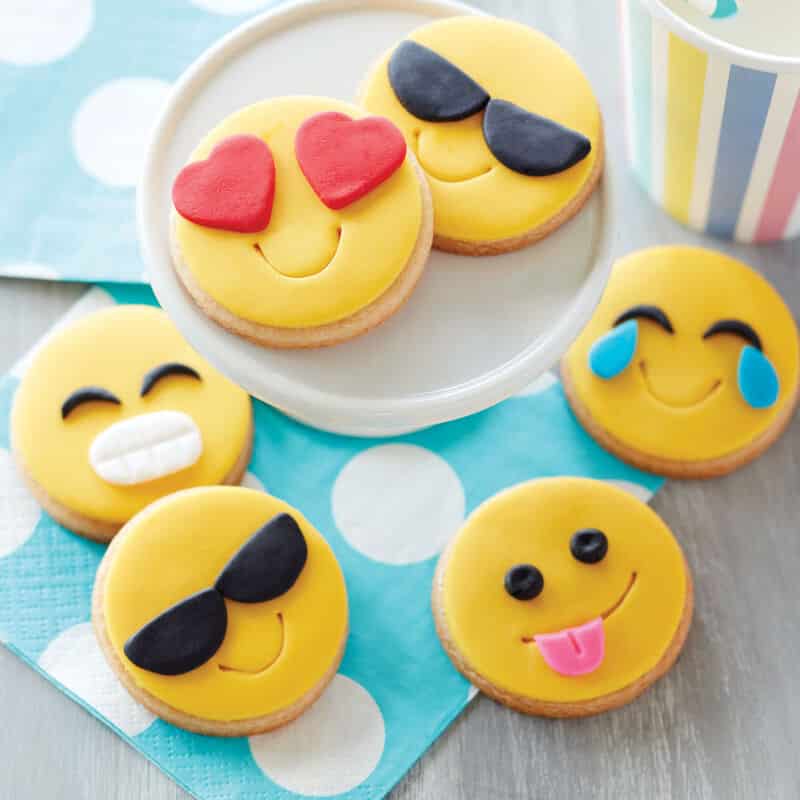 17. Fun Emoji Cookies
Make a statement with these fun-faced cookies. As the cookies bake, have your kids choose their favorite emojis. The How to Decorate with Fondant Shapes and Cut-Outs kit can help you easily replicate these faces.
18. Easy Brownie Ice Cream Cake
Brownies, ice cream, and whipped cream form a delicious trifecta layered with tasty textures. The assembly is half the fun with this cake, and it's something kids will enjoy helping with. It's one of those simple baking recipes for kids that's also a hit with the adult crowd.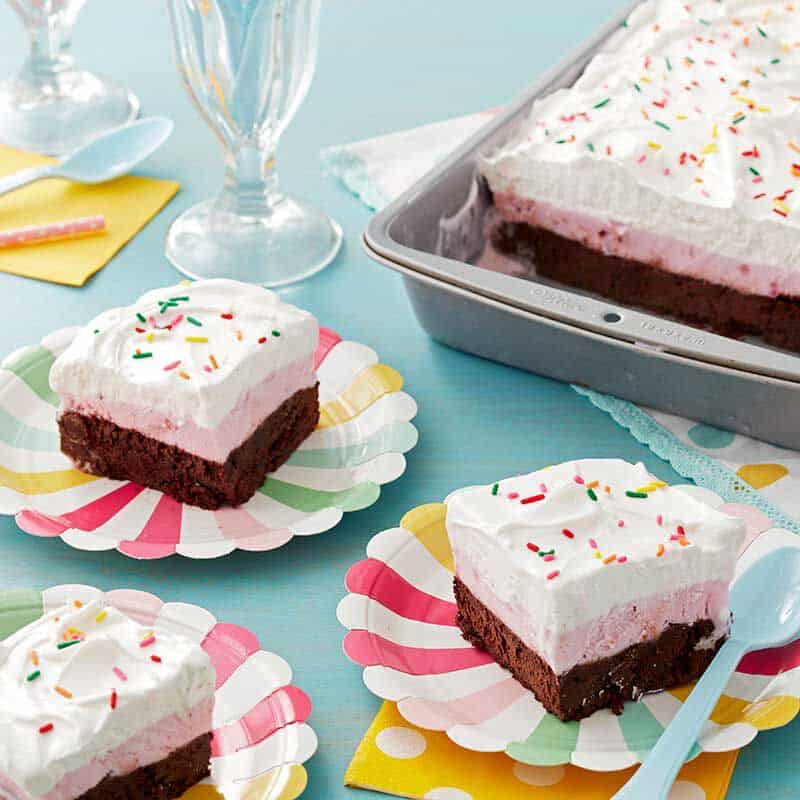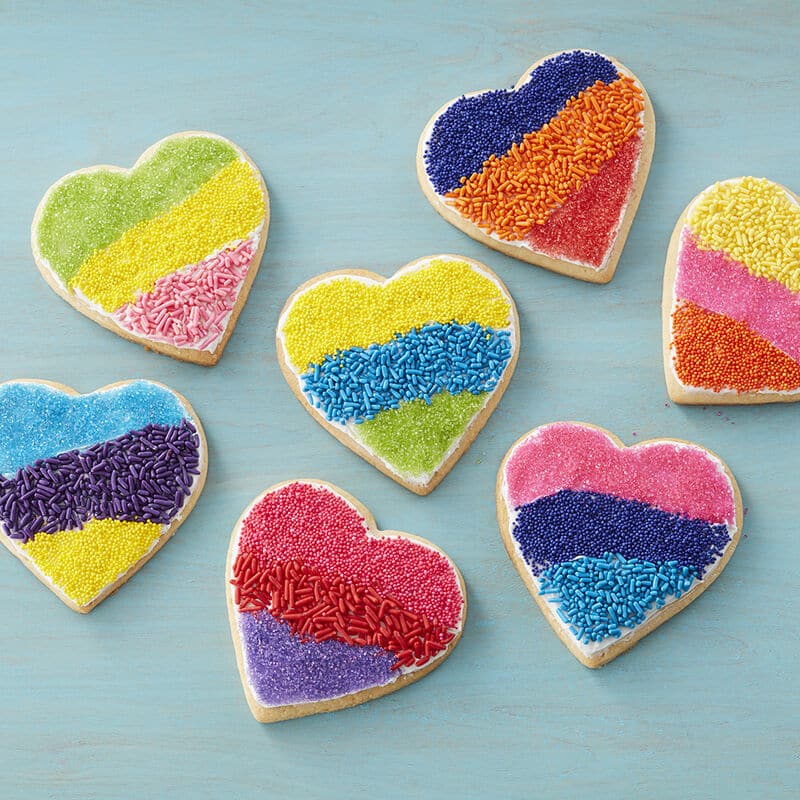 19. Color Block Heart Cookies
These colorful cookies are a perfect project for a lazy weekend afternoon. Kids can exercise their creativity by blending and blocking colors. Layering sprinkles on top gives added flair! No matter how you decorate, the results are delicious.
20. Eye Spy Rice Cereal Treats
Kids of all ages will love helping with this eye-popping recipe! Use different colored Candy Melts and candy eyeballs to add variety and texture. The best part? There's no wrong way to decorate. These treats are for everything from Halloween parties to weekend fun.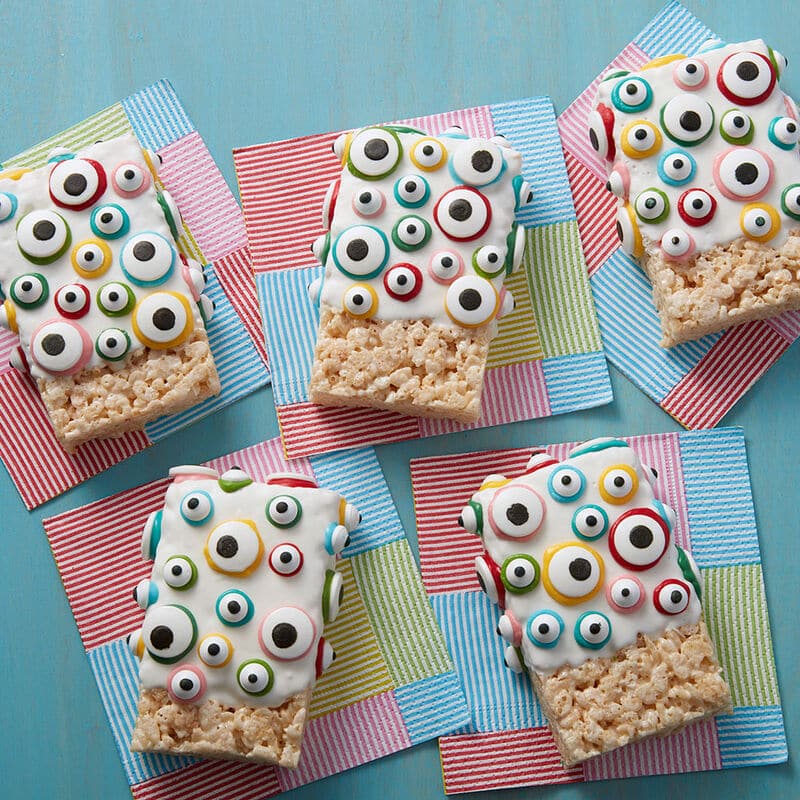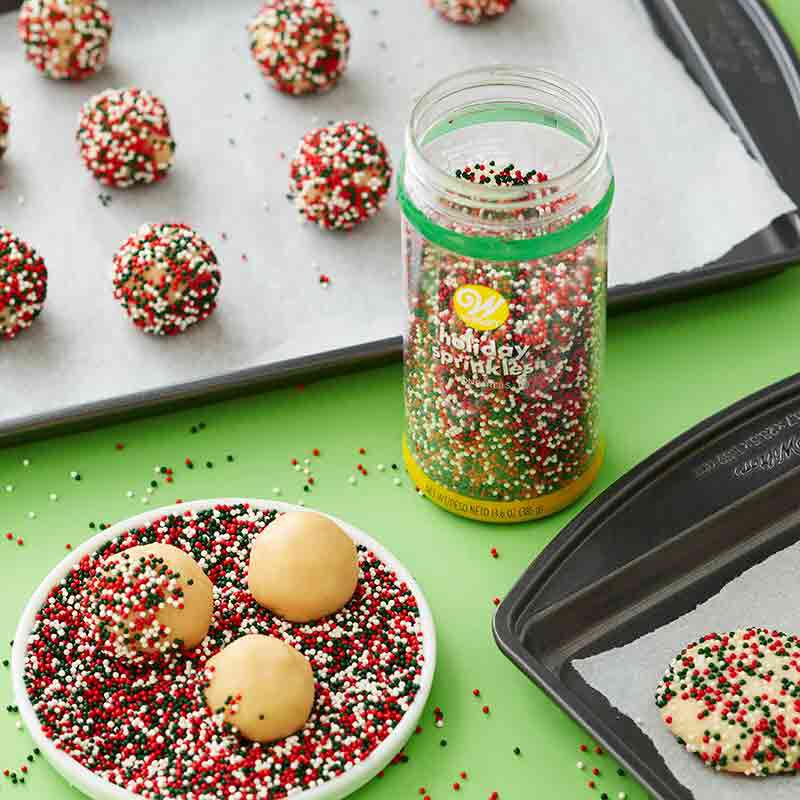 21. Sugar Cookies
This buttery sweet confection is a perfect go-to recipe that can be decorated to fit any occasion with a touch of colorful icing and sprinkles. Keep a batch of batter frozen for fresh cookies on demand — perfect for a rainy afternoon or a last-minute gathering.
Which of these easy baking recipes for kids is your favorite? Let us know in the comments below!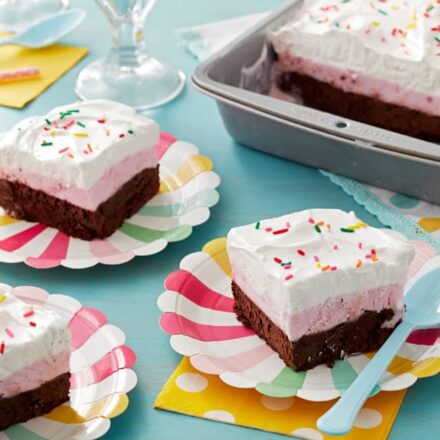 21 Easy Baking Recipes for Kids
We've compiled some of our favorite, tried-and-true easy baking recipes for kids to make. From buttery sweet sugar cookies to savory crackers, there's a treat for every palate.
Tried this recipe?
Take a picture and tag us @WiltonCakes on Instagram