The air is warmer, the birds are singing, and we've got colorful springtime desserts on our minds. That's why we're sharing spring treats perfect for parties, showers and Easter dessert tables.
From a sumptuous garden-themed cake to easy fondant overlays you can place on cookies and decorate with edible markers or paint, here are some our favorite treat ideas to put some spring in your step.
1. Blooming Embroidered Cupcakes
Just like your favorite lace curtains and tablecloths, these cupcakes feature a classic springtime theme — flowers! Spatula ice your cupcakes in pretty pastels before using a small round tip to pipe delicate dots and lines that look like elegant embroidery. So beautiful you'll think (briefly) about not eating them.
2. Pastel Macaron Cake
A darling centerpiece for springtime baby showers, picnics or parties, this cake combines homemade macarons and store-bought mini candy eggs for a color palette that calls to mind spring's cutest buds and babies. Nest your robin's egg candies in simple 1M swirl borders along the top, or try rosettes for a different effect.
3. Painted Fondant Egg Cookies
These adorable egg cookies are perfect for an Easter brunch. Mix your icing colors with lemon extract, then paint a watercolor-like flower pattern on rolled-out white fondant. Add details with one of our food-safe edible ink pens, then cut them out with the same cookie cutter that you used for your eggs and attach with piping gel. Eggtastic!
4. Spring Floral Cones
Nothing says springtime like a lovely bouquet! Use our Cupcake Cone Baking Rack to bake a bit of cake in small waffle cones, and top with buttercream flowers and candy ferns. This is a true artist's project where freeform candy and buttercream shapes combine for a lush, colorful effect that makes for elegant edible place settings.
5. Almond Coconut Cupcakes
For those trying to keep things simple, adding coconut and almond to white cupcakes is a great way to dial up the flavor with minimal effort. The secret ingredient? Coconut milk added to the cupcake batter that makes you think of warm places and relaxation. Use all the time you save to plan your spring break getaway.
6. Blossoming Spring Flowers Cake
Experienced decorators will enjoy trying their hands at this fanciful spring cake. Positively blooming with beautiful buttercream blossoms in shades of pink, purple and white, this dessert makes for a lovely addition to a Mother's Day brunch, engagement party or high tea.
7. Jewel Easter Brownies
Spring desserts, like these Jewel Easter Brownies, are great for making with the kids. Decorated with buttercream frosting and Candy Melts candy, these brownies feature all the cute icons of the season, including bunnies, eggs, chicks, flowers and lambs.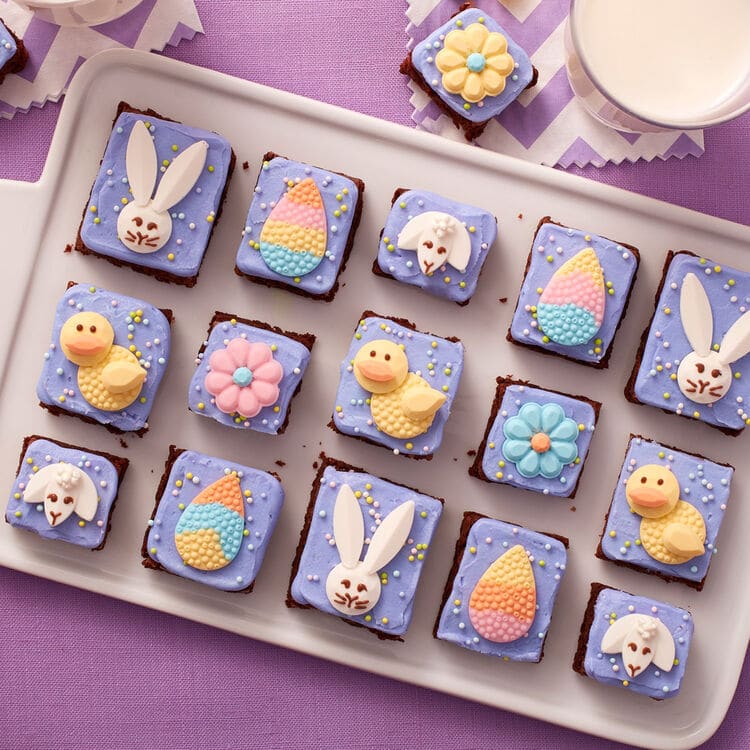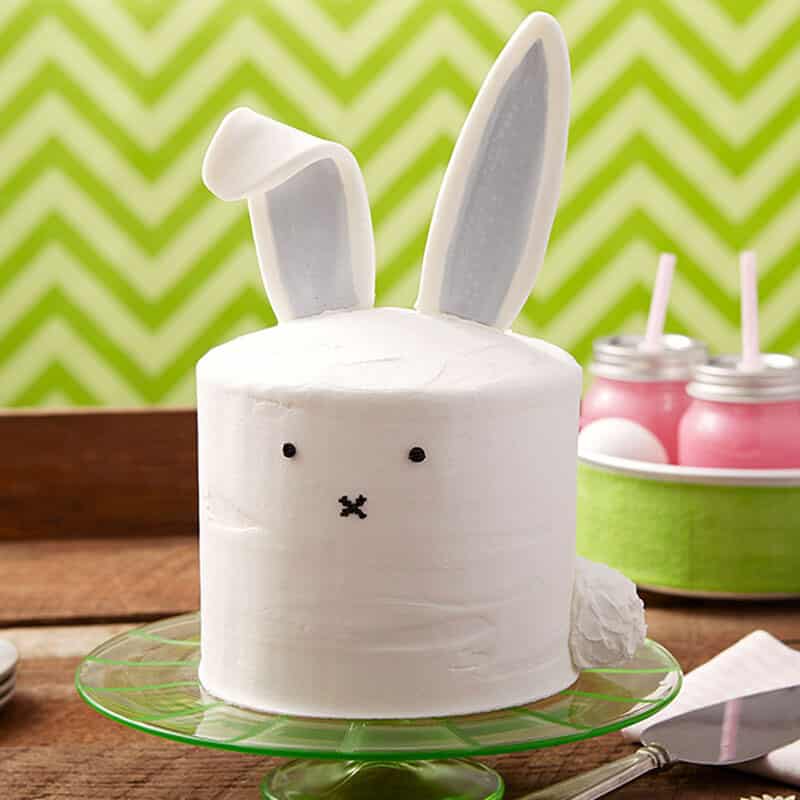 8. Floppy Ears Bunny Cake
Quick and easy, this Floppy Ears Bunny Cake is a great way to celebrate Easter, baby showers, first birthdays and more. Decorated with fondant ears and a simple buttercream face, this easy spring dessert recipe can be made with your favorite cake mix (we suggest carrot cake, of course!).
9. Easter Egg Nest Donuts
Start Easter morning off right with these Easter Egg Nest Donuts. A cute buttercream nest is filled with colorful jellybean eggs for donut that's sure to get your Easter celebration off to a sweet start.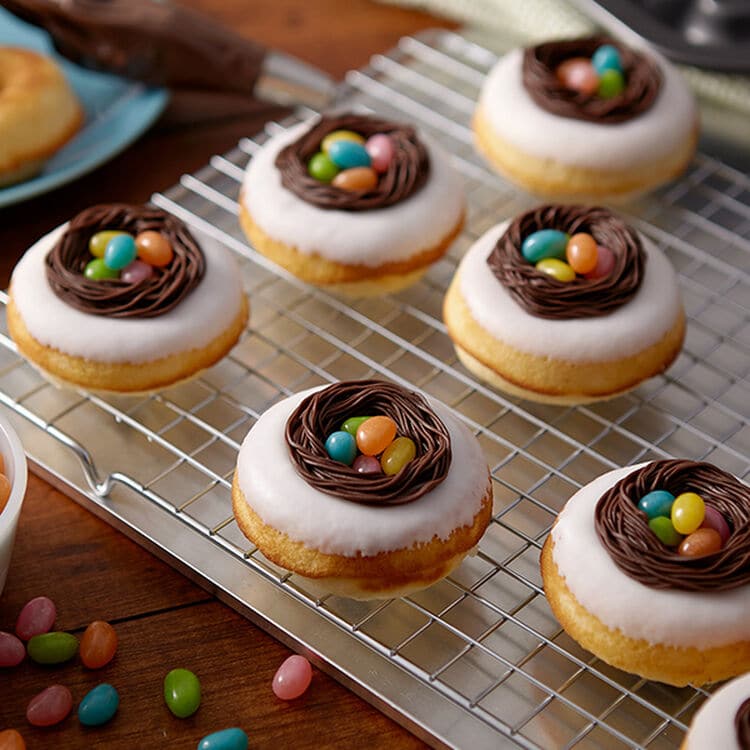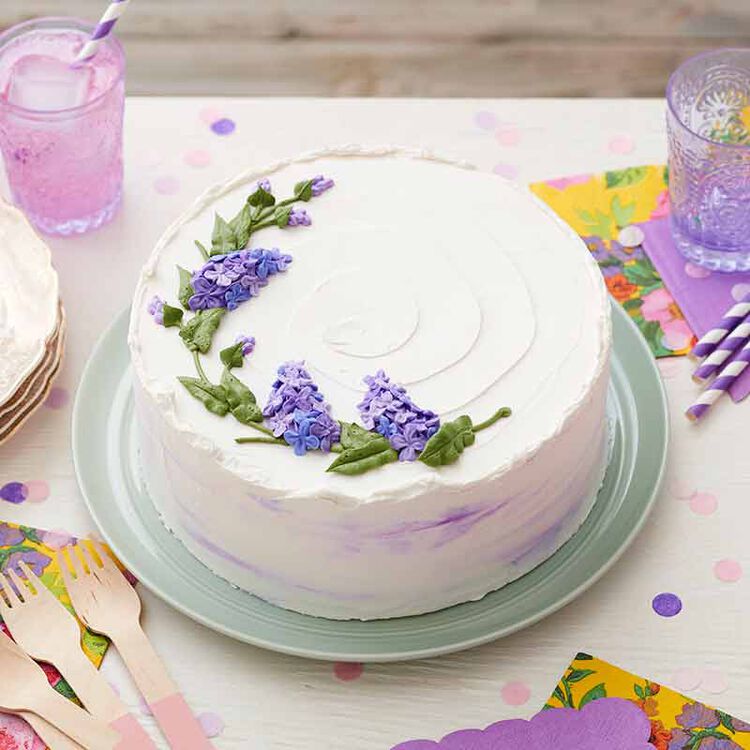 10. Lovely Lilac Flower Cake
Simple and elegant, this Lovely Lilac Flower Cake is one spring dessert idea you can make for any holiday or celebration. A beautiful spray of royal icing lilacs adds color and life to this cake. Add a few candles for a birthday or a personalized greeting for added customization.
11. Rosy Rosette Cookies
If you need some spring dessert recipes that are quick and easy to whip up, look no further than these Rosy Rosette Cookies. Made using store-bought sugar cookies (shh, we won't tell!), these cookies work up quickly and look great arranged on a platter. Mix and match buttercream colors for a lovely floral bouquet, perfect for Easter or Mother's Day.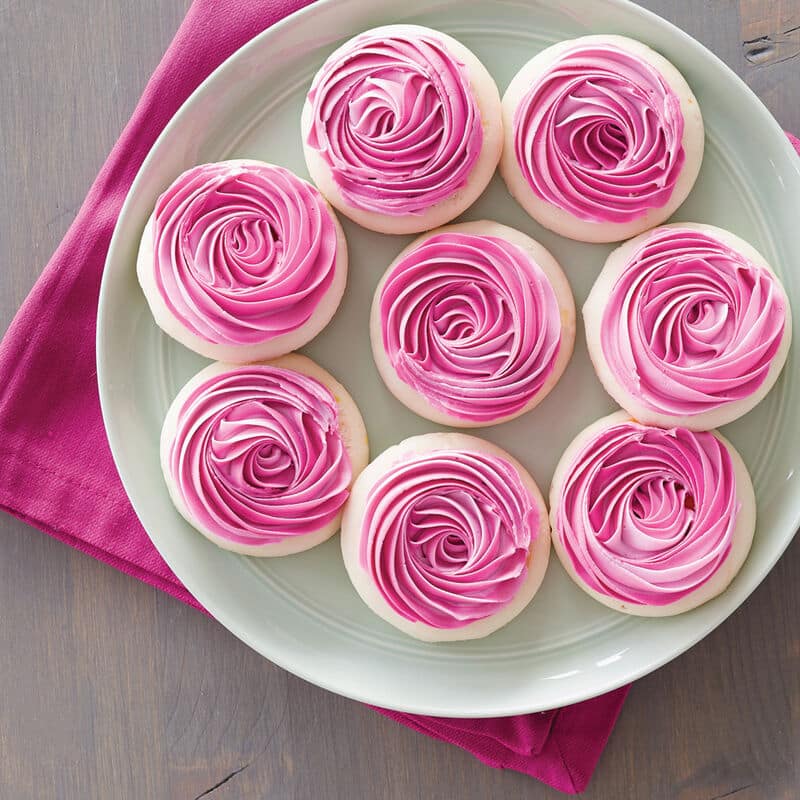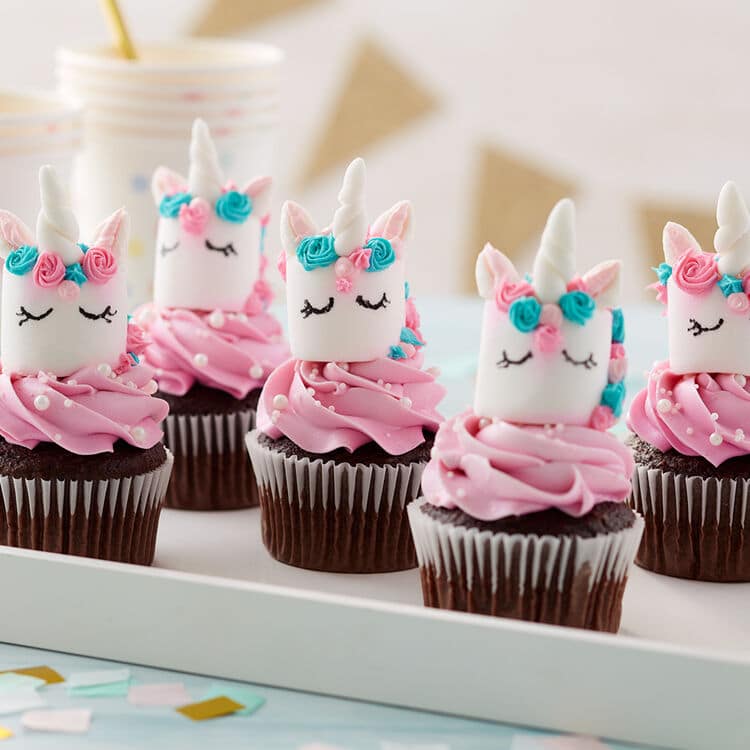 12. Magical Marshmallow Unicorn Cupcakes
What makes chocolate cupcakes even better? Unicorns, of course! These cute and magical spring desserts are made using standard marshmallows and buttercream and fondant decorations. Save time by making the unicorns a day or two in advance.
13. Brush Embroidery Sunrise Cookies
These Brush Embroidery Sunrise Cookies are almost too pretty to eat. A beautiful fondant canvas is topped with icing color "paint" and royal icing floral decorations for a lovely spring dessert you can serve for any special occasion.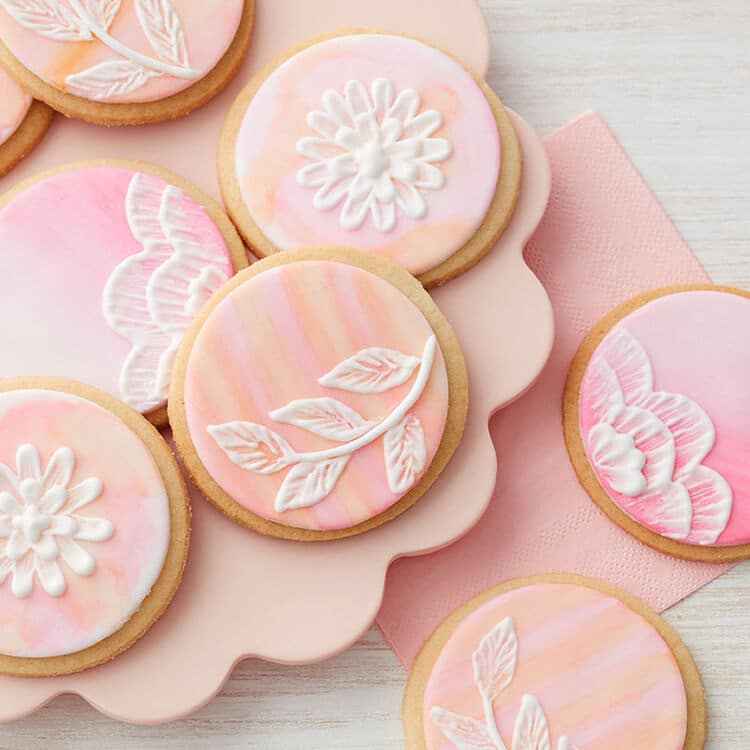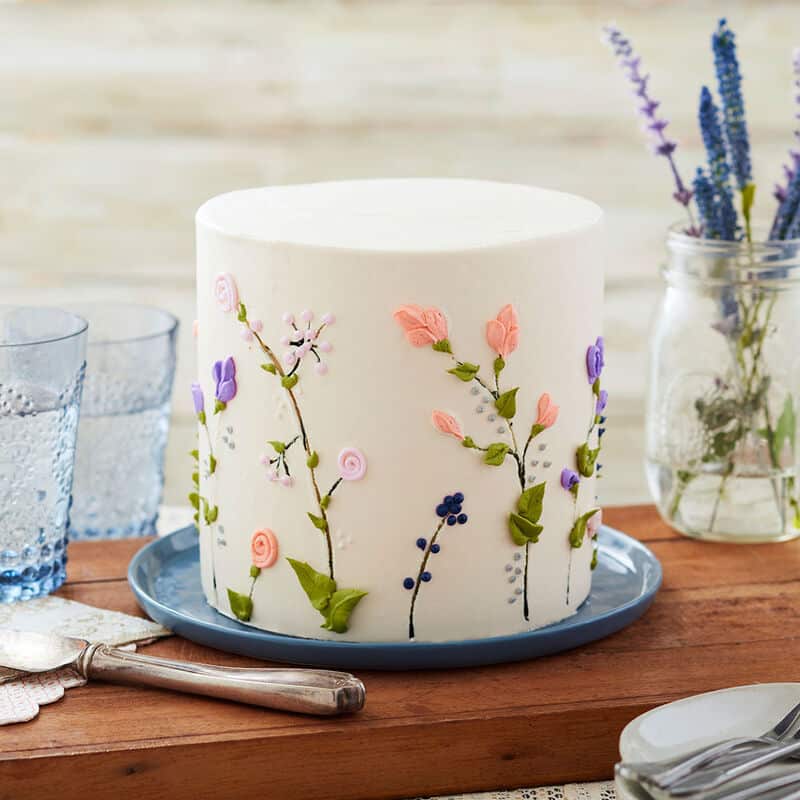 14. Breath of Spring Floral Cake
Soft and feminine, this Breath of Spring Floral Cake is a wonderful way to celebrate a wedding shower or Mother's Day. Simply ice your cake with white buttercream, then use a toothpick to outline your floral design. Finally, pipe over your outline with a variety of pastel buttercream colors for a cake that truly embodies the beauty of the season!
15. Heart in Bloom Giant Cookie Cake
Forget the store-bought flowers, this Heart in Bloom Giant Cookie Cake is one spring dessert recipe everyone will love! A sweet chocolate chip cookie base is topped with an arrangement of buttercream flowers, all made with our Easy Blooms Tip Set, which make it easy to pipe roses, mums and more with just one squeeze!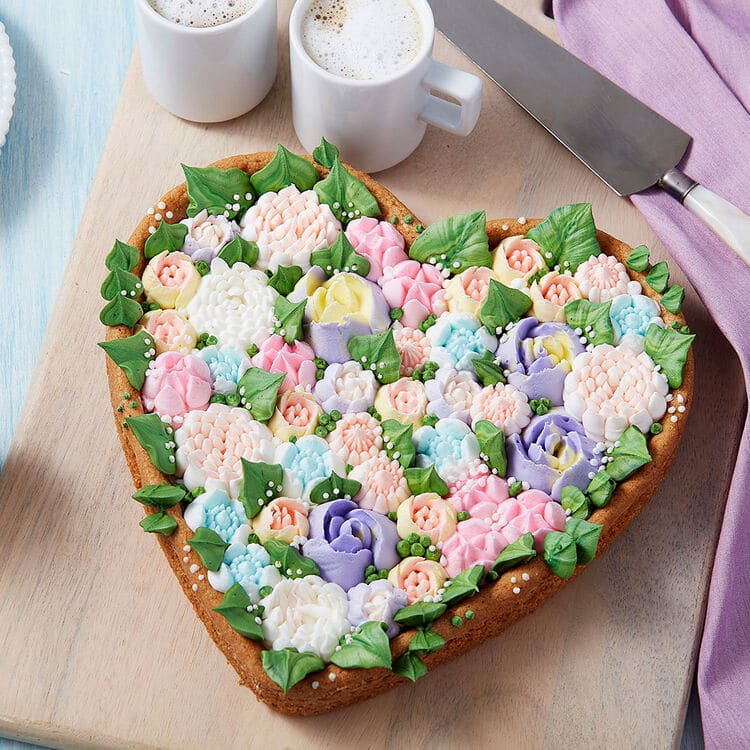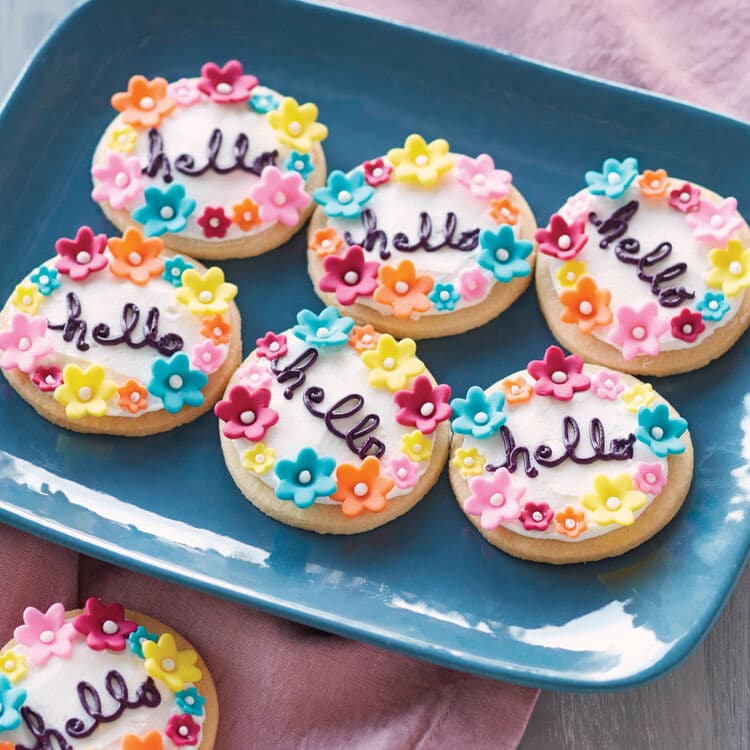 16. A Cheery Hello Cookie
Whether you're saying hello to spring, a new family member, or a friend you haven't seen in a while, these Cherry Hello Cookies are a sweet way to share some love! A wreath of fondant flowers adds color and texture to these cookies, which can be customized with any message you wish.
17. Colorful Bunny Watercolor Cake
Let the cake be your canvas with this Colorful Bunny Watercolor Cake. Simply use a spatula to cover your cake with swipes of purple, pink, yellow and teal buttercream, then use an icing smoother to create a fun watercolor design.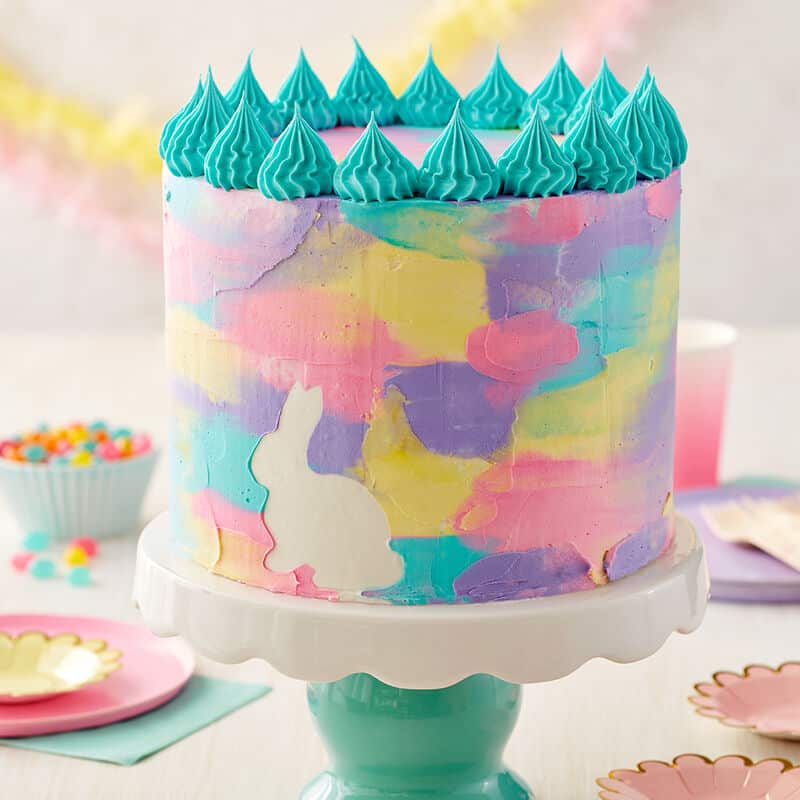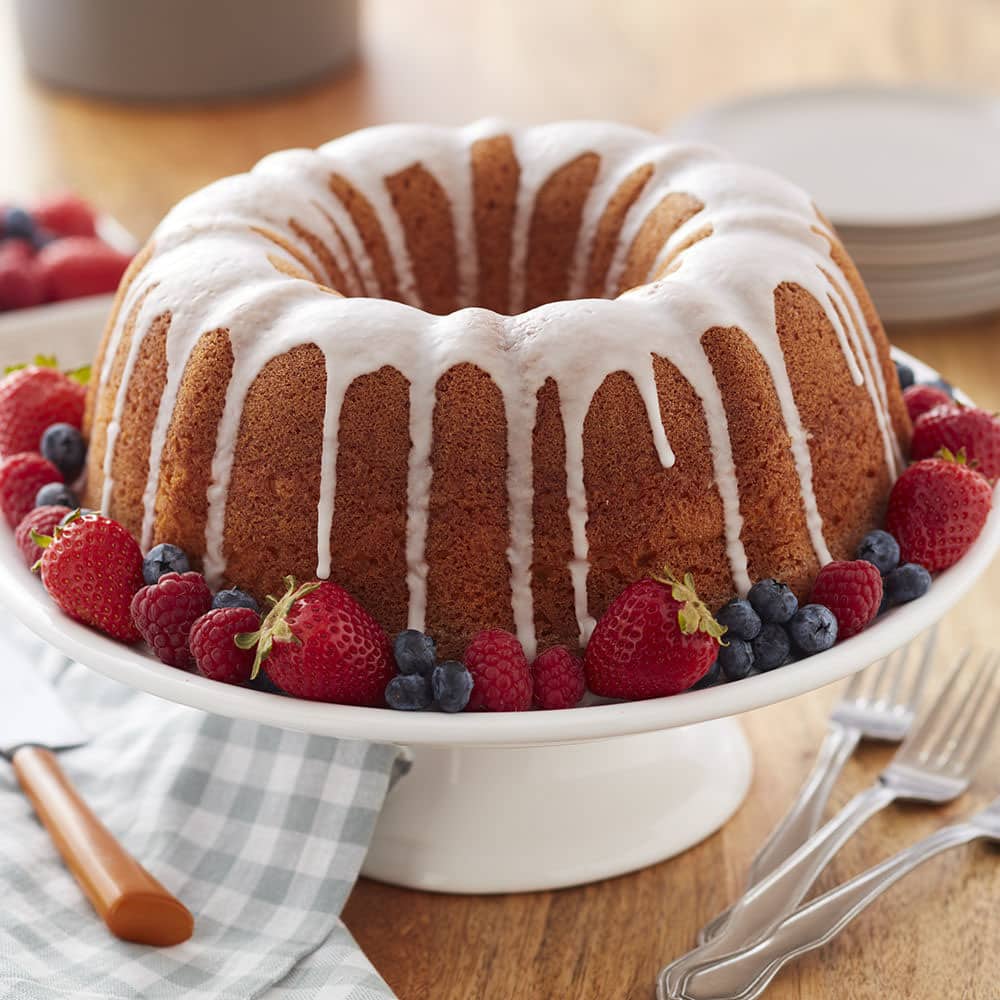 18. Classic Pound Cake
Sometimes the simplest recipes are the best ones! Classic and delicious, this simple pound cake recipe is great for any spring holiday or celebration. Serve with a dollop of whipped cream and some fresh berries for the ultimate sweet treat.
19. Forget-Me-Not Cookies
Sweet and dainty, these Forget-Me-Not Cookies are perfect for serving alongside a cup of hot tea. Decorated using royal icing, these cookies dry hard, so they're great for gifting to mom for Mother's Day or using to fill Easter baskets for the kids.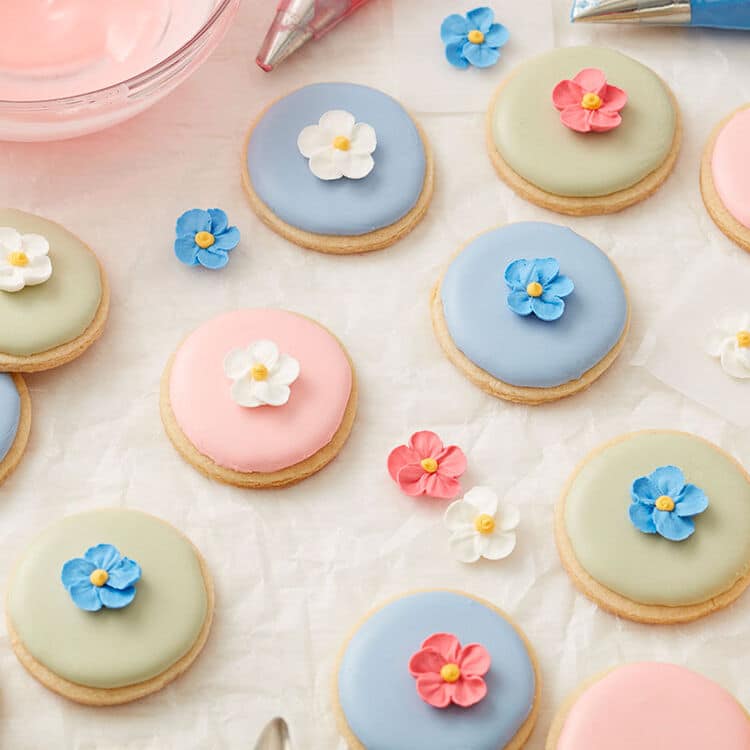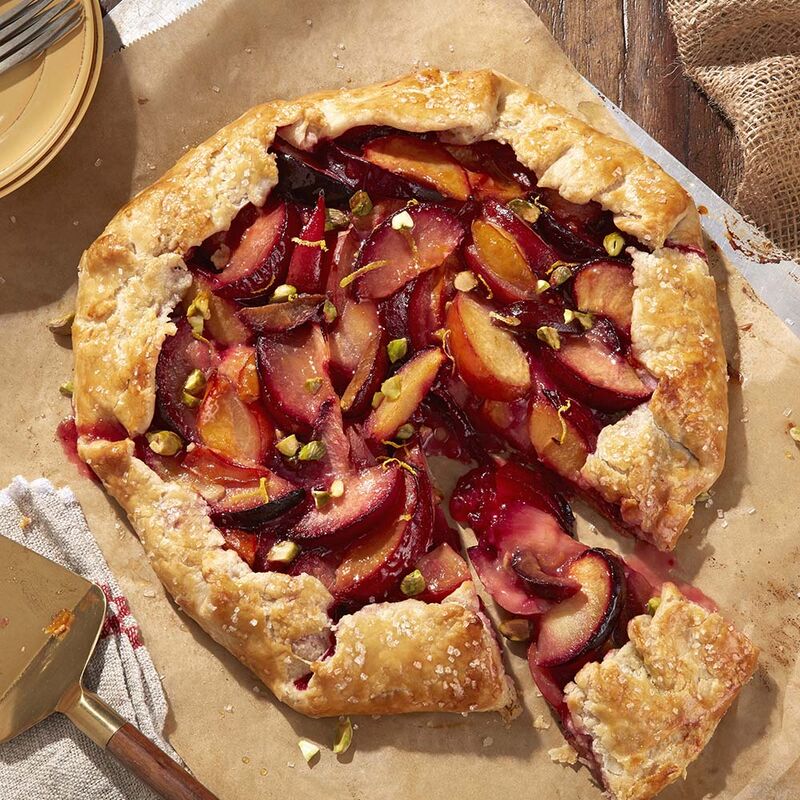 20. Plum Pistachio Galette
Want some spring dessert ideas that celebrate the flavors of the season? This Plum Pistachio Galette is the perfect solution! A rich, buttery crust is filled with a plum filling, then topped with colorful pistachios for a dessert you can serve for Easter or a small dinner party.
21. Banana Cake with Cream Cheese Frosting
Your family will go bananas for this Banana Cake with Cream Cheese Frosting! Sweet and rich, this spring baking recipe makes a lovely sweet treat for Easter or a weekend brunch with friends.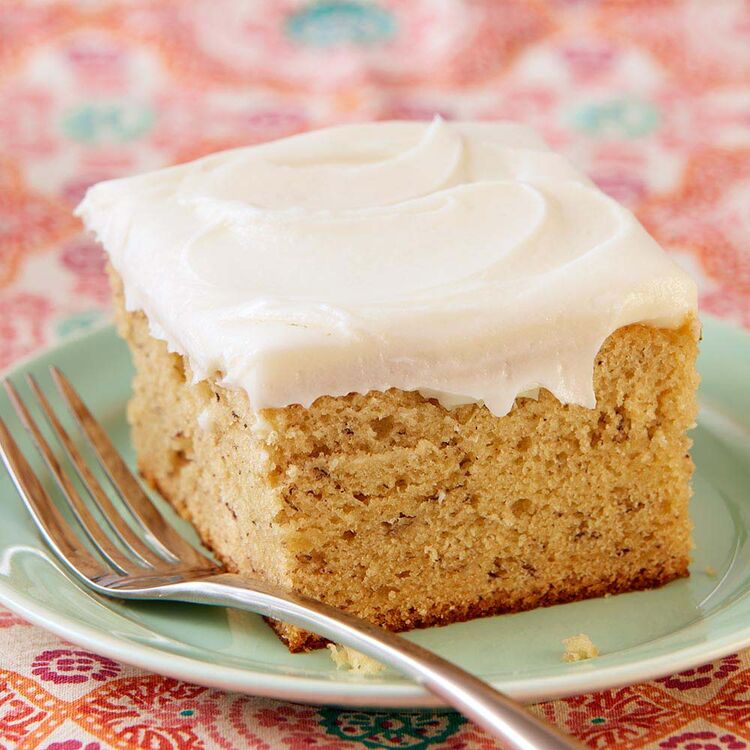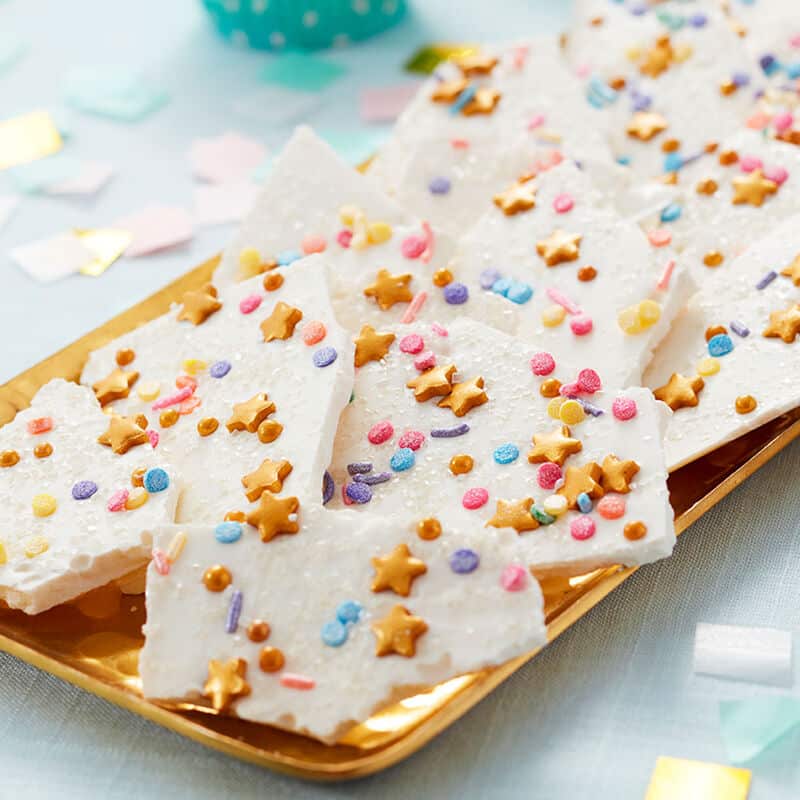 22. Unicorn Candy Bark
Give party goers a little something magical to nibble on with this Unicorn Candy Bark. Made using Bright White Candy Melts candy and a variety of sprinkles, this candy bark is a fun addition to your spring sweets table. You can also package it and gift it to friends as an edible party favor.
23. Pink and Coral Spring Cupcakes
No matter what you're celebrating, these Pink and Coral Spring Cupcakes are sure to sweeten any celebration. Great for beginners, these cupcakes use simple piping techniques, like the rosette and the drop flower, to make quick and easy blooms that look straight from the garden!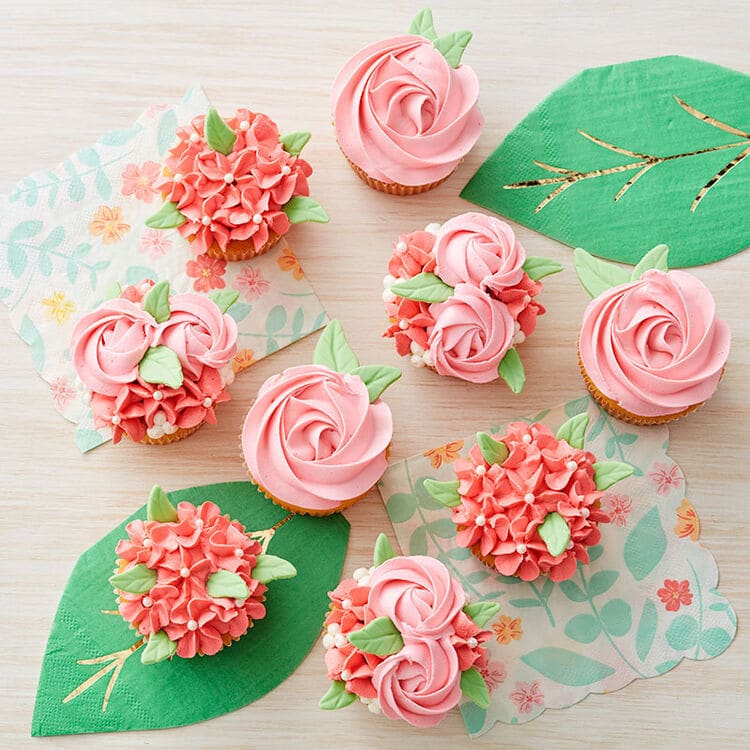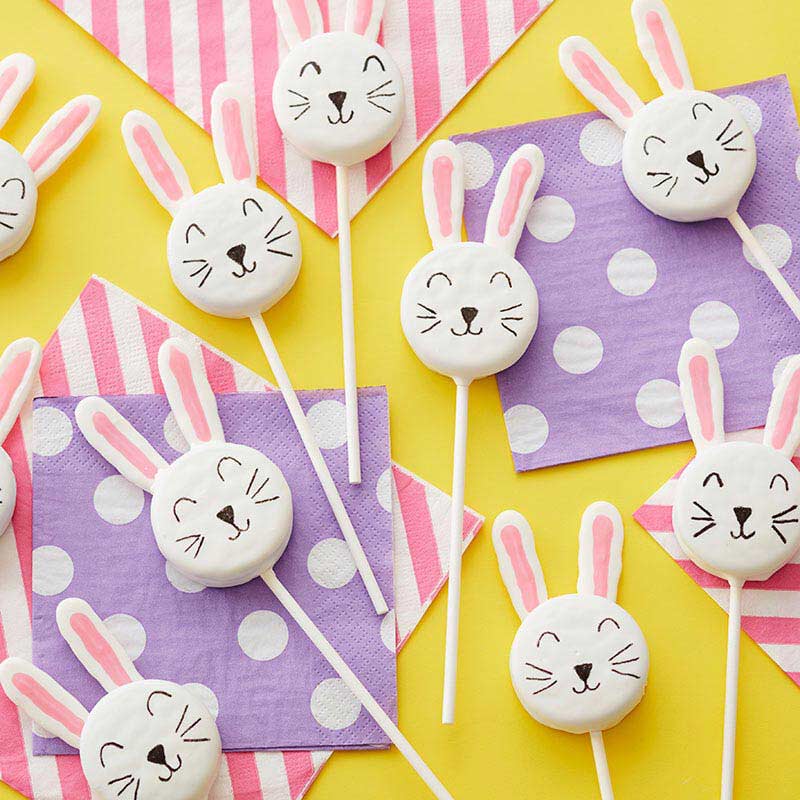 24. Bunny Face Cookie Pops
Here's a fun spring treat every-bunny will love! Made using chocolate sandwich cookies and Bright White Candy Melts candy, these Bunny Face Cookie Pops are great for stuffing Easter baskets or giving out as party favors for baby showers.
25. Rainbow-Drizzled Pretzel Rods
Great for those who love the salty-sweet combo, these Rainbow-Drizzled Pretzel Rods add a splash of color to any party or celebration. Arrange them in a vase for an easy grab-n-go snack, or package them in treat bags to hand out to friends and family.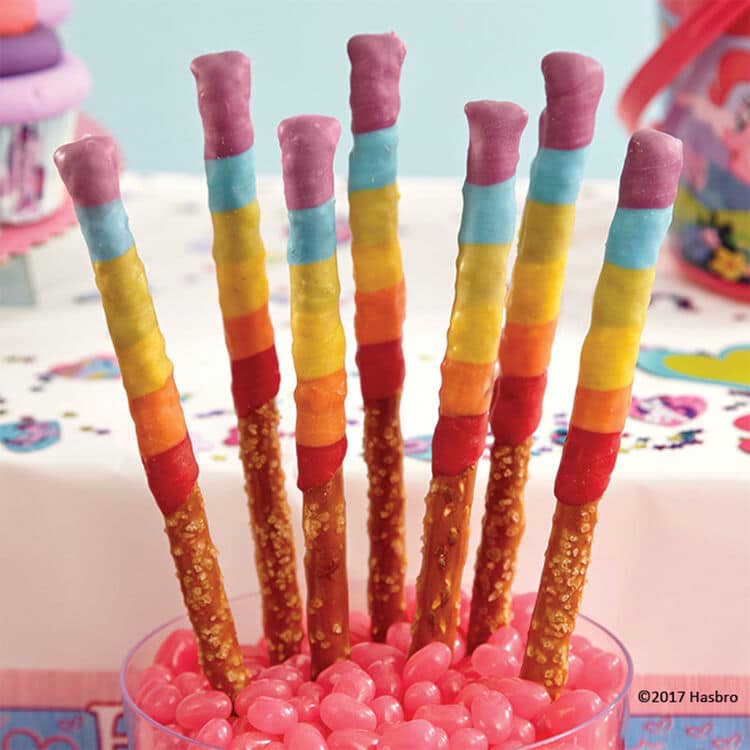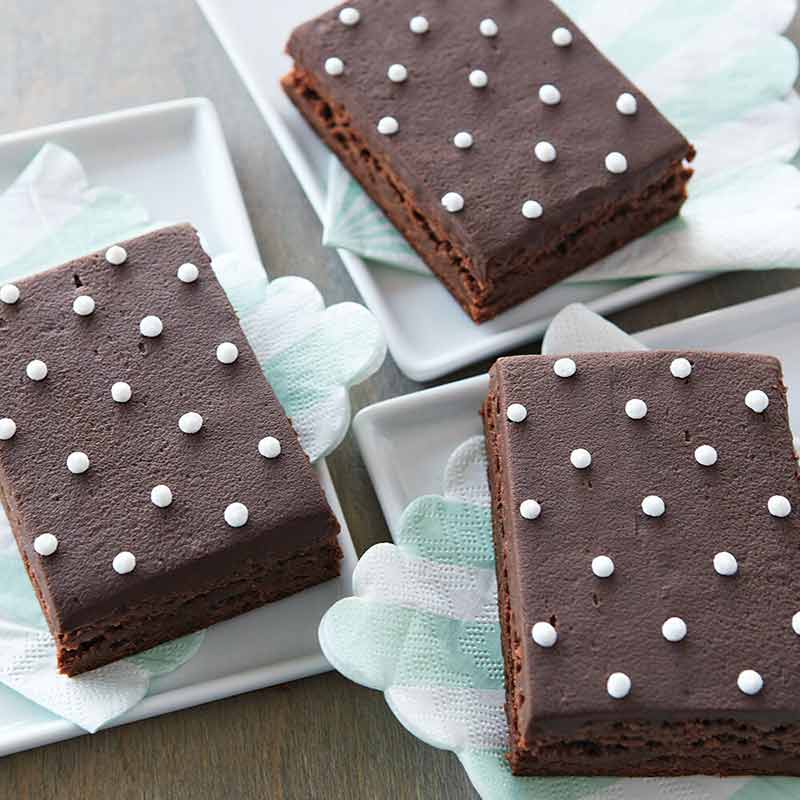 26. A Spot of Sweetness Brownies
Sometimes there's just nothing better than a rich, chocolatey brownie! Topped with chocolate buttercream and small white dots, these Spot of Sweetness Brownies are simple, yet elegant.
27. Perfectly Moist Homemade Carrot Cake
No spring celebration is complete without carrot cake! Packed with all the flavors that make this cake so iconic, this Perfectly Moist Homemade Carrot Cake is finished off with a rich and creamy cream cheese icing for that added touch of tangy sweetness.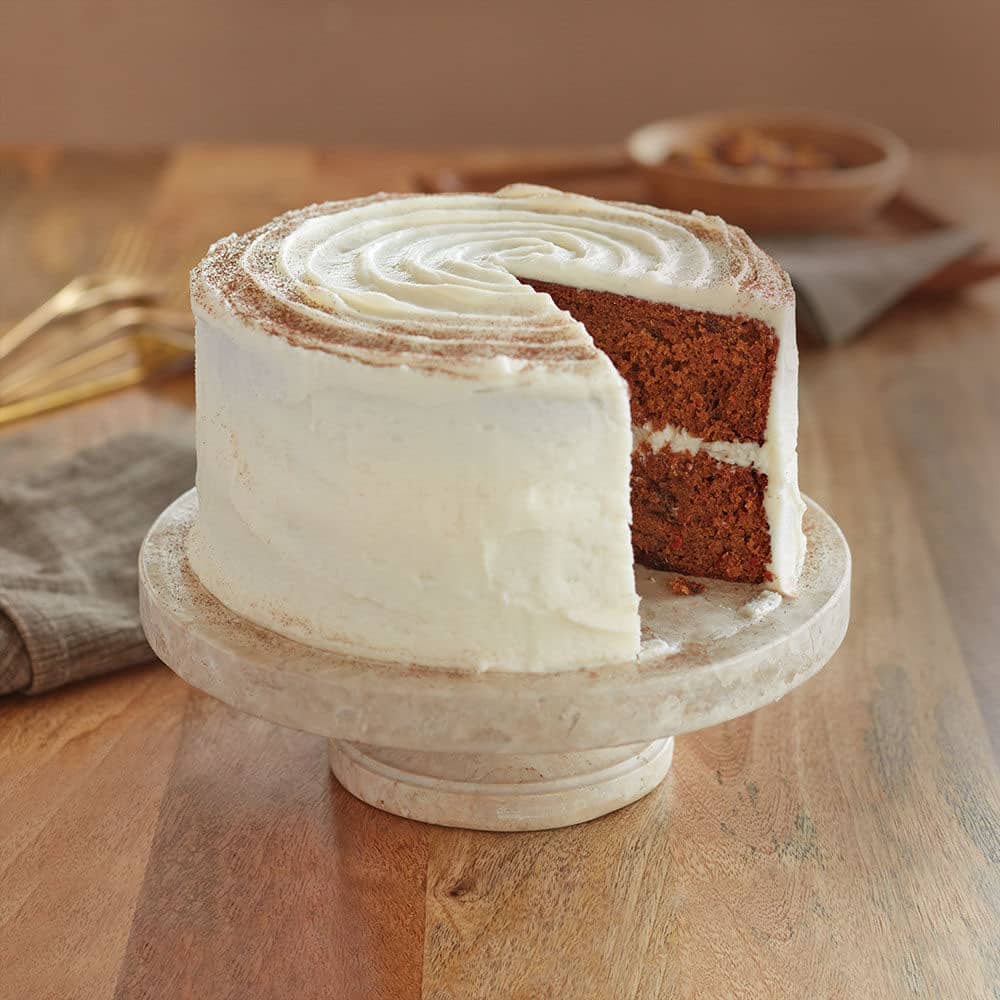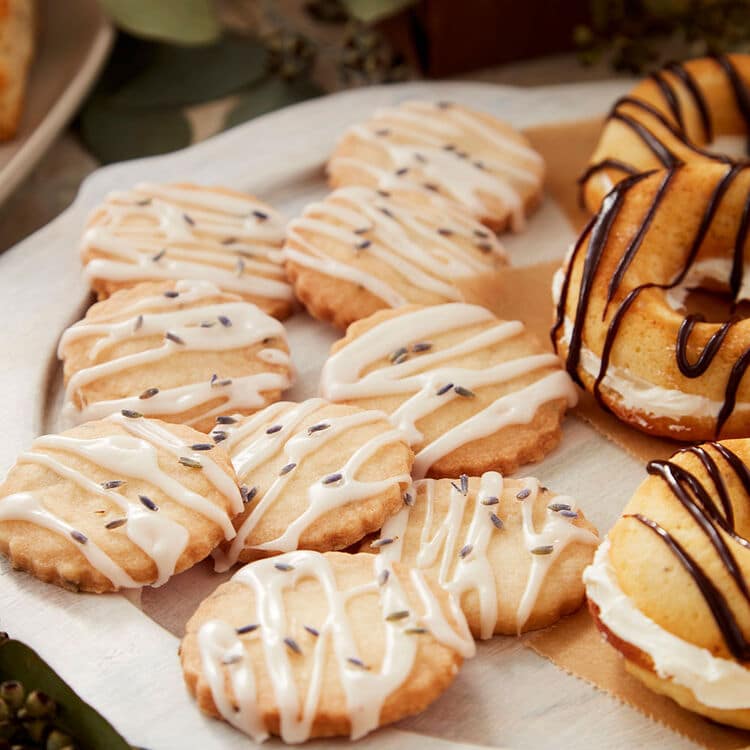 28. Lavender Shortbread Cookies
Teatime just got a whole lot sweeter. Light and delicate, these Lavender Shortbread Cookies are the perfect accompaniment to a cup of warm breakfast or Earl Grey tea. Top them with a milk and honey glaze before serving, then sprinkle with bits of dried lavender for added flavor and color.
29. White Chocolate Raspberry Eclairs
Filled with white chocolate pastry cream and fresh raspberries, these White Chocolate Raspberry Eclairs add a pretty pop of pink to your spring party or celebration. Whether you're hosting Easter brunch or a springtime soiree, these sweet and delicate eclairs are sure to impress. Try our Chocolate Eclairs, too!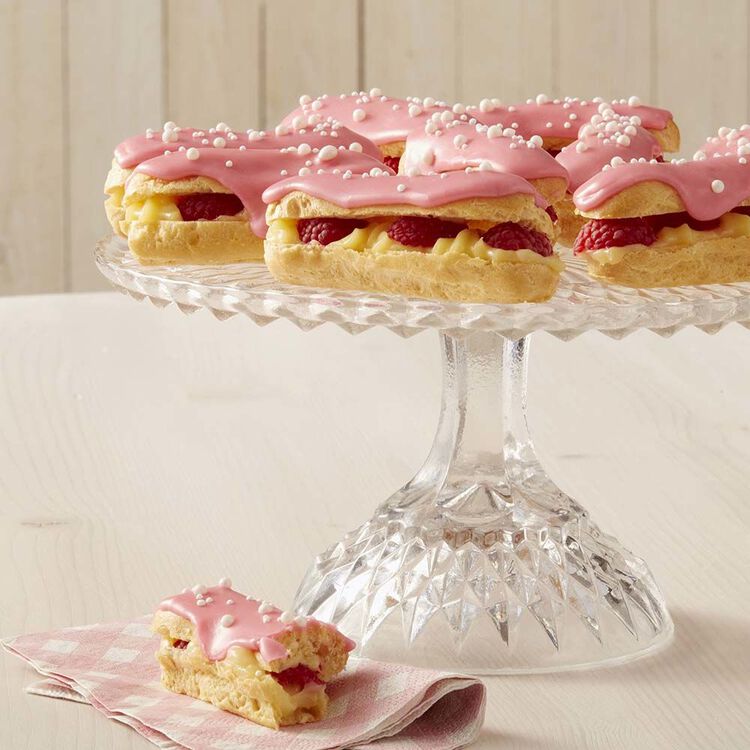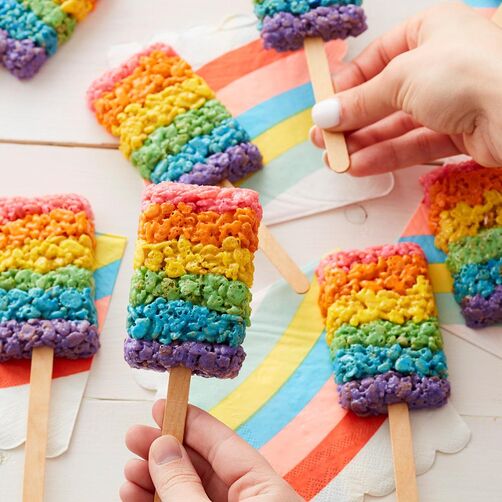 30. Rainbow Rice Cereal Treat Pops
The great thing about these Rainbow Rice Cereal Treat Pops is that you don't have to worry about them melting in the spring sun! Made using your favorite rice cereal treat recipe, these colorful pops are sure to be a hit with kids and adults alike.
31. Baked Carrot Cake Donuts
Need a cute Easter brunch recipe? Look no further than these cute Baked Carrot Cake Donuts. A fun twist on a seasonal favorite, these donuts are topped with a sweet cream cheese glaze and piped carrots for a festive and fun spring treat.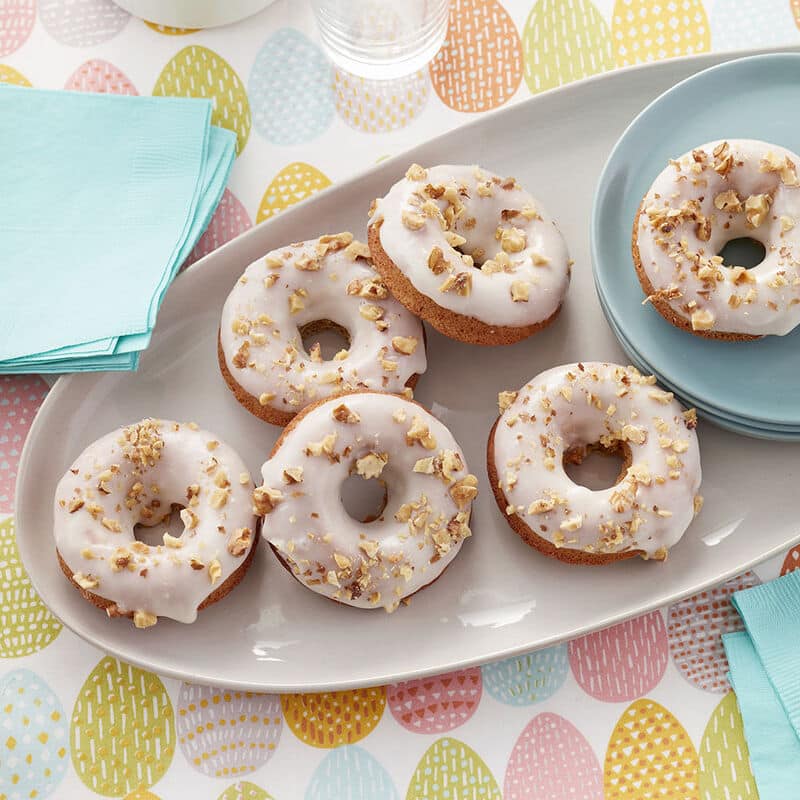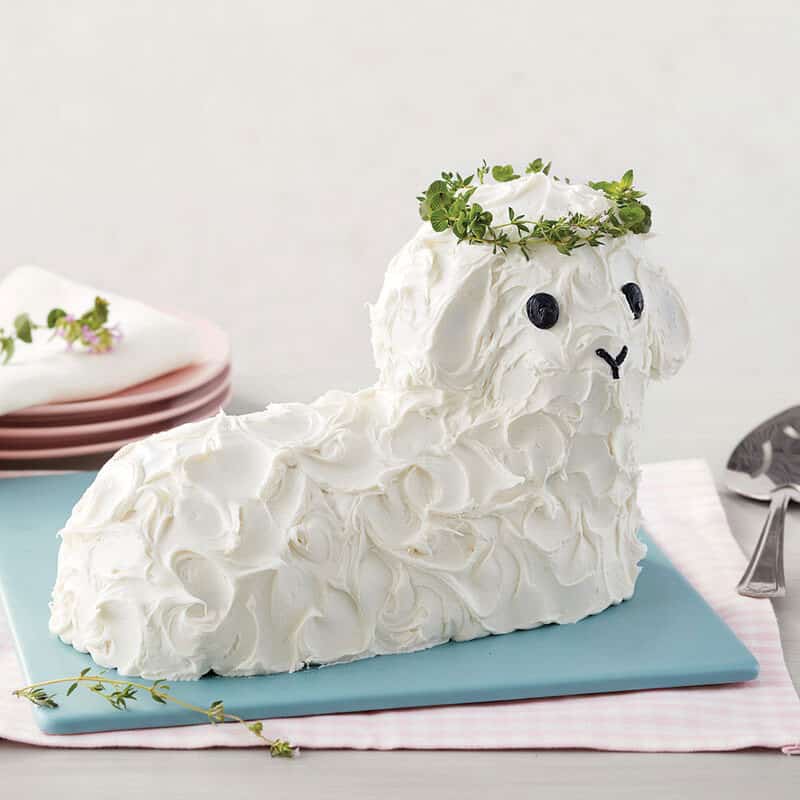 32. Herb Crown Lamb Cake
This adorable Herb Crown Lamb Cake is ready for spring. Adorned with a crown of fresh greenery, this 3-D lamb cake is made using our lamb cake pan and creamy buttercream frosting. It's perfect for Easter, christenings, baptisms, birthdays and more!
33. Spring Sugar Cookies
Simple decorations in muted colors make these Spring Sugar Cookies a lovely and sophisticated addition to your spring celebration. Start off with our delicious chocolate cookie dough recipe, then decorate your cookies using royal icing. Best of all, these cookies dry hard, so they can also be packaged and handed out as gifts or favors.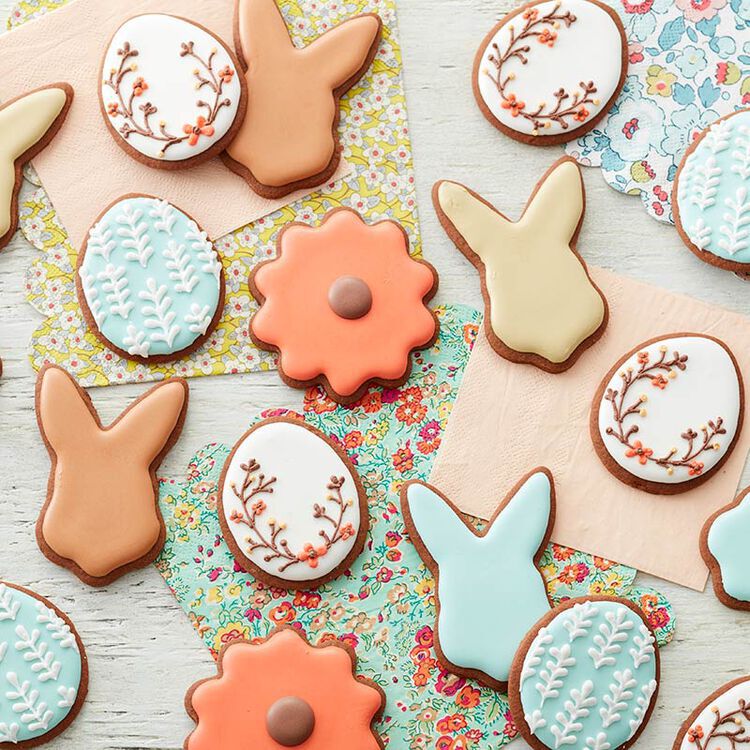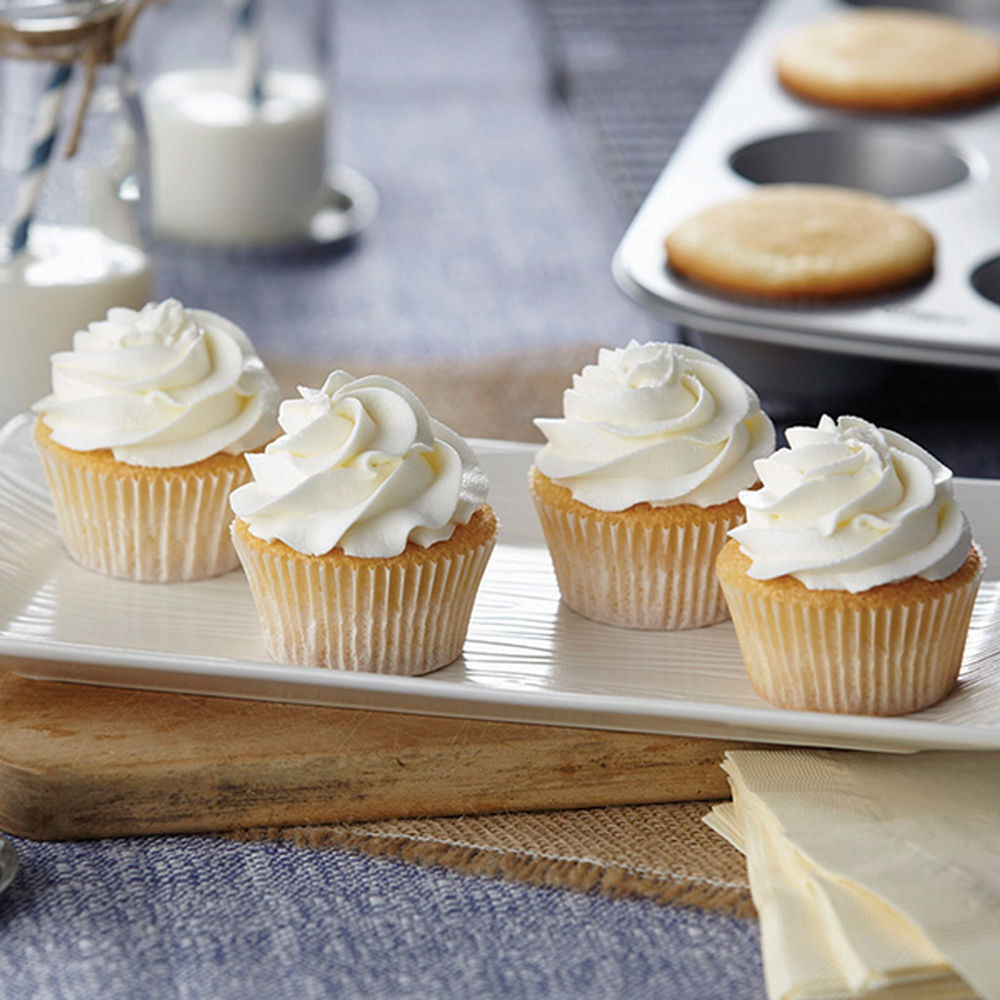 34. Creamy Vanilla Custard Cupcakes
After one bite of these Creamy Vanilla Custard Cupcakes, you'll never look at vanilla the same way again! Rich and oh so flavorful, these classic cupcakes look great on their own, but can also be topped with seasonal sprinkles for added fun and color.
35. Beautiful Blooming Cookies
A lovely treat for Mother's Day or spring showers, these Beautiful Blooming Cookies are decorated using buttercream frosting in bright, spring colors. Choose from daisies, ruffle flowers, zinnias, or make a combination of all three! Don't forget to top your cookies with a little ladybug friend!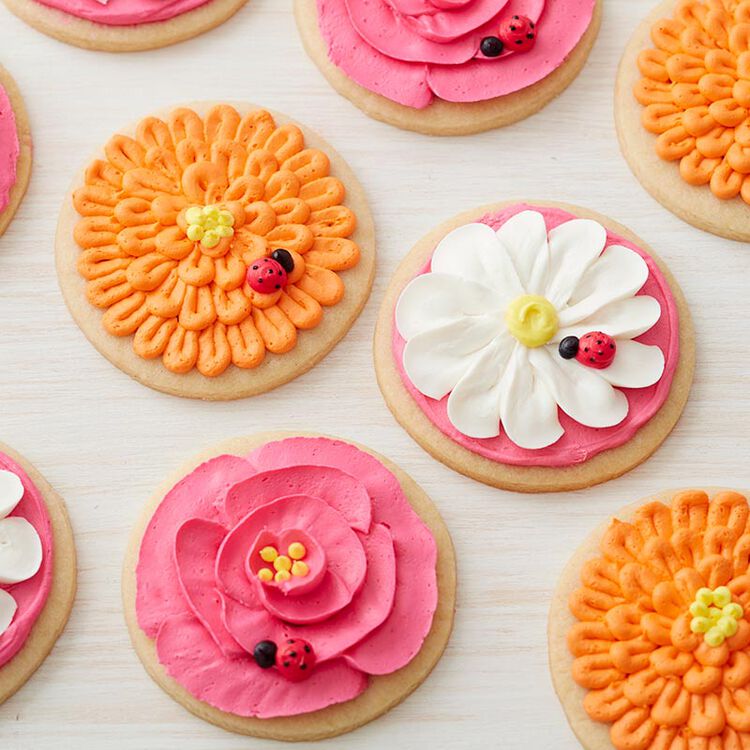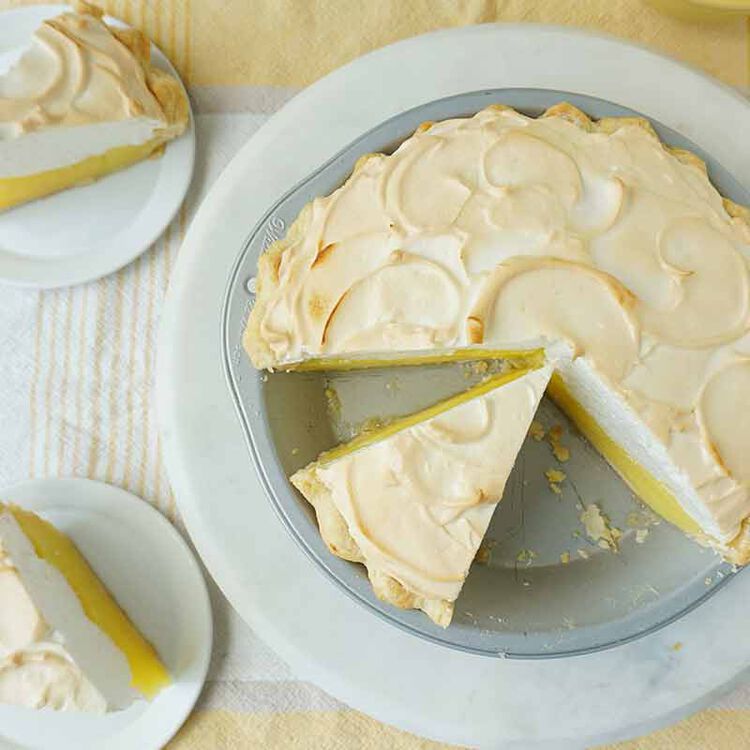 36. Easy Lemon Meringue Pie
Sweet, tart and oh so refreshing, this Easy Lemon Meringue Pie is a light and airy dessert for your spring celebrations. Start off with our flaky pie crust recipe (or use a store-bought one), then add a creamy lemon filling made with real lemons. Finally, top your pie with a light and creamy meringue topping for the perfect finishing touch.
37. Easy Painted Buttercream Flower Cake
You don't need a whole tip set to decorate this cake. Using an angled and tapered spatula, you can simply "paint" flowers on this fun and colorful springtime dessert. A lovely treat for Mother's Day or spring birthdays, this Easy Painted Buttercream Flower Cake is one artistic treat you'll be proud to show off!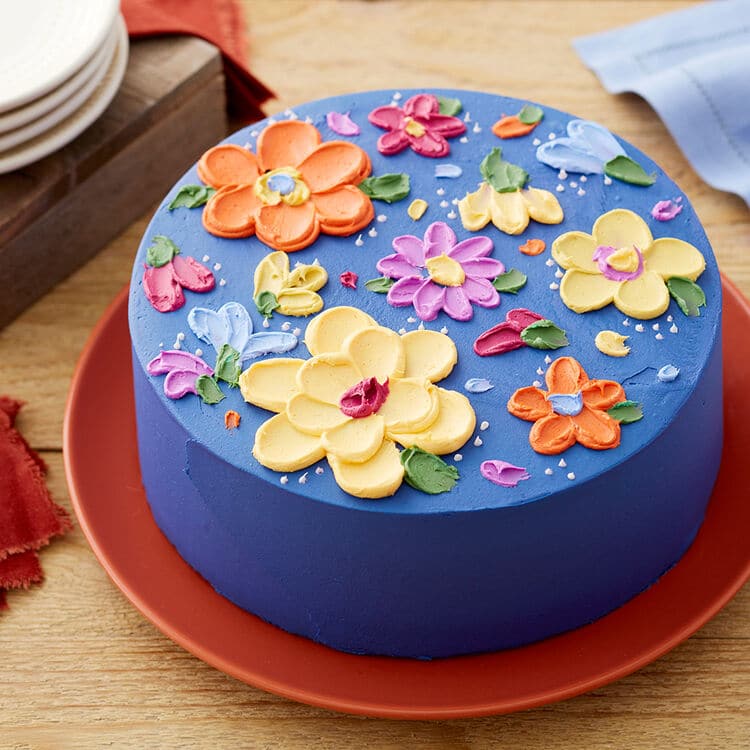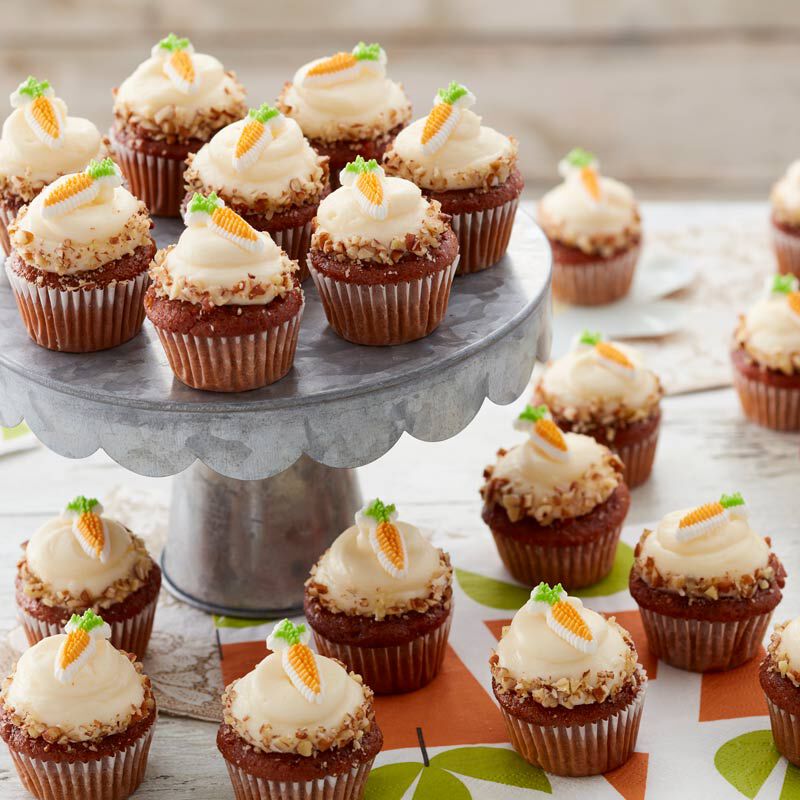 38. Mini Carrot Cake Cupcakes
Enjoy a mini cupcake (or two!) with these Mini Carrot Cake Cupcakes. Made using your favorite carrot cake recipe and our tasty homemade cream cheese frosting, these mini cupcakes are topped with crushed pecans and candy carrots for added crunch!
39. Easter Bunny Cupcakes
These adorable candy bunnies sit atop pastel buttercream nests for a cute and colorful Easter dessert that's sure to please. While we used a chocolate cake recipe for our cupcakes, you could easily do this with your favorite vanilla or coconut cake instead!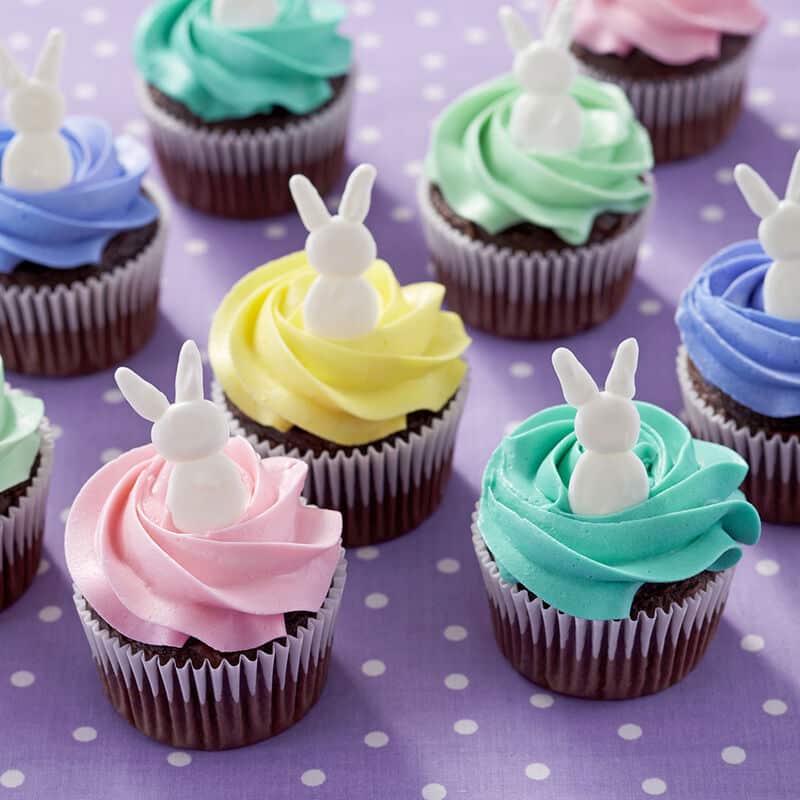 What treats get you in the mood for springtime? Comment below with your ideas or post a picture of your sweet successes on Instagram and tag us @WiltonCakes.