Topped with a spiced streusel and filled with a creamy cream cheese, these pumpkin cream cheese muffins are a delicious way to start your morning. One recipe makes 12 muffins.
Look out pumpkin pie, there's a new favorite fall recipe in town! Made with canned pumpkin puree, pumpkin pie spice, cinnamon and brown sugar, these amazing pumpkin muffins are not to be missed.
Each muffin is topped with a buttery streusel topping and filled with a cream cheese filling, perfect for breakfast, brunch or even dessert!
Best of all, no need to get out the stand mixer. This recipe is almost completely made by hand, which is essential for quick breads and muffins.
Mixing your batter by hand prevents too much gluten from developing, keeping your muffins nice and soft.
Pumpkin puree vs. pumpkin pie filling
They may look similar, but pumpkin puree and pumpkin pie filling serve very different purposes. Pumpkin puree is just plain, roasted pumpkin.
Pumpkin pie filling often has added spices and sugars and is designed to be used as a pie filling (like fruit-based pie fillings).
Though they both contain pumpkin, pumpkin pi filling is much sweeter and will alter the taste of these muffins. Be sure you're using plain pumpkin puree in this recipe.
These pumpkin muffins involve three separate steps: the filling, the streusel topping and the batter.
For the filling, you'll need:
4 oz. cream cheese, softened
½ cup confectioners' sugar
½ teaspoon vanilla extract
If you're not a big fan of cream cheese, you can certainly omit the filling from the recipe (but it does take these muffins over the top!).
The streusel topping also adds great flavor and texture to your muffin. After all, the muffin top is the best part, right? For the streusel, you'll need:
¼ cup firmly packed light brown sugar
¼ cup all-purpose flour
¾ teaspoon ground cinnamon
2 tablespoons cold butter, cut into pieces
The batter for this muffin includes pumpkin puree for that extra flavor and color. Remember, make sure to get canned pumpkin, not pumpkin pie filling.
1½ cups all-purpose flour
1¼ teaspoons baking powder
1 teaspoon pumpkin pie spice
½ teaspoon ground cinnamon
½ teaspoon baking soda
½ teaspoon salt
1 ¼ cups canned pumpkin puree
1/3 cup vegetable oil
½ cup granulated sugar
½ cup firmly packed light brown sugar
2 eggs
How to make cream cheese filling
For the muffin filling, use a whisk (or a hand mixer at medium speed) to combine the softened cream cheese, confectioners' sugar and vanilla in a medium bowl. Set cream cheese mixture aside.
How to soften cream cheese
Cream cheese can be softened on the counter or in the microwave. For quick softening, place unwrapped cream cheese on a microwave-safe plate. Microwave it for 15 to 20 seconds.
You can also let your cream cheese sit on the counter for about 1 hour. Cutting it into smaller cubes and letting it sit at room temperature will help quicken the time it takes to soften.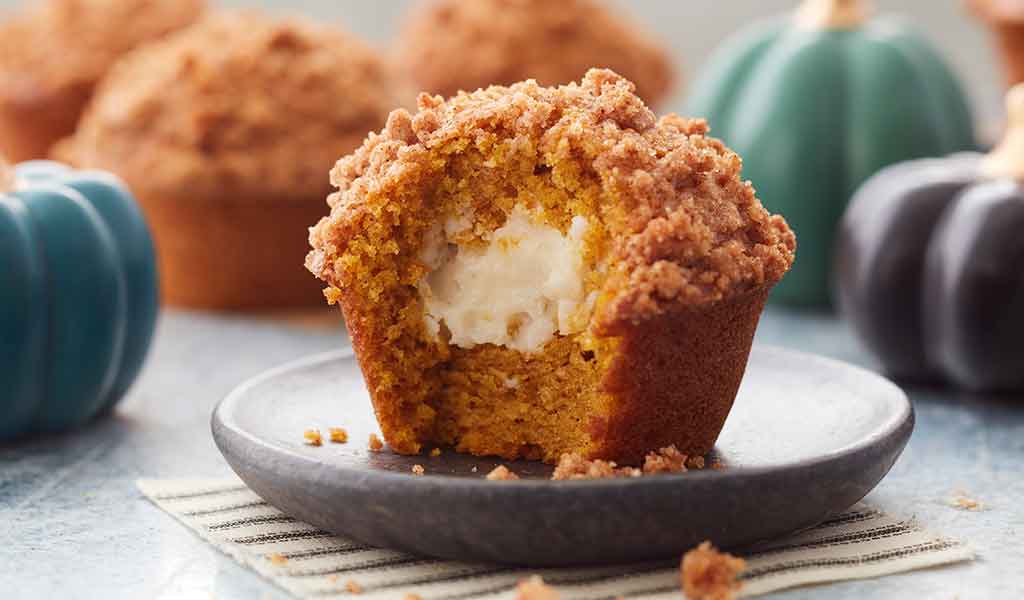 How to make streusel topping
For the crunchy topping, combine the brown sugar, flour and cinnamon in a medium bowl. Using a pastry cutter or a fork, cut the cold butter into the dry ingredients until the butter is crumbly. Set it aside.
How to cut butter
Whether you're using a fork or a pasty cutter, cutting butter is easy! All you need to do is use the cutter to press the butter into the flour mixture until it resembles small crumbs (about the size of a pea).
It's very important that your butter is cold before cutting, as warm butter will melt and ruin the consistency of your topping.
Keep your butter in the fridge until you're ready to use it, or pop it in the freezer for a few minutes to get extra cold.
If your kitchen is warm and you notice your butter is melting, store your streusel topping in the refrigerator until you're ready to use it.
How to make pumpkin muffins
Preheat your oven to 375 degrees F. Prepare a standard muffin pan with nonstick vegetable spray.
In a medium bowl, combine the flour, baking powder, pumpkin pie spice, cinnamon, baking soda and salt. Using a fork or a whisk, mix the dry ingredients until combined.
In a large bowl, whisk together the canned pumpkin, vegetable oil, granulated sugar, brown sugar and eggs until combined.
Carefully add the flour mixture and stir just until combined. You can use a whisk to do this or a spatula to fold everything together.
Divide ½ of the batter among the prepared pan cavities. Spoon about 1 tablespoon cream cheese filling into each cavity. Top with remaining batter.
Finally, top each muffin with the streusel topping.
Baking pumpkin muffins
Bake your muffins for 18 to 22 minutes, or until the muffin springs back when touched. Let them cool in the pan for about 10 minutes before removing to a cooling grid to cool completely.
This recipe yields about 12 muffins, perfect for Sunday brunch with the family!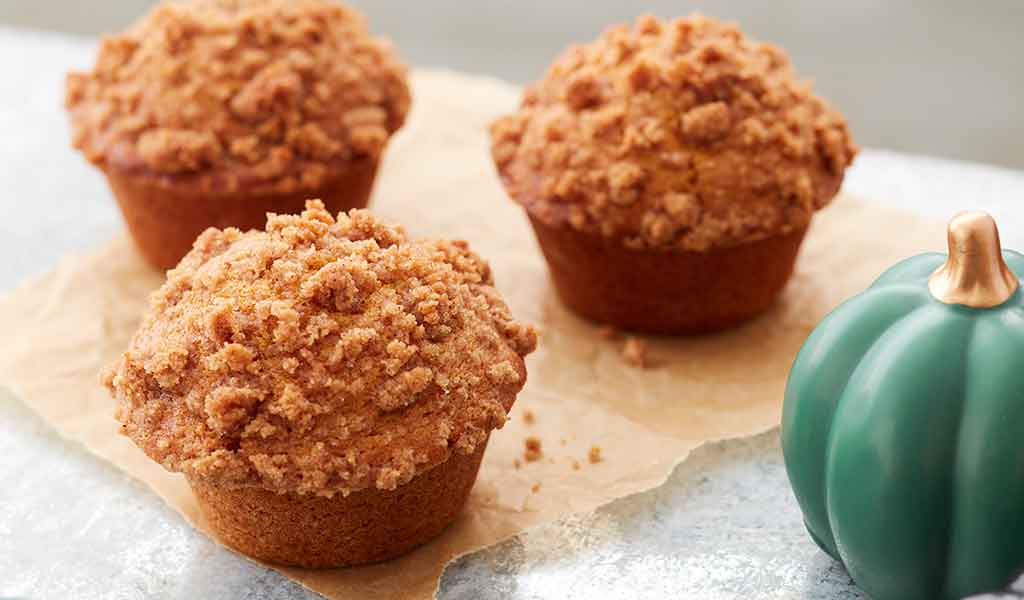 How do you store pumpkin muffins?
These pumpkin muffins can be stored at room temperature for about a week in a sealed container or a resealable plastic bag. When storing, make sure muffins are arranged in a single layer.
Muffin tips and tricks
Add color to your muffins by lining your muffin pan with cupcake liners (great for those of us who hate the clean-up!).
For super soft muffins, avoid overmixing your batter. Use a spatula to mix in the flour until just combined, then divide it into your pan.
To make your muffins nice and fluffy, make sure your leavening agents are fresh and not expired. To test your baking soda, add 1 teaspoon to ¼ cup white vinegar.
If it starts to bubble, the baking soda is okay to use. To test baking powder, add 1 teaspoon to ¼ cup hot water. If it bubbles, it's still fresh!