If you love decorating roll-out cookies or piping flowers, chances are you've used meringue powder to make your icing. Meringue powder is a must for making royal icing, meringue cookies and stabilizing marshmallow or whipped cream frosting.
But how does it work? What's the magic formula for using meringue powder in place of egg whites? Well, let's crack into it!
What is Meringue Powder?
Made mostly of dried egg whites, meringue powder is a baking substitute that you can use instead of raw egg whites. It's used mostly in making meringue, frosting and royal icing.
What Does Meringue Powder Do?
It is designed as a substitute for recipes that call for egg whites beaten to stiff peaks. It's also used to stabilize frostings and other treats to prevent drooping.
How Much Meringue Powder for One Egg White?
Use 2 teaspoons of meringue powder and 2 tablespoons water to substitute 1 egg white.
We suggest not using meringue powder as a baking substitute for eggs in a recipe. If you're making cake batter, brownies, cookies or breads, you're better off using real eggs. Meringue powder is meant as a substitute for eggs that need to be beaten to stiff peaks. Because of this, some of the ingredients in meringue powder may actually prevent baked goods from turning out as planned.
Is Meringue Powder the Same as Cream of Tartar?
Meringue powder and cream of tartar are quite different in terms of composition and functionality. Meringue powder is made mostly of dried egg whites and can be mixed with water to create a meringue.
Cream of tartar is a stabilizer and is sometimes used in making meringue to keep the eggs from collapsing. Some meringue powder already has cream of tartar in it to help in stabilizing meringue.
So you can't use cream of tartar as a substitute for meringue powder, but it can be used to stabilize meringue recipes.
How To Make Royal Icing with Meringue Powder
Perhaps the most famous use for meringue powder is in royal icing. This icing is great for piping flowers, outlining and flooding,and decorating cookies. Royal icing can also be poured or piped and dries hard for easy packing and storing.
Royal icing is made by beating meringue powder with water and powdered sugar. At stiff consistency, royal icing can be used to outline cookies or pipe flowers. Adding more water to royal icing will cause it to thin, making it easy to flood cookies or pour over treats.
How To Make Frosting with Meringue Powder
Meringue powder can also be used to stabilize frostings made with whipped cream. Adding it to your frosting will prevent drooping, which is useful for treats sitting out at room temperature.
Here are a few tasty frosting recipes using meringue powder:
How To Make Meringue Cookies and Topping with Meringue Powder
Not surprisingly, you can also use meringue powder to make meringue cookies and pie topping! Our Basic Meringue Cookie recipe is easy to customize with flavor, color, and size.
Check out these cute meringues for some inspiration!
To make a meringue pie top for pies or cakes, try our Easy Meringue Topping recipe. Use a kitchen torch or your oven broiler to give your meringue topping that beautiful golden-brown finish.
How to Store Meringue Powder
Store your meringue powder in a cool, dry place. While it does contain eggs, it does not require refrigeration.
Does Meringue Powder Expire?
Since meringue powder is a dehydrated product, it has a long, healthy shelf life, and will last you a long time! Most packages have a date stamp that will tell you the best-buy date.
We'd love to see how you're using meringue powder to decorate your cookies! Share a picture of your treats on Instagram and tag us @wiltoncakes. Happy baking (and decorating)!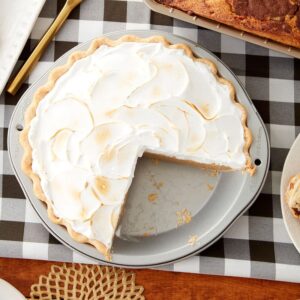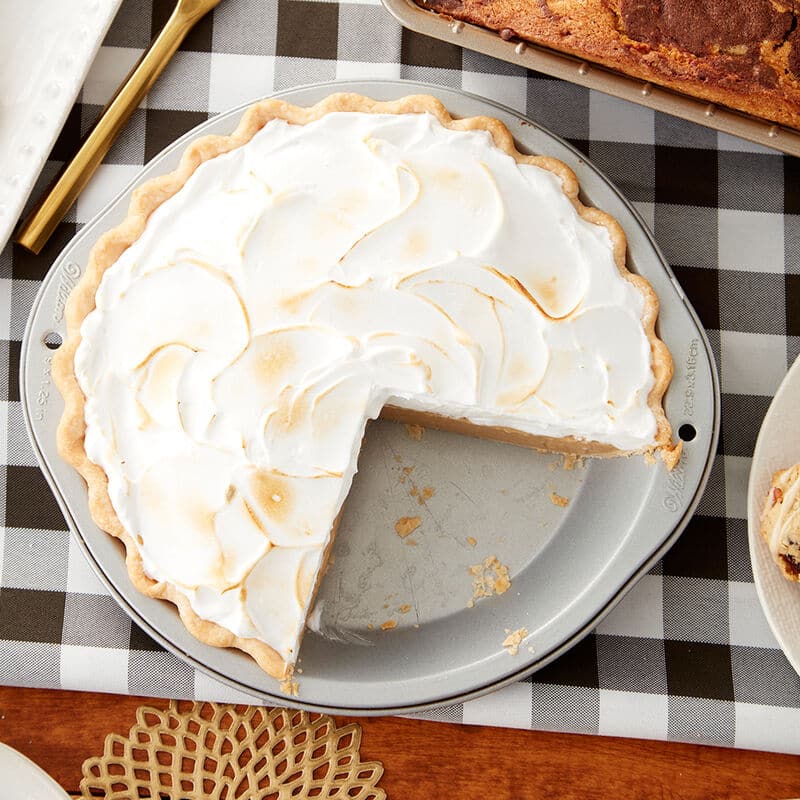 Basic Meringue Recipe
Equipment
Large Bowl

Electric Hand Mixer or Stand Mixer
Instructions
In a large bowl, combine meringue powder, water, vanilla and 3 tablespoons plus 1 teaspoon of the sugar.

Whip at high speed for 5 minutes.

Gradually add the rest of the sugar and whip at high speed for 5 more minutes until meringue is stiff and dry.

Bake and use according to your recipe.
Notes
Meringue powder can be used to replace egg whites in your recipe if egg white is beaten with sugar before adding ingredients.
Tried this recipe?
Take a picture and tag us @WiltonCakes on Instagram