Looking for some clever ways to use up your leftover Halloween candy? We've got you covered! From candy-topped tarts to treat-filled cakes, these leftover Halloween candy recipes are no trick, all treat!
Sweeten any October celebration with these fun Halloween candy ideas. Whether you're hosting a birthday party, a spooky shower or a spooktacular Halloween soiree, these recipes will help you put all those bags of trick-or-treat candy to use.
1. Halloween Candy Ganache Tart
Let the candy do the decorating with this Halloween Candy Ganache Tart. Begin by making a sweet cookie crust, then fill your tart with a gooey ganache made with Dark Cocoa Candy Melts Candy. Finally, top your treat with your favorite chocolates, candies and sprinkles for a fun and festive Halloween dessert.
2. Trick-or-Treat Candy Bucket Cake
Great for kids and beginning decorators, this Trick-or-Treat Candy Bucket Cake is quick, easy and fun to make. Use our shaped jack-o-lantern pan to bake your favorite cake mix or recipe, then use your leftover candy to fill your bucket with sweets. For more color, use fondant to create your own candies and lollipops.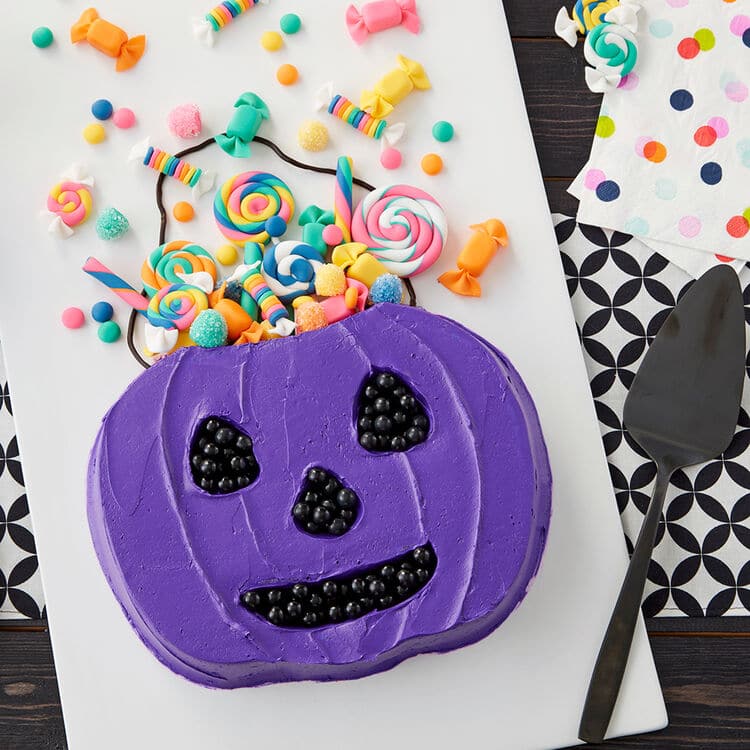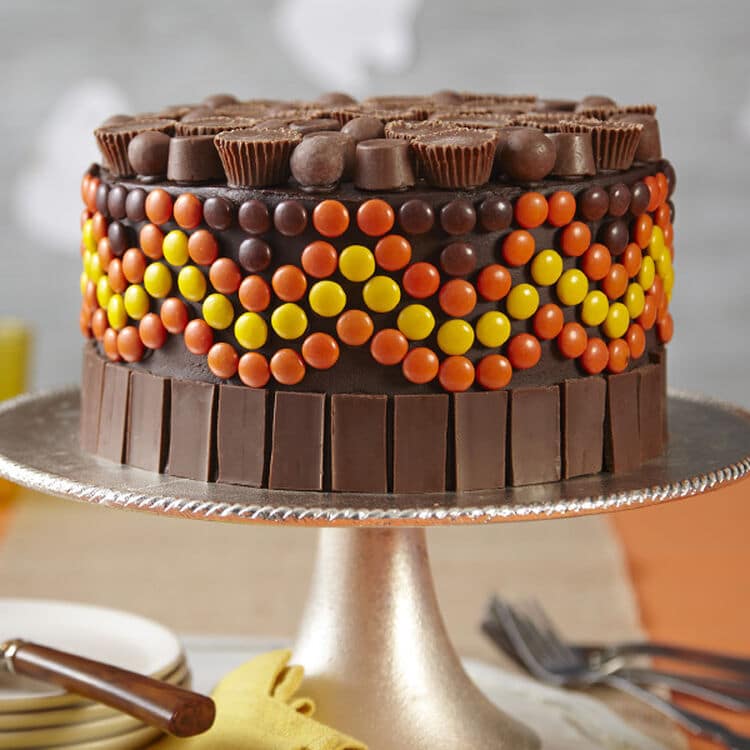 3. Easy Candy Halloween Birthday Cake
Chocoholics are sure to love this one! This Easy Candy Halloween Birthday Cake starts off with two layers of rich chocolate cake, then is stacked and iced with chocolate buttercream. Finally, an assortment of chocolate peanut butter cups, malted milk balls, peanut butter candies and chocolate bars add a fun decoration that's sure to impress.
4. Monster Mouthful Cupcakes
These little monsters won't be able to scream with a mouthful of candy! Fun for kids and families to do together, these easy Halloween cupcakes are decorated using pre-colored icing pouches and candy eyeballs. Give each monster cupcake a little piece of candy to chew on for a fun finishing touch!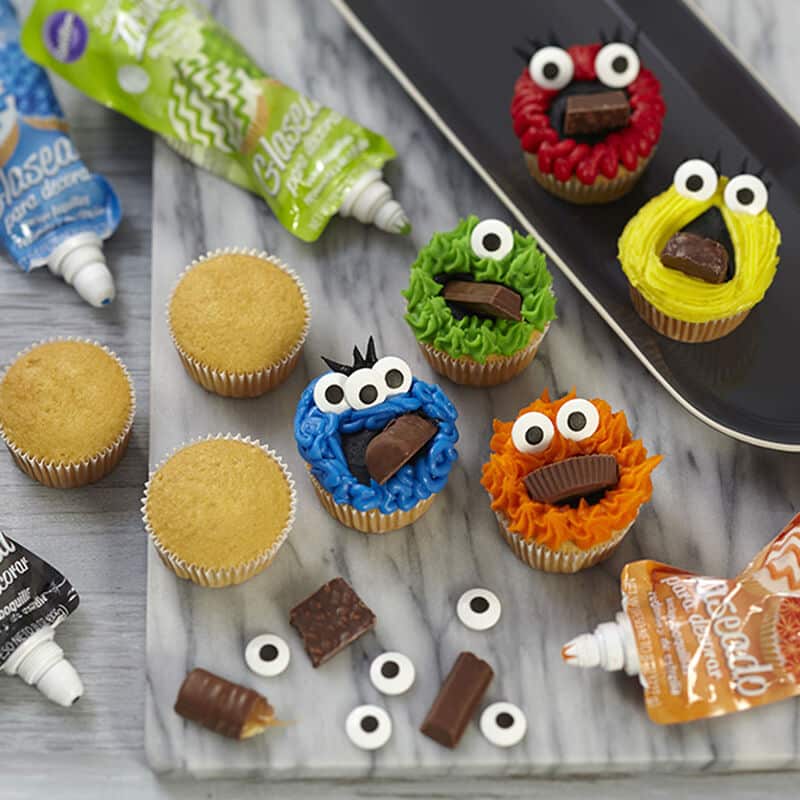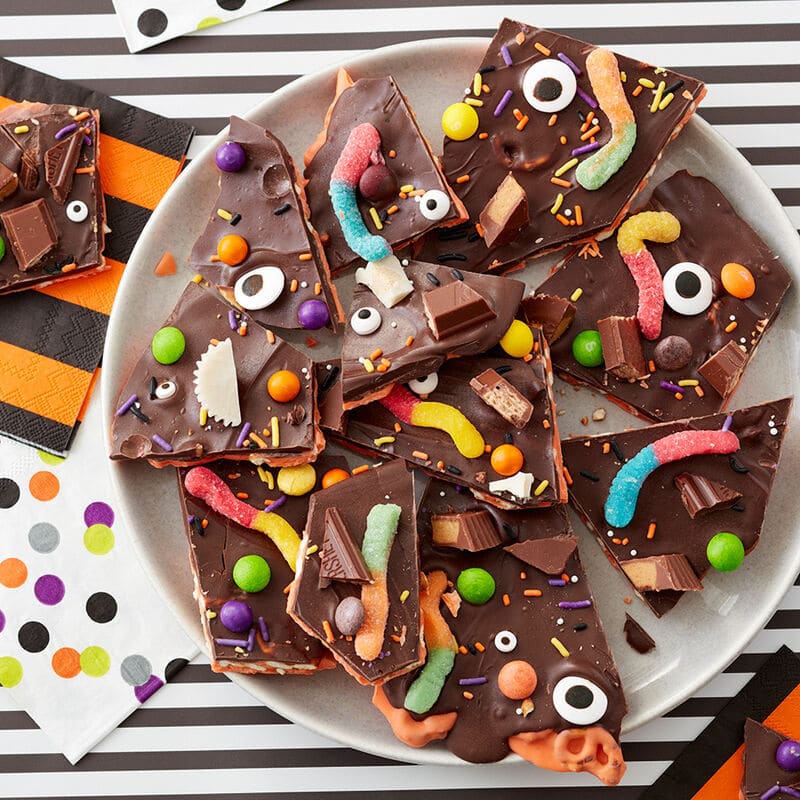 5. Fun Halloween Candy Bark
Give leftover Halloween candy a new life with this Fun Halloween Candy Bark. Great for gifting as a party favor for a Halloween party or handing out to friends and family for trick-or-treating, this fun Halloween candy bark can be decorated with whatever you have on hand. Add a few candy eyeballs and some Halloween sprinkles to top it off.
6. Trick-or-Treat Halloween Cake
This Trick-or-Treat Halloween Cake may look simple on the outside – but cut in and you'll be surprised with a waterfall of fun candies inside! Great for using small gummy and chocolate candies, sprinkles, gum balls, candy corn and more, this pinata cake is the perfect combination of trick and treat!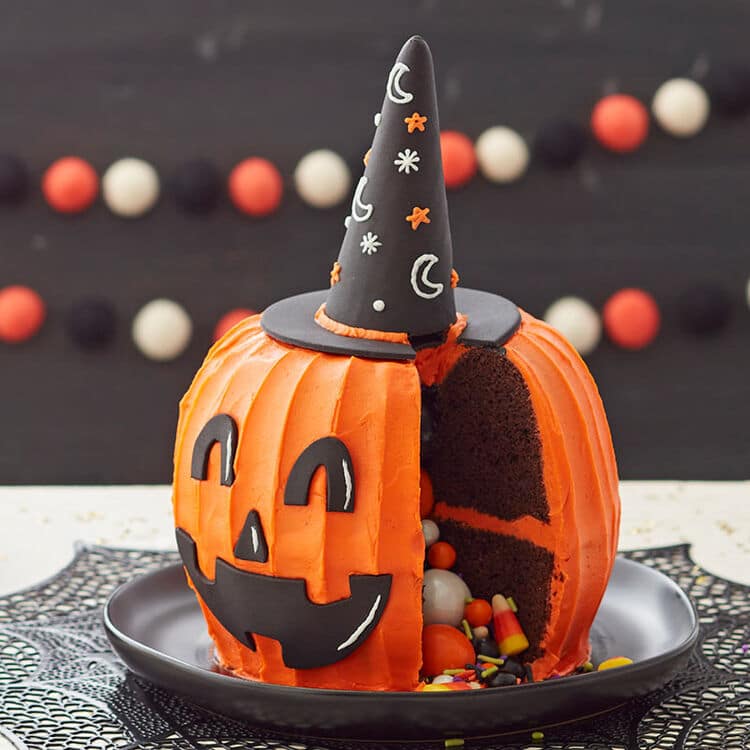 Trick or treat! What's your favorite Halloween candy? Let us know in the comments below!