These Halloween Witch Hat Cookies are the perfect treat to impress Halloween party guest and a fun project to make with the kids. Ghouls and goblins will love customizing these chocolaty cookies just as much as they will enjoy eating thme.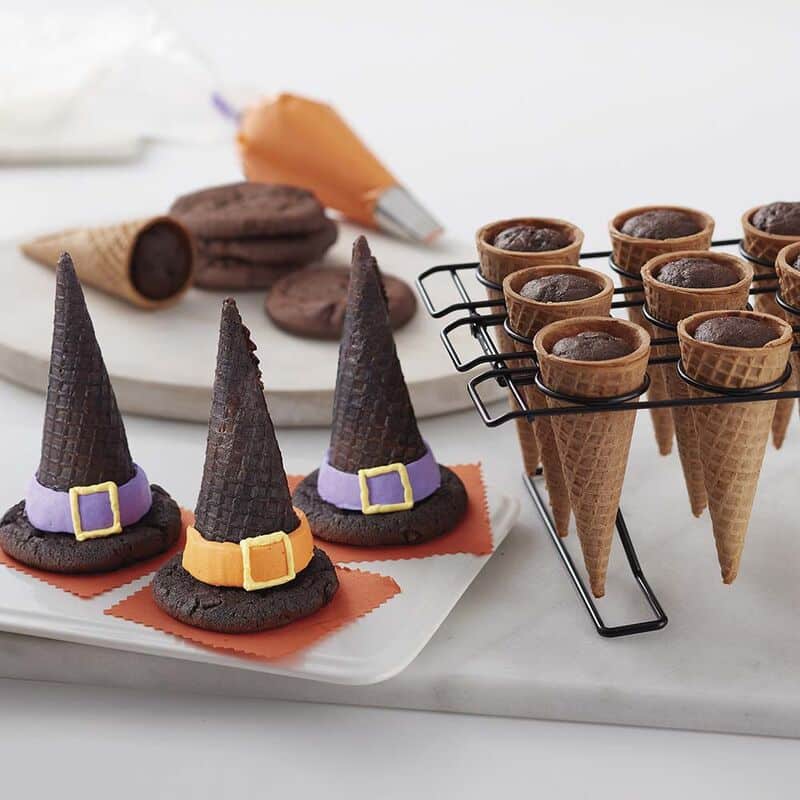 Halloween Witch Hat Cookies
These Halloween Witch Hat Cookies are the perfect treat to impress Halloween party guest. A fun project to do with the kids, these chocolaty cookies are fun to customize and are sure to be a hit with ghouls and goblins.
Equipment
Unbleached Parchment Paper

12-Inch Disposable Decorating Bags, 12-Count

Cupcake Cones Baking Rack

Recipe Right Non-Stick Cookie Sheet

Large Basket weave Decorating Tip 2B

Straight Black Spatula, 9-Inch

Knife
Ingredients
Favorite Cake Mix or Try Wilton's Chocolate Cake Recipe

Store Bought Chocolate Cookies or Try This Recipe from Wilton

Black Color Mist Food Coloring Spray

Rose Icing Colors Pink Food Coloring

Violet Icing Color, Gel Food Coloring

Golden Yellow Icing Color

Sugar Cones

Creamy White Decorator Icing, 4 lb. Tub
Instructions
Prepare & bake the cones. Prepare the cake mix following the chosen recipe's instructions. Place the Cupcake Cones Baking Rack on the cookie sheet. Insert the sugar cones into the rack.

Fill the cones with 2 tablespoons of the cake batter. Next, bake and cool the cones following the timing instructions for the recipe you've chosen.

Spray the cones. Trim the risen cake to the top of the cone with a knife, if needed. Place the cones wide side down on some parchment paper . Using Black Color Mist, spray the cones black. Let them dry for about 10 to 15 minutes.

Tint the Icing & Prepare the Bags. Tint 1 cup of creamy white decorator icing orange. Tint 1 cup of creamy white decorator icing purple by combining the violet and rose icing colors.

Prepare two decorating bags with tip 2B. Fill them separately with the orange and purple tinted icing.

At the same time, tint ¼ a cup of creamy white decorator icing yellow by combining the golden yellow and lemon yellow icing colors and place it in a decorator bag with tip 3 attached.

Assemble the witch hats. Using the orange icing, pipe a small amount of icing in the middle of a cookie then place a cone on top of the cookie. Then, with the smooth side of the tip facing out, pipe a band around the wide end of half the cones and smooth with a spatula.

Repeat the same step-by-step process with purple icing on the other half of the cookies and cones. When done, let them set for about 15 to 20 minutes.

Finally, use the bag with the yellow tinted icing with tip 3 attached to pipe a buckle around the band on the hats. Let them set for another 15 to 20 minutes and then enjoy!
Video
Tried this recipe?
Take a picture and tag us @WiltonCakes on Instagram