These ideas and recipes will help highlight some of the best uses for store-bought and frozen dough, as well as how to properly defrost and handle it.
When it comes to making homemade bread, pizza, cookies and appetizers, one of the best hacks I've learned is to use pre-made dough. It's easy to store in my freezer and is often already measured, sized and ready to use. I can customize it with my favorite spices and it makes pizza night with the kids all the more fun!
While I still love making homemade doughs when I can, using a premade store-bought or frozen dough is a great solution for weeknight meals, quick and easy appetizers and desserts, or for those moments when I don't have time to run out to the store for ingredients. It may not be as tasty as the real deal but, in a pinch, it works just as well!
The Pros and Cons of Using Pre-Made Dough
Perhaps the biggest pro of store-bought dough is that it's super convenient. Many doughs, particularly puff pastry, can be kept in the freezer for several weeks, so there's no need to start from scratch when you need to bake a quick appetizer or dessert.
Many frozen pie crusts are also pre-rolled and sized to fit a 9 in. pie pan (some even come in a pan), so baking dessert is as easy as dropping in your favorite fruit filling and popping it in the oven. Frozen pie crusts are also much sturdier than their homemade counterpart, making them a great option for making cut-outs and designs on your top crust.
Store-bought dough is also versatile and is great for experimenting with flavors and recipes. I love using premade pizza dough to make cinnamon rolls, and frozen croissant dough can be made savory (with garlic and butter) or sweet (with sugar and cinnamon).
While frozen dough is convenient and easy to use, there's no denying that it may not taste as good as the homemade version. Homemade dough often has more nutrients and an overall better flavor, but with a little seasoning and some TLC, you can fool anyone by using a store-bought dough!
How to Defrost Dough
Many doughs include defrosting instructions on the package, so we recommend following those guidelines when possible. If your dough does not come with instructions, or you're defrosting a homemade dough, place it in the refrigerator to thaw gradually. This could take anywhere from a couple hours to overnight, depending on the dough.
Some doughs, including pie crust and puff pastry, need to be fully defrosted before use. If you try to roll or work either of these doughs before they're fully defrosted, they can tear or break, which may affect the outcome of your recipe.
It's also important to note that, once defrosted, dough does not re-freeze well in its raw state. You're much better off using it all at once, then freezing any baked goods you're not ready to eat.
Premade Dough Recipes
Check out these recipes for using frozen pie crust, premade pizza dough, refrigerated cookie dough and more!
Finally, if you're looking for a few ways to use up pie dough, check out this post on Pastry Dough Snacks!
 What are some of your favorite ways to use store-bought dough? Let me know in the comments below!​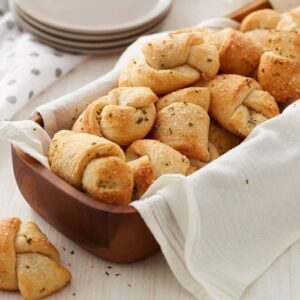 10 Ways to Use Store Bought and Frozen Dough
These ideas and recipes will help highlight some of the best uses for store-bought and frozen dough, as well as how to properly defrost and handle it.
Tried this recipe?
Take a picture and tag us @WiltonCakes on Instagram