Diwali, also known as Deepavali, is celebrated across the globe by Hindus, Jains, Sikhs and some Buddhists. The festival marks different events across each of the faiths, but a common theme for all is a celebration of light over dark and of knowledge over ignorance. As such, Diwali is often referred to as the Festival of Lights and a key part of the celebration includes the lighting of diyas, small clay lamps, to illuminate and decorate homes and, most importantly, to symbolize the bright inner light which shines within us all.
Origin of Diwali
As part of the Hindu tradition, Diwali marks the joyous return of King Ram to his kingdom of Ayodhya after fourteen years in exile. In celebration, the people of Ayodhya illuminated the streets with many diyas, ensuring that there would be a brightly lit path to follow home, and so, the lighting of diyas during Diwali today recalls that event.  However, it's important to note that the traditional celebrations of Diwali and many other holidays observed throughout India vary from region to region, reflecting the rich diversity of culture and religions in the country.
In the Jain tradition, Diwali marks the day that Lord Mahavir attained nirvana and the lighting of diyas celebrates the light of spiritual knowledge.  Within the Sikh faith, this day is called Bandhi Chor Divas and celebrates the freeing of Guru Hargobindhji, the Sixth Sikh Guru, from imprisonment and his return to Amritsar, during which the people of the city lit up the town with diyas.  Within some sections of Buddhist tradition, particularly in Nepal, the occasion of Diwali commemorates the great Emperor Ashoka's decision to adopt the path of Buddhism as his way toward spiritual progress and is celebrated with the lighting of diyas and decorating of temples and monasteries.
Diwali is Celebrated as a Five-Day Festival
1. Dhanteras
On this day, the focus is on home and hearth as families prepare for the festivities and the coming new year by cleaning their houses and shopping for traditional items meant to bring good fortune, such as gold coins/jewelry or items for the kitchen.
2. Naraka Chaturdashi or Choti Diwali
On this day, in the Hindu tradition, the victory of Lord Krishna is celebrated, especially in observances in South India.  Homes are decorated with intricate traditional floor designs called rangoli which are skillfully made by hand with colored powder, flowers, and brightly lit diyas.  Families also offer prayers for their ancestors on this day, asking for continued spiritual progress for their souls. 
3. Diwali – Lakshmi Puja
Prayers are offered to Goddess Lakshmi to bring prosperity for all in the coming year.  Diwali day is full of celebration, with everyone enjoying many different types of sweets, performing charitable acts such as donating food and clothing, and lighting up the night sky with fireworks.
4. Govardhan Puja – Annakut
Today marks the first day of the New Year in the Hindu lunar calendar and as such, merchants start with fresh new account books, while families and friends visit each other, exchanging gifts and best wishes for health and prosperity.  Another of Lord Krishna's victories is also celebrated and in temples, elaborately decorated feast-like offerings of food and sweets are displayed and then distributed as a form of blessings for all.
5. Bhai Dooj/Bhai Bij
On this day there is a celebration of siblings, with brothers visiting their sisters,  prayers being offered for each other's well-being, and gifts being exchanged.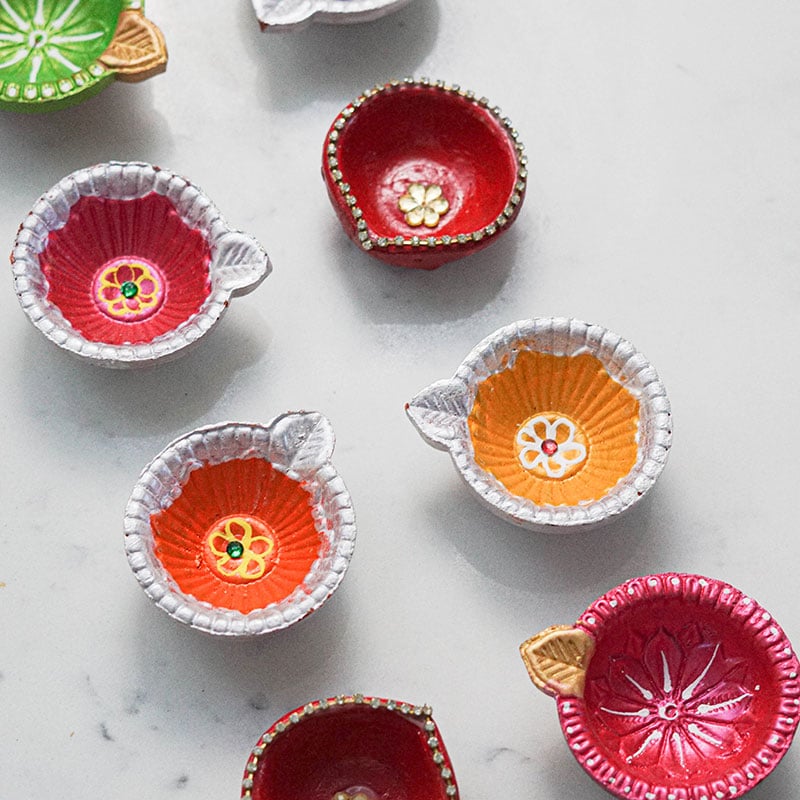 Diwali Decor
The lighting of diyas is an integral part of Diwali, common to all Diwali celebrations and customs.  Diyas are small lamps made of clay, which are filled with oil and hold a cotton wick.  Diyas are representative of knowledge and illumination.  Some are simple in appearance, terracotta in color from the natural clay of which they are fashioned, while others are painted in gold, silver, and a rainbow of colors and decorated with intricate designs.  
Other popular decorations include strings of marigolds, lights and rangoli, which are intricate designs made of colored powder.
Diwali Treats
Food is a big part of the celebration as well! It is common to visit family and friends and gift a box of sweets.  Many Indian sweets are milk based, with fragrant and flavorful ingredients such as saffron, cardamom, and rose adding depth and nuts for flavor and crunch.  Some sweets are served in a sweetened milk, some in a sugar syrup, some as a pudding or soft crumbled treat, while others are presented as colorful stacks of bars in different sizes and shapes, called burfi.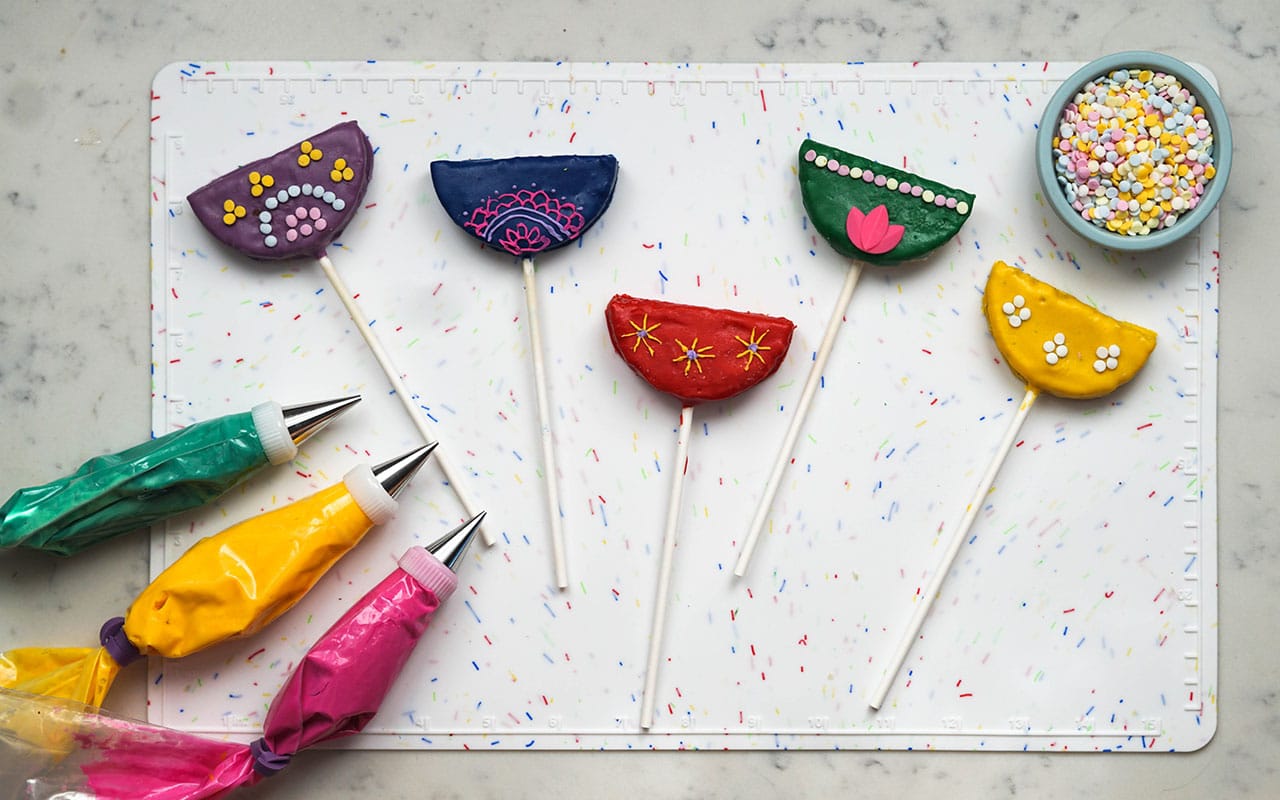 Today's Project: Diwali Diya Pops
Growing up, Diwali and the time leading up to it were always filled with food, fun and family.  We celebrated by inviting family and friends to our home for a Diwali party and some of my fondest memories are of this day.  My sister and I would spend hours decorating the house with so many diyas that when our younger cousins arrived, they would be kept busy for an hour by just going from room to room counting them all, with a special prize for the most accurate count!  There were homemade savory snacks and decorated sweets, along with a huge carafe filled with chai that was kept piping hot and ready to drink all day.  All throughout the house there would be the sound of laughter and happy chatter as everyone gathered to celebrate one of my favorite days of the year!  So for my post today, I wanted to share that warm, happy feeling of celebration with all of you through a simple baking and decorating project that's perfect to bring to a party and share, as well as a fun activity for kids – Diwali Diya Pops!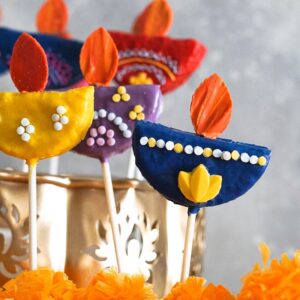 Diwali Diya Cake Pops
Equipment
Circle Cookie Cutter

Knife

Spatula

Leaf-Shaped Fondant Cutter
Instructions
Make cake in a sheet pan per cake box instructions. Let cake cool completely.

Use a circle cookie cutter to cut out shapes from cake. Cut circle cake pieces in half.

Heat Candy Melts candy in melting pot. Dip candy lollipop sticks in melted candy and pierce rounded side of half circles about 1/4 inch. Let dry.

Melt Candy Melts in desired colors with EZ Thin Dipping Aid. Coat cake pops in melted candy. If using sprinkles to decorate, place them on the coated cake pops now. Then let cake pops dry.

Meanwhile, melt orange, yellow and red candy melts to create flames. With a spatula, thinly spread the candy melts on parchment, swirling the colors together. Once dry, use leaf-shaped fondant cutters or a small non-serrated knife to cut out flame shapes. Alternatively, you can use a decorator bag to pipe flame shapes using melted candy melts. Optionally, add some gold sprinkles on the flames to give a glow!

If using frosting, once cake pops have dried, prepare and pipe frosting to decorate. When using decorator frosting, Wilton tip #1 or #2 provides thin, clean lines. 

Top decorated cake pop with flame cut-outs. Either lightly push into the top or dip the bottom of the flame in a bit of melted candy to attach.

Enjoy your diya cake pops and have a Happy Diwali!
Tried this recipe?
Take a picture and tag us @WiltonCakes on Instagram