Get sleepy heads out of bed with this easy baked donut recipe. These baked cake donuts are made in a standard donut pan and don't require frying. The donut batter can also be slightly altered for a variety of flavors.
I love cake donuts for several reasons! First, they're easy to make and only require a few basic ingredients. Secondly, I love how incredibly versatile they are.
This recipe is like a blank canvas for different flavors, glazes and toppings so you can unleash your creativity!
Cake Donuts vs. Fried Donuts
Cake donuts have a different texture than fried ones. They're obviously more "cakey" and have a nice tender crumb that is heavier than a fried donut. Cake donuts are not baked in oil, but in a donut-shaped pan.
It's also much easier to add your own flavors to cake donuts. They're quicker to make and better for beginners, even more reasons to love them!
Ingredients:
 

2 cups cake flour, sifted*

 

¾ cup granulated sugar

 

2 teaspoons baking powder

 

¼ teaspoon ground nutmeg, optional

  

1 teaspoon salt

  

¾ cup buttermilk**

 

2 eggs, lightly beaten

2 tablespoons butter, melted
*If you don't have cake flour, you can use all-purpose flour instead. Measure out 2 cups all-purpose, then remove 1 tablespoon for each cup used.
**If you don't have buttermilk, there are a few substitutions you can use! Try ½ cup sour cream and ¼ cup milk; ¾ cup milk and 2 teaspoons lemon juice or vinegar; or powdered buttermilk reconstituted according to the package directions.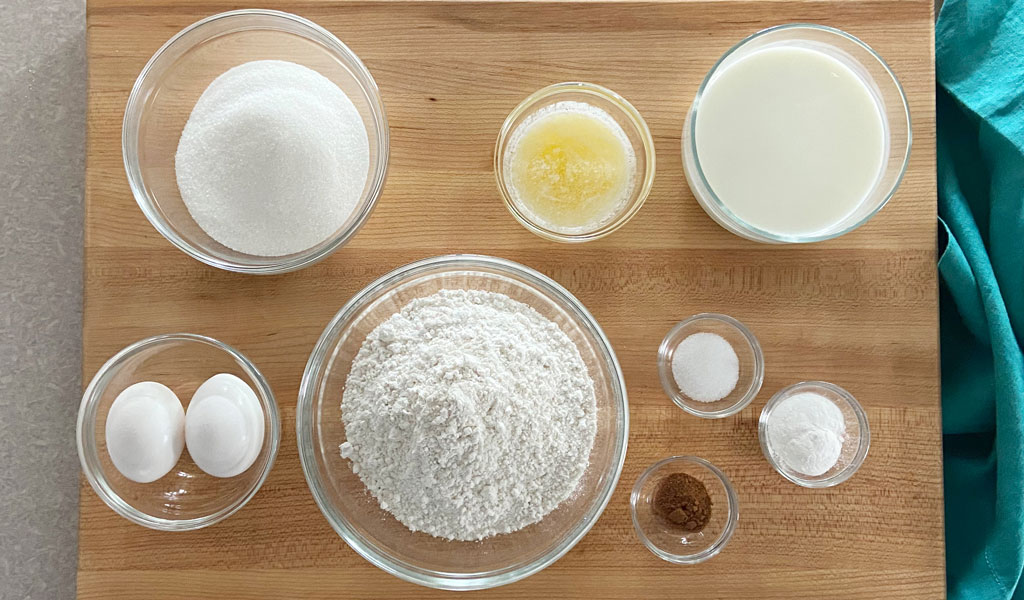 Instructions:
Step 1: Preheat oven to 425° F.
Then spray your donut pan with vegetable spray to prevent donuts from sticking to the pan.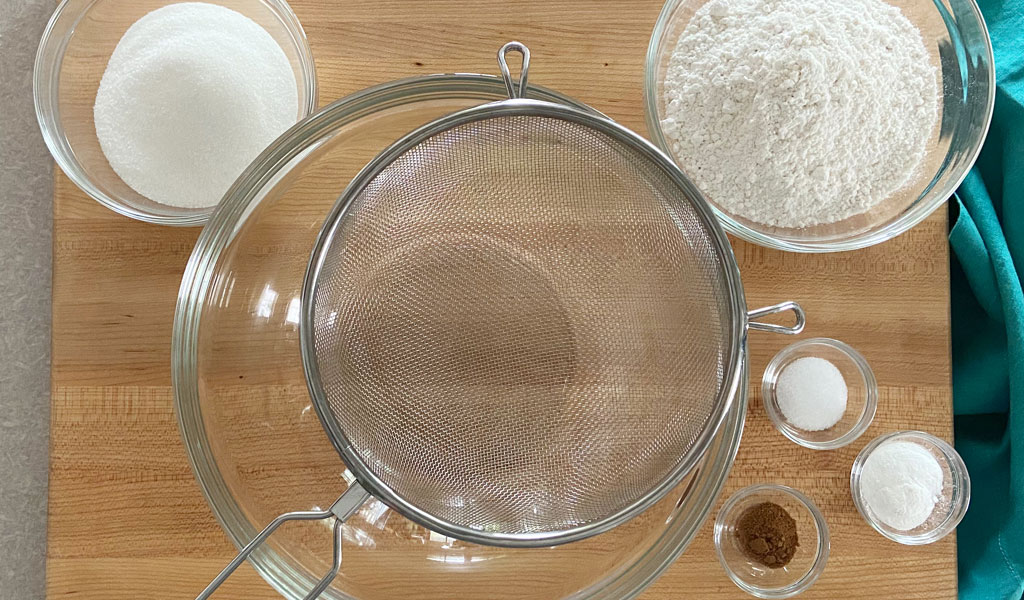 Step 2: Sift dry ingredients together.
In a large bowl, sift together the flour, sugar, baking powder, nutmeg and salt.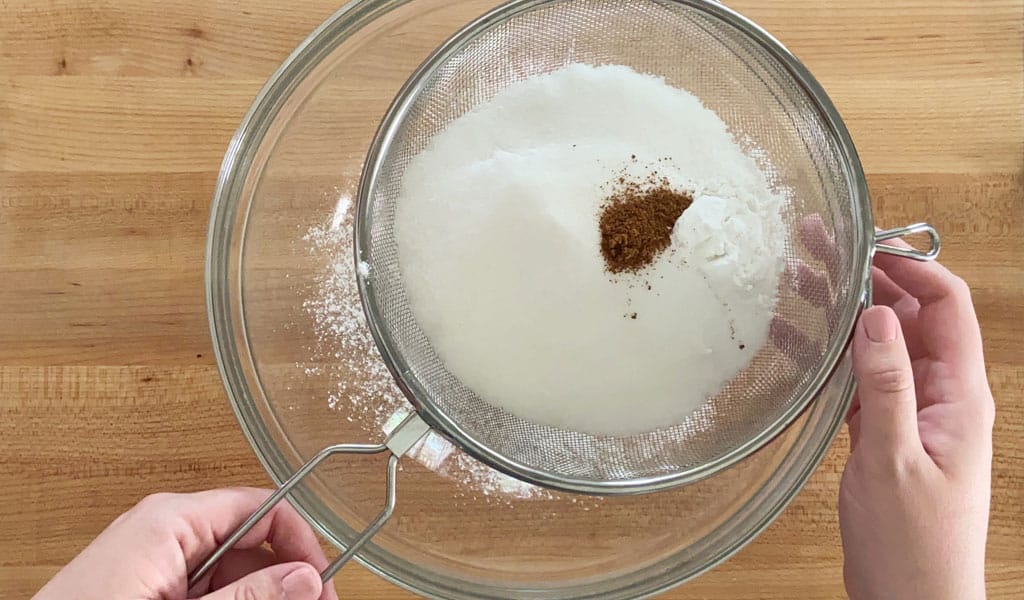 Don't skip this step! Sifting the dry ingredients is necessary for creating a light texture, breaking up clumps and evenly distributing the ingredients together.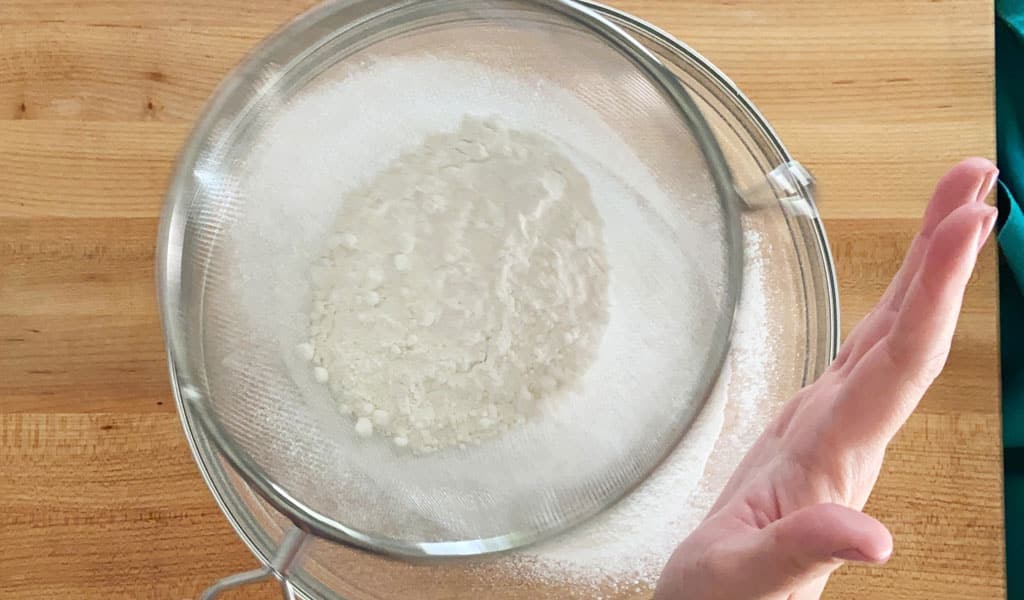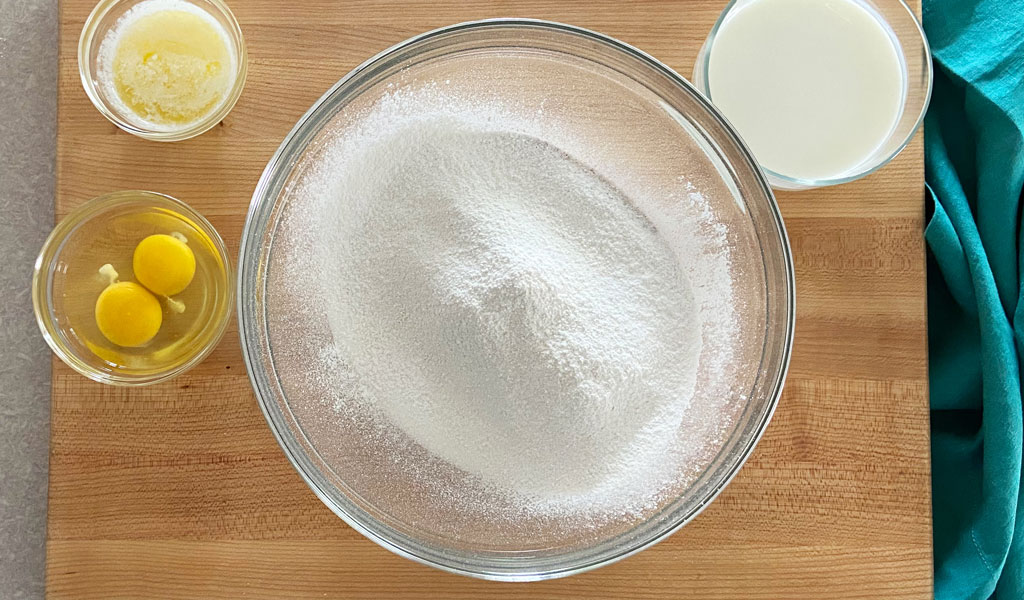 Step 3: Next, add the buttermilk, eggs and butter. 
Beat the mixture until it's just combined. 
You don't want to overbeat or your donuts could become tough and chewy. Buttermilk is important in this recipe because it makes the donuts tender and moist.
The acid in buttermilk acts as a tenderizer and breaks down some of the proteins in flour. This creates a tender, moist donut!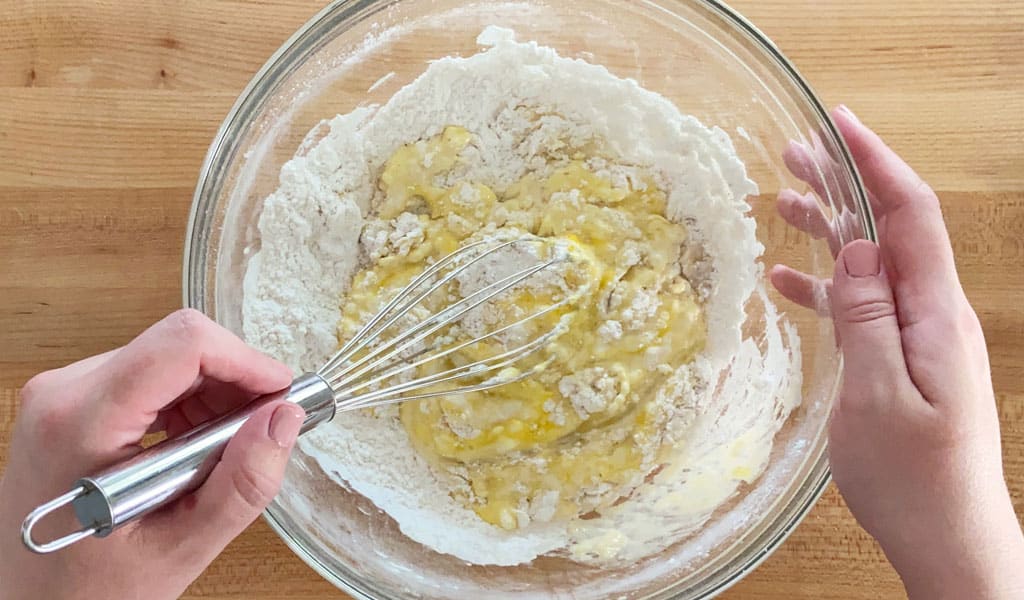 Step 4: Now that the batter is ready, fill each donut cup about 2/3 of the way full.
The easiest and most efficient way to fill the cups is with a piping bag. No need to use a tip, just fill your bag and cut off the end. Gently squeeze the batter into the prepared pan to fill each donut cup 2/3 full.
No piping bags on hand? Gallon size ziploc bags are a great substitute. Fold over the top, fill the bag, and cut off a corner to make your own piping bag!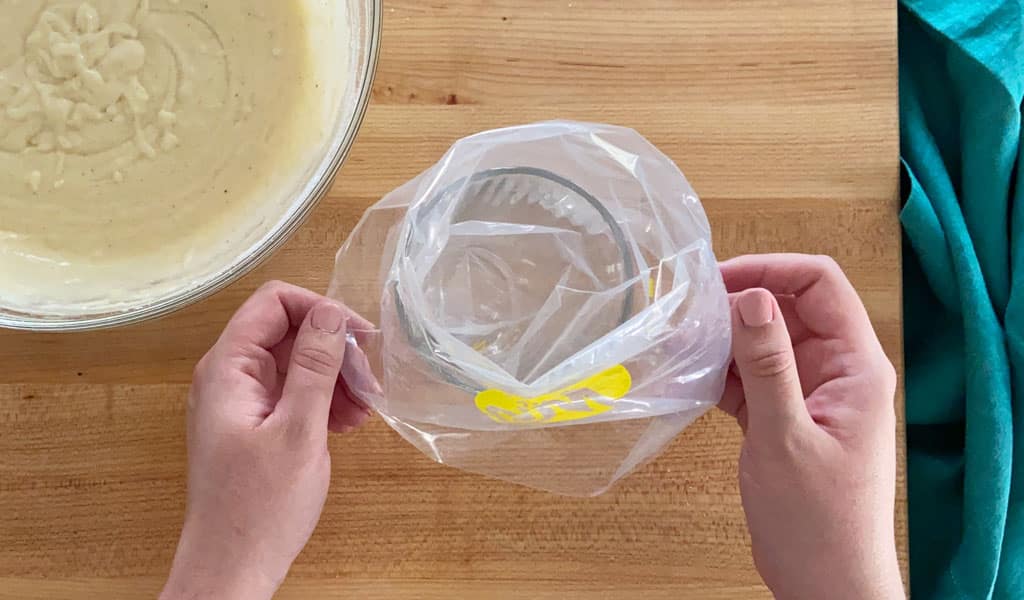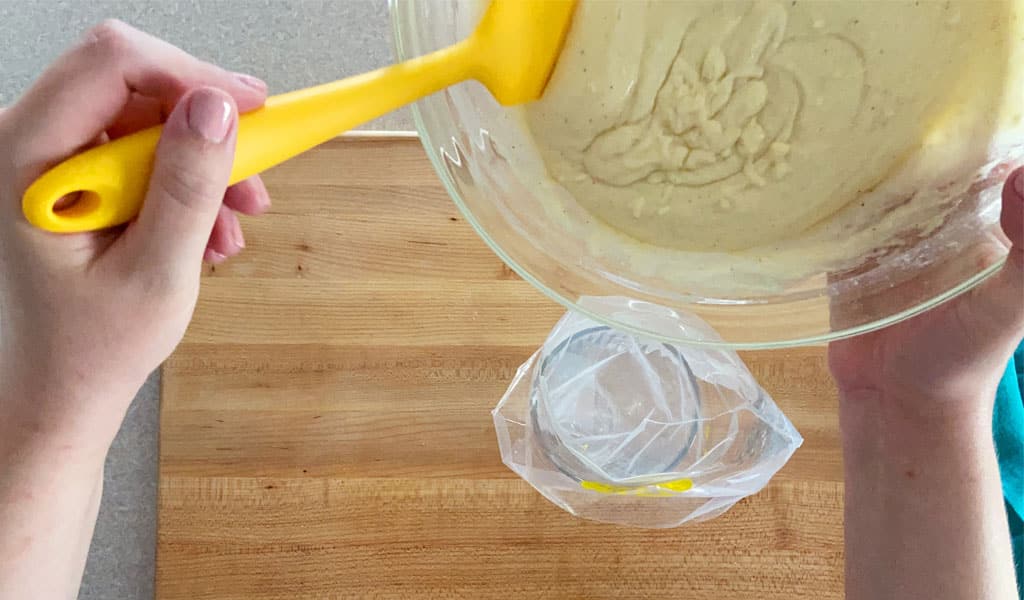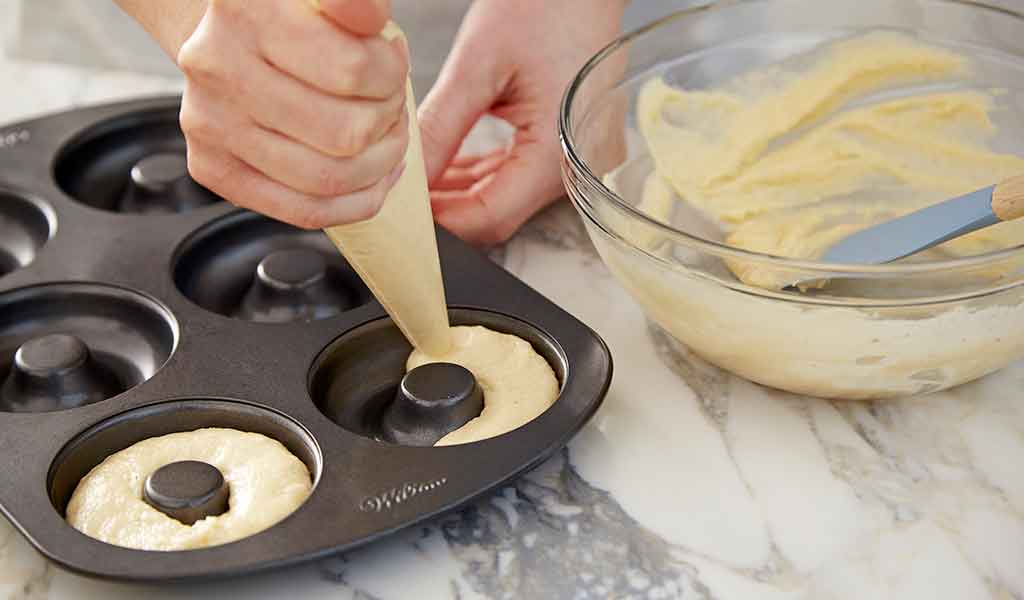 Step 5: Bake your donuts for about 7-9 minutes, or until the tops of the donuts spring back when lightly touched.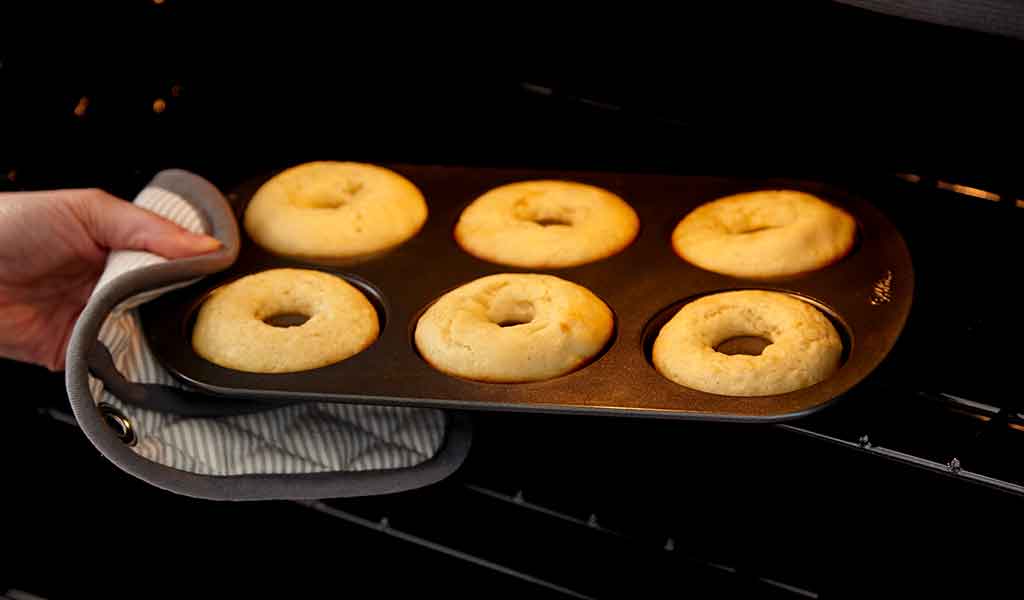 Allow them to cool in the pan 4-5 minutes before removing.
FYI, only the side that is touching the pan will brown, so the bottom will become the top of the donuts.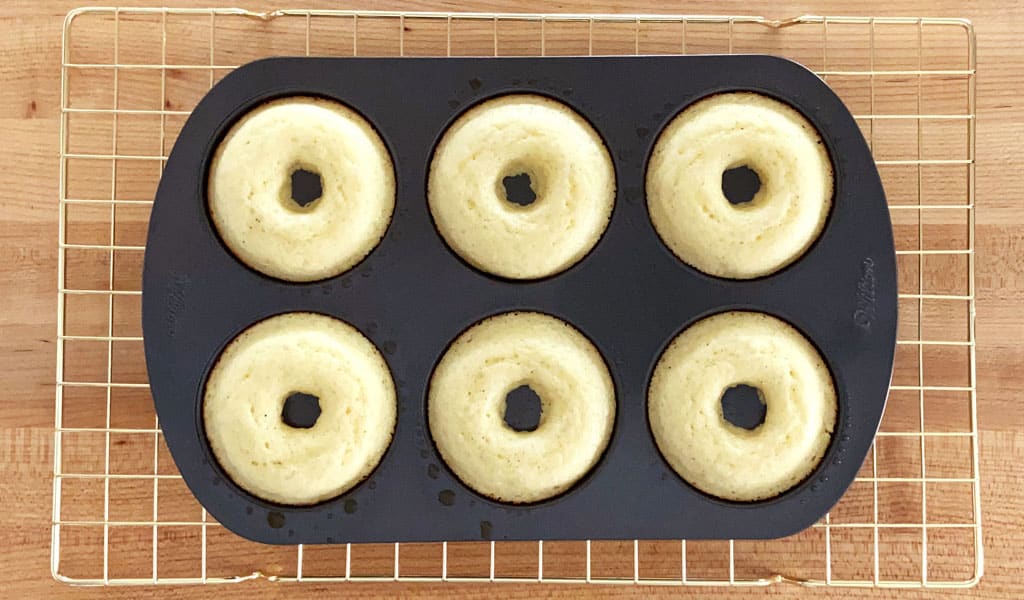 How to Measure Flour
If you want light and soft donuts (who doesn't?), it's super important to measure your flour correctly. If you add too much flour, your donuts could end up dry and dense.
Rather than scooping the flour up with a measuring cup, use a spoon to pour the flour into your cup, then level it off with a spatula or flat edge of a butter knife.
Donut Glazes and Toppings
Now comes the fun part! Customizing your baked donuts with toppings and glazes! You can keep it simple with a chocolate or vanilla glaze. To add a tasty twist to your donuts, dip them confectioners' sugar or cinnamon sugar!
The topping options are endless from sprinkles to nuts, coconut and more. Be sure to add your toppings immediately after glazing to ensure they stick to your donuts before the glaze dries. 
Chocolate Donut Glaze
Ingredients:
½ cup semisweet chocolate chips

2 tablespoons butter or margarine

2 tablespoons corn syrup

1 -2 teaspoons hot water
Instructions:
Step 1: In a medium bowl, melt chocolate chips, butter, and corn syrup in the microwave on 50% power for 1 minute. Stir frequently until completely melted. 
Step 2: Stir in 1 teaspoon of hot water, stirring until the glaze is thick and smooth. 
Add another teaspoon if the glaze is too thick. 
Use immediately to glaze donuts.
Vanilla Donut Glaze
Ingredients:
1 cup confectioners' sugar

1 tablespoon milk

½ teaspoon vanilla extract
Instructions:
In a small bowl, stir together sugar, milk and vanilla extract until sugar is completely dissolved. 
Use immediately to glaze donuts.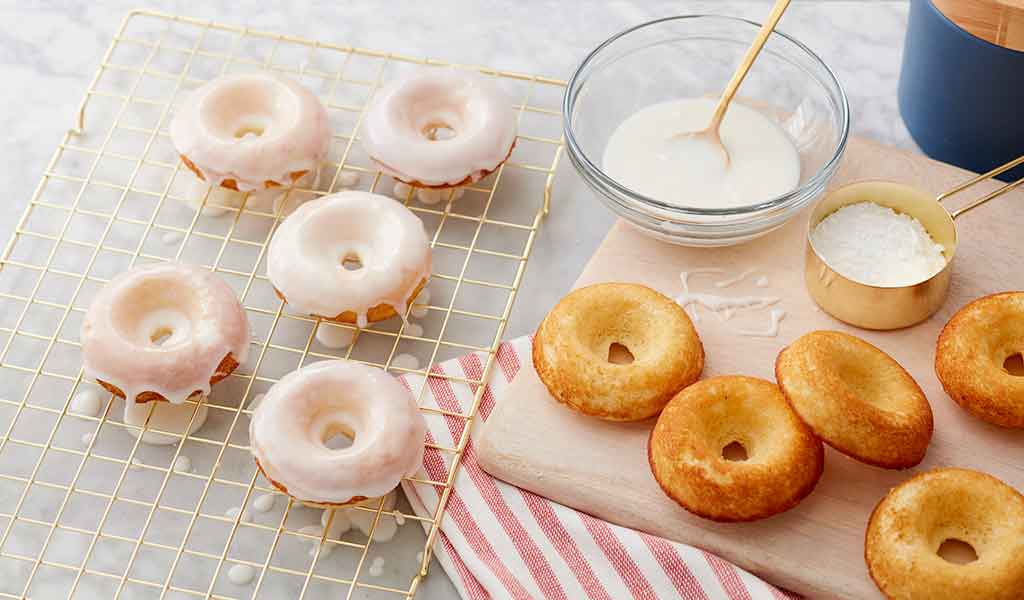 Cinnamon Donut Glaze
Ingredients:
2 cups confectioners' sugar

3 -4 tablespoons milk

1 teaspoon ground cinnamon
Instructions:
In a small bowl, stir together sugar, milk and cinnamon until sugar is completely dissolved. 
Use immediately to glaze donuts.
Cinnamon Sugar Donuts
These are a classic for a reason – they're simply delicious!  To get the sugar mixture to stick, use a little melted butter. Dip the baked donuts in melted butter and then roll in the cinnamon sugar mixture. Super easy!
Ingredients:
5 tablespoons granulated sugar

2 tablespoons ground cinnamon

4 tablespoons butter, melted
Instructions:
Step 1: In a shallow bowl or plate, stir together the sugar and cinnamon.
Step 2: Dip the baked donut in melted butter and roll in the cinnamon sugar mixture to coat.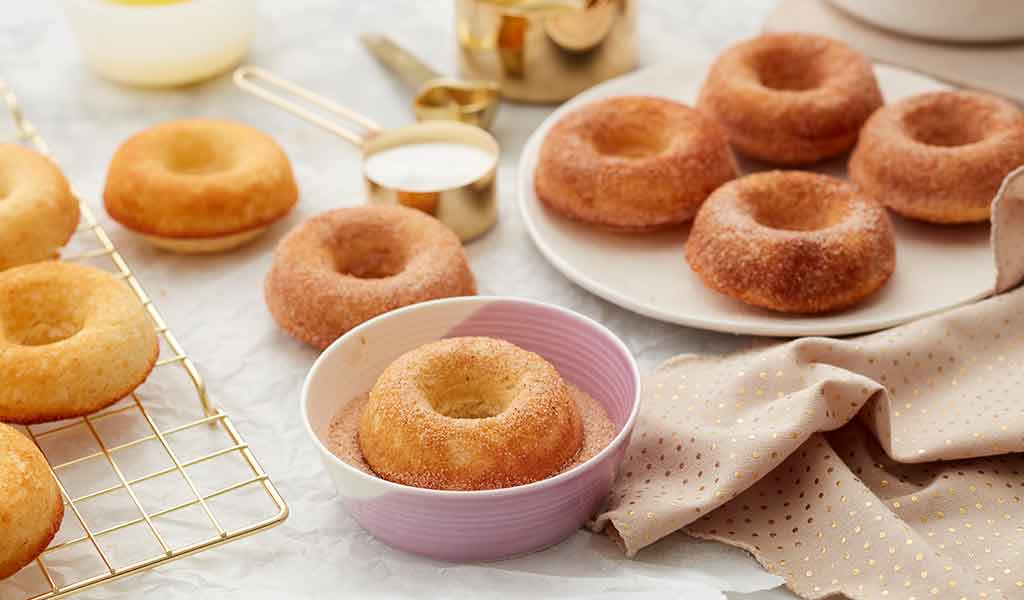 Powdered Sugar Donuts
Powdered sugar donuts are another super easy classic. Put 2/3 cup of powdered sugar in a resealable gallon plastic bag. Add a donut, close the bag, and shake to coat. Repeat with the remaining donuts.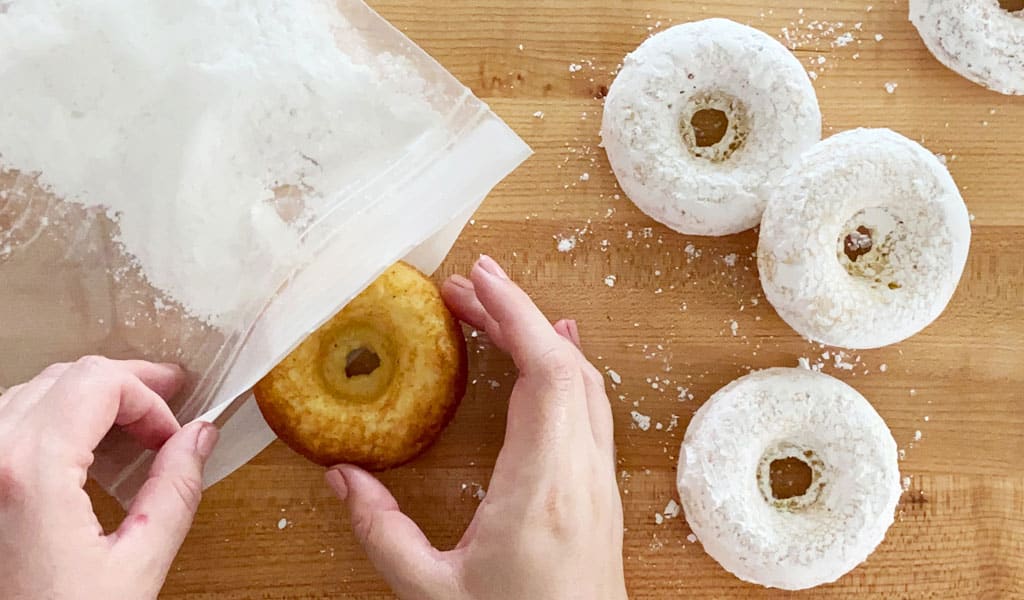 Lemon Donuts
To make lemon donuts, omit the nutmeg from the recipe and add the grated zest of one whole lemon instead. Mix and bake as instructed.
For a fun lemon glaze, try subbing lemon juice for the milk in the vanilla glaze recipe. This would also work just as well with orange!
Did you come up with any fun variations for your donuts? We'd love to hear about your unique creations! Tell us about them in the comments below, or post a picture of your  baked cake donuts on Instagram and tag us @wiltoncakes!.