Treat family and friends to this delicious sweet potato cake, perfect for birthdays, Thanksgiving and everything in between!
Topped with a creamy marshmallow buttercream frosting, this cake explodes with all your favorite fall flavors! One recipe makes about 10 to 12 servings.
Fries aren't the only thing you can make with sweet potatoes! Soft, moist and bursting with flavor, this sweet potato cake is made using fresh sweet potatoes, cinnamon, ginger, nutmeg and clove. It's everything you love about fall!
Similar to the taste of carrot cake, this sweet potato cake is a Southern staple. This cake is sure to become a favorite at any Thanksgiving table. Topped with a creamy marshmallow buttercream frosting, this cake is an autumn treat you'll love to eat!
Sweet potatoes vs. yams
Most grocery stores say yams and sweet potatoes are interchangeable, but real yams are completely different from their sweet potato cousin. A true yam is a starchy root vegetable that is rough and scaly. The outside has dark, bark-like skin and white flesh. Most sweet potatoes, on the other hand, have a soft, orange flesh and a smooth, light brown skin.
True yams can be hard to find in the US. Most potatoes labeled 'yams' in the US are actually sweet potatoes. For this cake, just make sure you're using real, orange sweet potatoes for a sweet and moist cake!
Ingredients:
1½ pounds sweet potatoes (about 2 large potatoes)
2½ cups all-purpose flour
2 teaspoons baking powder
2 teaspoons ground cinnamon
1½ teaspoons baking soda
1 teaspoon salt
¼ teaspoon ground ginger
¼ teaspoon ground nutmeg
¼ teaspoon ground clove
½ cup milk
½ cup sour cream
¾ cup (1½ sticks) butter, softened
1¾ cup granulated sugar
3 eggs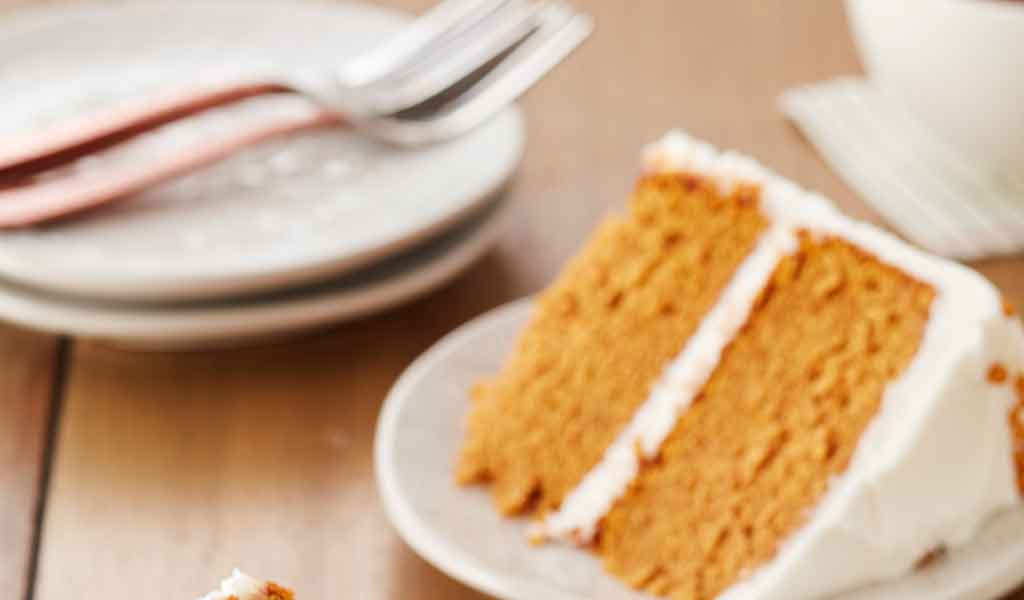 How to bake sweet potatoes
Preheat your oven to 375 degrees F. Using a fork, pierce the sweet potatoes several times on all sides. This allows steam to escape from your potatoes and prevents them from exploding in the oven.
Place the sweet potatoes on a baking sheet and roast them until tender, about 55 to 60 minutes.
Remove sweet potatoes from the oven and let them cool for about 30 minutes, or until you can easily handle them. Remove the skins and puree the roasted sweet potatoes in a food processor until smooth.
If your sweet potatoes are too big for a food processor, cut them into smaller pieces then puree then in batches.
Once all your sweet potatoes have been pureed, measure out 1¾ cups of sweet potato puree and let it cool completely to room temperature. Reserve any remaining puree for another use.
How to store leftover sweet potatoes
You can store your extra sweet potato puree in a plastic bag or an airtight container in the refrigerator. If you don't plan on using it within 5 days, freeze it and use it when you're ready.
How to use leftover sweet potato puree
If you have extra sweet potato puree on hand, you can use it as a substitute for pumpkin puree in your favorite pumpkin recipes. We suggest trying it in muffins, pancakes, pies, scones, or even soups and chili!
Can I bake sweet potatoes in advance?
Yes! Sweet potatoes can be baked up to 24 hours in advance, then refrigerated until ready to use.
Keep in mind that bake times will differ if you're using a different shaped pan. For example, cupcakes will take about half this baking time and a round pan for layer cakes might take even less.
Follow the instructions on your pan for proper bake times and be sure to check your cake with a toothpick for doneness.
Instructions:
Step 1: Reduce your oven temperature to 350 degrees F.
Prepare two 8 in. round pans with nonstick vegetable pan spray.
Step 2: In a medium bowl, combine the flour, baking powder, cinnamon, baking soda, salt, ginger, nutmeg and clove.
Using a fork or a whisk, stir all the dry ingredients together until everything is well combined.
Step 3: In another medium bowl, whisk together the cooled sweet potato puree, milk and sour cream until smooth.
Step 4: Using your electric mixer, beat the butter and sugar together on medium speed until light and fluffy.
Add your eggs, one at a time, beating well after each addition.
Step 5: Alternate adding the flour mixture and the sweet potato mixture to the butter mixture, beginning and ending with the flour.
Don't forget to use a spatula to scrape down the sides of the bowl between additions!
Step 6: Once all the ingredients have been added, continue beating the batter for one more minute, then divide evenly into your prepared pans.
Step 7: Bake cakes for about 45 to 50 minutes, or until a toothpick inserted in the middle comes out clean.
Cool your cakes on a cooling grid for about 10 minutes.
Step 8: Next, remove your cakes from the pan and let them cool completely before decorating.
How to make marshmallow buttercream frosting
This creamy, marshmallow buttercream is the perfect topping to this delicious spiced cake.
Made using sweet marshmallow crème, this frosting is sure to become a new favorite!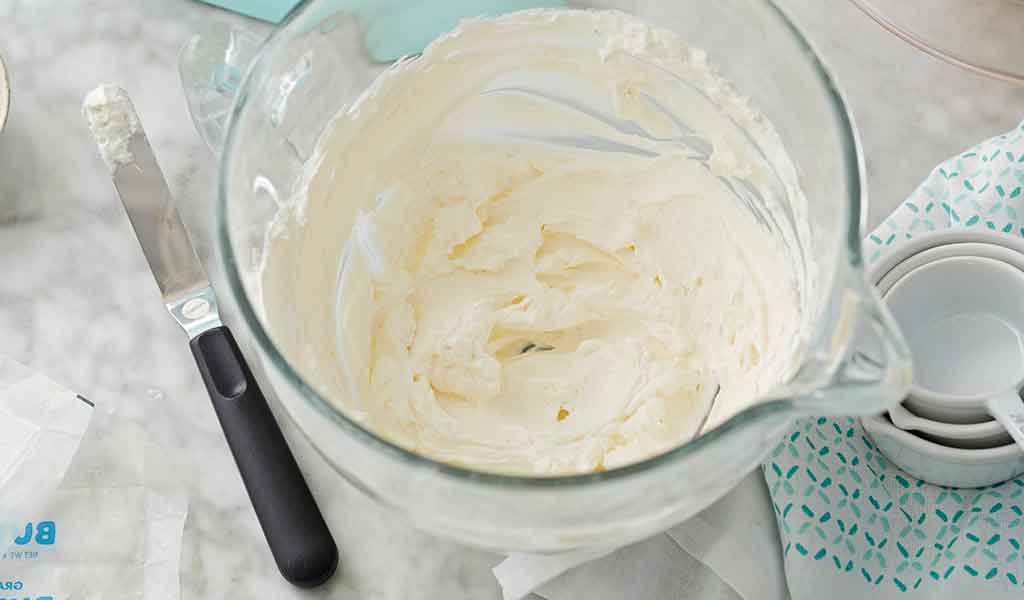 Ingredients:
½ cup (1 stick) butter, softened

½ cup solid vegetable shortening

1 teaspoon vanilla extract

 

½ teaspoon salt

 

4 cups confectioners' sugar

 1½ cups marshmallow crème
Instructions:
Step 1: In a large mixing bowl, beat the butter and shortening together with an electric mixer until light and fluffy, about 1 minute.
Step 2: Add the vanilla extract and salt, then mix until combined.
Step 3: Gradually add the sugar, one cup at a time.
To prevent your sugar from getting all over the kitchen, start mixing on low speed, beating well on medium speed.
Be sure to scrape down the sides of the bowl often to make sure everything is equally incorporated.
Step 4: When all the sugar has been added, your frosting should appear dry.
Step 5: Add the marshmallow crème, beating on medium speed until light and fluffy.
Step 6: Using a spatula (or a bag and tip if you're feeling creative!) fill and decorate your cake as desired.
Have you tried this tasty sweet potato cake recipe? If so, share a picture of it on Instagram, Twitter or Facebook and tag us @wiltoncakes!.