Secure your spot on Santa's nice list with these easy Christmas cookie decorating ideas. Made using our simple roll-out sugar cookie dough recipe, these easy Christmas cookies are sure to make holiday wishes come true!
Roll-Out Christmas Sugar Cookies Recipe
Our roll-out cookie dough recipe is great for making Christmas sugar cookies in all shapes and sizes. With no refrigeration required, this dough is literally ready to roll in no time! Check out our recipe below!
Tips and tricks for making the best Christmas cookies
This recipe will make about 36 (3 inch) cookies. It can easily be doubled if you need more or cut in half if you need less. You can also freeze half of the dough to use at a later time.
One of the best secrets to Santa-approved cookies is making sure your ingredients are all at room temperature, especially the butter. Room temperature butter is much easier to mix and prevents large clumps of butter from showing up in your dough.

Try to cut your cookies as close together as possible to avoid wasting any dough. Dough scraps can be rerolled, but we suggest rerolling only once, as the more you handle it, the more gluten develops…which results in tougher cookies. 

For easy rolling, use our

20 inch fondant roller

with the orange guide rings to roll your dough out to the perfect thickness!

If you're cutting out intricate cookie shapes, roll out your cookie dough on a sheet of parchment paper. Use a cutter to cut your cookie shapes, but then remove the excess dough around the cookies rather than the cookie shape itself. Then transfer the parchment paper to a baking sheet and pop it in the oven!

Do not grease your nonstick pan. This dough has butter in it, which will help your cookies release. Too much nonstick surface could cause your cookies to spread and lose their shape. If you're worried about sticking, bake your cookies on parchment paper or a silicone mat.

Check out our post on

How to Make Sugar Cookies

for even more helpful tips and tricks!
How to freeze cookies
To freeze dough: Wrap it tightly in plastic wrap and place in an airtight container. Stored this way, dough can be frozen for up to 3 months. When ready to use, let it thaw completely in the fridge.
To freeze baked cookies: Layer undecorated cookies in an airtight container or freezer bag with parchment paper between the layers. Freeze for up to 4 months. Let cookies defrost and come to room temperature before decorating.
How to Decorate Christmas Cookies
Now comes the fun part – decorating! Whether you're looking for simple, kid-friendly Christmas cookie ideas or you're aiming to gift cookies to family and friends, decorating sugar cookies for Christmas is sure to be a holly, jolly time if you keep these tips and tricks in mind!
All of these cookies begin with our tasty roll-out cookie dough recipe above, but you can also use these techniques on chocolate roll-out dough, gingerbread or your favorite roll-out cookie dough recipe.
How to Decorate Christmas Cookies
Now comes the fun part – decorating! Whether you're looking for simple, kid-friendly Christmas cookie ideas or you're aiming to gift cookies to family and friends, decorating sugar cookies for Christmas is sure to be a holly, jolly time if you keep these tips and tricks in mind!
All of these cookies begin with our tasty roll-out cookie dough recipe above, but you can also use these techniques on chocolate roll-out dough, gingerbread or your favorite roll-out cookie dough recipe.
Tips and tricks for cookie decorating
Before decorating with royal icing or buttercream, make sure your cookies are at room temperature. If your cookies are still warm, the heat from the cookie can melt the frosting
If you want your cookies to dry hard for easy gifting or packaging, use royal icing. But keep in mind that royal icing takes time to dry, sometimes as long as 24 hours, so plan ahead when you're decorating your cookies.
Use a toothpick to help guide icing into smaller areas of your cookie.
If you're decorating with kids, put their cookies on disposable paper plates to help contain the mess!
Since royal icing has a high water content, it can cause sprinkles, sparkling sugars and nonpareils to bleed. Instead, use sprinkles on the cookies you decorate with buttercream or bottled cookie icing.
For even more helpful tips and tricks, check out our post on How to Decorate Cookies Like a Pro!
What piping tips are used to decorate Christmas cookies?
For outlining or piping facial features (like faces on gingerbread cookies), we suggest round piping tips. Smaller numbers, like 1 through 5, are great for tiny lines and fine details, while larger numbers, like 6 through 10, are good for thicker outlines and flooding.
Small star tips, such as numbers 16 through 21, can be used to pipe stars, rosettes, swirls or hair on a Santa cookie. You can also use petal or leaf tips to decorate Christmas tree and wreath cookies.
You can learn more about round, star, petal and specialty piping tips in our post, Piping Tips 101 – A Guide to Get You Started.
You can write messages on cookies using royal icing and a very thin round tip (tips 1 or 2 work well for this). You can also use edible FoodWriter Markers to color, outline or draw your design on hardened royal icing.
Sugar Cookie Decorating Ideas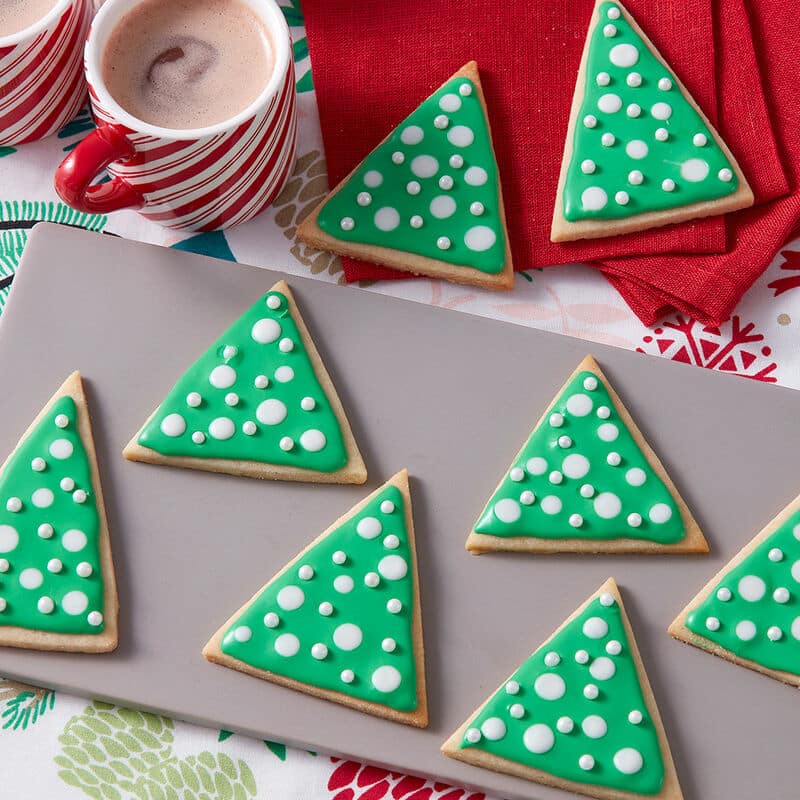 1. A Pop of Christmas Tree Cookies
No cookie cutters needed to make these Pop Art Christmas Cookies. A simple decoration of royal icing and sugar pearls is all you need to make these retro treats!
2. Lush Winter Green Cookies
Bold and vibrant shades make these Lush Winter Green Cookies a lovely addition to your holiday cookie platter.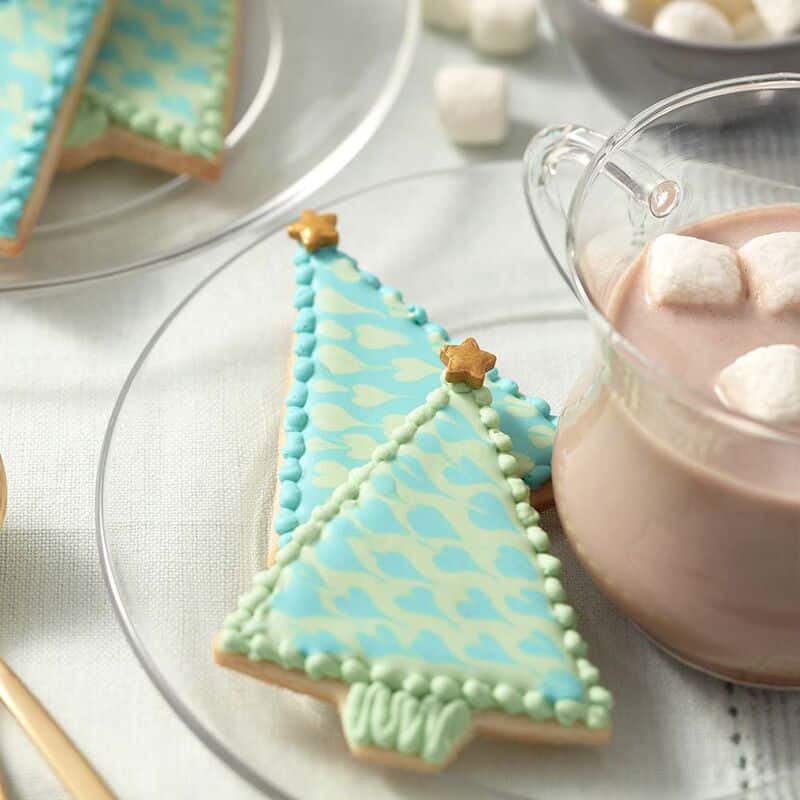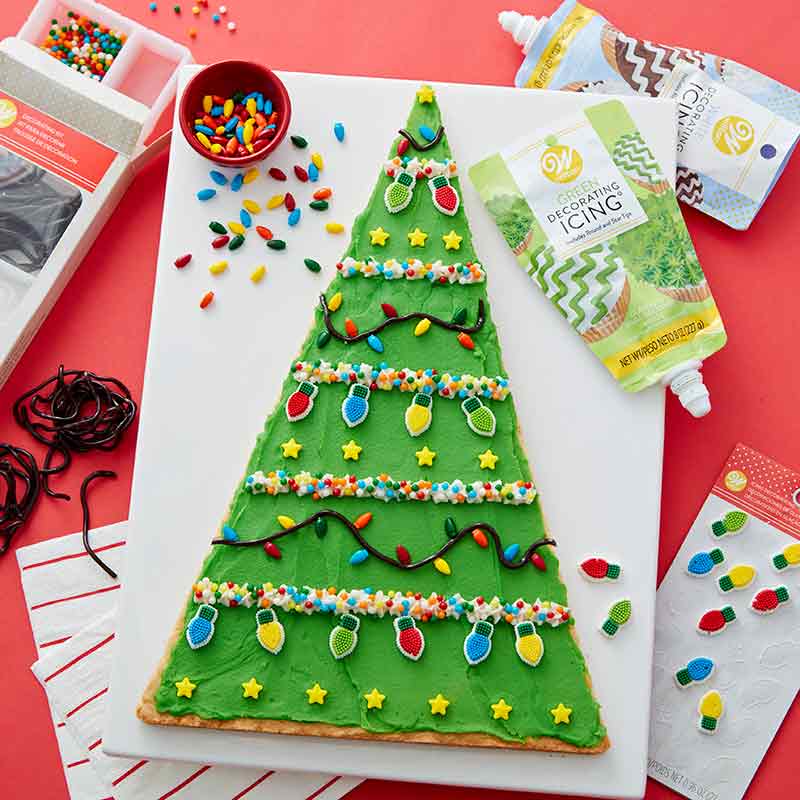 3. Christmas Tree Cookie Cake
This is one tree-mendous cookie! Big enough to serve at a holiday party, this Christmas Tree Cookie Cake is a great project for the whole family to do together.
4. Winter Tree Cookies
Looking for some sugar cookie decorating ideas you can enjoy all winter long? Look no further than these Winter Tree Cookies. Decorated in simplistic patterns and colors, these seasonal treats bring the beauty of winter into your kitchen, no matter what the holiday or celebration.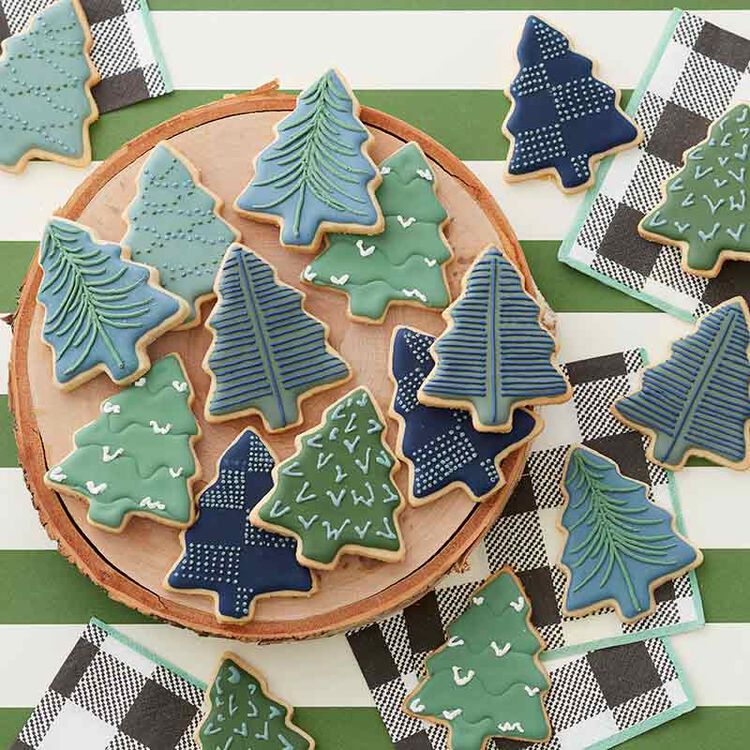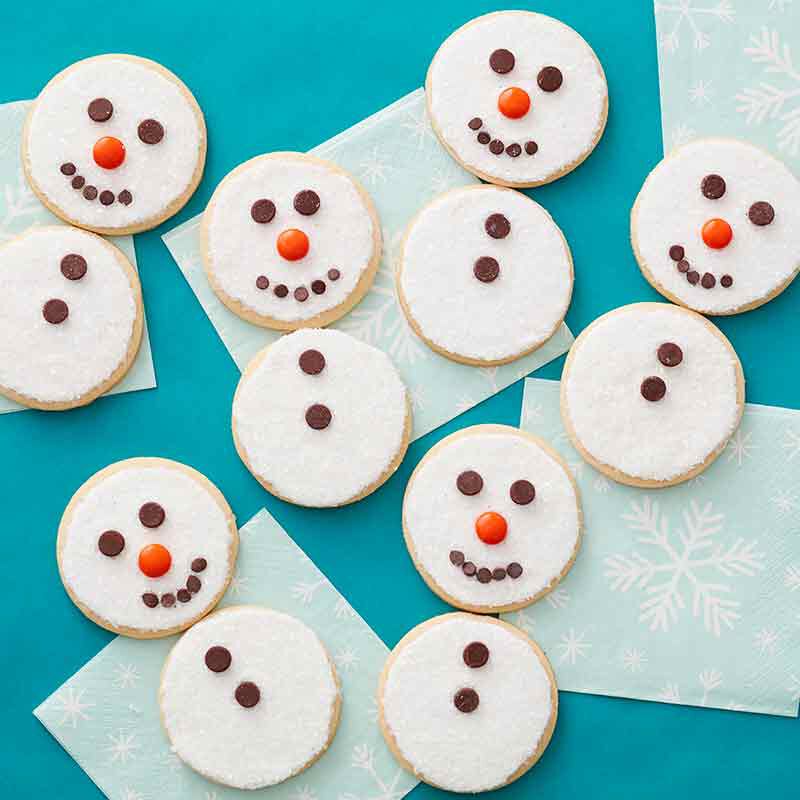 5. Snowman Sugar Cookies
Build a snowman from the comfort of your own kitchen with these Snowmen Sugar Cookies.
6. Melting Snowman Cut-Out Cookies
Almost too cute to eat, these Melting Snowmen Cut-Out Cookies are sure to delight kids and adults alike. Serve them with a cup of hot cocoa for the perfect post-snowman-building treat!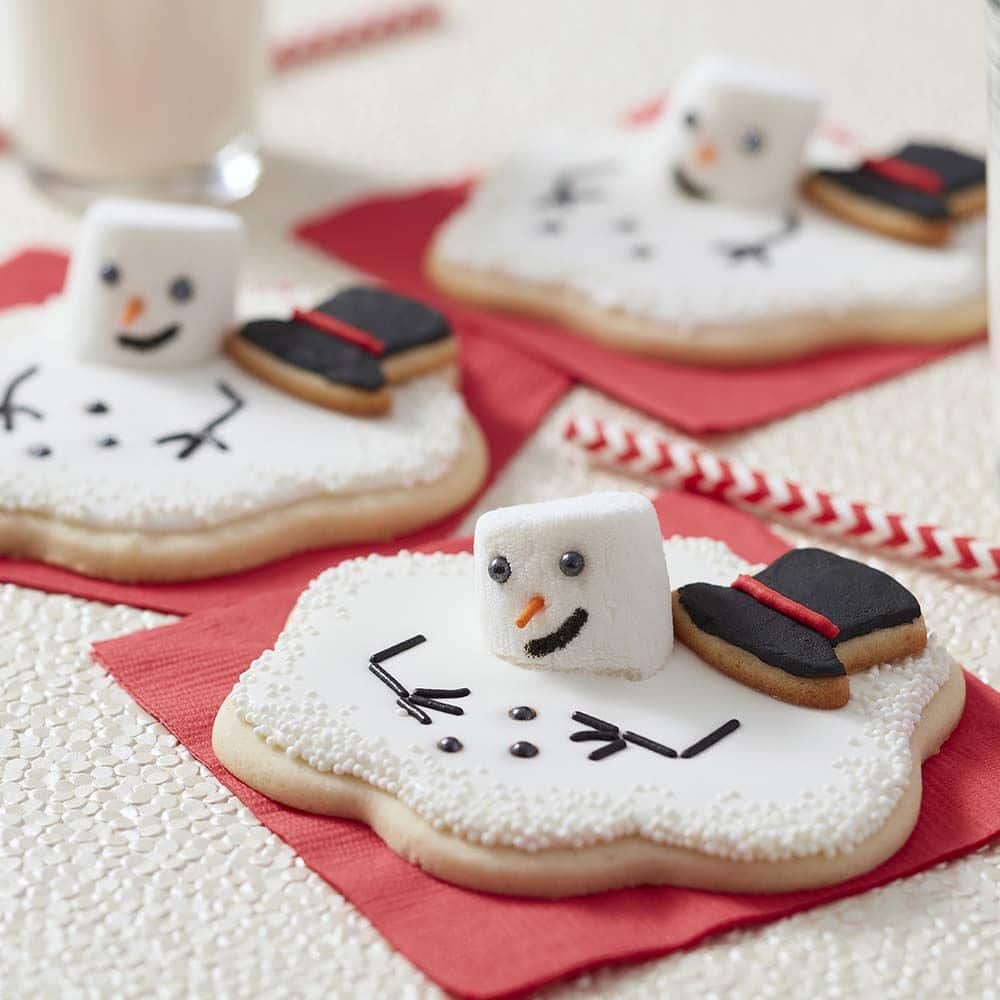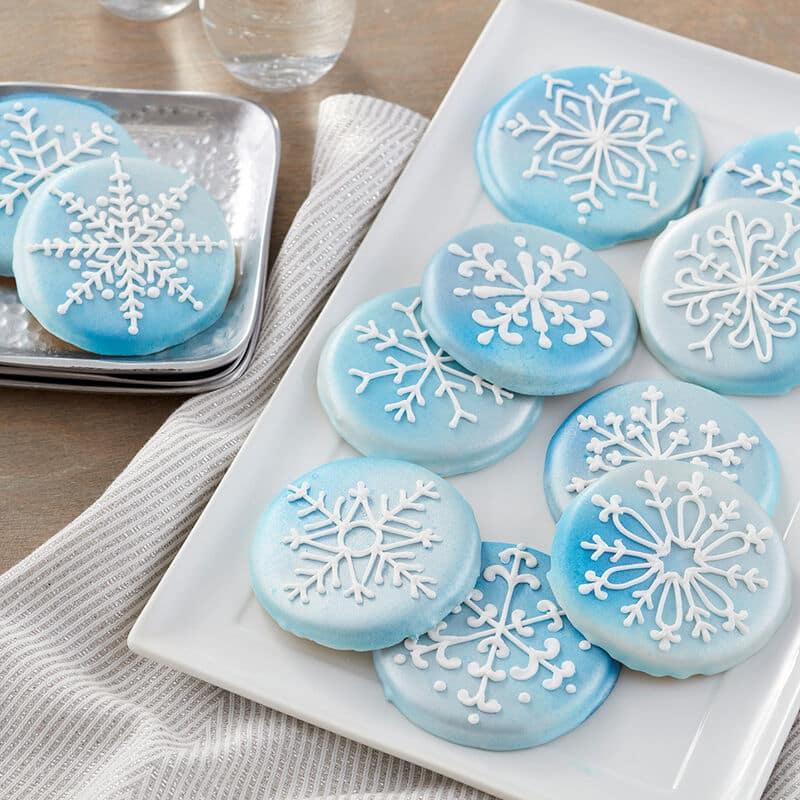 7. Snowflake Sugar Cookies
Turn any holiday gathering into a shimmering celebration with these blue and white Snowflake Sugar Cookies. Topped with piped snowflakes, these lovely winter cookies are great for Christmas, Hanukkah and everything in between!
8. Buttercream Snowflake Cookies
No need to step out into the cold to catch these Buttercream Snowflake Cookies on your tongue! Decorated using a variety of star and round piping tips, these cookies are just as beautiful as the real thing!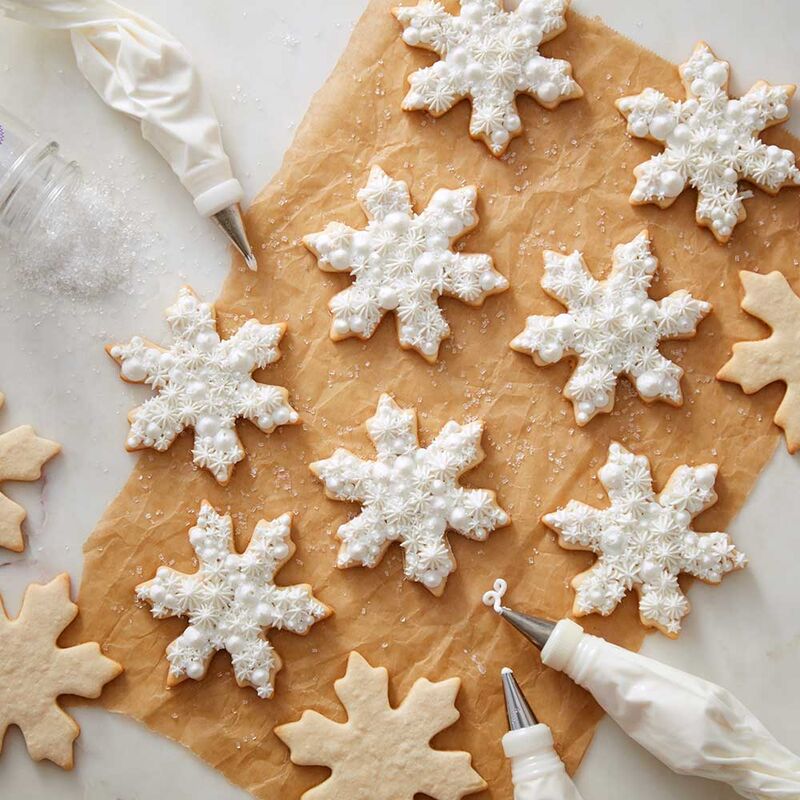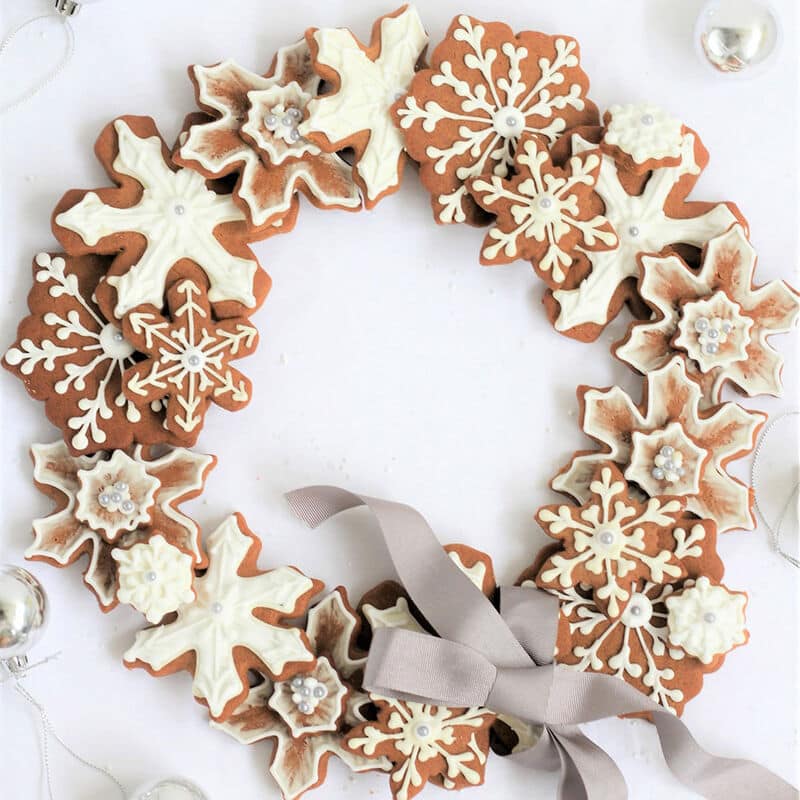 9. Snowflake Cookie Wreath
Though we used gingerbread to make this Snowflake Cookie Wreath, it can easily be done with any roll-out cookie dough recipe you'd like! A striking display for your holiday table, this Christmas cookie project is great for decorators looking for a little challenge. 
10. Patterned Snowflake Cookies
Each one of your snowflake cookies will be unique with this Patterned Snowflake Cookie recipe. Use royal icing to create amazing color effects, then gift these cookies for Christmas, Hanukkah or a winter shower or birthday party.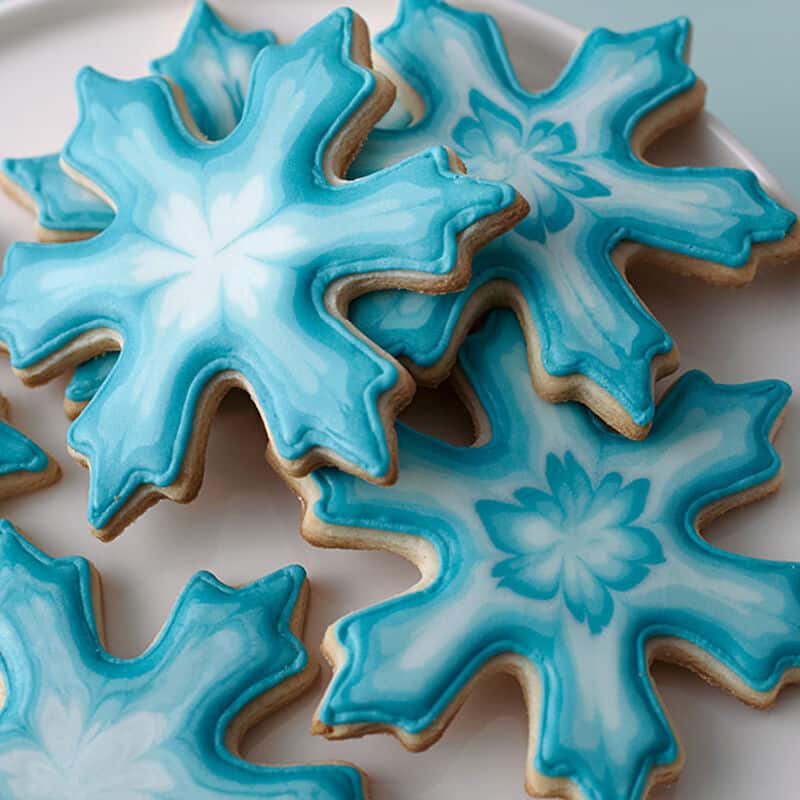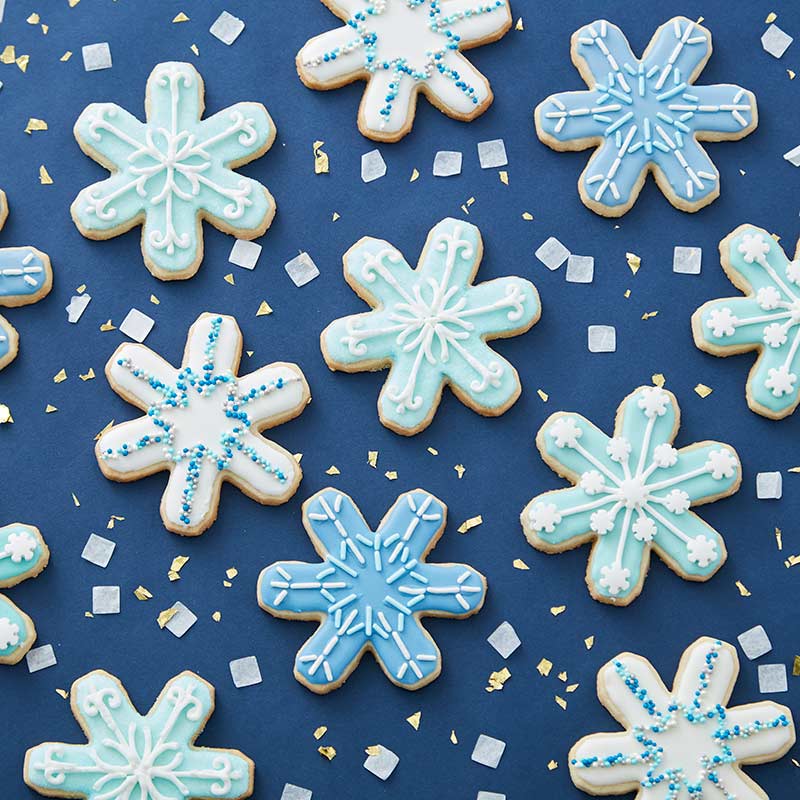 11. Sprinkle Snowflake Cookies
It's snowing…cookies! No matter the weather outside, you can bring the beauty of winter indoors with these Sprinkle Snowflake Cookies. Use your favorite winter sprinkles to add a festive touch to these seasonal treats.
12. Christmas Wreath Cookies
Whether you're making a cookie platter for the holidays or hosting Christmas dinner, these Christmas Wreath Cookies are sure to be a lovely addition to your table.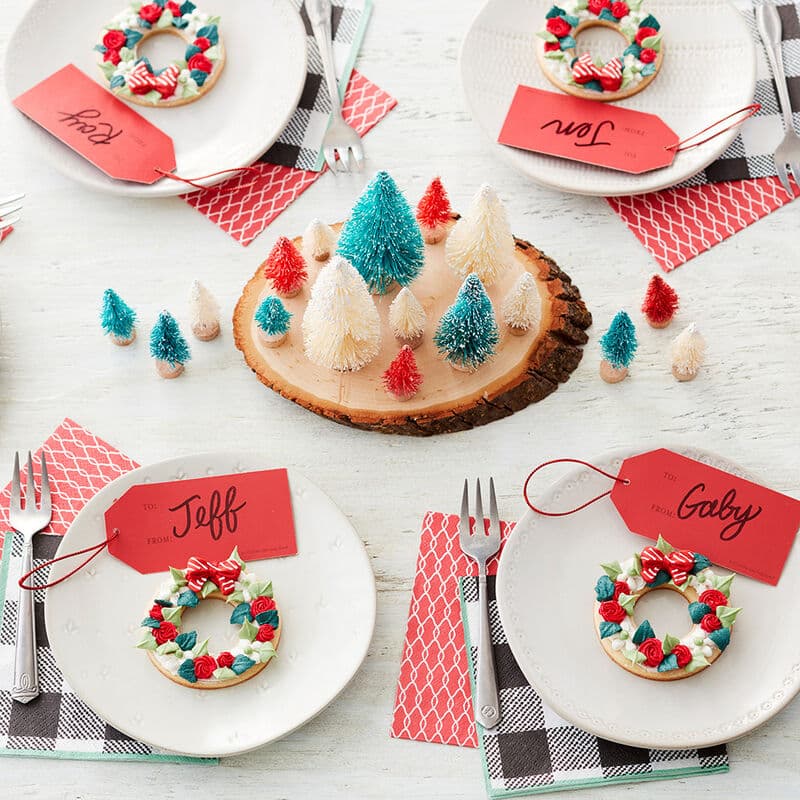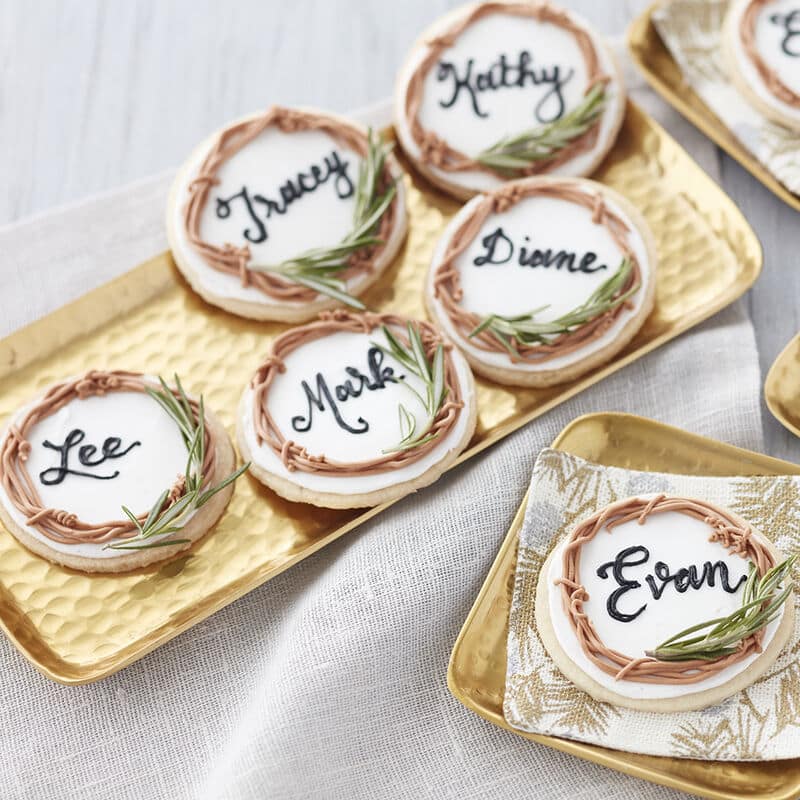 13. Rosemary and Lemon Holiday Place Card Cookies
Customize your holiday place cards with these cute Rosemary and Lemon Holiday Place Card Cookies. Great for Christmas, winter showers or other December celebrations, these lovely and elegant cookies are (almost) too pretty to eat!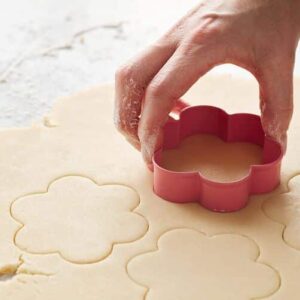 The Best Cut Out Sugar Cookie Recipe
Everyone will love this recipe! It's easy to follow and makes delicious cookies! This dough requires no chilling time, so once you're mixing, you can start baking!
Instructions
Preheat oven to 350 degrees F.

In a large bowl, cream the butter and sugar with an electric stand mixer or hand mixer until light and fluffy. Beat in the egg, and vanilla and almond extracts.

Mix together flour, baking powder, and salt. Add dry ingredients to butter mixture 1 cup at a time, mixing after each addition. Once the dough mixes into a ball, you're done mixing. Test that the dough is sticky and holds a shape but doesn't stick to your fingers. Do not chill dough.

Divide the dough into 2 balls, then form them into 2 inch thick rectangles discs. This will keep the dough from falling apart while rolling, and the rectangular shape will help you cut more cookies out of each rolling.

On a floured surface, roll each ball into a circle approximately 12 inches in diameter and 1/8 inch thick.

Dip the cookie cutter in flour before each use and cut out shapes.

Bake the cookies on an ungreased baking sheet(s) with parchment paper (optional). Bake for 8-11 minutes or until cookies are lightly browned. Move the cookies to a cooling rack to cool completely.
Video
Notes
Notes:
This recipe makes about 3 dozen 3-inch cookies
Bake time will vary depending on the size of your cookies. 3-inch cookies will take about 8-11 minutes. Smaller cookies will need less time.
To add flavor: The use of two extracts in this recipe really enhances the flavor. To customize your cookies, substitute your favorite flavor for the almond and vanilla extract. Almond, lemon, and peppermint are particular favorites for cookies. Adding grated lemon or lime zest also adds rich citrus flavor.
To add color: Icing colors are perfect for coloring cookie dough. Add a small amount of food color at a time to the dough to reach the desired shade. Use a mixer to blend the color well.
Tips:
Use real butter: Margarine and butter spreads will give very different results, so don't substitute out real butter.
Use room temperature ingredients: Make sure your butter is at room temperature so it can easily be combined with the sugar. Butter that's too cold may cause you to have little bits of butter in your dough. Butter that's too soft could cause the dough to be too soft, which could lead to your cookies spreading while baking. Learn how to perfectly soften butter here.
Make sure to measure the flour properly: Measuring your flour incorrectly is one of the biggest cookie mistakes you can make. If you're scooping your flour into the measuring cup directly from the bag, you could be using as much as 30% extra flour in your dough. This extra flour will make your cookies dry and tough. The proper way to measure your flour is to spoon the flour directly into a dry measuring cup and smooth off the top with a knife.
Scrape down the bowl often: Don't forget to scrape the bottom of the bowl, as dry ingredients can sometimes get trapped. Not scraping down the bowl can cause a dense, poorly-aerated paste to build up on the sides. Left unattended, those denser areas can streak the dough and cause it to spread unevenly as the sugar cookies bake.
Avoid overmixing your dough: Be careful not to overmix your dough! As soon as your dough starts to clump together, you're ready to roll.
For evenly rolled cookies: Use a rolling pin with guide rings or use guides on either side of the dough. Lollipop sticks or dowel rods that are an eighth to a quarter inch thick are excellent guides. Set two of the same size style rods or sticks on the counter on either side of cookie dough and roll over them. Sprinkle a little flour on the surface and on top of the dough, but be careful because too much flour can make the cookies tougher.
Removing rolled dough from the countertop: To remove rolled dough from the countertop, slide an offset spatula underneath the dough to loosen any sticky patches and prevent tearing.
Re-roll the dough only once: The more times you re-roll the dough, the gluten will get tougher, leading to tougher cookies.
Dip cookie cutters in flour: Dip cookie cutters in flour between almost every cut. This will prevent the dough from sticking to your cutter. The flour on the edges of the cookie will also help seal it, which will help your cookies keep their shape in the oven.
For a softer cookie: For a softer cookie, underbake slightly and allow the cookies to finish on the hot pan.
How to Store & Freeze:
To store dough for later use: Form the dough into a ball, then wrap tightly in plastic wrap. Place in an airtight container and refrigerate for up to 1 week or freeze for 2 to 3 months. Let thaw completely in the fridge overnight before using. Bring to room temperature for about an hour, then you can roll and cut.
To freeze baked sugar cookies: Layer undecorated baked cookies in an airtight container or freezer bag with parchment paper or wax paper in between the layers of cookies. Freeze for 3 to 4 months.
Tried this recipe?
Take a picture and tag us @WiltonCakes on Instagram
Are you decorating cookies for Christmas this year? Need some help getting started? Check out our huge list of cute Christmas cookies or our collection of unique Christmas cookies for an added dose of inspiration.
And when you're done, be sure to post a picture of your completed cookie platter on Instagram and tag us @wiltoncakes so we can see how awesome everything turned out! ​