Looking for a fun gift for Valentine's Day? Try surprising the loved ones in your life with one of these homemade Valentine's Day baskets!
The best Valentine's Day gifts are the ones that are a bit out of the (candy) box. Sure, flowers and chocolates are nice, but why not treat your loved one to a curated basket of yummy treats you made yourself (or, better yet, treats you can make together!)
These DIY Valentine's Day baskets are perfect for couples, families and friends who love to bake and eat together. From a casual family breakfast basket to a cute chocolate fondue date night, these Valentine's gift basket ideas are great for showing your loved one how much you care!
Kid-Friendly or Friend-Friendly Gift Basket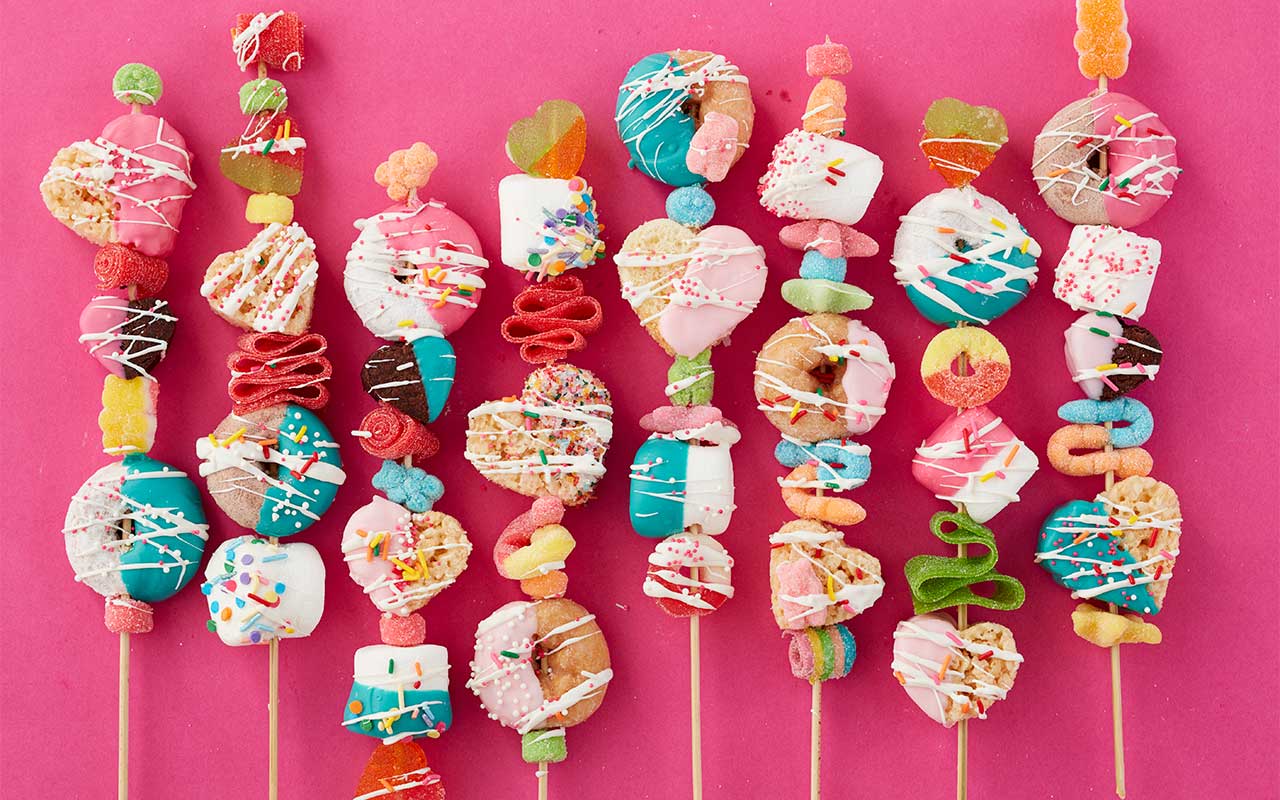 I donut know what I'd do without you! With this donut and candy-kabob basket, you can treat your BFF, your kids, or your loved one to something sweet and delicious.
Assemble the kabobs yourself using your favorite homemade and store-bought treats, then arrange them in a cute vase for a fun twist on a floral display. You can also fill a basket with treat sticks, a mini donut pan, and a few delicious store-bought treats and snacks and have fun assembling the kabobs together.
Family-Friendly Gift Basket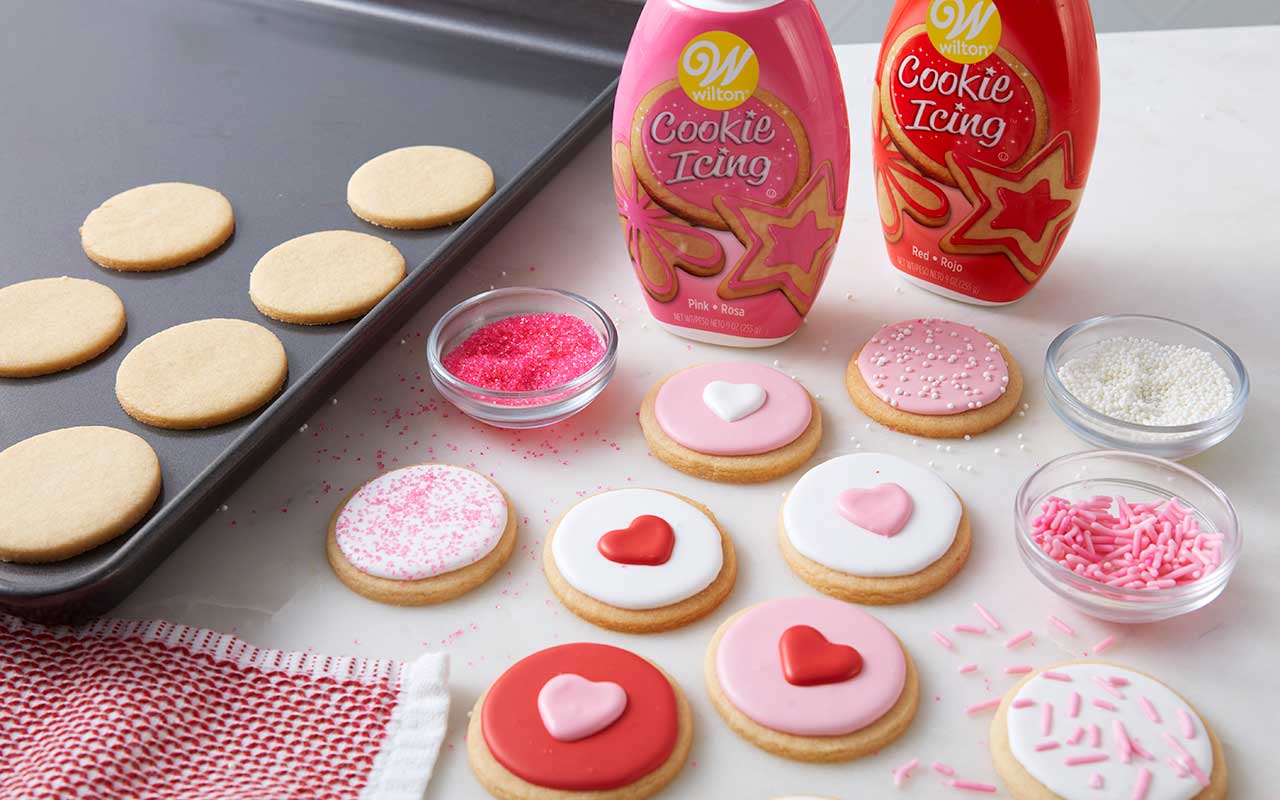 Get everyone in on the fun with this cookie lover's gift basket. Great for kids to do with their parents, this fun decorating idea combines two great things (cookies and sprinkles) for one fun family activity!
Prepare this basket with homemade or store-bought sugar cookies, then add cookie icing bottles in pink, white and red. Finally, complete your basket with a whole bunch of Valentine's Day sprinkles!
Rom-Com Movie Night Gift Basket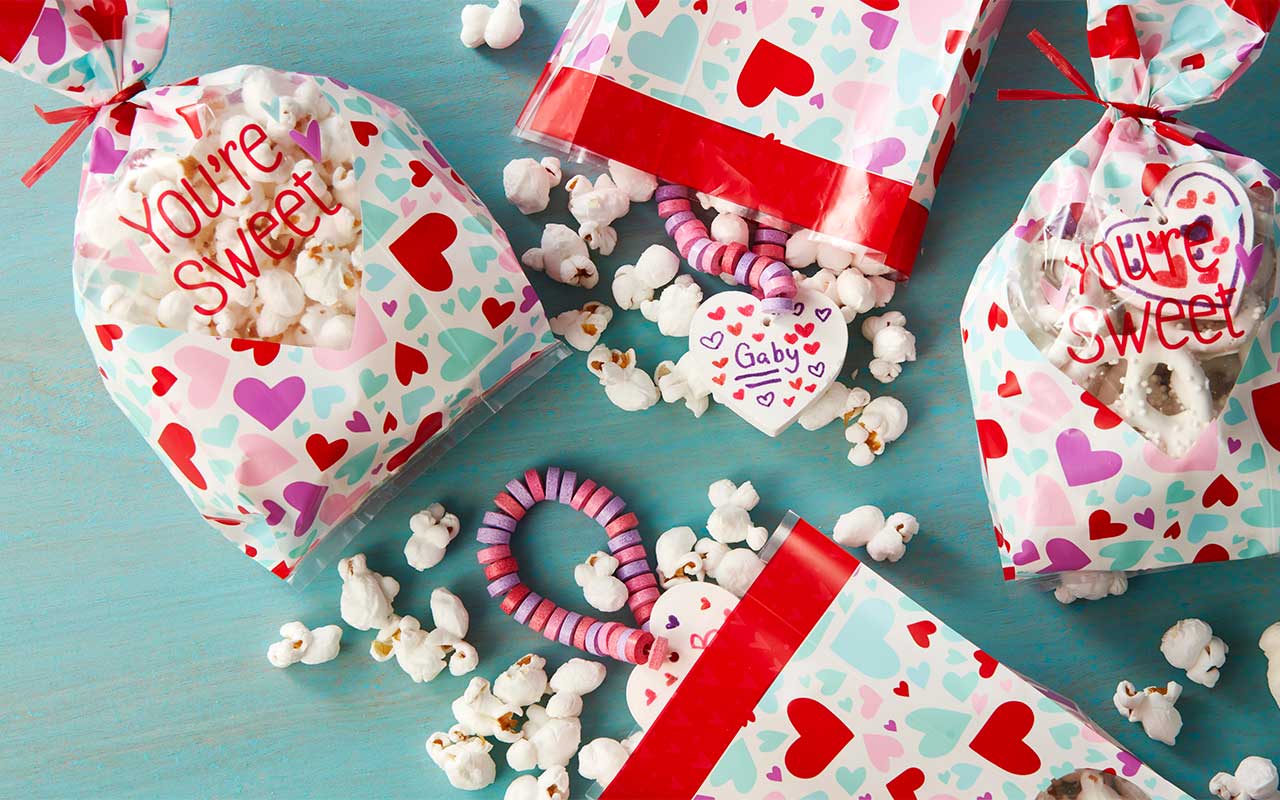 These Valentine's Day treat bags, filled with candy and popcorn, are the perfect accompaniment to your favorite date night movie. Fill your gift basket with a variety of packaged sweets: we suggest popcorn drizzled with Candy Melts candy or candy-coated pretzels.
Complete your basket with a few romantic DVD's and a big, cozy blanket!
Boyfriend or Girlfriend Gift Basket


These heart and arrow cookies are a great Valentine's Day gift basket for him or her! Start off your basket with this set of arrow and heart-shaped cookie cutters, then add some cookie icing and sprinkles for a fun date night idea you can both do together.
Chocolate Fondue Date Night Gift Basket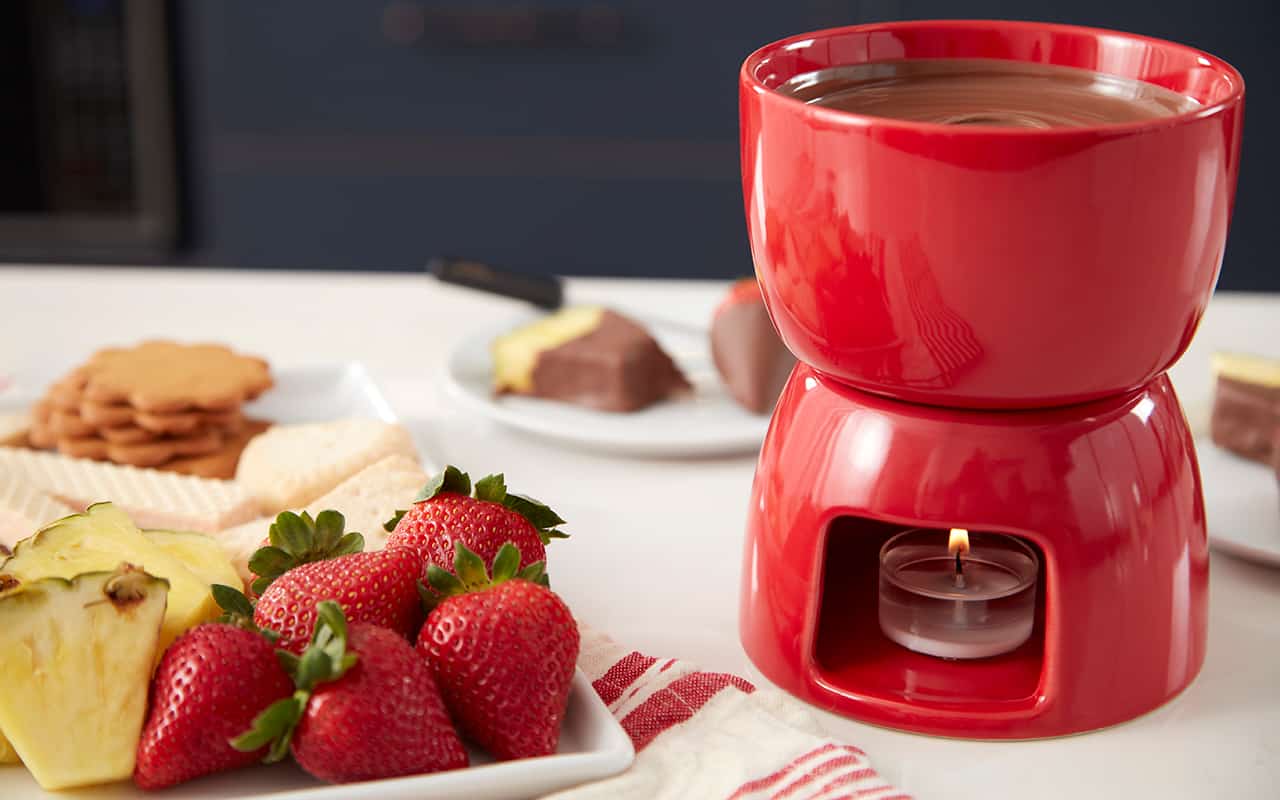 Keep it classic with this fun chocolate date night! Build your basket by starting with this cute red chocolate fondue pot, perfect for two! Add a bag of our delicious Chocolate Pro melting wafers, then fill it in with your favorite dippers! We suggest pretzels, cookies, marshmallows and, of course, fresh strawberries!
Breakfast in Bed Gift Basket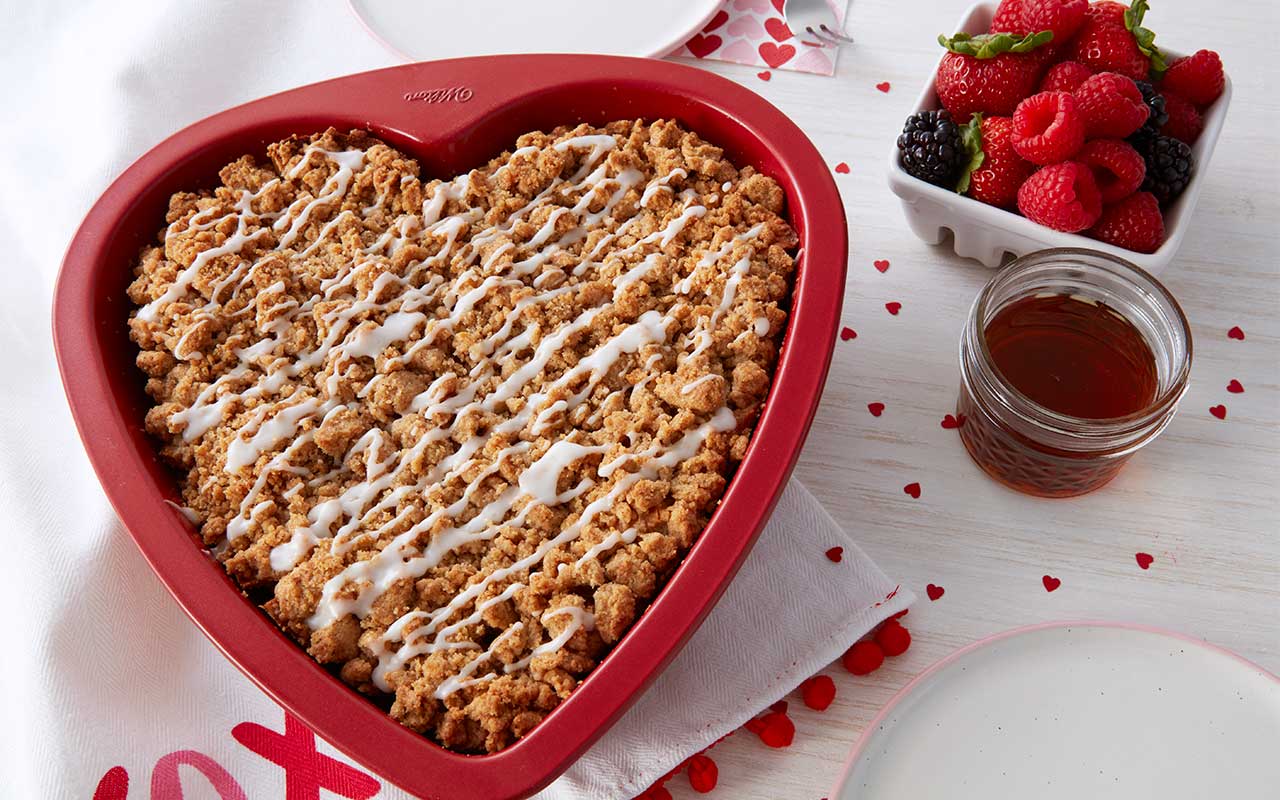 For a creative Valentine's Day gift basket for her, look no further than this cute breakfast in bed idea! This delicious homemade French toast is baked in a heart-shaped pan, then served with fresh berries and maple syrup for a tasty start to your Valentine's Day celebration.
Candy Lover's Gift Basket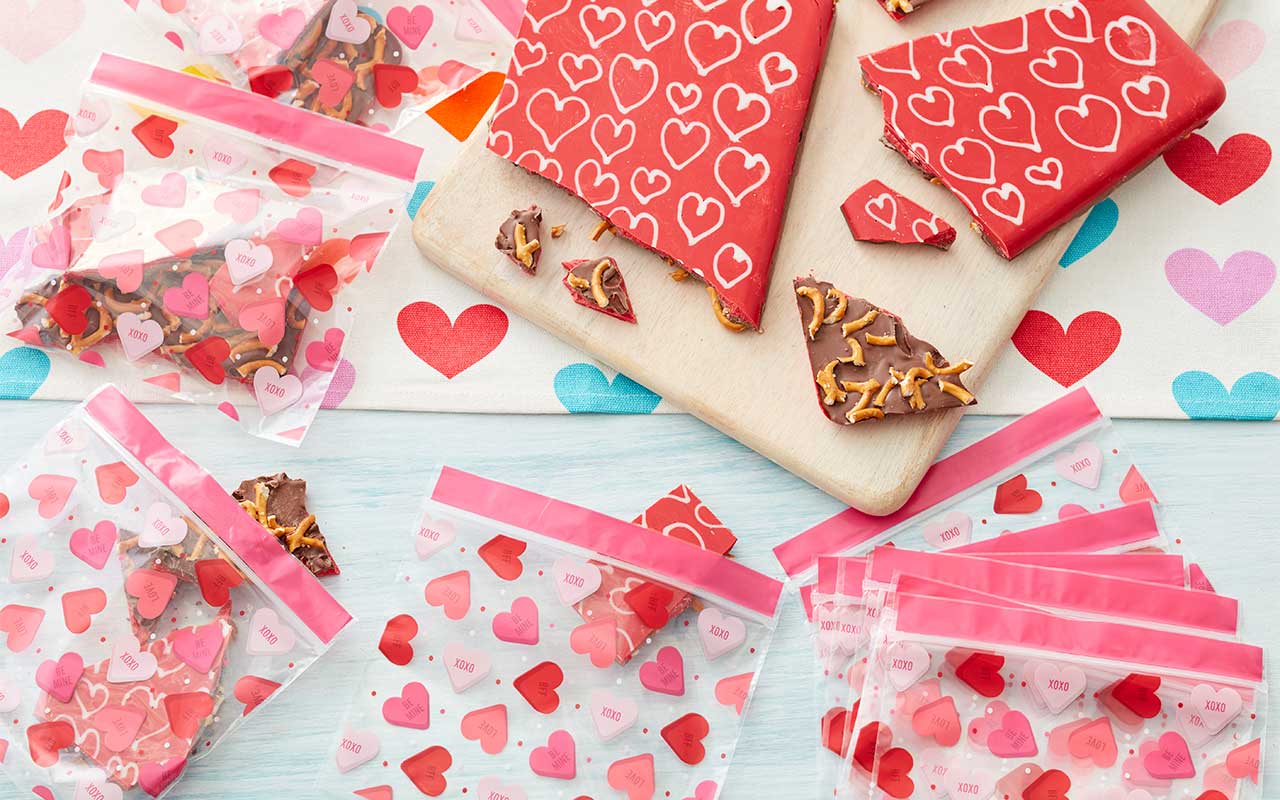 If your Valentine loves all things sweet, this DIY candy bark gift basket is perfect. Start off your basket with a 9 x 13 in. cookie pan, then add Candy Melts candy in all your favorite colors. You can even throw in some pretzels, nuts, or sprinkles to add texture to your candy bark.
Truffles for Two Gift Basket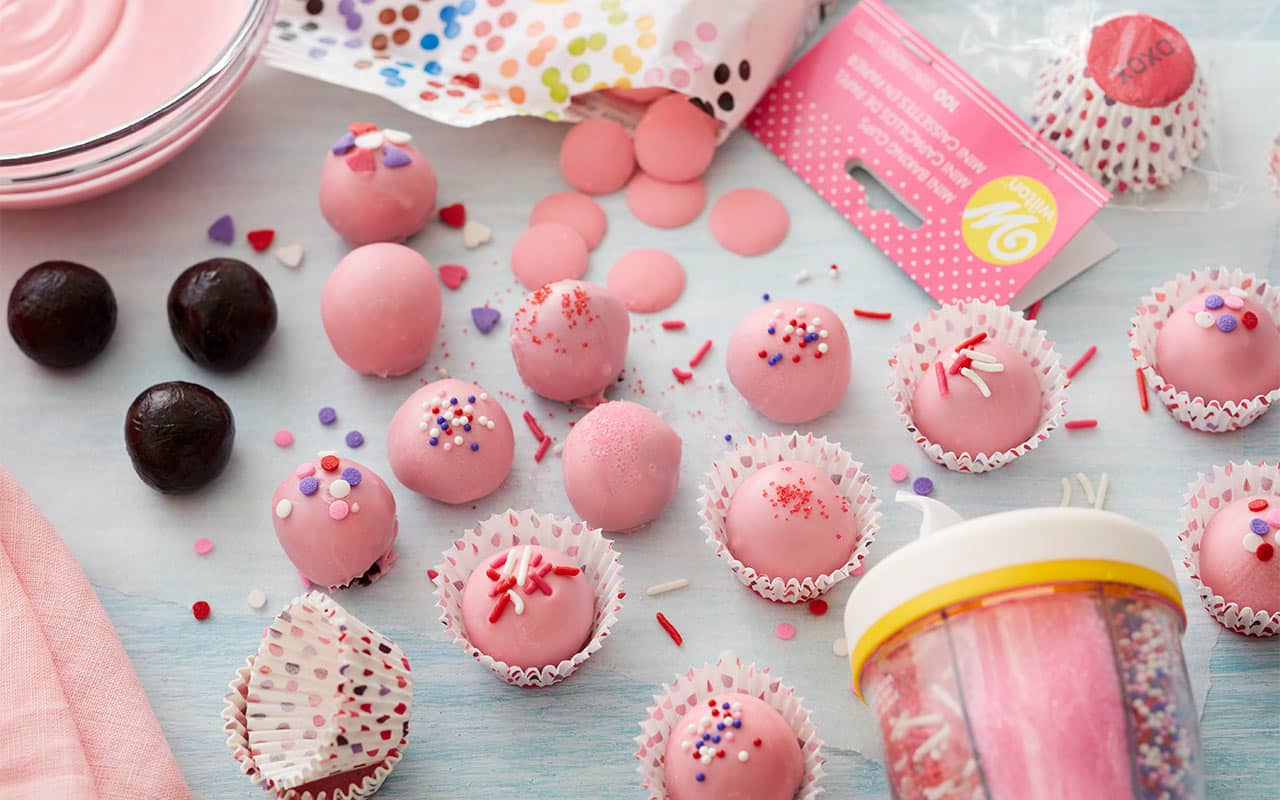 Skip the store-bought treats and fill a Valentine's Day gift basket with some homemade truffles. This No-Bake Cookie Truffle recipe is sure to please, or try your hand at making cake balls or cake pops for your Valentine.
The Chocolate-Covered Strawberry Gift Basket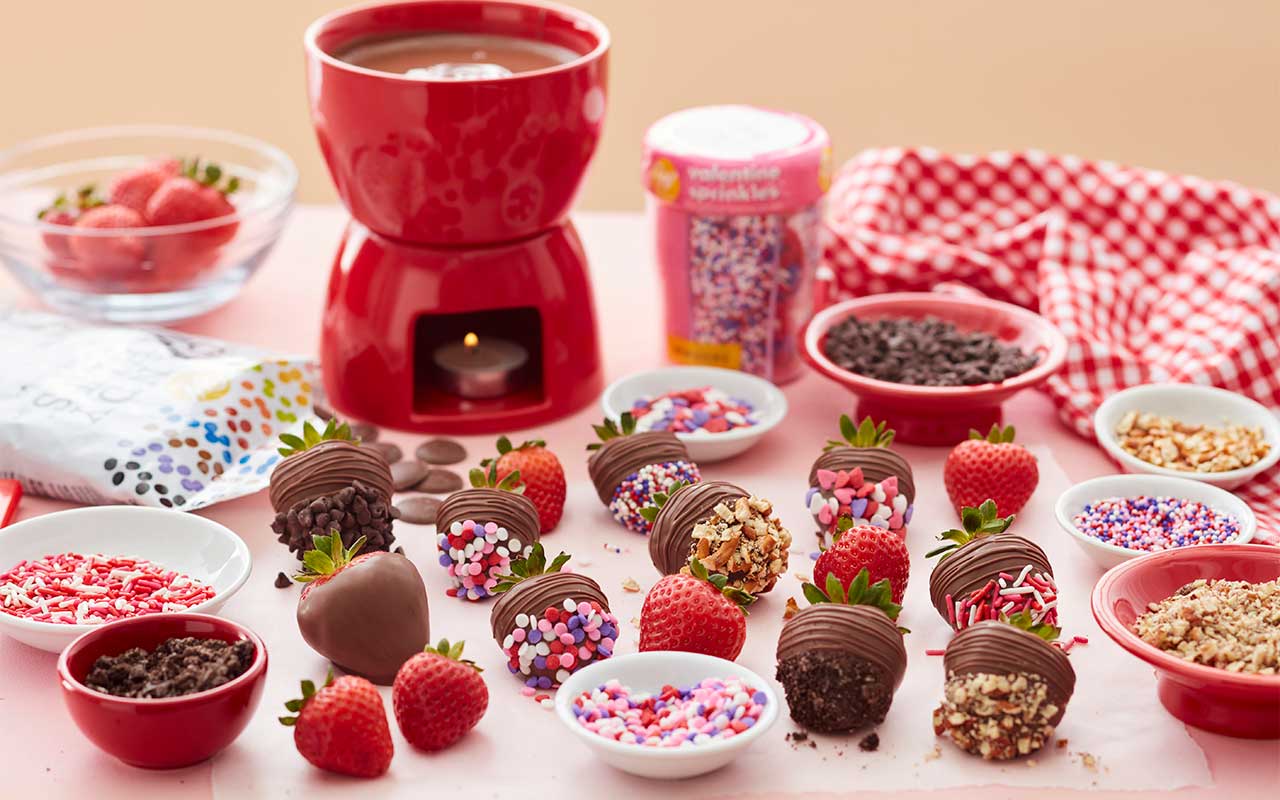 Go big with the ultimate Valentine's Day gift basket! This gift idea starts off with the Mini Fondue Set, which comes with four dipping forks. Then, add a batch of some fresh strawberries, your favorite melting chocolate (we suggest Chocolate Pro melting wafers) and some Valentine's Day sprinkles for color and texture.
A fun activity for couples, families and friends, this gift basket idea is sure to please anyone you care about!
How are you celebrating Valentine's Day? Let us know in the comments below!